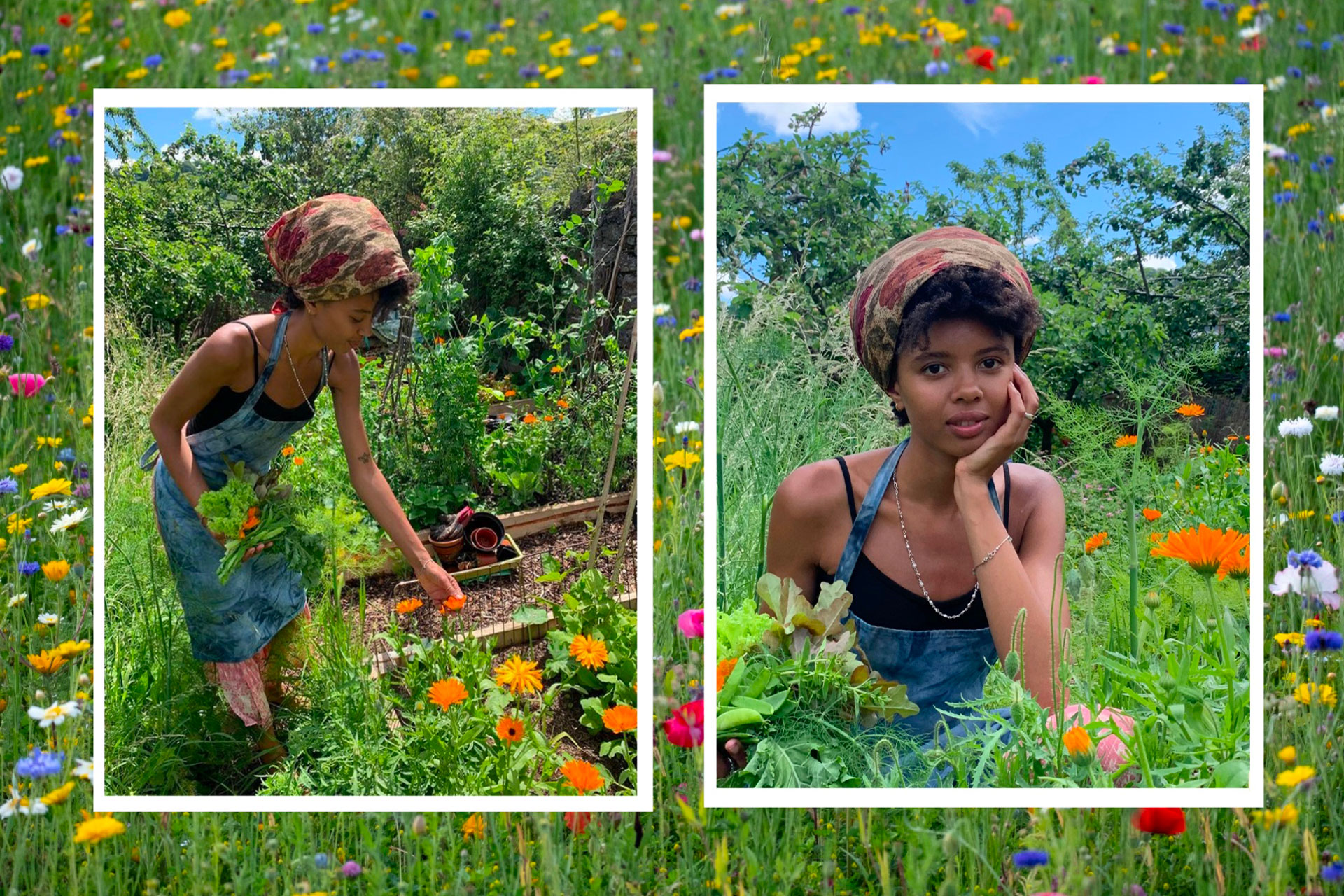 Poppy Okotcha: Here's How I Celebrate Summer Solstice
---
'We can't live in eternal summer of taking and having, we have to replenish through giving'
Ecological grower, Poppy Okotcha, shares her tips on why celebrating summer solstice might just be the very way to bind communities together and bring a newfound appreciation for nature's cyclical rituals — which is needed now more than ever. 
Poppy has partnered with Meta to celebrate the The Meta Garden: Growing the Future, which was awarded an RHS gold medal at this year's Chelsea Flower Show. Designed by Joe Perkins, the garden is currently being rehomed at Conkers Discovery Centre in Moira, in the heart of the National Forest as part of the Queen's Green Canopy Jubilee Campaign.
Poppy Okotcha
 

—

Here's How I Celebrate Summer Solstice
Poppy Okotcha's Tips on How to Mark Summer Solstice, Tuesday 21 June 2022:
Stay up all night. The night isn't very long – a solstice night is only about 7.5 hours! – and welcome the sun rising in the morning.
Set intentions. After the solstice, we will slowly begin to move back to the darker, inward facing part of the year: set intentions for this change in phase.
Go wild swimming.
Visit an eldertree and pick some elderflowers. Elderflowers are at their peak around summer solstice. Visit an elder tree, gather some blooms and brew some elderflower champagne to sip on the sun. It is said an old witch, Frau Holle, lives in and the elder tree, so give thanks to her and leave plenty of blooms behind for the bees to turn into berries!
The Best Foraging Courses in the UK
Go on an oak tree hunt. The oak tree is associated with the Oak King who presides over this light part of the year. Go on an oak tree hunt, bask in their shade and wonder at their ancient majesty. Oak trees support more wildlife than any other native trees. They can provide food, shelter and breeding ground to 2300 species and they are in their full foliage glory at midsummer.
Gather nature for your home. Or bring the wild to you by gathering and growing flowers like linden, roses, pineapple weed, camomile, calendula or lavender to put in the bath. If you're gathering flowers make sure to grow some too so the pollinators have plenty to feast on!
How are you celebrating? And why should we celebrate the seasons' rituals?
This solstice, a group of us are going to be heading to a friend's field for a feast and fire. I'm working on the 21st, which is solstice morning, but I am very tempted to wake early and go see the sunrise.
The Most Beautiful Nature Reserves in the UK
I follow the wheel of the year, a pagan calendar made up of eight festivals through the year. It marks the summer and winter solstices (longest day and shortest night); the spring and autumn equinox (moments in the year when day and night are balanced). It also includes additional festivals in between, linked to the changing seasons. I don't necessarily take part in big celebrations for all eight festivals, but will always do something, even if it's just being quietly aware of the time passing and read the tales attached to that time. I love the stories, myths, legends and metaphors that have been used through history to understand the seasons, the natural living world & our place in it all.
Midsummer is magical (think Shakespeare's Midsummer Nights Dream). The light brings a time of abundance, when the living world is exploding with growth and we all feel it. Long hot days see us full of energy and excitement; and I think most of us would agree that dancing in the power of the sun is one of life's greatest pleasures.
Why are seasonal milestones of the year important to you?
As a grower, the solstices and equinoxes act as guides in our growing calendar. For example, the shortest day at winter solstice comes with very limited day light hours and lots of cold, so plants are slow to grow – if they grow at all. On the flip side, the longest day at the summer solstice brings warmth, plenty of light, and lush, vigorous, outwards growth – along with endless jobs to get on with.
View this post on Instagram
This great big cycle of life that I partake in year after year through growing, has taught me so much about the necessity for winter and decay in a symbolic sense… rest and endings have to come, they are both inevitable and necessary, they give space and create the compost for new life, as well as ideas or hopes and dreams to follow. I think this lesson teaches us something really integral about ethical, sustainable and regenerative living – we can't live in eternal summer of taking and having, we have to replenish through giving too.
This message is a big part of what I share through my platform on Instagram. Celebrating festivals like the summer solstice help us to connect with this in a joyful way – it's an area my online community are always keen to engage with.
How can we celebrate nature over the summer as a community?
Join a community garden: 2.2million people in the UK are currently part of 14,000 groups relating to conservation, forestry, and gardening so it's a great time to get involved.
Start sowing seeds for winter veg: This is a nice one since #gardening is in the top 1% of hashtags followed by people in the UK and gardening is a key interest for my online community
Just get out there in the sun: Whether that's foraging, walking or just observing, it's a beautiful time of year to learn about the living world and get comfy in it!
SEE MORE