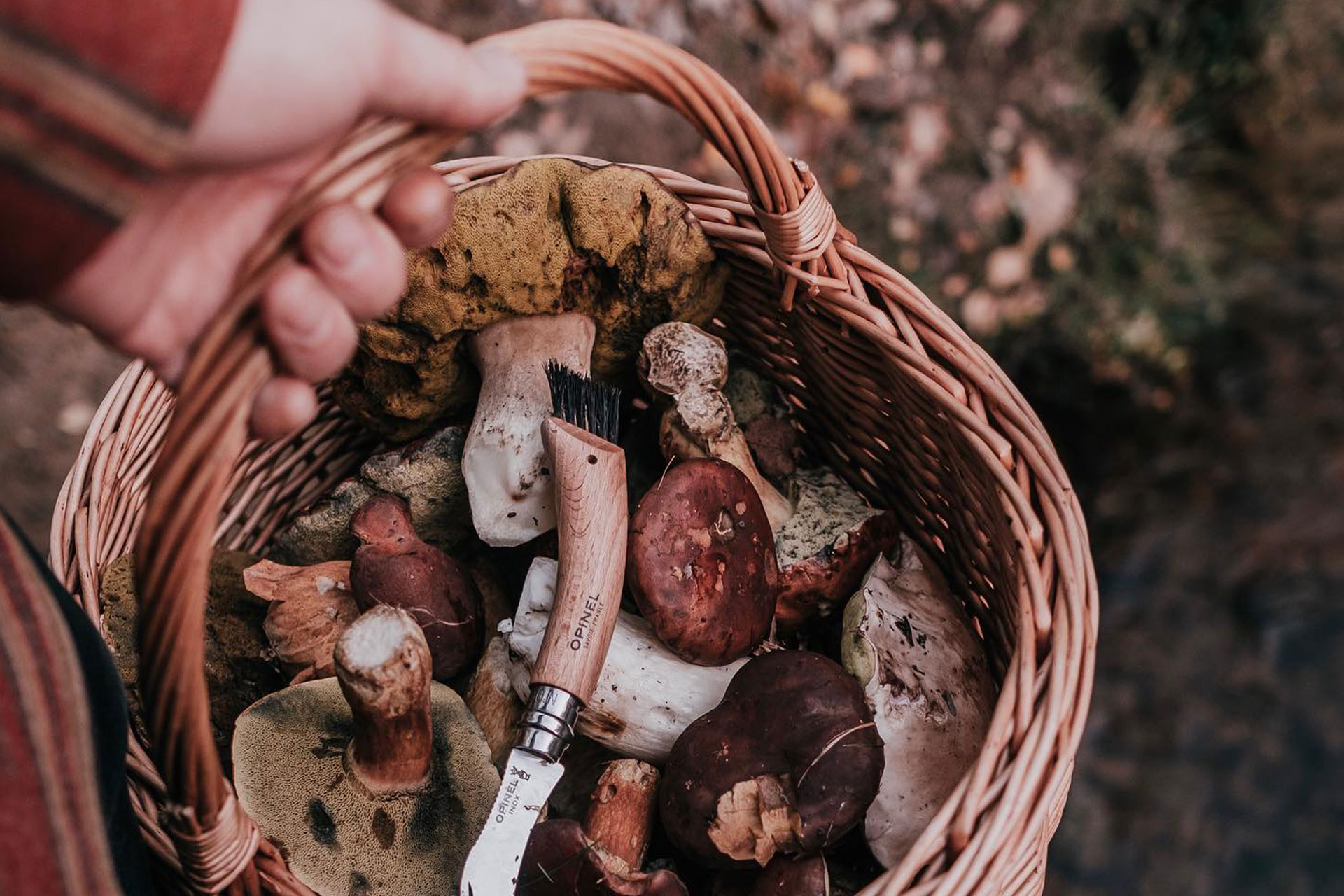 The Best Foraging Courses in the UK
---
Blow away the corporate cobwebs and release your inner hunter gatherer
Does the world ever feel too much and you'd just rather forage mushrooms in a woodland? You're not the only one. Whether it's a reaction against our broken food systems, our disconnection with nature, or our digitally saturated lives – we're foraging more than ever. 
Once synonymous with bearded-hippy enthusiasts, foraging today has reached the mainstream. Spearheaded by a climate-conscious younger generation, #Foragingtiktok has reached 53.1 million TikTok views, with @alexisnikole and @thegardencottage teaching teens about poisonous fungi and scavenging for chanterelles.
But it's beyond clicky hype and buzzwords, if you look at the scope of human history, it was only 11,000 to 12,000 years ago we collectively decided to stop foraging and create systematised forms of agriculture. Then came the Industrial Revolution, where foraging was fully stamped out, and references to wildflowers and foraging in cookbooks disappeared after it was deemed rather too parochial and unsophisticated.
But today foraging is back, and it's partly explained with the context of collective burnout for the corporate world. It's actually where many of these new foraging courses originate. Mark Andrews set up Fire + Wild after a music career left him wanting to reclaim his rural roots. A similar story can be told of ecologist, Poppy Okotcha who, after experiencing burnout in the fashion world led her back to nature. Whatever your reasons for reconnecting with the land, we've handpicked the best courses in the UK to escape from the modern world.
Biophilia isn't a Trend: It's a Movement
The Best Foraging Courses To Book in the UK
Fire + Wild, Sussex
This one is for the overwhelmed urbanites of London. Part foraging walk, part open fire wild dining experience, Fire + Wild promises to blow away the corporate cobwebs and reconnect with your inner primal self. Founded by Mark Andrews, he travelled to the likes of Sweden and Scotland foraging food and cooking over a fire to learn the tricks of the trade, eventually leading him to set up Fire + Wild.
There's a range of options on offer. Go for the masterclass, and you'll start with a guided foraging woodland walk, scavenging for berries, edible fungi and wild herbs. Next, it's the fire skills workshop, where you'll get ready for the apocalypse finessing your axe skills, wood selection and getting that spark to ignite. You'll then try out their signature dishes in a sensational multi-course tasting menu, where you'll pick up the basics on the open-fire cooking technique alongside. Fire + Wild also offers bespoke private experiences that can be flexible for your every hunter-gatherer need.
BOOK: Saturday 23 April, Saturday 14 May, Saturday 18 June, costs £225 per person. Bespoke private experiences are available on enquiry. fireandwild.co.uk
Poppy Okotcha's Seasonal Guide to Wild Food and Foraging, Online
If you're time-strapped, or simply want to quietly learn for yourself: there are plenty of online courses that are popping up. Model-turned-ecologist, Poppy Okotcha will expertly guide you through the dos and dont's of foraging in your local area in the wider context of eating and living in a climate-conscious way. You can expect lessons on the nitty-gritty, like pest management and mastering healthy soil, balanced with learning how to grow vegetables in the winter – all the good stuff.
BOOK: Create Academy subscribers will be notified when the course drops. createacademy.com
Mushroom Masterclass at The Newt in Somerset
The Newt in Somerset hotel is on every editor's wishlist; and with good reason. The hotel's garden and sprawling grounds have been finessed for over 200 years, playing host to a range of wildlife – you'll spot great crested newts and native deer as permanent guests. Hosting a series of events across the year, consider the mushroom masterclass as the foraging equivalent of glamping. Join The Newt's resident expert, where you'll forage across the estate, picking and learning about the plethora of fungi that grow on the grounds. Then you'll learn how to sow your own oyster mushroom spores that you can take home to continue growing indoors. As well as the chef giving his top tips on cooking with mushrooms, you'll also be treated with a cinnamon bun and lunch at their garden café.
BOOK: Costs £125 per person, 20 and 26 October, 2 and 9 November, 10am – 2pm. thenewtinsomerset.com
Robin Harford, Eatweeds, various locations
One of the biggest names in foraging is Robin Harford, whose foraging courses are an instant sell-out (and that's even after you've signed up to the newsletter keeping your eyes fixed on date drops). You'd be hard-pressed to find a more encyclopaedic knowledge on foraging, and Harford promises that you'll learn a minimum of 20 edible plants. But beyond the biology he'll take you through their fascinating folkloric history. You can only book through his mailing list, so step on it to grab a spot for this year.
BOOK: Subscribers to Robin Harford's free newsletter will be the first privy to upcoming dates, eatweeds.co.uk
Monica Wilde, various Scottish locations
If understanding the medicinal properties of wild fungi and flora, Monica Wilde, based in East Lothian, is for you. Offering half-day courses throughout the year ranging from seashore, hedgerow, and fungi foraging. For the seashore, you'll learn how to identify nutritious edible seaweeds at an early start to catch the low tide. For fungi foraging, you'll discover how to siphon the good shrooms from the poisonous, plus gain insight on their medicinal properties as well as the moon's intriguing impact on the world of fungi.
BOOK: Half days of seashore, hedgerow, and fungi foraging can be booked online at £50 per person, monicawilde.com
Fat Hen, Cornwall
Fat Hen cookery and foraging school is for those wanting to get in the rhythms of nature, and deepen their connection with the land.  From just a day course to a four-day wild retreat, there's lots of options for both curious beginners and fungi fantasists. Why not opt for a private booking, where you can bring a group of eight mates to learn the core essentials of foraging, spanning seashore to farmland, to hedgerow to woodland. In the afternoon, you'll learn how to preserve your finds either in a salsa verde, pesto, or picked vegetable, depending on the season.
BOOK: Retreats, half-days, full days are on offer, starting at £65 per person. the-fat-hen.co.uk
Go Foraging, Bristol
Can't quite get out of the city? Go Foraging is hosting an urban river foraging day this month where you'll wise up to the nuanced and micro shoots around the river. You'll be able to spot shoots in herbal medicines, teas and soups. Go Foraging are flexible to private bookings, whether it's a wholesome hen do, or corporate bash, there's something for everyone.
BOOK: Foraging walks start at £40 per person, private bookings available on enquiry. goforaging.co.uk
Main image: Image courtesy of Fire + Wild. Photographer: Daisy Wingate-Saul
SEE MORE 
Melissa Hemsley Mushroom Recipies / A Beginner's Guide to Foraging