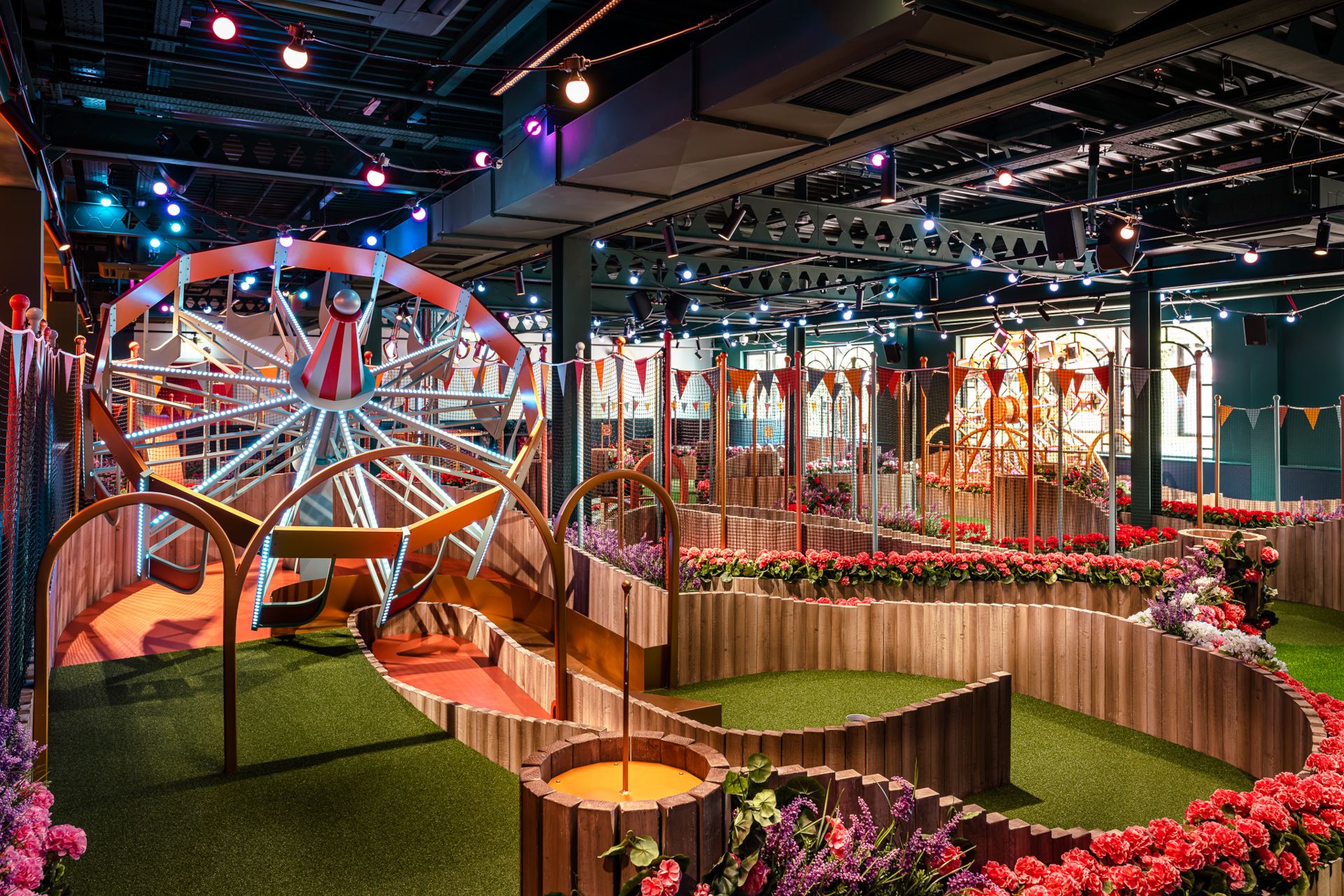 (Crazy) Golfing Fanatic? Become an Ace at Swingers West End
---
Swingers has kicked off summer with the launch of its new terrace
Tucked around the corner from the ever-bustling Oxford Street, Swingers West End is a hotspot for post-work fun. With its impressive array of street food, friendly service and, of course, epic mini golf courses, it's one of the best spots in town for winding down. With the opening of its new terrace, we decided to revisit Swingers to see just what newcomers can expect from the quirky establishment.
Review: Swingers West End
There's very few people who would say they dislike a little friendly competition – especially when said competition is a round of high-end mini golf. Packed with interactive courses, playful installations and excited players, Swingers brings the game to life for those wanting to perfect their swing.
Founded in 2014 by Jeremy Simmonds and Matt Grech-Smith, Swingers is a crazy gold destination like no other. Starting out in London, the entertainment venue has quickly grown in the years since its conception to hold not just two locations in London, but a further two in New York City and Washington DC. And it's easy to see where this success has come from – Swingers offers a winning combo: fun games, witty cocktails and delicious street food.
Swingers' West End branch kicked off the summer with the launch of its new terrace, complete with dining areas, a swanky cocktail bar and – as expected – a new crazy golf course for keen putters to try.
DO
With a new extension comes exciting new opportunities for amateur golfers. The Meteorite is the latest addition to Swingers West End, taking up residence on the upper level alongside the bar and terrace. Inspired by the fairground rides found at a 1920s British seaside, the nine-hole course offers bundles of competitive fun with replicas of popular rides and architecture (we're a big fan of the spinning flyer on the last hole).
It's easy to get swept up in competitive spirit, especially if you're both going for gold. The individual holes live up to Swingers' fame, hyping up the excitement and frustrations alike. Play in a group or as a duo (this would make an ideal date location) and get swinging – and maybe sip on a cocktail or two, courtesy of the on-course bar staff.
EAT
Swingers is already home to multiple street food vendors (five, to be exact), but the opening of the terrace has ushered in a new wave of culinary treats. Guests can now tuck into cult favourite Patty&Bun's new chicken concept Jeffries, which serves up tasty classics that will transport taste buds directly to the American South.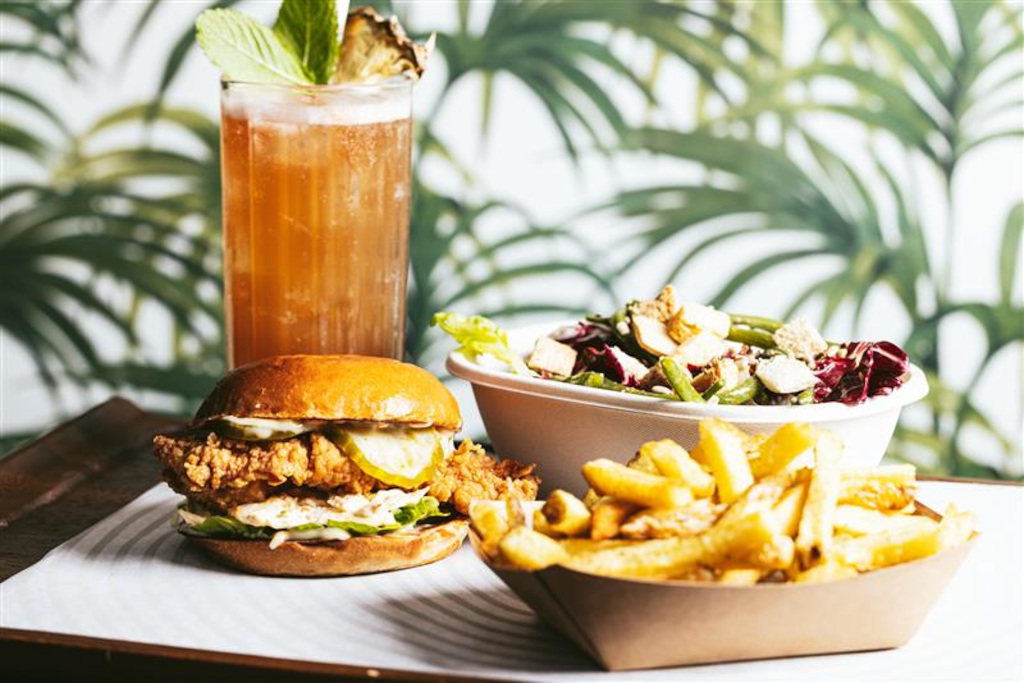 As the Americans say: go big, or go home. And we can confirm, Jefferies goes all out on flavour. Get stuck in with the 'Hercules', a sandwich packed with fried chicken, coleslaw and smoked garlic aioli, and some fries for the full experience – or try 'Jeff's Roast Chicken Salad' if you fancy something a little lighter. Those feeling brave feeling brave can spice things up with the 'JFC (Jefferies Fried Chicken)', which comes dipped in chilli butter sauce (that you will most likely lick off your fingers once the chicken is devoured).
Cool things down with cocktail on the terrace, which sets the perfect wind-down atmosphere post-game with its leafy décor and open space. Order at the ritzy Fairground Bar, which is decked out with large arched mirror, green counters and warm, gold lighting, and then make your way outside to enjoy the summer weather. Highlight tipples include the 'Fairway to Heaven' (a delicious mix of Chase pink grapefruit gin and apricot brandy, Earl Grey syrup), 'Hot or Not' (Don Julio Blanco, Cascabel honey, lemon, gomme and optional chilli tequila) and a selection of frozen cocktails to help you tackle the UK heatwave.
Final Word
Whether you're looking to melt away the stress of the work day, try out a new dating location or have fun with friends, Swingers is the place to be. The addition of the new terrace makes the venue ideal for summer, and expands on the extended crazy golf universe. Happy putting.
BOOK
DISCOVER MORE
Why Is Everyone Talking About Padel Tennis? / The Best Golf Courses in London