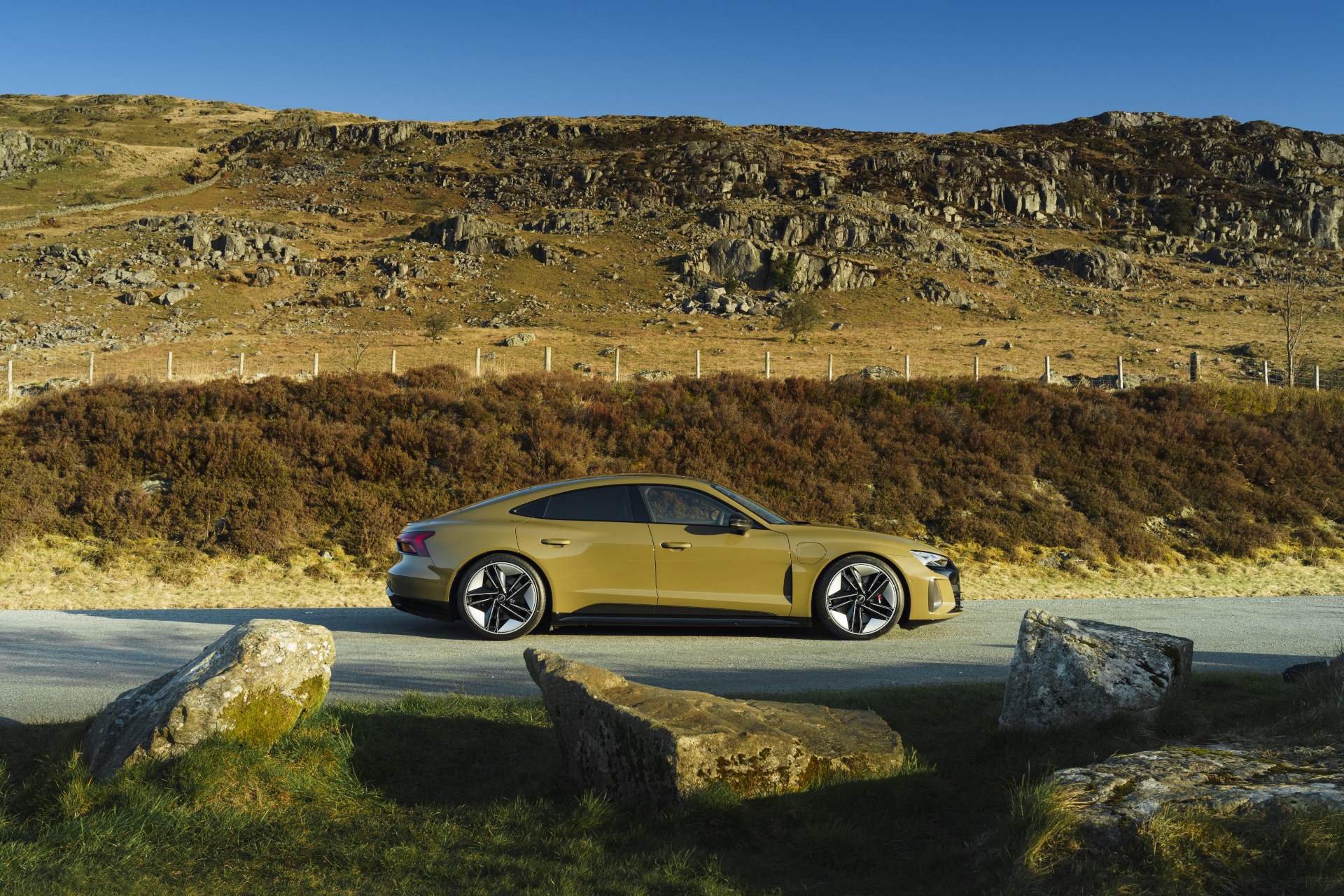 The Green Lane: Audi RS e-tron GT
---
Audi's first electric model
Motoring editor Jeremy Taylor and sustainable fashion expert Jessica Saunders drive the Audi RS e-tron GT, Audi's flagship electric car –  with a Royal stamp of approval.
The Green Lane: Audi RS e-tron GT
[JS] So where have I seen this car before?
[JT] Do you remember the first Earthshot Prize last October, at Alexandra Palace in London?
I do. The awards celebrated people with ideas to tackle the world's biggest environmental challenges. This year it's due to take place in the US.
Well, in London, Audi scooped everybody with their top electric car carrying hosts Prince William and his wife to the event. Photos of the RS e-tron GT made the front page everywhere.
How did Audi manage that?
The company has built strong relations with the Royals over many years. Prince William's battery-powered 'runabout' for the event was a £133,000 supercar that mirrors his father's efforts to go green.
So this is Audi's top-of-the-range electric model – a four-door saloon with enough room in the back for an heir and a spare?
It certainly is! The svelte grand tourer will be powered at Kensington Palace's new charge points and is faster from 0 to 60mph than many supercars. And the vehicle choice may well have been influenced by Prince Charles' lifelong passion for the environment.
Prince Charles famously converted his classic Aston Martin to run on a bio-fuel made from whey, a by-product of cheese making. That old DB6 car was gifted to him in 1970 by the Queen for his 21st birthday.
Yes, and it now leads a charmed life just around the corner from us in the Cotswolds.
So what's the story with the Audi?
Like all electric cars, with battery-powered motors driving the wheels, it has zero carbon dioxide emissions – perfect for green award ceremonies. The Audi's 800-volt lithium-ion battery offers a decent range too.
The e-brochure says it has a maximum of 283 miles between charges – if you live in London that's fine for popping over to Buckingham Palace to see granny but trickier reaching Balmoral. In the real world, that actuiallu means serious range anxiety after 220 miles. Audi has unveiled a whole range of e-tron models haven't they?
Yes, a line-up of all-electric SUVs but the GT RS is the only version fit for a future king. Instead of bulbous, everyday SUV styling, this car is a sleek grand tourer that truly looks the part. That could have something to do with the platform on which the RS is based. It shares the same underpinnings as the brilliant Porsche Taycan – perhaps the ultimate driving machine over a long distance.
This is a fantastic interior isn't it?
Probably the finest Audi interior ever. Beautiful crafted to Bentley standards and worthy of a Royal Warrant, the RS is a delightful place to sit. Even in the rear there's plenty of room for two adults, plus luggage space in the boot and under the front bonnet.
No doubt Prince William will love the vegan interior option, cut from synthetic leather, and floor mats made from recycling fishing nets. This Carbon Vorsprung model even has night vision, plus remote self-parking and a head-up display flashed onto the windscreen.
Even Audi's latest infotainment system is cutting edge stuff, with the addition of a Virtual Cockpit display, offering sharper graphics and simple functionality.
But is it better than a Tesla?
Early adopters of battery technology who own a Tesla Model S will find the Audi equally engaging to drive – especially on a winding country road from London to dad's country estate in Gloucestershire.
Yet the Tesla has a much longer range of 400 miles, more than enough to get there and back? Despite Audi claiming 283 miles of battery life, we found it a struggle making the same return journey in one hit. I was anxiously looking for the next public charger as the power drained away.
Indeed. The RS weighs a hefty 2.3 tons but thanks to all-wheel steering and a Porsche-worrying 598bhp, the Audi is still a thrilling car to drive, racing to 60mph in 3.3 seconds with the right driving mode engaged. Staggering performance, with only the noise of the tyres filtering into the cabin.
Should people buy one then?
Yes, if the waiting list isn't a problem – it's around six months. The Taycan and Model S are worthy contenders too – but they don't come with a royal seal of approval.
Jessica Saunders is Director of Programmes at London College of Fashion, studying for a PhD in sustainable e-textile design.
SEE MORE
Mercedes-Benz EQS Review / Polestar 1 Review / The Hispano Suiza Carmen