The Principal Hotel has undergone an extensive restoration project bringing Fitz's cocktail bar, Neptune restaurant, Burr & Co coffeehouse and the hotel's new social hub, Palm Court onto the scene. 
The Grade II listed landmark building is no longer just a place for Londoners and tourists to stay – it's a destination.
The Principal London Reveals Its New Look

Originally designed by Charles Fitzroy Doll two centuries ago in 1898, the hotel's fresh look boasts everything from 39 luxurious suites to Ruark music systems throughout and even The Perfumer's Story toiletries. Four new additions will see the hotel feed hungry and thirsty Londoners everything from their morning coffee, to afternoon tea or an evening tipple.
Overlooking Bloomsbury's Russell Square, The Principal is now home to 334 bedrooms and suites ranging from city singles to guest rooms and, of course, lavish suites. Being careful not to touch the building's illustrious history or its listed features, the lead designers on the project, Tara Bernerd & Partners, have successfully transformed it into a contemporary and modern hub. Picture ceramic and marble bathrooms, custom-made beds and furniture and most of all, specially commissioned artwork to fill its previously empty walls.
A stylish, Gatsby-esque cocktail bar now takes its place inside the hotel. Named after the hotel's designer, Fitz's is home to Russell Sage Studio designs and has a hard-to-miss glitter ball hanging from its ceiling. Dark wood panelling, sumptuous fabrics and stained-glass windows make up this unique cocktail bar that you'll struggle to leave come nightfall.
An all-day dining restaurant Neptune has also opened at The Principal, where Chef Brett Redman and restaurant partner Margaret Crow swap out traditional food for a freshly-made seafood menu. Up to 120 guests can enjoy the innovative approach to the classic oyster bar which serves fish only from small niche growers around the UK. Expect towering seafood platters with the likes of scallop carpaccio, hardshell clams and many more delights.
Opening its doors over the course of May and June, Palm Court sits at the heart of the hotel and will soon become the hotel's social hub. Guests can find a winter garden at one end, perfect for those chilly evenings, and on the other, a 'living wall' of plants. With a double-height glass ceiling that floods the room with light, guests can use Palm Court as a relaxing space, a meeting point or a place to step back in time and eat and drink the day away. Enjoy an afternoon tea curated by executive chef Roger Olsson and executive pastry chef, Ryan Thompson and be sure to spend an evening there as a gin trolley (our favourite type of trolley) floats around offering guests a herb-infused cocktail or a glass of Champagne from independent and small producers.
The C&TH Guide to Hot New Hotels for 2018
The original ballroom, as well as eight meeting and event spaces, will also be opening their doors over the next few months – so stay tuned!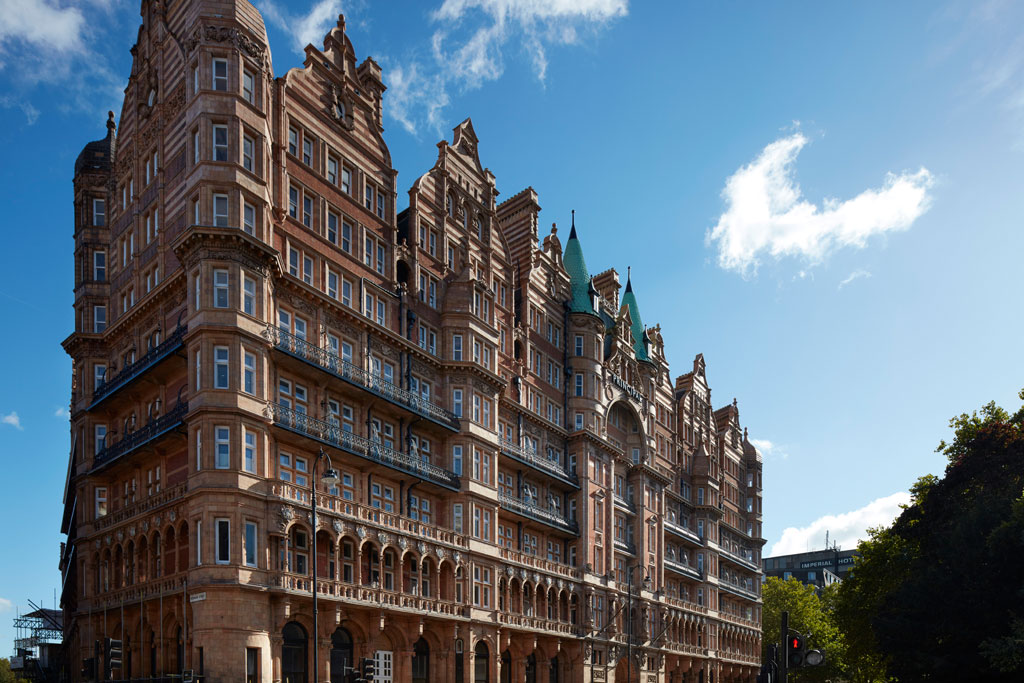 "The restoration of this stunning grande-dame hotel will provide visitors to London – and Londoners themselves – with a new destination that celebrates the splendour of the original hotel but re-imagines luxury for the 21st century. Bloomsbury is one of London's most inspiring neighbourhoods, and I am convinced that our beautiful hotel will bring a renewed spirit of energy, independence and creativity to the area." – Paul Walters, General Manager of The Principal London
Opening room rates start from £225 (including VAT) per room per night. To find out more visit theprincipalhotel.com
---