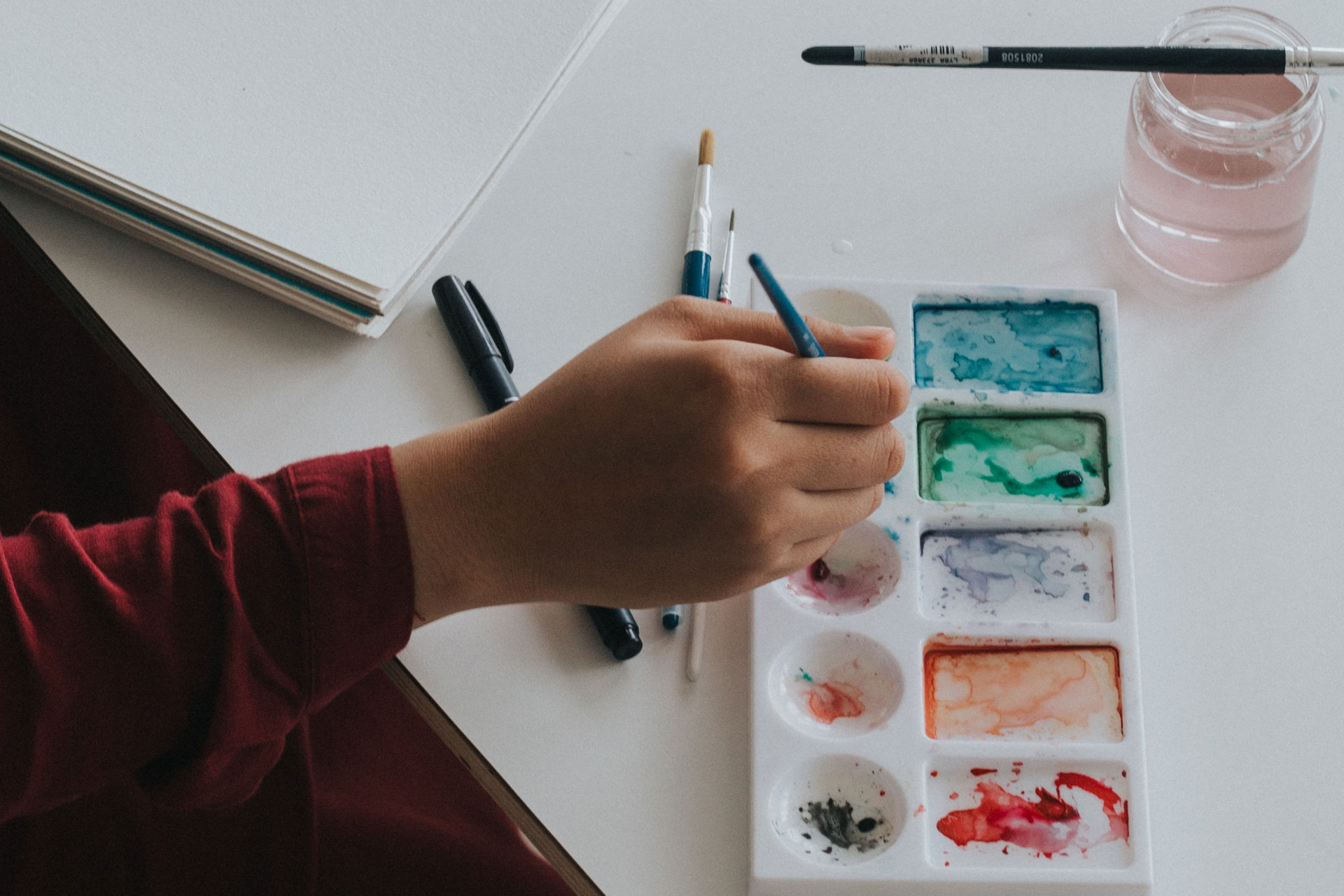 The Return of Grayson's Art Club (And How To Get Involved)
---
Get creative to stay sane as the lockdown stretches on…
With 10,000 art submissions and over a million viewers a week, Grayson's Art Club was the unexpected creative break we needed during lockdown back in March 2020. The series is scheduled to come back for a second instalment this February: Charlie Colville brings us a run-down of everything that has happened so far – as well as everything left to look forward to…
Grayson's Art Club
Listen up crafters, painters, and photographers, because Grayson's Art Club is back with another series of creative tasks and challenges for the nation to get stuck into.
Lockdown was hard to navigate the first time round, but Grayson Perry's national art club initiative provided a productive getaway for children and grownups alike. Now currently sitting in our third national lockdown in less than a year, it's safe to say that we could do with another artistic pick-me-up to brighten the mood.
With another six episodes in the works, home-grown artists should be excited to know that Grayson's Art Club is expected to be just as fun, inspiring, and whacky as its first series. Perry is keen to get the nation back on board, enforcing his mantra that "Art is good for you, whoever you are."
So, whether you prefer to sketch out your imagination on paper or see it come to life in sculpture, have been practicing art for decades or are a tentative beginner, everyone is welcome to get involved in the second installation of the Channel 4 series.
Here's everything you need to know about the upcoming series of Grayson's Art Club – what you might have missed, when it's coming back, and how you can get involved.
The Best Virtual Art Exhibitions 2021
Series 1 Recap
Perry brought the nation together during the first national lockdown, with millions of people tuning in to Channel 4 each week to get a dose of artsy entertainment.
The artist hosted the show from his London studio, where we were able to see him work alongside his wife Philippa and engage other famous artist, celebrities, and the general public in conversations about their time in lockdown.
A key element of the series involved Perry inviting people from all over the UK to send in artwork corresponding to a weekly theme – those that caught his eye would appear on the show for a chat, and a select few were chosen by the artist to be added to an exhibition.
Nearly 10,000 people sent in artwork in total, marking Grayson's Art Club as an important source of creative inspiration and community building.
View this post on Instagram
The Exhibition
The exhibition for Grayson's Art Club was scheduled to go live at Manchester Art Gallery back in November, but the show was delayed after the announcement of a second and third national lockdown at the end of 2020.
Back in December, a follow-up episode to series one showed Perry preparing for the exhibition, visiting the gallery, and meeting with museum staff. Museum director Alistair Hudson and curator Fiona Corridan showed Perry how the exhibition would be put together, with an emphasis on "a people's written history". In total, 73 artworks were brought together in the gallery in just seven weeks.
The line-up of guests involved in Grayson's Art Club was also impressive. The full list of artists on show for the exhibition includes Grayson and Philippa Perry, Jeremy Deller, Antony Gormley, Maggi Hambling, Chantal Joffe, Martin Parr, Raqib Shaw, David Shrigley and the Singh Twins, and the celebrities known to have submitted work include Jenny Eclair, Noel Fielding, Harry Hill, Jessica Hynes, Joe Lycett, Kevin McLeod, Jim Moir (aka Vic Reeves), and Liza Tarbuck.
The website for Grayson's Art Club describes the upcoming show as "an incredible chronicle of the changing moods of Britain in Lockdown – a lasting record of the times we've lived through together."
A curator's tour of the show is currently available to watch on Manchester Art Gallery's website and their YouTube channel.
Grayson's Art Club Series 2
A special episode titled 'Grayson's Art Club: Get Creating' was shown on Channel 4 on the 31 January, recapping the events of series one and – for the first time – giving the public all six themes for the next series in advance.
Submissions are already open for series two of Grayson's Art Club, and the heads-up from Perry has given everyone the opportunity to get their creative thinking caps on with plenty of time to spare.
There will be six episodes with six corresponding themes:
FAMILY – submissions close at midnight on the 10th February 2021
NATURE – submissions close at midnight on the 17th February 2021
FOOD – submissions close at midnight on the 24th February 2021
DREAMS – submissions close at midnight on the 3rd March 2021
WORK – submissions close at midnight on the 10th March 2021
TRAVEL – submissions close at midnight on the 17th March 2021
You can submit one artwork per theme. Anyone in the UK, regardless of age or background, are encouraged to submit their artwork and all media are welcome.
To submit your artwork, head over to the Grayson's Art Club website. You'll need to fill out a form, attach a video of yourself talking about what you have created, and include up to three images of the artwork itself.
Those under 18 will need a parent or guardian to submit the artwork on their behalf.
With all you need to know now at the click of a button, we encourage the nation to give the Art Club a go. Get stuck in, be creative, and make some memories. And if you're stuck for inspiration, you can watch all the episodes from series one of Grayson's Art Club on All4.
Keep a look out for Grayson's Art Club, which is set to return to Channel 4 later this February.
Featured Image: Unsplash 
DISCOVER MORE:
The Best Art Exhibitions of 2021 / Can You Find Really Good Art on TikTok?