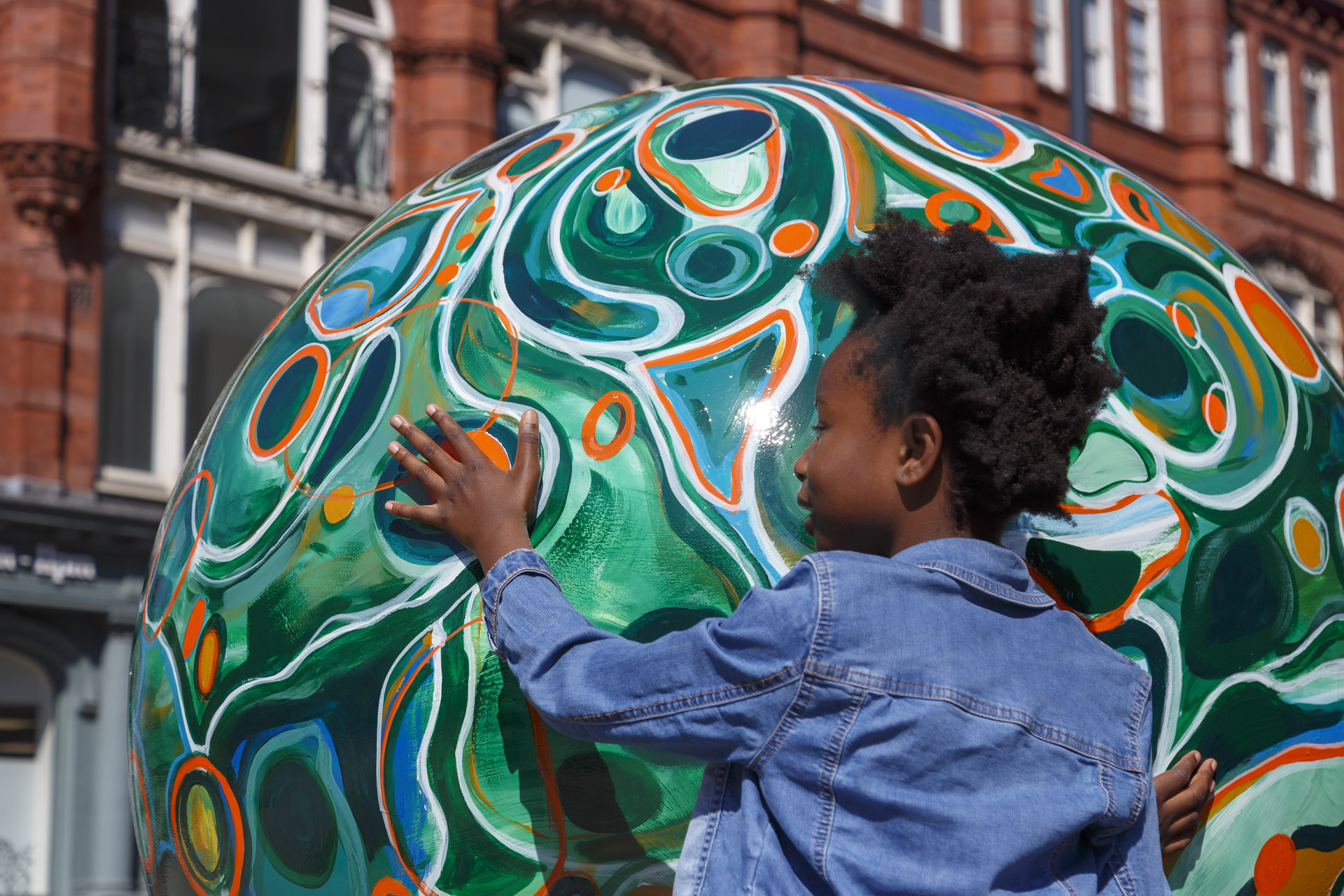 The Groundbreaking Racial Equality Installation Taking Over Trafalgar Square This Weekend
---
96 large globe sculptures will be staged by The World Reimagined
If you find yourself in Trafalgar Square this weekend, it'll be hard to miss the 96 globe sculptures. And, if you're not (yet) planning to be in Trafalgar Square, this is something you won't want to miss.
The World Reimagined x Trafalgar Square Takeover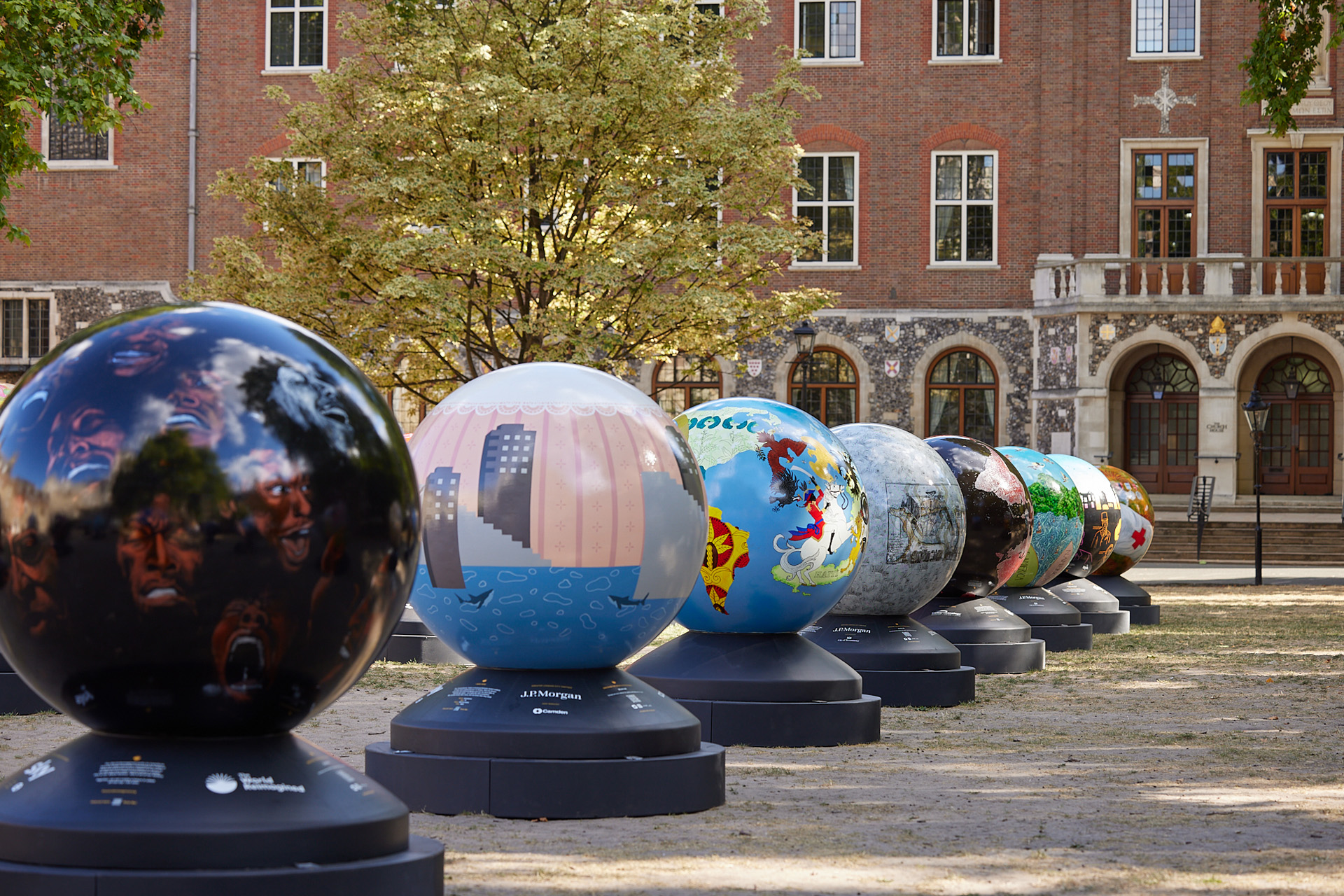 On Saturday 19 and Sunday 20 November only, 96 globe sculptures will be installed in London's iconic Trafalgar Square. The World Reimagined, the art education charity behind the sculptures, is inviting families, businesses and communities to come together and explore our shared British history, particularly the UK's relationship with the Transatlantic Trade in Enslaved Africans, exploring how the past shapes the future.
Free to visit, the art experience has been curated by Ashley Shaw Scott Adjaye, exploring themes from Mother Africa to Still We Rise, showcasing a variety of interpretations and creative styles. Work by both emerging and recognised artists will be present, including Vashti Harrison, Phoebe Boswell and The World Reimagined's founding artist, Yinka Shonibare CBE.
Eighteen of the 96 globes included in the exhibition will be auctioned from 17–25 November by Bonhams in support of The World Reimagined and art education, with bids starting at £5,000.
'Trafalgar Square is a place that has iconised British history, so it is very apt to have it host this unique collection of art that tells stories of British history that have been ignored for too long,' said Michelle Gayle, co-founder of The World Reimagined. 'This is a deeply powerful moment. We believe in an idea of patriotism that says we are strong and courageous enough to look at our shared past and present honestly, so we can create a better future – together.
'It's not Black history,' Gayle added. 'It's all of our history. And that's what these incredible artworks say: everyone is invited to the conversation, and we can all contribute.'
London is the final city hosting the globes, having previously been staged in Birmingham, Bristol, Leeds, Leicester, Liverpool and Swansea since August 2022. King Charles III visited the sculptures in Leeds on 8 November, a continuation of his recent declaration that slave trade history should be taught as widely as the Holocaust in schools.
With the globes, there is an online collection of short stories bringing them to life. Supported by The National Lottery Heritage Fund, the collection features contributions from historians, museums and heritage organisations, including Professor Kehinde Andrews, the British Library and UCL's Centre for the Study of the Legacy of British Slavery.
'The World Reimagined is an important opportunity to reflect on the importance of our diversity and to shine a light on our collective stories that too often remain untold,' said The Mayor of London, Sadiq Khan. 'We must remember the millions who suffered due to the Transatlantic slave trade and the impact this has had on generations of Black communities. 
'By displaying this powerful collection of art in the very heart of London, we are acknowledging those who helped to bring about change, and are sending a strong message about our commitment to building a better and fairer London for everyone,' The Mayor added.
HOW? The World Reimagined installation is free to visit in Trafalgar Square on 19 and 20 November 2022. Trafalgar Square has step-free access and accessible toilets. The closest tube stations are Charing Cross, Leicester Square, Picadilly Circus and Embankment.
Featured image (c) David Oates.