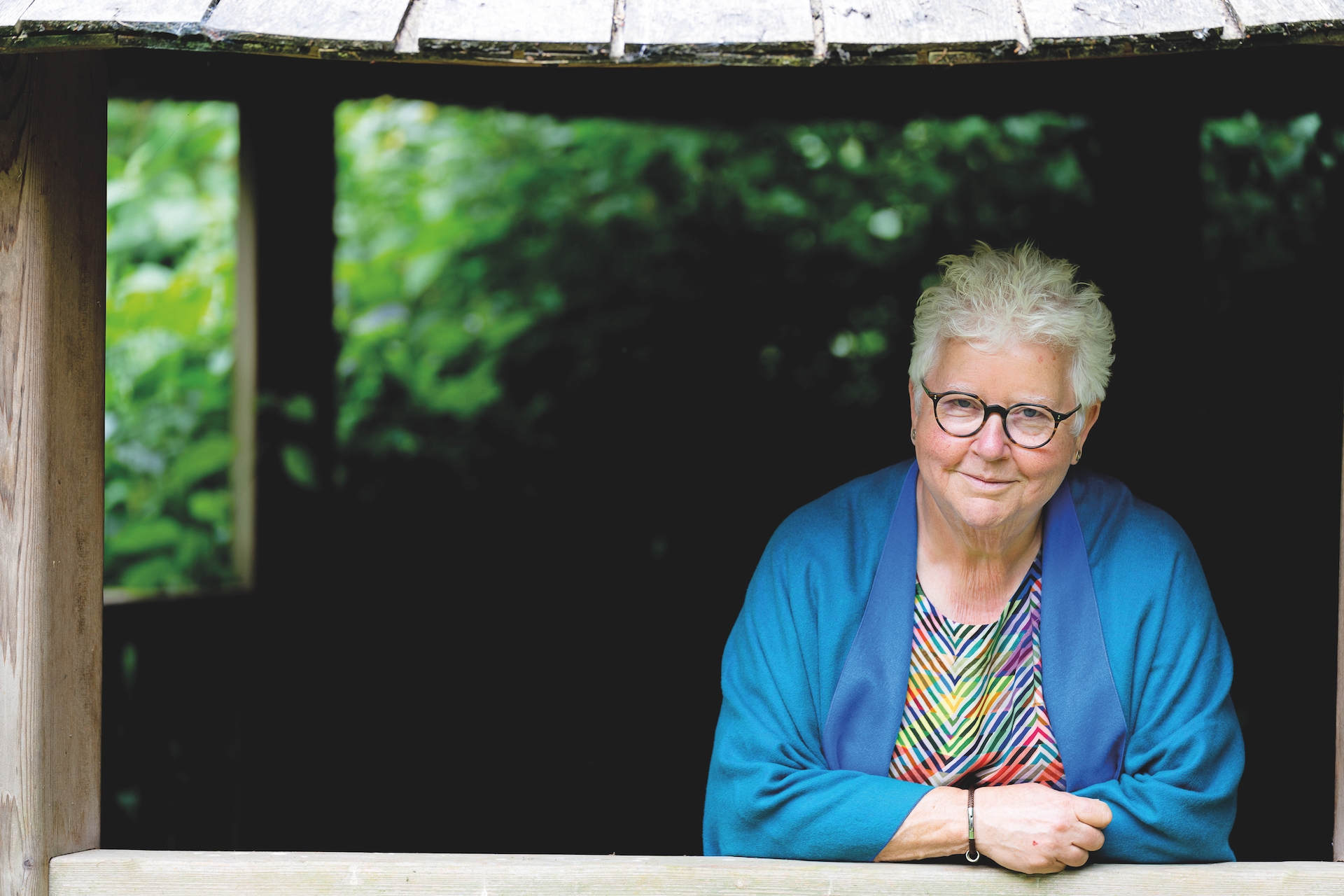 Val McDermid, Queen of Crime, On The Perfect Murder
---
Getting to know the prolific Scottish author
As Val McDermid publishes her 36th novel, 1989, Caroline Phillips talks to 'the Queen of Crime' about the perfect murder, eating disorders and gender identity.
Main image by Charlotte Graham
Interview with Val McDermid
Val McDermid, international bestselling crime writer, is talking for the first time about when she was suspected of having killed someone – and it could have been the perfect murder. The author, 67, also reveals her feelings about transitioning to become a man, and about her lesbianism. And about the medical condition that could potentially stop her from writing.
1989
She's here to promote 1989, which has just hit bookshops. In it, protagonist Allie Burns uncovers a shocking story amid the fall of communism, the AIDS epidemic and Murdoch's media wars. Additionally, Karen Pirie, ITV's cold case murder drama – the six-hour series is an adaptation of Val's chilling psychological thriller, The Distant Echo – is about to hit our screens. 'It's great TV,' says Val, in her deep Scottish burr, 'and [Outlander star] Lauren Lyle is a vibrant, engaging Karen Pirie.'
We meet on Zoom. She's sitting in the Edinburgh house that she shares with her civil partner, Jo Sharp, an academic. Are those poison bottles behind her? 'Antique pharmacy jars,' she replies, smiling. 'Nothing sinister.' Will she hit 'leave meeting' if I ask anything tricky? 'No.' If I peeked, what 'skeletons' would I find in her medicine cupboard, photo albums and private letters? 'I'm pretty much on the surface, without hidden darkness and secrets.' She pauses. 'Probably most illuminating is my shamefully untidy office. Sometimes I can't get to the desk because of the stuff piled on the floor.'
The Perfect Murder
Val has white hair, a warm, genial face and ruddy complexion. And a head gash from tumbling down the stairs. Was anyone implicated? 'It would be the perfect murder,' she replies, laughing. 'You push someone down the stairs and it looks like an accident…' She was alone at the time.
Val – the PD James and Ruth Rendell of our day – has sold over 17 million books, translated into 40 languages. (Not to mention adaptations, including her Tony Hill and Carol Jordan series Wire in the Blood.) She's a one-woman word factory, manufacturing a high- quality range: from 36 novels – including a charmingly reimagined Northanger Abbey – to a children's book and forensic science tome. Once, she penned four books in 18 months. She writes, sitting, in 20-minute bursts – then takes ten-minute 'admin breaks' at her standing desk. (Does she have ADHD? 'Probably,' she admits. 'But I've never been formally diagnosed.')
Given her success she must be seriously wealthy. In Britain, I say, we're more comfortable talking about our sex lives than our earnings. How much does she make? 'Honestly, I don't know,' she responds, citing foreign, TV and radio rights. What's her advance for a crime novel? 'Pass.' Shall we, I joke, talk about her sex life instead? 'Fine. Absolutely. What do you want to know?' It's a subject to which we return later.
Val was an only child – 'unexpected because my parents had TB which can affect fertility' – raised in a council flat in Kirkcaldy, Scotland, then a two-up, two-down. She spent a lot of her 'happy childhood' with her grandmother and grandfather – a former miner. A socialist (and radical feminist), Val isn't extravagant and gives away 'lots of money'. She supports women's sports, homelessness issues, and food banks. 'It's a stain on society that so many don't have a roof over their heads,' she says. 'It's shameful in our supposedly wealthy country that people can't afford to feed themselves or their children.'
Identity
We move on to more impertinent questions. Does she ever wear a dress? 'Ah, noooh,' she replies, then Zoom (not Val) cuts us off. We're both on free accounts. When we reconvene, I ask whether she ever dons make-up. 'Only when someone does it for TV.' Is she comfortable with her body? 'I continually battle with my weight. I don't think I have an eating disorder. I'm just greedy.' She pauses. 'If that's an eating disorder, that's what I've got.'
Val's gender politics are also inclusive. 'I remember the homophobia of the 1980s when lesbians were othered by Clause 28 and the law. I was told things like, "You're not a proper woman", "I wouldn't want my wife in the same changing room as you", and, "Don't come near my daughters". It was a horrible feeling,' she divulges. 'Straight people don't have the right to tell me that I'm wrong to love a woman.' She had a sexual relationship in her teens with a man. 'It just left me feeling like that Peggy Lee song: Is That All There Is?'
Author Turns Suspect
Finally, what of Val having been a murder suspect? When her mother, Davina, died in 2011, she was alone. 'Ironically, a policeman came to question me, then in Manchester. I realised that they thought I'd driven to Kirkcaldy and put a pillow over her face,' she explains. 'I found myself momentarily a suspect.' As to the medical condition that could potentially prevent Val from typing… she has three trigger fingers, malfunctioning tendons that stop her bending her hand. 'But I've had three successful surgeries so far.'
It's hard to gauge someone's reactions and character on screen, but I'm left thinking that this master of depictions of violence and torture is fun, gentle and considerate – and, by her own description, inquisitive, impatient and tenacious. She's also super bright. 'I don't,' says Val, the first student from a Scottish state school to go to St Hilda's, Oxford, at 17, 'feel clever a lot of the time.' She also suffers from imposter syndrome. 'I worry that the next book will not be as good as it ought to be.'
1989 by Val McDermid (Little, Brown, £16.99) is out now, bookshop.org
DISCOVER MORE