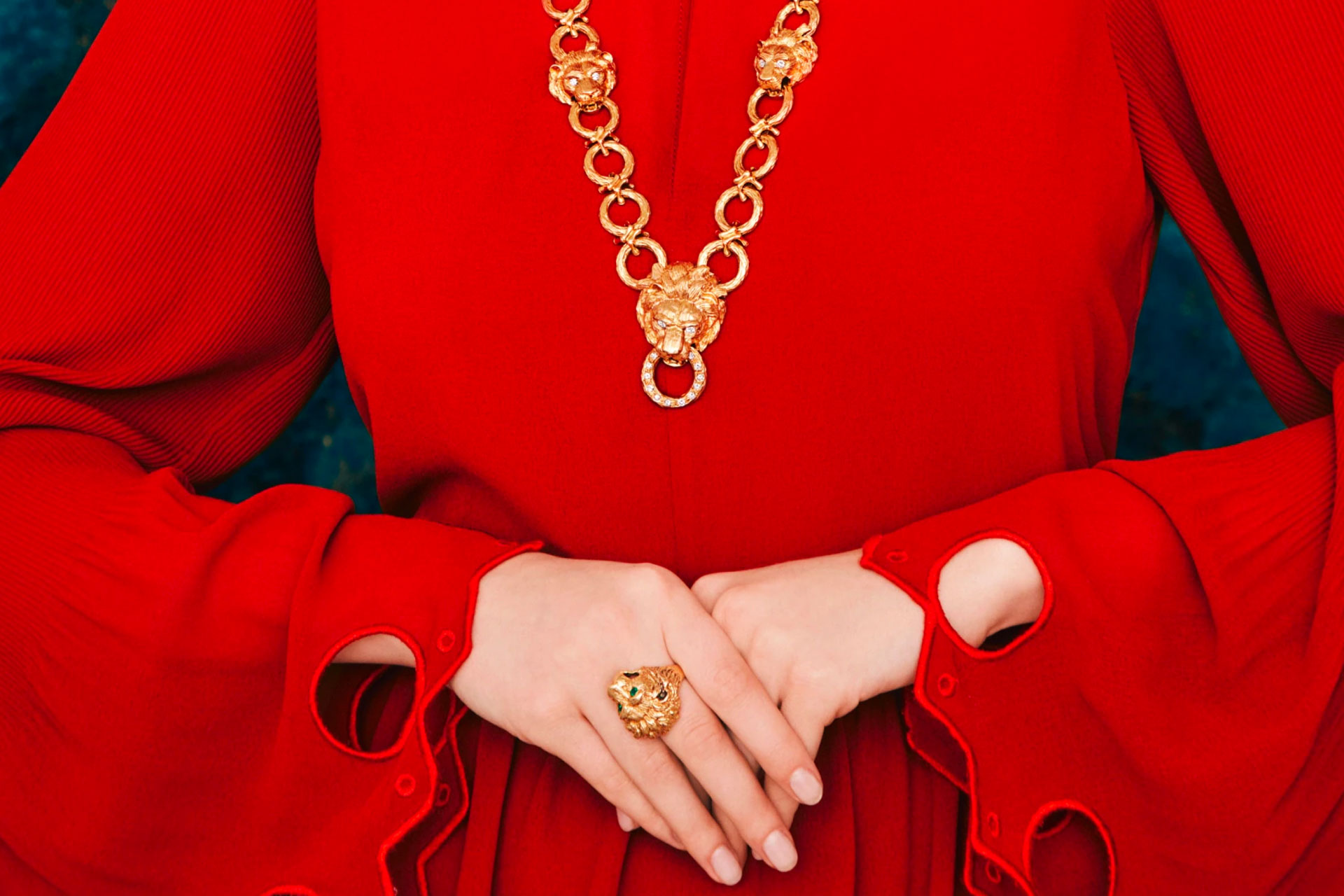 Van Cleef & Arpels Exhibition at the Design Museum: What To Know
---
A new exhibition at the Design Museum highlights the best of movement in jewellery
As a fascinating new exhibition comes to the Design Museum, Vivienne Becker muses on how Van Cleef & Arpels has perfected the art of movement in jewellery.
Van Cleef & Arpels Exhibition at the Design Museum: What To Know
Jewellery possesses one particular characteristic, or function, which sets it apart from other decorative arts or design disciplines: it's made to be worn, to interact with the body, to float on the skin, harmonise with our movements.
It is an essential role that makes the art of jewellery, the seamless fusion of design excellence and virtuoso craftsmanship, so challenging. Jewellery has to come alive when worn, in motion, as its precious components play with light, sheen and silhouette.
For the Parisian heritage maison, Van Cleef & Arpels, movement, physical and metaphorical, has been part of an ever- evolving design language, a driver of creativity since its founding in 1906.
Now a new exhibition at London's Design Museum, 'The Art of Movement', delves deep into the maison's ongoing quest to imbue precious materials with movement, dynamism, fluidity and melody. An exhibition that shows how movement, in all its meanings and iterations, is embedded in the raison d'être of a jewel.
Lise Macdonald, Van Cleef & Arpels' Patrimony and Exhibitions Director and the exhibition's curator explains:'The maison witnessed the evolution of mobility in society, and the increasing importance of motion in 20th century artistic movements. Representing movement has thus been one of Van Cleef & Arpels' self- imposed challenges, leading it to imagine creative designs and develop techniques.'
The first historical Van Cleef & Arpels exhibition to be held in London, the show is the third movement-related event in the UK over the past year, following 'Dance Reflections', a festival of dance and choreography in collaboration with Sadler's Wells, the Royal Opera House and Tate Modern, and the maison's movement-themed presentation at Masterpiece art fair, showing objects including a vintage ballerina brooch, the mesmerising 'Rêveries de Berylline' automaton, a leaping frog brooch and a shooting star clip. Together, the trio of events is fittingly called 'Pas de Trois'.
Tim Marlow, Chief Executive and Director of the Design Museum, shares his point of view: 'Jewellery design has such a long and illustrious history but it often gets overlooked. I know our audiences are excited by the opportunity to see the intricate, dynamic and highly original designs that have characterised Van Cleef & Arpels' work over the past century and which remain at the forefront of contemporary jewellery.'
Comprising around 100 jewels and objects, most from the maison's heritage collection, along with archive documents and loans from private collections, the exhibition is divided into four thematic chapters, each focusing on a different aspect of movement, interpreted through different eras, styles and creative expressions. The scenography, with its floating ribbons and pleated fabric-covered showcases, amplifies the theme by referencing Van Cleef's long connection to the world of couture, to fabric, folds and frills; visitors are welcomed with a hypnotic vision, an anamorphic ribbon curled into a stylised flower form.
Nature, first among Van Cleef's themes and inspirations, opens the exhibition.'NatureAlive' highlights the unstoppable growth of plants, flowers, leaves in constant flux, animals in motion, birds in flight and a diamond feather wafting on the breeze. An abundance of flower clips includes a silhouette flower brooch (1937), its undulating gold outline suggesting overblown petals, while a Bellflower sapphire and diamond clip (1969) demonstrates the maison's signature technique, serti mystérieux, enabling intense colour and light to ripple across the surface of floral and foliate creations. The dial of a secret watch (1956) is hidden behind sapphire-smothered leaves, and a minaudière, another Van Cleef signature, the little kitted-out vanity case that was all the rage in the 1930s and 40s, is covered in a design of vegetal arabesques.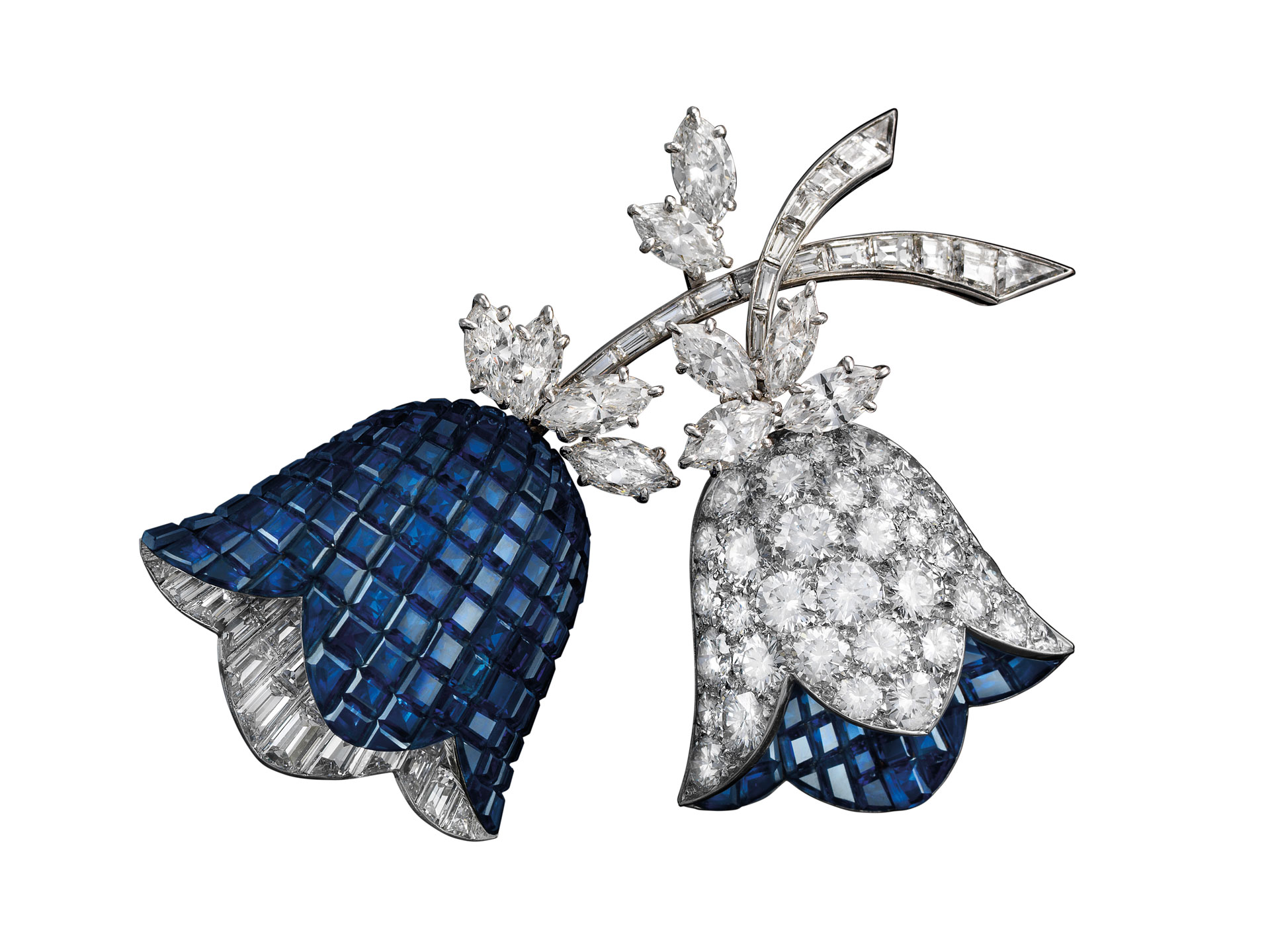 The next section, 'Dance', focuses on a long-time preoccupation of the maison that began in the 1920s, when Louis Arpels would take his nephew Claude to the ballet at the Palais Garnier. Much later, Claude, now running the New York branch and a committed balletomane, found an unexpected outlet for his passion. As the story goes, one spring morning in New York in 1961, staff in the Fifth Avenue boutique alerted Claude Arpels to a strange-looking man staring far too intensely into the shop windows. Claude confronted the interloper, and discovered he was George Balanchine, celebrated choreographer of the New York City Ballet. Balanchine explained that he walked past the shop windows everyday and was captivated by the precious gems he saw there. Claude in turn told of his admiration of Balanchine's ballets. It was the start of a friendship that resulted in the creation of Balanchine's three-act ballet, Jewels. The choreographer told Claude how, staring at the jewels and gems, he sensed that the emeralds were meant for Fauré, the rubies for Stravinsky, and the diamonds for Tchaikovsky. Both men understood the links between jewels and dance, the shared values on which their endeavours and reputations were built: dedication to perfection, technical virtuosity, storytelling and effortless elegance.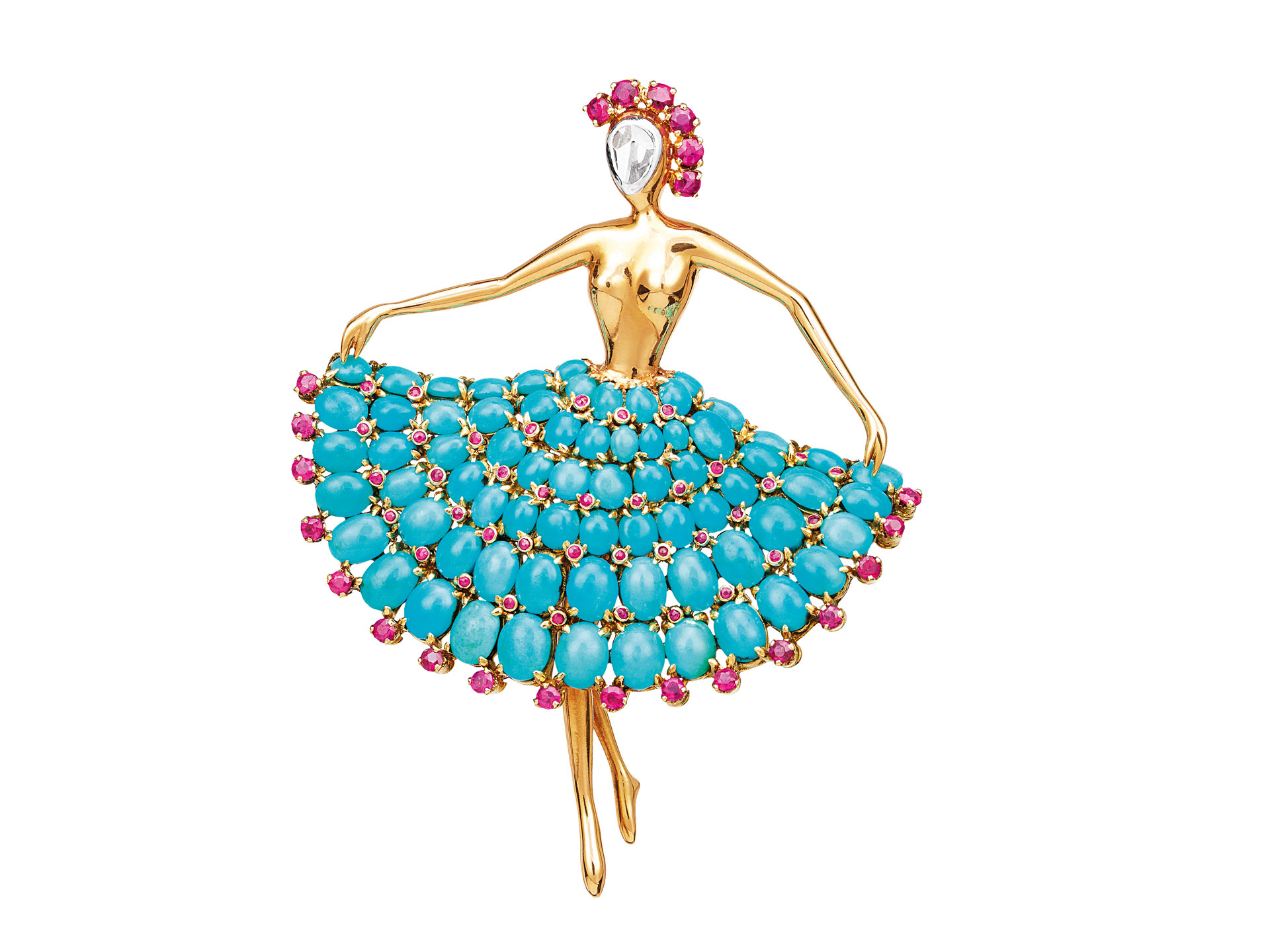 Earlier, however, Van Cleef & Arpels had created one of its most enduring style icons: the ballerina clip-brooch, first launched in 1941, and said to have originally represented Marie Camargo, the famous 18th century French dancer, as depicted in a 1730 painting by Nicolas Lancret that tycoon Andrew Mellon had given to the National Gallery of Art in Washington, DC in the late 1930s. Camargo executed leaps previously performed only by male dancers, shortening her skirts and removing the heels from her slippers to enable her do so. The ballerina clip, created by Louis Arpels, in collaboration with designer Maurice Duvalet and jeweller Jean (John) Rubel, gave birth to a series of figurative clips, including more ballerinas, in different poses and tutus, as shown in the exhibition, including a 1950s version with turquoise skirt, and the 1969 pearl-bedecked Balinese dancer, along with a host of glittering, dancing fairies. All were characterised by an oval rose-cut face, expressive balletic movements and lavishly embellished costumes.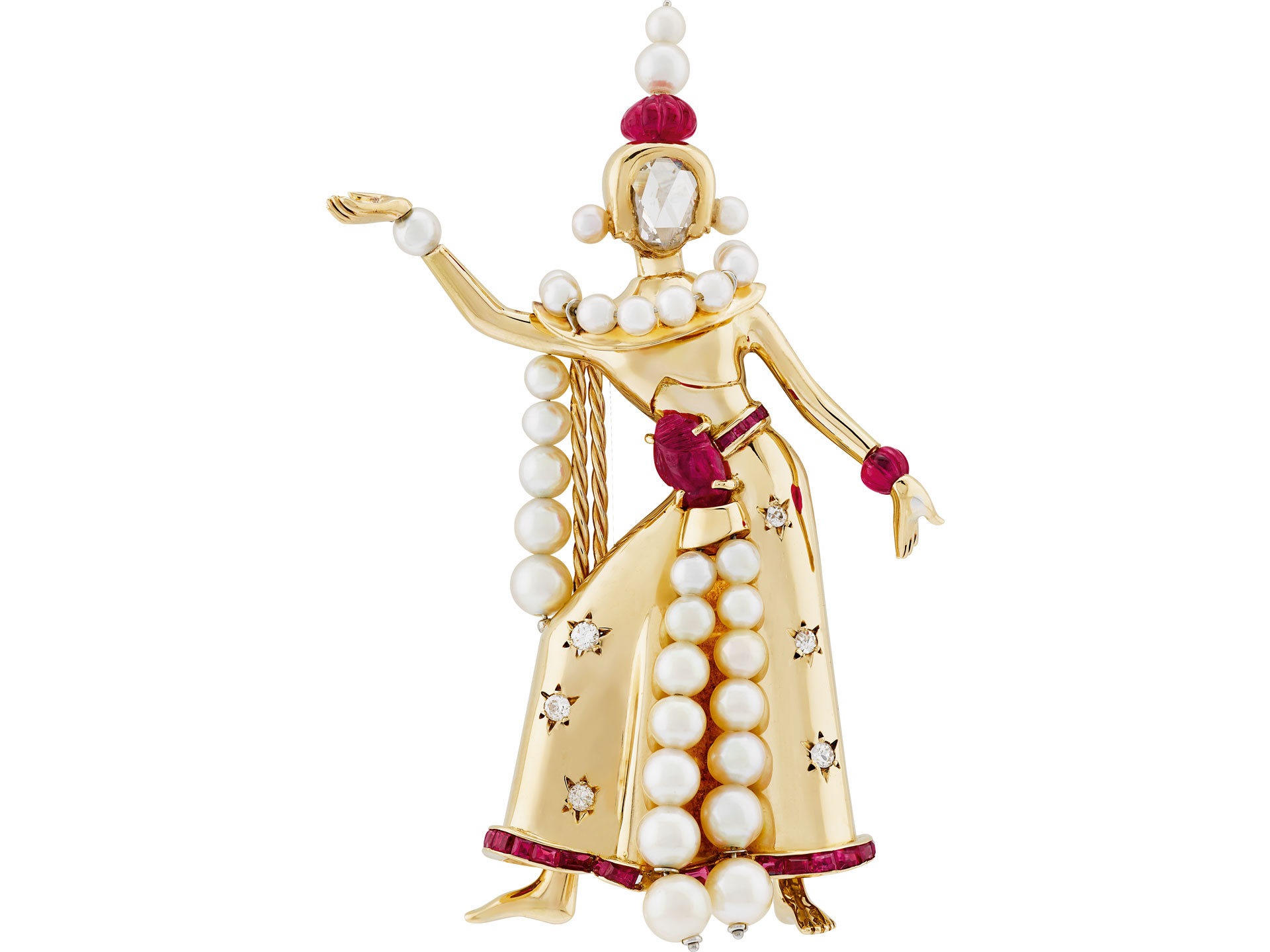 The next section, 'Elegance', highlights the maison's connection to fashion and femininity through jewels inspired by the refined details of Parisian couture; passementerie, tassels, supple silks and lace, ribbons and bows, serge, twill and the rope-like twisted cord re-imagined in 1940s and 50s goldwork. A spectacular diamond ribbon double clip (1938), for example, perfectly illustrates the frozen movement of the 'cocktail' style, the lively ribbon loops draped through a knot set with baguette diamonds. This section includes the ingenious Zip necklace, designed by former Artistic Director, Renée Puissant, daughter of Alfred Van Cleef and Estelle Arpels. The idea was supposedly suggested to her by Wallis Simpson who was intrigued by Schiaparelli's new fastening. So complex was the necklace, with its fully-functioning zip mechanism, pulled by a tassel, and converting to a bracelet, that it was only in 1950 that the first model was finally produced, a masterpiece of design and engineering and a modern classic.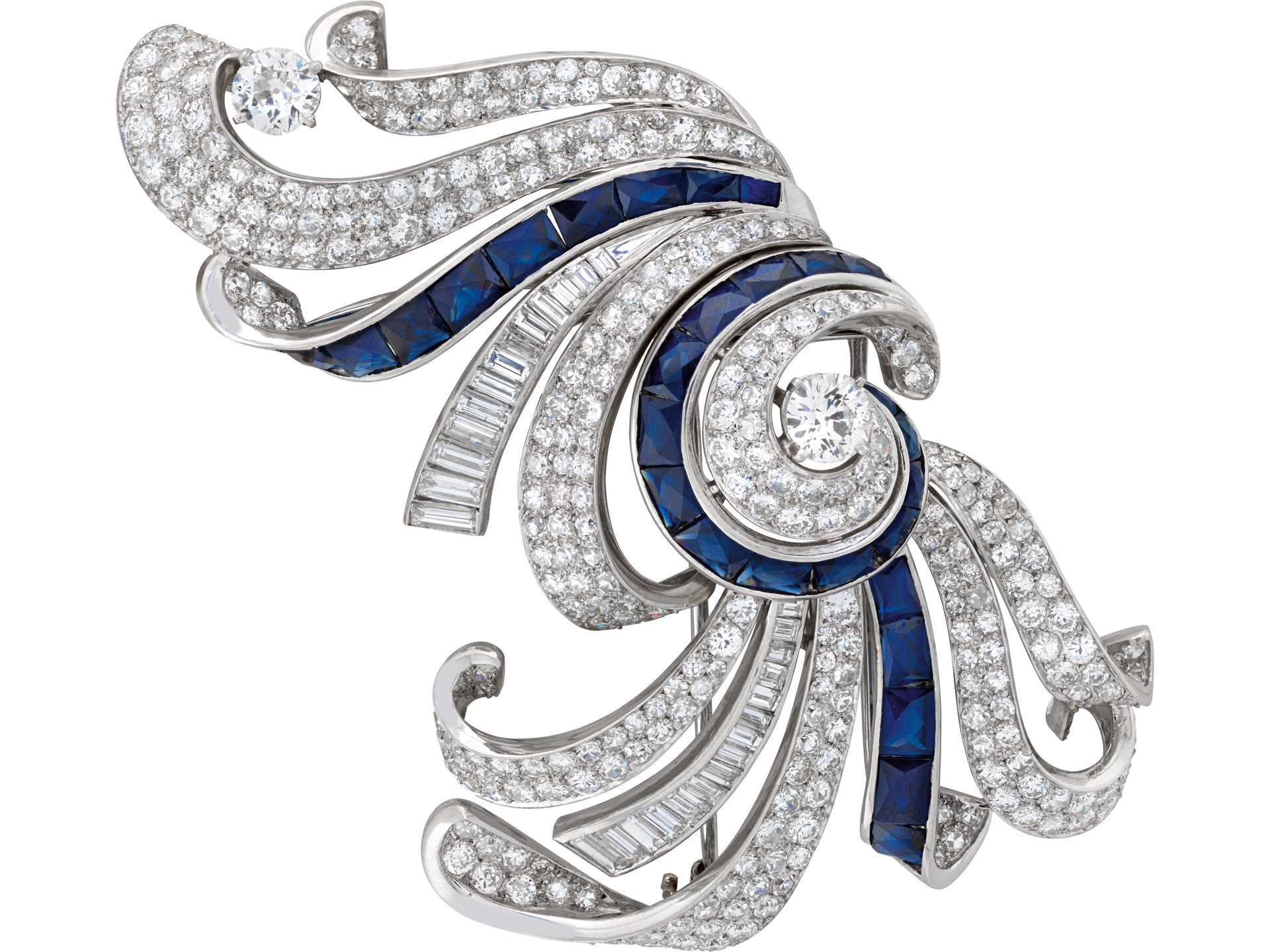 The final chapter of the exhibition looks at 'Abstract Movements' and modernism, tracing Van Cleef & Arpels' interpretations of 20th century developments in art and design, including the dizzying illusions of Op Art and the high-energy of 1970s kinetic art. The striking modernist jewels in this finale include a dramatic necklace (1958) composed of spun gold elliptical motifs, ellipses within ellipses, studded with diamonds, generating a hypnotic whirling effect.
As curator Lise Macdonald states, this sharply focused thematic approach offers a whole new perspective on Van Cleef & Arpels' creativity, via its interpretations of what she calls 'living instants – the flutter of a butterfly's wings, a blooming flower, a ballerina twirling on stage or a ribbon floating in the air.' All of them, she says, transformed into 'eternal objects'. And into pure poetry in motion.
'The Art of Movement: Living Instants, Eternal Forms' at the Design Museum, Kensington, from 23 September to 20 October 2022. designmuseum.org
DISCOVER MORE:
The Best Art Exhibitions in London / The Exhibitionist: In the Black Fantastic