The latest exhibition of the Victoria & Albert Museum's theatre and performance department inspires us to undergo a touch of curatorship in our own homes. Clementine Haxby takes a look inside…
The Victoria & Albert Museum's 'You Say You Want a Revolution? Records and Rebels 1966-70' is a curatorial delight. The major exhibition will explore the era-defining significance and impact of the late 1960s upon life today, investigating the upheaval, the explosive sense of freedom, and the legal changes that took place resulting in a fundamental shift in the mindset of the Western world.
A visit to this exhibit brings you face to face with some of the most iconic artefacts of this era – Sergeant Pepper's Lonely Heart's Club costumes, Warhols' Souper dress and shards from Jimi Hendrix's guitar; we look at the changing nature of museum interiors, questioning how such changes could serve to influence and revolutionise our approach to domestic interior design.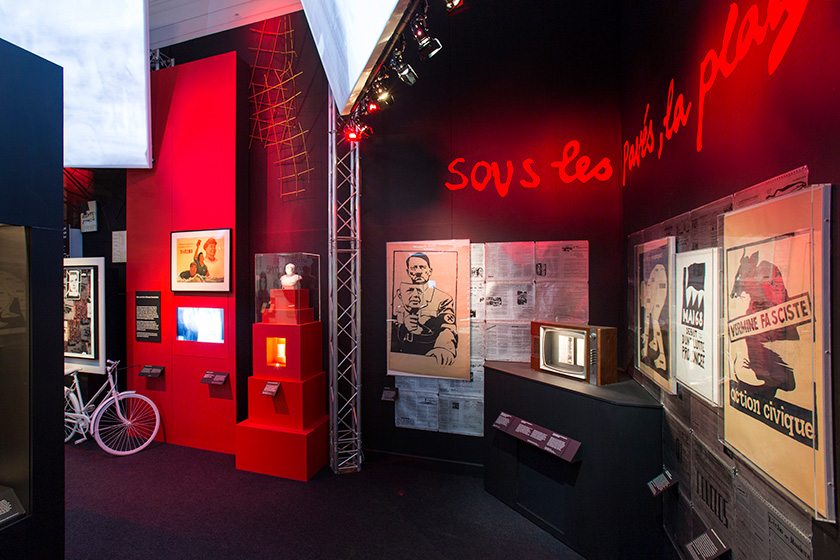 The V&A Method:
As was exemplified first in 'David Bowie Is' and soon after in 'Alexander McQueen: Savage Beauty', the Victoria & Albert Museum simply doesn't do 'white cube'. Even the permanent exhibitions are constructed in such a way as to encourage a total immersion of the visitor – as a child I recall getting lost somewhere between Balenciaga's evening gowns and Dior's 'new look' in the engulfing circle of the museum's historical narrative of fashion.
While there is an argument for the white-washed wall, suggestions to let art speak for itself, it strikes me that in no place is the focus on interiors and curatorship more appropriate, and effective, than in the world's leading museum of art and design.
Here we might consider the museum an anthropological object in itself, illustrating through changing methods of display, the nature and characteristics of current visitors. Evidently, considering the global success of all of the afore mentioned shows, bigger is indeed better – or perhaps more in keeping with the latest exhibition, the artefacts of the Victoria & Albert Museum achieve their fullest potential when they have 'a little help from their friends'.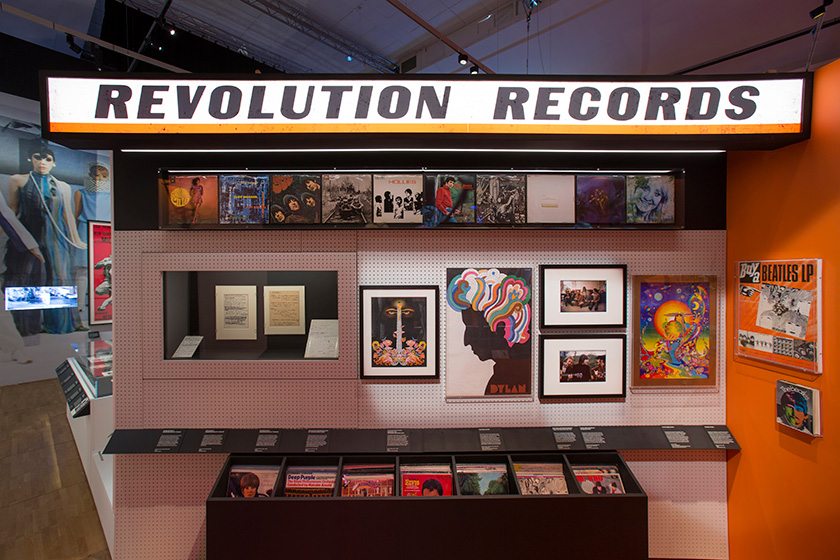 The Exhibition: 'So You Want to Have a Revolution?'
As luxury companies feel the impact of the millennial lifestyle, which focuses less on diamonds and more on diary dates, 21st-century life is less about what you see or wear, and more about how and where you see it – the co-curators of 'Records and Rebels' are certainly on board with the tendencies of 'my generation'… We've all seen clips of braless blondes burning lighters in the crowds of Woodstock '69, but have we heard Hendrix's live set played through Sennheiser headsets, following us through an exhibit, adapting to our position in a gallery and integrated with video and moving image?
Not only does 'Records and Rebels' create a fully immersive and dramatic audiovisual experience through music and film, but equally it brings the 60s to life through powerful aesthetic themes. What better way to induce nostalgia for record collections than through the inclusion of a 60s-style shop 'Revolution Records', and how else can parents and grand-parents truly convince their youngsters that the bob really was painfully cool without a throw-back inducing blow-dry bar?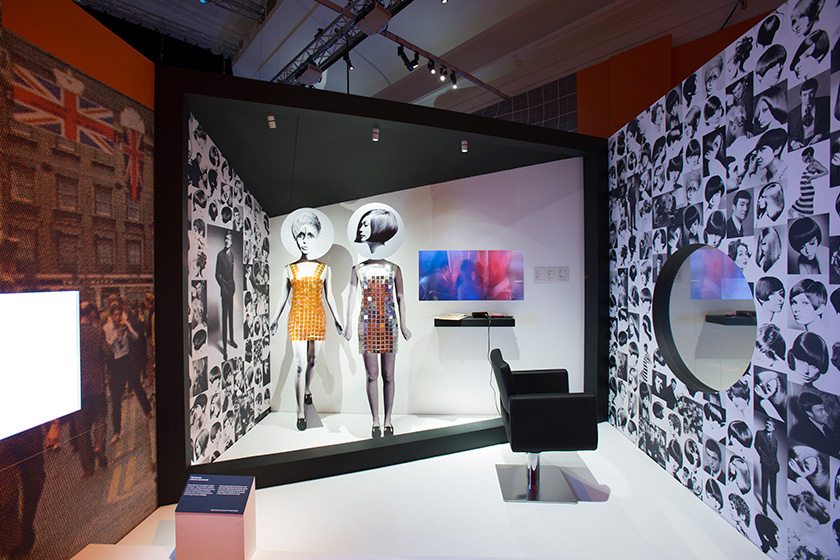 Looking to less specific inclusions of 60s touches, the exhibition is consistent in its colour-popping character, with luminescent light and iconic images, such as the Twiggy-esque eye and the London telephone box, both transporting us back to the 60s, but equally helping us to realise that, through our familiarity with these aspects of design and style, the 60s hasn't been, and isn't going, anywhere.
Now you might not own a red telephone box (well, you might if you've ever visited West One Bathrooms), but houses are home to objects of nostalgia – a school trunk that belonged to your dad, a dress that missed the trip to the charity shop, or your first ever Stones record. With nods to history of all periods across the catwalks this autumn, I think it would only be right that your homes get a little bit of a contemporary throw-back. And, exploring the on-going influence of the late-60s on 21st-century society, it would only be rude to miss the opportunity to gain some interiors influence from the Victoria & Albert Museum's most interactive exhibit yet.
Get Inspired:
It's a new season and we know you wanna revolution so here's some ideas to get you started on the road to curating a bit of 60s (minus the LSD) in your own home…
1.  Reminisce on the 'golden age of travel' with some retro trunks in the heart of your home:
2. Call on the past with a vintage-inspired telephone:
3. Keep a record of your records by mixing art with music:
4. Hang up and hang on to your favourite items from party days past:
5. Ban technology from the kitchen table and find a new centerpiece:
'You Say You Want a Revolution: Records and Rebels 1966-1970', V&A until 26 February 2017, £16.00.
READ MORE: A brief history of Fortnum & Mason
READ MORE: 10 things you didn't know about Audrey Hepburn
---