Whilst the 20th Century splendour of Downton Abbey may feel worlds away, the real-life experience is more attainable than you might expect. If you've ever wondered what it might be like to drink tea in the library, gossip around the grounds and do as the Crawleys do, a trip to Highclere Castle – the bona fide home of Downton Abbey – can't go amiss…
The Best Royal & Historical Dramas to Watch Right Now
A spectacular 1,000-acre country house situated within the rolling hills of Hampshire, Highclere Castle has been the beating heart of Downton Abbey ever since the first episode aired in 2010. A decade later, both the franchise and castle are still enchanting audiences and visitors alike. 
Joanne Froggatt on Life After Downton Abbey
The well-loved historical series – spanning six seasons and a feature film which premiered in September of last year – won over international viewers, watched by a global audience of 120 million by 2013 (season four), whilst the recently-released film had grossed an impressive $191.8 million worldwide by December 2019. It's no wonder that Highclere has become such an iconic location; not least for its intriguing history (dating back to 749, as stated in the first written records), but also as a cherished film location renowned for its charming characters and endearing grandeur. 
But what can one do at Highclere? From taking a wintry walk around the grounds, to exploring the state rooms – in which much of the Downton filming took place – and delighting in quintessentially British tea and scones in the Stable Yard café (in which the walls are adorned with Downton memorabilia), you're bound to feel as if you've been transported to the 1900s. 
11 of the Best Stately Homes to Visit in the UK
Now residence to the 8th Earl and Countess of Carnarvon – or Lady Carnarvon, as she's most renowned – whom I had the pleasure of meeting on my tour of the castle, visitors are encouraged to enjoy the history, eminence and Downton Abbey-style aspects of the estate; its opulent, gothic interiors, awe-inspiring library (with books dating back to the 16th Century), sumptuous dining room (instantly recognisable from the franchise) which features an impressive portrait of Charles I, beautiful follies and fascinating Egyptian antiquities. 
In fact, there is even an underground exhibition dedicated to the Egyptian discoveries of the 5th Earl of Carnarvon, George Herbert, who, along with archaeologist Howard Carter, unearthed the tomb of Tutankhamun in 1922. Head down to the estate cellars and explore a range of captivating Egyptian artefacts, an imposing replica of Tutankhamun's Tomb and archives revealing the kind of extraordinary man Herbert really was. 
16 Best Independent London Cinemas
It is also possible to book a stay at Highclere. Though you won't be able to reside like the Crawleys in the principal castle, the property's circular stone Grotto (approximately 175 years old) and London Lodges (built in 1793) on the grounds of the estate are up for grabs. Delight in long country walks, a beautiful private garden and cosy cottage interiors in the Grotto Lodge, or the striking Coade stone archway and wood burner in the London Lodge. 
Downton Abbey might be taking a well-deserved hiatus (perhaps, we hope, with a film sequel on the horizon), but Highclere is certainly here to stay. 
In light of the home entertainment release of the Downton Abbey film, we caught up with some of the cast to find out what it was like returning to Highclere…
Downton Abbey The Movie is available now on Digital and 27th January on Blu-ray™ and DVD, from Universal Pictures Home Entertainment.
Downton Abbey film footage courtesy of Universal Pictures | Video editing: Megan Jones
READ MORE: Highgrove: A Visit to the Royal Gardens | The C&TH Guide to Royal London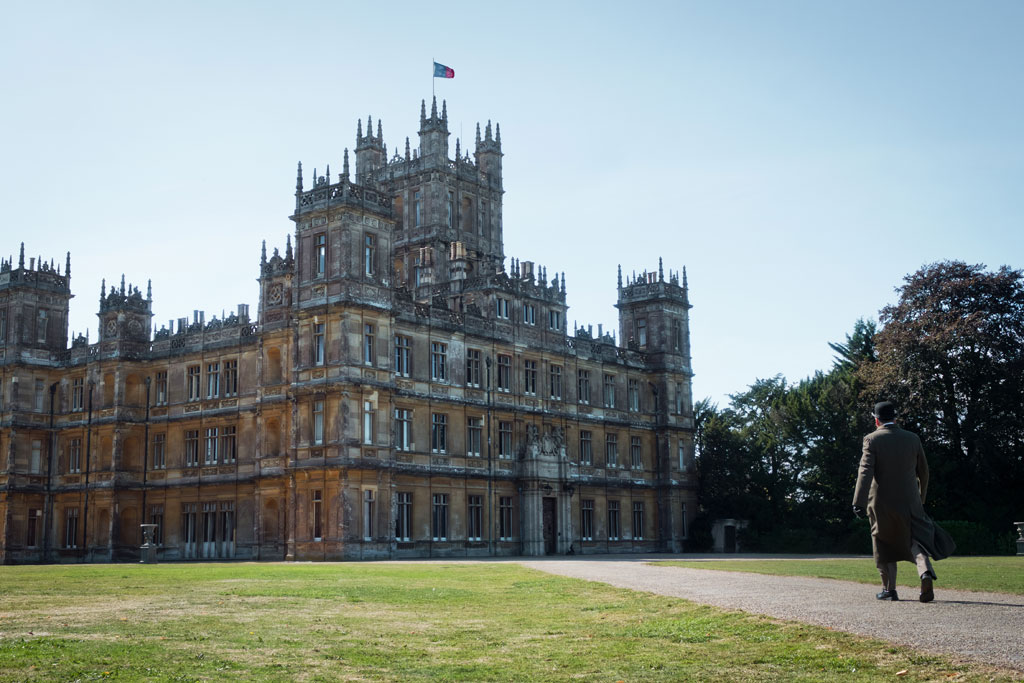 ---