It's quite possible to be stuck in a routine-rut even on weekends. Well, now that you're admitting it to yourself…we're here to douse you in ice cold, Kultur-Aid to get you up and out, seeing and doing. In addition to our daily 'What to do Today' features, we bring you 'What to do This Weekend' so that you're never without a plan.
What to Do this Weekend: Get Up Close and Personal with Picasso and Macaroons
Saturday
First on the docket, for today 10 March… attend the Tate Modern's  first solo Picasso exhibition: The Ey Exhibition: Picasso 1932 — Love, Fame, Tragedy.
Come face-to-(slightly less symmetrical)-face with more than 100 paintings, sculptures and drawings, plus family photographs and rare glimpses into Pablo Picasso's personal life. Three of his legendary paintings featuring his lover Marie-Thérèse Walter will be exhibited together for the first time since they were created over a period of just five days in March 1932. The artist in his full complexity and richness will come to light in this myth-busting exhibit curated by Achim Borchardt-Hume, Director of Exhibitions with Nancy Ireson, Curator, International Art, Laura Bruni and Juliette Rizzi, Assistant Curators, Tate Modern.
Listen to our episode of the What's On Podcast with an audio curator's tour of the Picasso exhibition with Nancy Ireson, here. 
Where and when? Tate Modern Bankside, London SE1 9TG. Sunday to Thursday 10.00–18.00; Friday to Saturday 10.00–22.00. Until 9 September 2018. 
Have You Seen Picasso's Golden Muse?
Sunday
The next order of business, for tomorrow 11 March…do something off the beaten path of flowers and chocolate for Mother's Day and make macaroons with mama.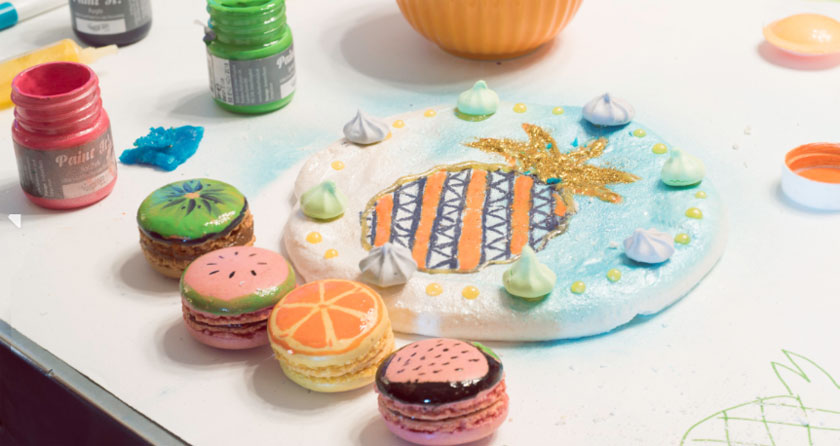 There are not many days that prosecco, popcorn and painting go amiss. But when the prosecco is popping to celebrate mum, the popcorn is purple and the painting is of macaroons, well, we're listening…. A weird and wonderful display of blue bananas, silver grapes, golden pineapples and bejewelled watermelons will spark creative juices at this workshops where mums & co. can paint 6 inch macaroons, to be boxed up in packaging also designed at the workshop. Artistes can also paint 4 smaller macaroons and enjoy 2 complimentary glasses of prosecco and yes, the purple popcorn. Tickets cost £45.
Take Mum to a Mansion This Sunday
Where and when? The Macaroon Art Mother's Day Special is at a secret location between Shoreditch Park and Victoria Park London; 15:00 – 17:00 Sunday 11 March. 
What are we getting up to in the country? Investigate our Country Culture Diary.
---