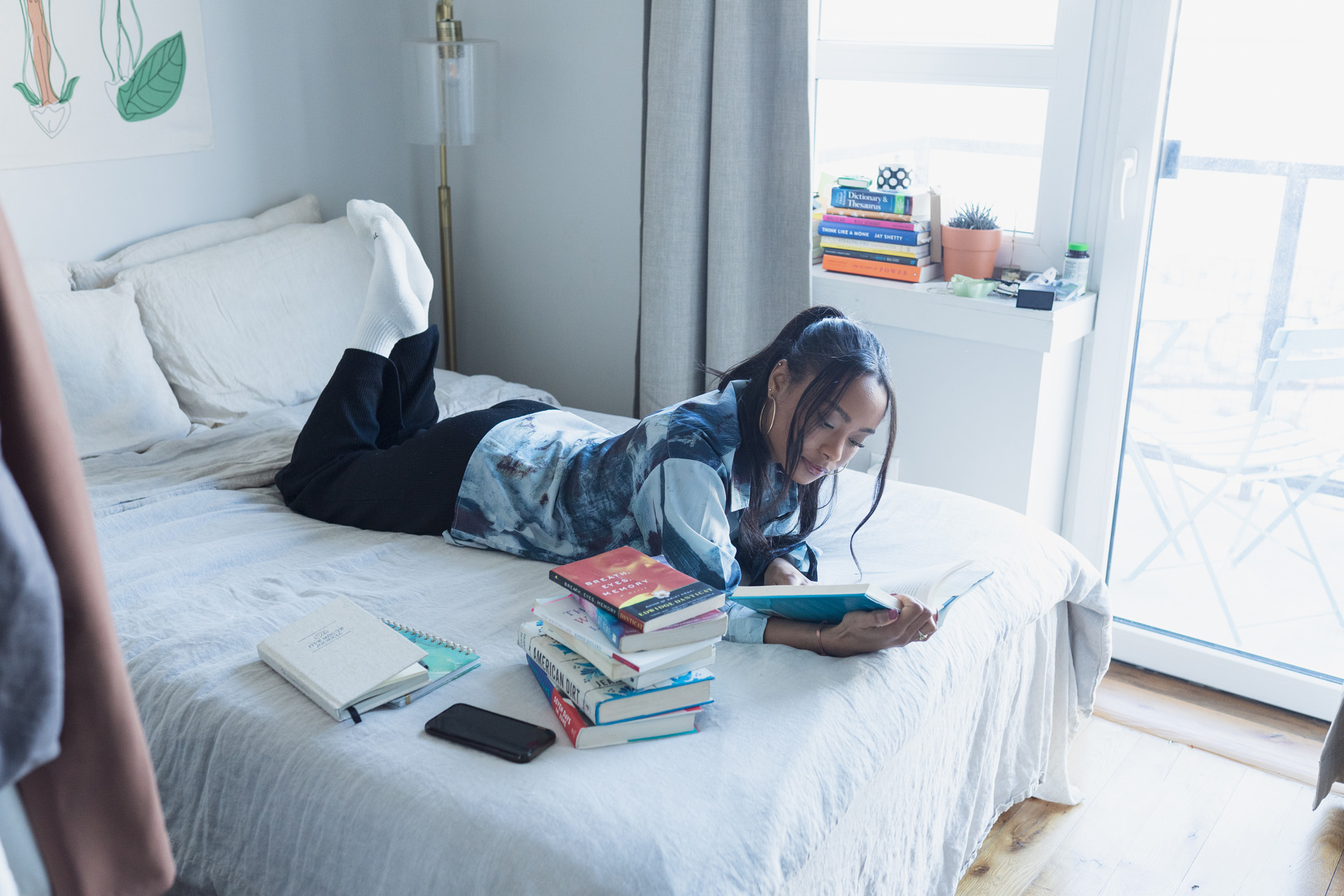 World Book Day: Where To Buy Secondhand Books
New reads don't have to break the bank – or the planet
For environmentally conscious bookworms, it's a tale as old as time: books are great for our minds, but not so great for our planet. Celebrate World Book Day sustainably by reducing your carbon footprint and shopping pre-loved. These are our favourite places to buy secondhand books.
What Is The Environmental Impact Of Buying New Books?
Did you know that 14 percent of the world's deforestation is a result of our demand for paper goods? Of course, this isn't just books: printer paper, flyers, magazines, paper bags, paper plates, paper cups… But, when it comes to books, paper isn't even the half of it; most of a book's carbon footprint is associated with transport costs, and it takes an estimated two glasses of precious water to produce just one page of a book. 
Are e-readers the solution? Not necessarily: tech is also not great for the planet due to material extraction, toxic chemical use and intensive production processes creating emissions. It is estimated that the climate impact of one e-reader is equivalent to that of 36 new books, and this is worsened when e-readers are not disposed of properly. Every year in the UK, 24.9 kg of electronic waste is produced per person. If e-readers are not recycled properly, corrosive battery fluids are released into our atmosphere, waterways and soil.
View this post on Instagram
Before you toss your books aside completely, note that reading is, in the grand scheme of things, a very low-carbon activity. According to the New Scientist, the climate impact of your typical paperback is equivalent to watching six hours of TV. If you love reading the newest releases, you love the smell of a brand-new book, or you just can't for the life of you find the book you're desperate to read at any of our favourite secondhand book vendors (below), rest assured that purchasing a new book is far from the worst thing happening to our planet right now.
You can't quite beat the feeling of reading a physical book, anyway: the weight, the smell, the feel of the paper between your forefinger and thumb as you turn the page. So what can we do to reduce our beloved books' environmental impact? One answer is shopping secondhand. 'Between the cost-of-living crisis and a shift towards more sustainable living, the number of shoppers choosing to buy secondhand is growing,' says Rebecca Alford, Head of Brand for Wob (formerly World of Books). 'Wob's most recent research revealed 65 percent of UK adults are now choosing to buy secondhand as a more sustainable lifestyle choice. 
'Buying your books secondhand is a great way to be kinder to the planet,' says Rebecca. 'By buying preloved, you'll join a community helping to reduce carbon emissions – for example, Wob rehomed nearly 16 million books last year, the equivalent of 1,400 trees per day. Plus, with preloved books you're supporting the circular economy and the reuse revolution. Last year, 79 tonnes of books, CDs, DVDs and games would have gone to landfill without Wob (that's equivalent to over 11 double-decker buses of stuff!).'
Purchasing used books reduces landfill and production impacts, and is kinder on your wallet to boot. Wondering where to start? Here are our favourite places to buy secondhand books.
World Book Day: Where To Buy Secondhand Books
Charity Bookshops
Charity shops send a blasphemous 50,000 tonnes of unsold books to landfill every year; help the cause by popping into your local charity shop and having a browse for your next read. Better still, there are plenty of specialist charity bookshops popping up on the highstreet from the likes of Oxfam and the British Heart Foundation. There's a lovely Oxfam Books a stone's throw from Marylebone's famous flagship Daunt Books, for instance.
Wob
Also resolving that charity shop landfill problem is British B-Corp legend, Wob. This online resale site began when its book-loving founders salvaged charity shop books destined for landfill and sold them on as secondhand books. Now WoB works with charity shops and individuals to collect used books for resale on their fairly-priced website. WoB has an incredible range of bestsellers available at minimal prices, along with lots of books that are still quite new, and any books not sold are recycled into cardboard packaging and paper for newspapers.
'By buying books from Wob secondhand, you are contributing to a carbon neutral organisation that supports all sorts of amazing projects internationally,' says Rebecca at Wob. 'For example, the recently launched Wob Foundation gives 100 percent of donations directly to charitable causes that promote literacy or the circular economy. As well as the sustainability benefits, preloved books are cheaper. At Wob, you can get up to 70 percent off RRP which, now more than ever, is a huge win.' wob.com 
View this post on Instagram
Secondhand Bookshops
If you are a fan of unique covers and older editions, trawling through a characterful secondhand bookshop might be the option for you. Many of these venues are institutions in their own right (like Any Amount of Books by Charing Cross, for example, or Word on the Water by King's Cross), selling interesting antiquated editions alongside your more typical on-fiction books and novels. 
Markets
With London's plethora of street markets comes a plethora of secondhand book stalls. Perhaps the most famous is the Southbank's Book Market, open everyday and tucked under Waterloo Bridge. Or head to Camden Market where Wall To Wall Books has secondhand books, well, wall to wall.
View this post on Instagram
Etsy
A more off-the-wall suggestion for those not looking for a specific secondhand book, plenty of sellers take to Etsy to hunt down a new home for their preloved tomes. Just type 'books', 'used books' or 'secondhand books' into the search bar and plenty of individual books and bundles will appear. Keep your eyes peeled for the popular gimmick 'blind date with a book' with a preloved twist, which sends customers a surprise used book with only an ambiguous description hinting at what's inside. This being Etsy, your package is sure to have a cute, handmade element to it, too. etsy.com
Featured image by Nehemiah Brent