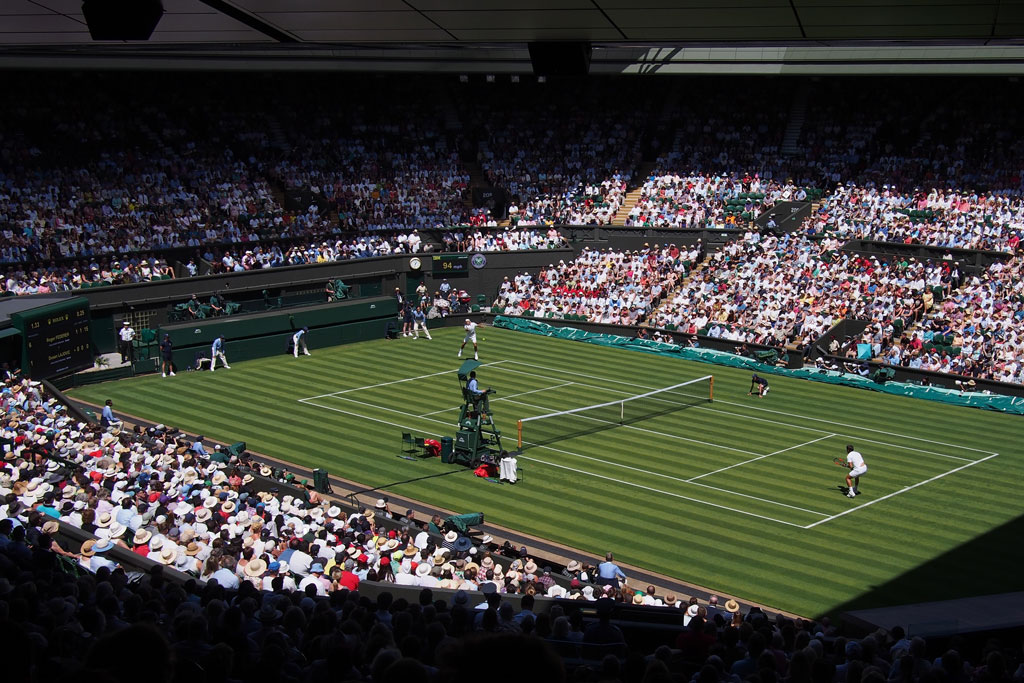 The C&TH Guide to the Wimbledon Tennis Championships
---
From the traditions to how to get tickets, we have all the details
The Wimbledon Tennis Championships is the oldest tennis tournament in the world – and arguably the most famous. It's back this summer from 27 June – 10 July, and this year the event will feel a little more normal than previous years, which were restricted by Covid. Read on for everything you need to know.
The C&TH Guide to Wimbledon
The History
When the first ever Wimbledon Championships took place on 9 June 1877, things looked a little different. Played at Worple Road in Wimbledon, they were advertised as a 'lawn tennis meeting, open to all amateurs' – and women were not allowed take part. Competitors were asked to bring their own racquets, the club's gardener provided the balls, and the final was watched by a crowd of just 200 people. In 1884, the All England Club agreed to open the Championships up to both sexes, and The Ladies Singles was added to the programme. By the 1900s, the Championships had become an international affair – and since then, it has grown to become one of the most prestigious events on the summer sporting calendar.
The Tennis
Wimbledon is one of the four Grand Slam tournaments, alongside the Australian Open, the French Open, and the US open. As well as having a different name to the others, the Wimbledon tournament stands apart as it's played on grass, while the others are played on hard court surfaces or red clay.
Each year, both the men's and the women's single competitions are made up of 128 players. They enter a series of single elimination knockout matches, until just two remain in the final. Alongside this, there's the doubles and mixed doubles, a wheelchair category and boys' and girls' tournaments.
This year, all eyes will be on Novak Djokovic – who is currently the bookies' favourite to win the men's singles crown – following the recent controversy at the Australian Open. Other favourites on the men's side include Rafael Nadal, Carlos Alcaraz and Matteo Berratini. Tennis fans will also be eager to see what Emma Raducanu achieves this tournament, alongside four-time major winner Naomi Osaka – though it's still unclear whether she will play this year following recent debate surrounding ranking points.
The Traditions
From strawberries and cream to Murray Mound, there are certain things that are synonymous with Wimbledon. Read on for the stories behind some of the main traditions.
Wearing whites
From the very beginning, all competitors have played in head-to-toe white. The rule was introduced in Victorian times to hide perspiration – sweating was considered improper back then. To this day, players must be dressed almost entirely in white, with just a single trim of colour around the neckline and the cuff of the sleeves considered acceptable.
Strawberries and cream
The staple Wimbledon dessert, strawberries and cream has been served at the Championships ever since the first tournament in 1877. Historians believe the tradition was started by Thomas Wolsey, the King's right-hand man, who allegedly first served the combination at a banquet in 1509. It went down well and was served to spectators at Hampton Court Palace tennis court while games were taking place.
Murray Mound
Murray Mound or Henman Hill? There's ongoing debate about what the grassy bank at Wimbledon should be called. It's official name, though, is Aorangi Terrace. Every year, thousands of tennis fans turn up to watch the tournament on a huge television screen. To gain access, you need a Ground Admission pass, which can be bought on the day by joining the Queue (more on that below).
The Queue
People have been joining the famed Wimbledon Queue since as far back as 1927. As a sport, tennis is steeped in manners – and, of course, we're British, so it's only natural we queue. Last year, though, the Queue was temporarily scrapped due to Covid, but it's back in full force for 2022. Wimbledon allocates a set amount of tickets for each court, and at 9.30am each day queueing tickets become available on a first-come-first-served basis. The really committed fans camp out overnight, others head there in the early hours of the morning – or you can head on down post-5pm to catch some of the later matches, when tickets are slightly cheaper and the queue will move more quickly.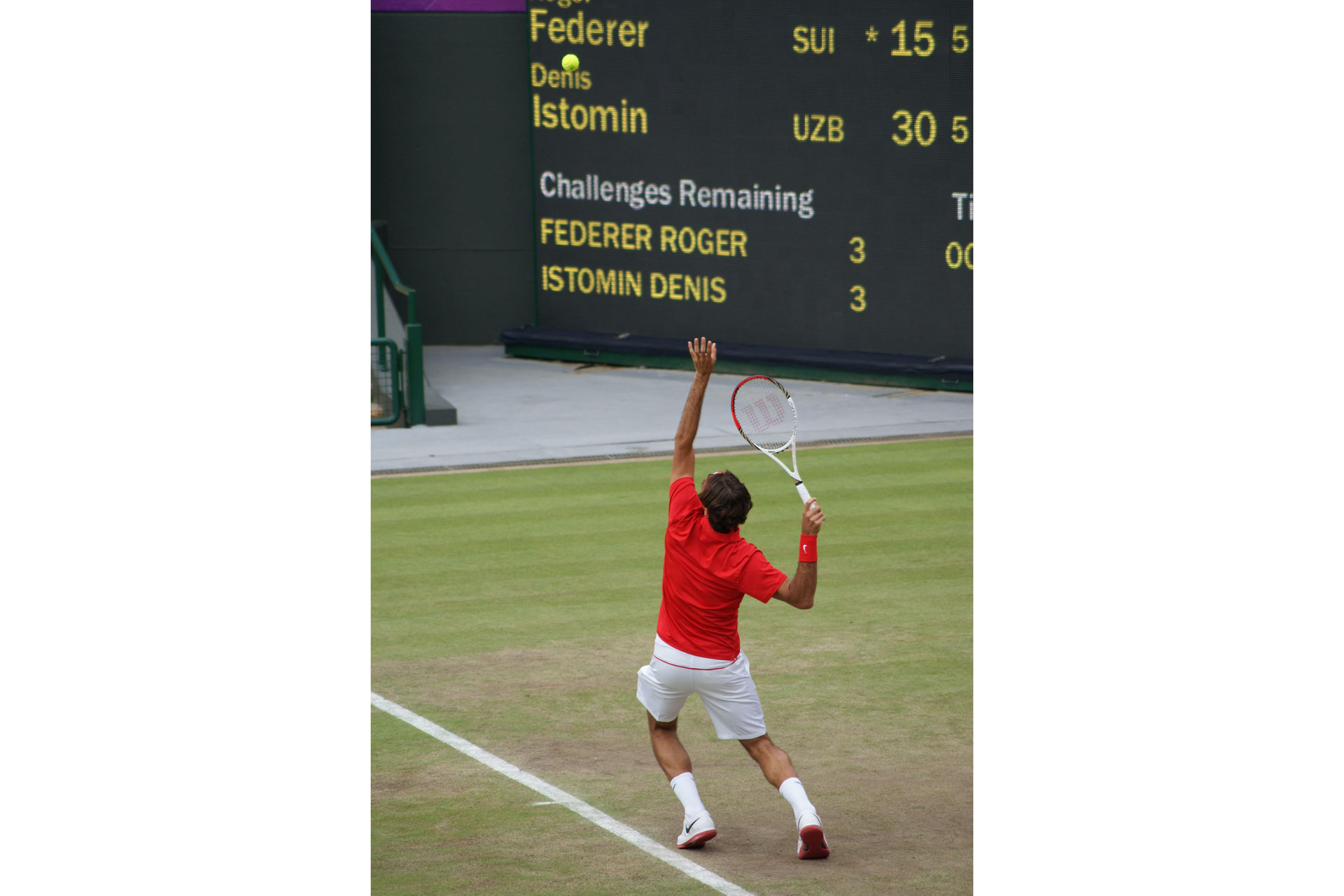 Food & Drink at Wimbledon
There are plenty of options for dining and drinking, from high-end restaurants to picnics. Reservations are now open for the Wingfield Restaurant, a sit-down dining experience with views across the Tea Lawn. Here you'll enjoy seasonal British produce, with dishes this year including Sutton Hoo chicken breast with cannellini bean puree, sea bass with potato fondant, and gin cured Loch Duart salmon. The Wingfield Café, meanwhile, serves a selection of cakes, pastries, salads and sandwiches.
Alternatively, pre-order one of the picnic hampers on offer – there are vegetarian, vegan and gluten-free options, plus an afternoon tea picnic complete with finger sandwiches and scones. And, of course, you'll never be far from a stall serving strawberries and cream. In terms of drinks, expect lots of Pimm's, Lanson and Sipsmith – all official drinks partners. You're also allowed to bring your own food and drink – though hard-sided containers, vacuum flasks over 500ml and items like picnic hampers and cool boxes aren't permitted. In terms of alcohol, each person can bring the equivalent of one bottle of wine or champagne, two cans of beer, or two premixed aperitifs. Spirits and fortified wines aren't allowed.
Hospitality packages are also available courtesy of Keith Prowse, offering access to luxurious experiences. New for this year is The Treehouse, which will feature roaming small plates from chef Tom Sellers. At the well-established Lawn, meanwhile, guests can enjoy dishes from the Roux family, with private tables available for between two and 14.
The Inside Scoop
If you miss out on a ticket to this year's championships (or if you miss out on any action while queuing for a Pimms top-up, check out the new podcast series celebrating 100 years of the tournament 'Wimbledon: Between the lines', a new Official Podcast from Wimbledon, created in partnership with evian. The 9-episode series will take listeners around the grounds of the All England Club with hosts Mollie King and Matt Edmondson alongside celebrity guests and Wimbledon legends. Find out more at evian.com
How To Get Tickets
Due to the cancellation of the 2020 Wimbledon, there was no ticket ballot this year: instead, those who were successful in 2020 were offered the same day and court for this year. You can, however, still buy tickets. Tiered pricing has been introduced on Centre Court and No.1 Court for 2022, with front seats costing more than the ones at the back. Grounds passes cost between £8 and £27, while Centre Court tickets cost between £70 and £240. And, of course, the Queue is always an option. Book tickets here
For more information visit wimbledon.com
READ MORE: