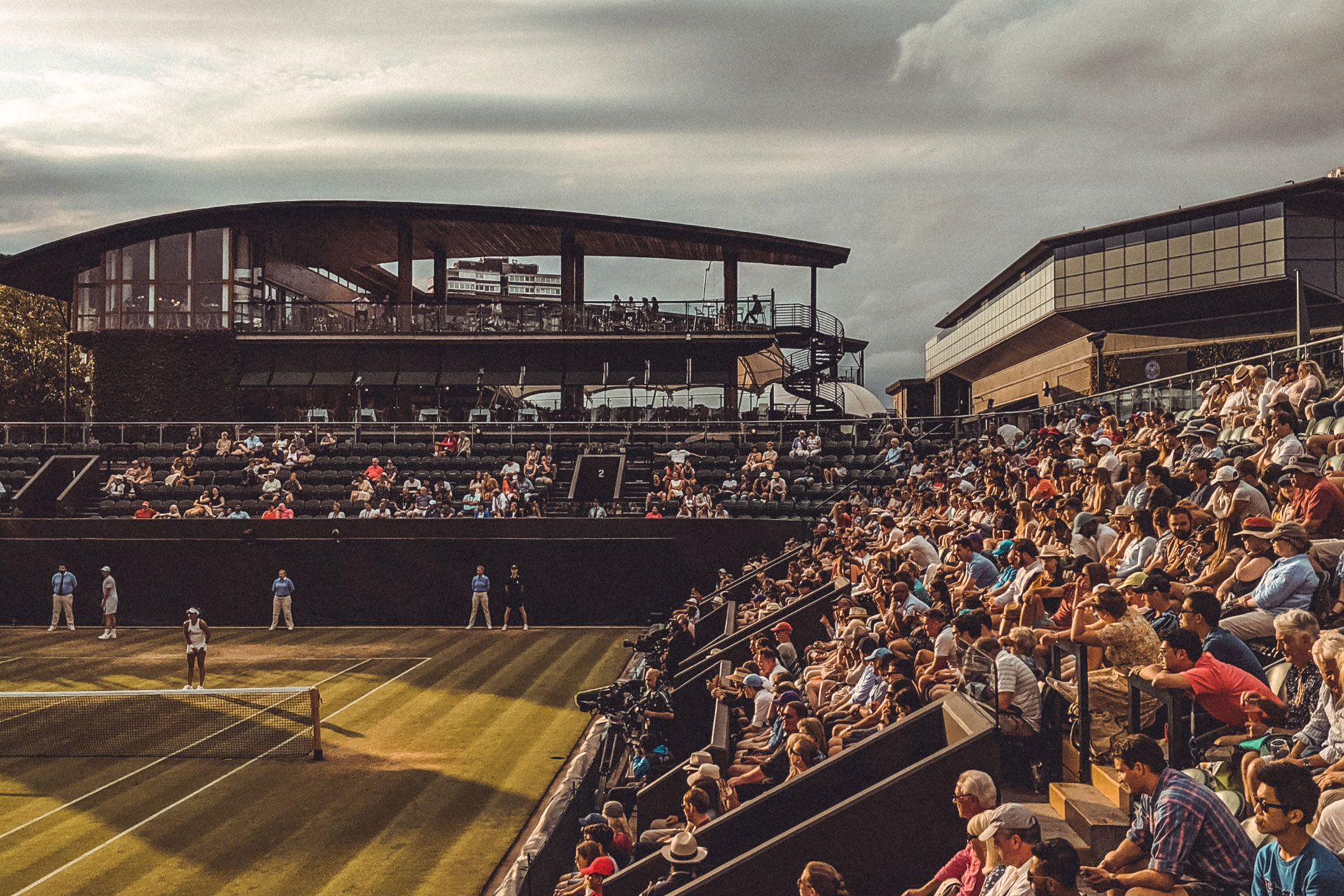 Queen of the Court: An Insider's Guide To Wimbledon Tennis Championships
From queuing, to bagging tickets, to making the ball boys laugh
Wimbledon 2023 is just on the horizon – and we can't wait. Here we look back on the insider's guide to the prestigious tennis tournament by former court attendant, Hollie Bell, originally published in 2018.
An Insider's Guide to Wimbledon Tennis Championships
Wimbledon – It's one of the few classically British institutions that has remained vastly untainted, like afternoon tea at Claridge's, or Trooping the Colour. Like much of British society, at Wimbledon there's an implied set of rules. Selfie sticks were banned in 2017 (for obvious reasons) and a level of decorum is expected at the event. There's a reason the players love it so much.
Within Wimbledon's walls, I think that it's an event that manages to maintain a level of civility so often missing from our modern lives. And then there's Pimm's, strawberries and cream, and some rather dashing tennis players thrown in there too.
If you fancy getting in on the action, here's a comprehensive insider's guide to the two week tournament held at the All England Lawn Tennis and Croquet Club in the summer each year.
Tickets & Queuing
The second Monday is arguably the best day of tennis. Often dubbed Magic or Manic Monday, it's when both the men's and women's singles fourth round matches are played (the only Grand Slam to do so). On other days you'll never regret a Centre Court ticket. The roof ensures that you'll always have play, even if the weather takes a turn for the worse which, I don't need to really say, is a frequent occurrence.
Ground passes are great, affordable and easy to get hold of if you don't mind an early start. Make sure you pack a picnic though – the food queues are usually long and popping to Waitrose first means the day is much more affordable.
Ticketmaster has a small selection of tickets available for each day, so it's worth checking there if you missed out on the ballot and want tickets for a show court; they go on sale the day before play.
For more information on getting Wimbledon tickets, visit wimbledon.com.
Camping
Camping is a great option if you're planning to go to the event with a group. Rock up at lunchtime the day before you want to attend and set up with a roll mat and some sort of coverage in the queue. A lovely steward will give you a queue card so there's no cutting going on (so British).
The campsite has loo facilities but sadly no showers, so bring wet wipes. The following morning a steward will gently shake your tent to wake you up – I warn you it will be early (around 5am) and you will be asked to get ready and take down your tent. Then you mooch about in the queue until you go through security and enter the grounds. It's a swift, organised, and fun option. Pimm's is optional.
Dress Code
This differs greatly depending on where you're spending the day. If you'll be swanning around the Royal Box or hospitality, a blazer for men and a dress for women are both ideal. If you're having a picnic on Henman Hill, you'll want to be comfortable, but not too underdressed. You can wear shorts and a t-shirt, but a sense of occasion still surrounds the grounds.
Read more about what to wear to Wimbledon in our guide
The Tennis
If you don't know the rules, look them up beforehand. It won't be much fun otherwise. If you want to impress your friends, it's worth taking a look at the results from Queen's and Roland Garros to know who's on form, and who isn't. Aside from the obvious names like Roger Federer, Andy Murray, Novak Djokovic and Rafa Nadal, there's always a new kid on the block – in 2018, it's Austrian Dominic Thiem. Thiem is ranked 8th in the world at the moment, and beat Djokovic at Roland Garros.
'Because you're on TV, it helps to be attractive.'
Working At The Champs – Court Attending
This is the best-kept secret of university holiday jobs. Throughout my time at university, I worked as a court attendant at the championships. The job consists of looking after the courts so that play could run smoothly. The court attendants are assigned to a court for the duration of the tournament.
Essentially, when the championships are on, you are the first ones in and the last ones out. You uncover the courts in the morning, help the groundsmen cut the grass, set up the player stations, shade and assist the players during matches, and help to manage the crowds.
When play is over for the day, you sweep the court, water it, and cover the grass up for the night. If it rains during play, you also cover the court as quickly as is humanly possible to make sure you don't get too much water damage on Wimbledon's famous grass.
The bonus is that you get to watch the tennis all day every day and get a tan (if the weather's nice). The court attendant uniform, as you can see in the pictures, is a British racing green sportswear ensemble – sadly, no Ralph Lauren for court attendants. You have to be an umpire, line judge, or a ball boy or ball girl to get the Ralph. Officials wear suits.
Here I am on Court 8. As you can see, I'm the only girl (there are usually more guys as they are stronger) and I was known as Queen of the Court.
Some Court Attendant Facts
The first year, I was on Court 8, which means a weekend of training, and you can be finished at any time, depending on the tournament (a player might smash up the grass in a rage).
Thereafter, I was on Court No. 1, which is a televised/show court. It means two weeks of training, and you're there for the whole two weeks.
My day started at 7.30am and finished after the courts were watered. You're there every day for the month of champs.
After Wimbledon has finished, everyone goes out in town – to Po Na Na. Naturally, court attendants stick together.
Other great jobs at the champs include hospitality (if you luck out and get the Royal Box, you could be serving the likes of Anna Wintour or the Duchess of Cambridge), working in the media centre (watching interviews, taking players from place to place), and security with G4S (player escort isn't too shabby a role).
Working on the queue is another great job, especially if you manage to wrangle a position as a buggy driver. So, if you are a fan of the tennis, definitely consider working at the event.