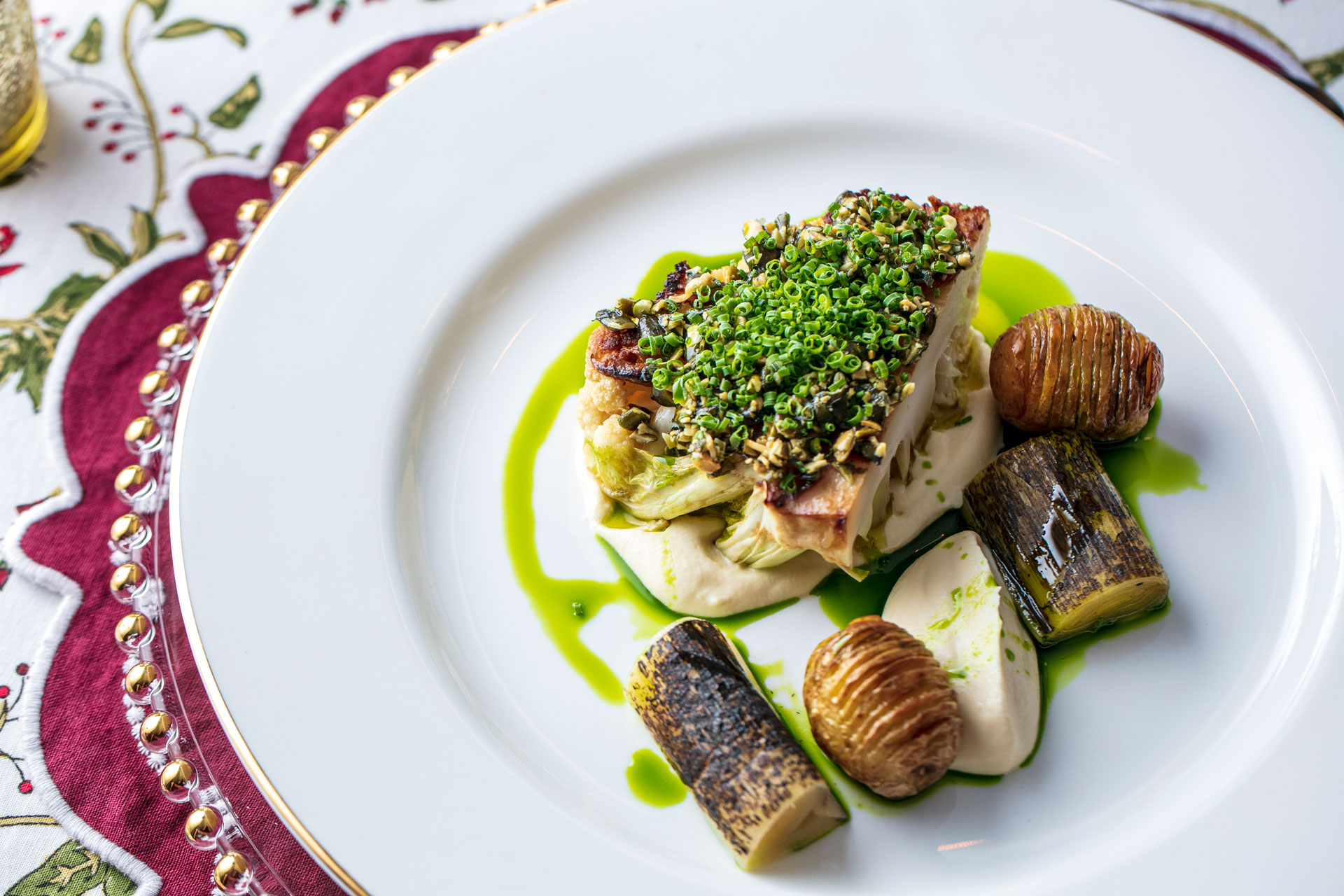 3 Planet-Positive Recipes To Try This Week
---
Throw a low-waste dinner party with these savvy recipe ideas
Making an effort to up your green credentials in the kitchen? Eco-friendly catering company Lettice Events is here to help. It has partnered with Buckinghamshire wedding venue Hedsor House to create three eco-friendly recipes which don't compromise on flavour. The main course – a roasted cauliflower steak – is made from produce that has a longer seasonal growing period, meaning everything involved has been made in the UK. That's followed by a choice of chocolate delice or passionfruit sorbet. And to drink? A raspberry and lemon cocktail made using wonky fruit.
3 Eco-Friendly Recipes To Try This Week
1. Roasted cauliflower steak with charred leek and hasselback potato
Equipment needed:
Ingredients
1 portion
1 cauliflower steak

40g cauliflower puree 

2 pieces confit leeks 

2 hasselback potatoes 
Pumpkin seed and truffle pesto 
5ml wild garlic oil 

1 teaspoon chopped chives 
Method
Cauliflower steak:
From 1 cauliflower you should get 4 portions.

Remove a small amount of the base of the stalk and then cut in half. 

Then cut the outside of the cauliflower off resulting in a steak that is c. 4cm thick and contains most of the stalk. 

Season with salt and pan fry in sunflower oil. Cook over a medium high heat until dark golden brown, basting the cauliflower. Finish with foaming butter and garlic and thyme. 

Cook some without butter for dietary requirements. 

Finish by cooking in the oven until tender on the stalk. Portion by carvin down the middle of the stalk to make individual portions. 
Confit leeks:
Remove almost all of the green and keep the white part of the leek. Peel the outside layer of the leek and a second layer if large.

Wash your leeks thoroughly in warm water. 

Sort through your leeks according to size and place into gastros in their size categories. 

Season with salt and cover with grapeseed oil. Add in some bay leaves, thyme and garlic. 

Cover the trays and confit in the oven at 140c for 20-25 minutes or until tender. 

Allow to cool in the oil. Remove and cut into 4-5cm pieces.

Blowtorch to blacken.
Hasselback potatoes:
Use charlotte potatoes mid sized. Place your potatoes in between 2 wooden spoons and using a knife, carve into the potato. Season with salt and olive oil and bake at 180c until golden brown and tender. Turn the potatoes upside down half way through cooking to get the best results. 
Pumpkin seed pesto:
Toast your pumpkin seeds in the oven at 160c for 5-10 minutes. Allow to cool and blitz in the magimix until broken but not a paste. Make a dressing of olive oil, truffle oil, agave syrup and salt and dress the seeds to make a pesto. Finish with lots of chopped chives. 
2. Chocolate Delice and Passion Fruit Sorbet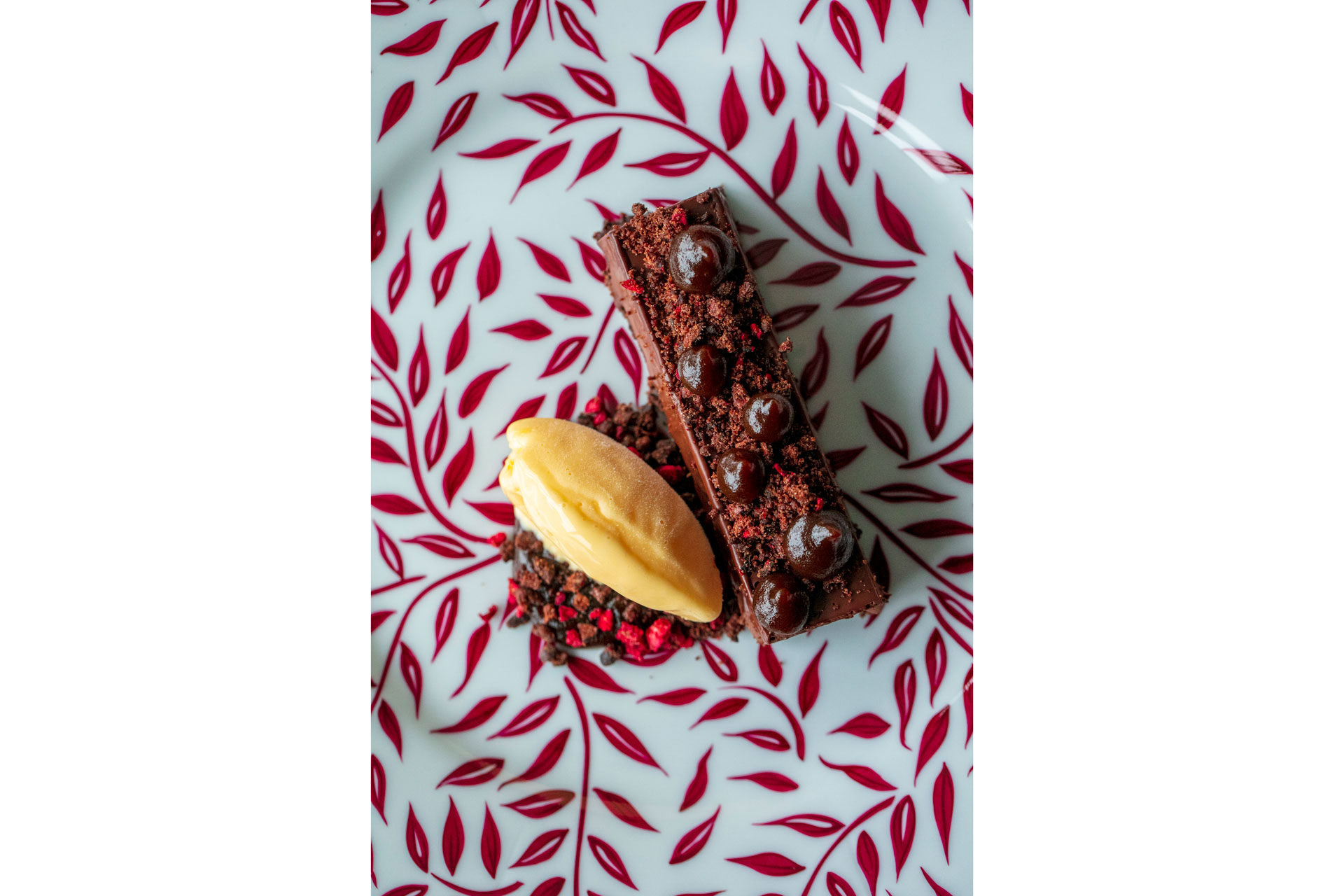 Chocolate Delice
Makes 10
Ingredients
450g vegan cream

250g dark chocolate

15g sugar

2g Maldon salt
Method
Heat cream, sugar, and salt

Pour onto chocolate and hand blend until smooth

Pour into bowls and set in fridge
Passionfruit Sorbet
Ingredients
1kg passionfruit puree

240g water

60g glucose

185g sugar
Method
Heat water, glucose and rest of sugar

Whisk in sugar and bring to the boil

Leave to cool

Blend puree and sorbet syrup in a blender and pass

Churn
Garnish:
Garnish with raw coca nibs and a sprinkle of Maldon salt.
3. Raspberry & Meyer Lemon Sherbet Cordial Cocktail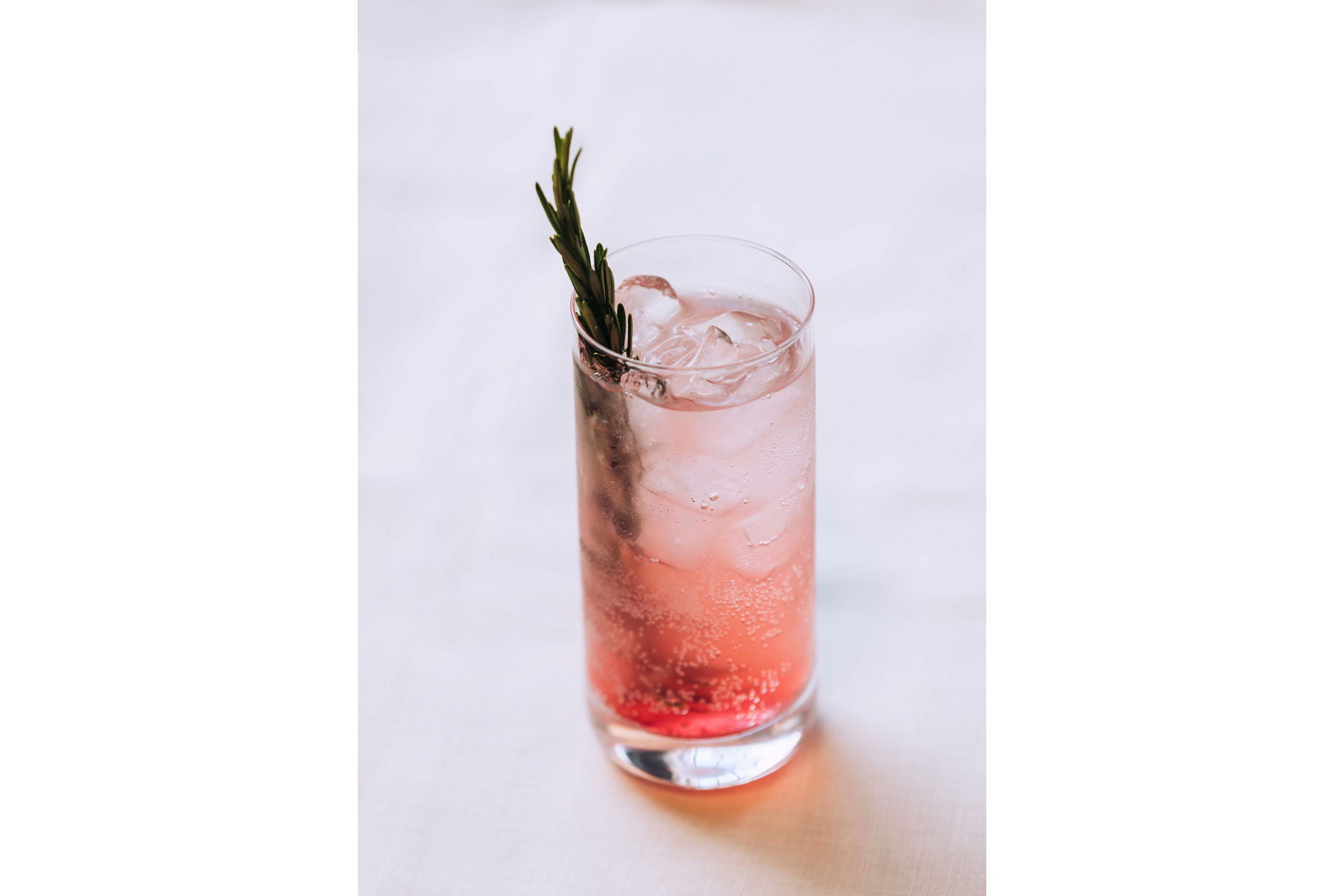 NB: We use 'wonky' fruits for making our cordials. We get these through Natoora which everyone can use on their public app. They are second class fruits that would otherwise be discarded, because they are the wrong shape or slightly bruised. It's a great sustainable practice that still results in a great quality product.
Ingredients:
500g Scottish raspberries

6 Meyer lemons (zested and juiced)

350g caster sugar

500ml water
Method:
Add all the ingredients to a large sauce pan and bring to the boil.  

Either whisk or blend the fruit to get the most out of the flavour. 

Reduce the volume by 1/3

rd

 and let it infuse and come to room temperature overnight.  

Pass through muslin and add 50g Tartaric Acid (to preserve).  

Adjust the sour flavour by adding citric acid, I like plenty to make it feel really grown up and great as an aperitif.
MORE RECIPES:
3 Mediterranean-Inspired Salads For Summer / Zero Waste Recipe: The Savoy's Shepherd's Pie