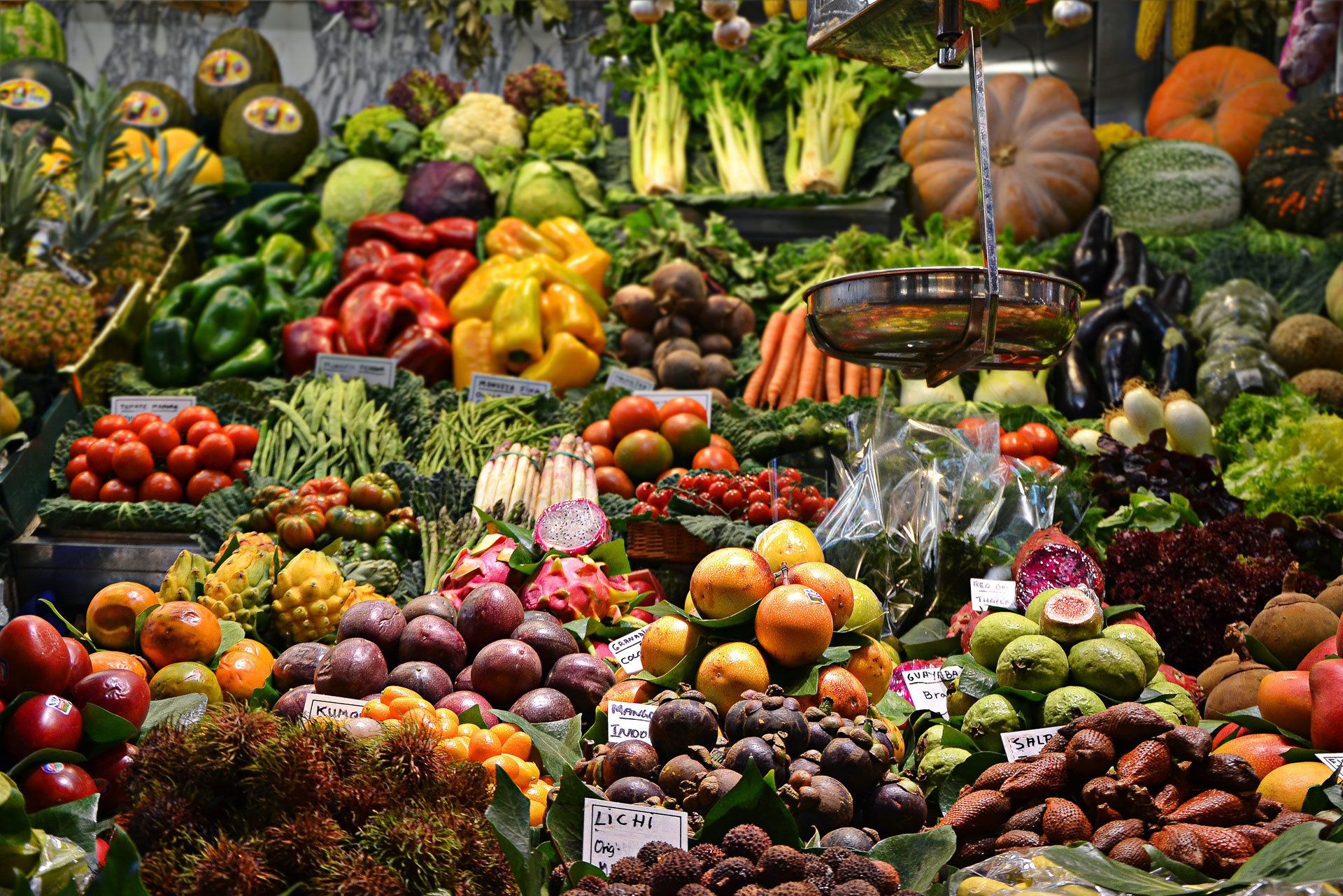 The Best Food Markets in London
Foodies take to the streets
London is brimming with food markets to satisfy your every need – be it picking up the best quality groceries, snacking your way through town or sampling the best from local suppliers and producers. Whether you prefer the classic Borough Market or want to discover the new spots where the cool kids are congregating, we've rounded up the best food markets in London. 
London's Best Food Markets
The Classics
There has been a market on this site since the 12th century, making Borough Market one of the country's oldest and most renowned food meccas. Constantly at the forefront of the London food scene, you can find an unparalleled selection of fresh produce on a daily basis (including cheese driven over from France and a mini mountain of oysters from the British coast) as well as buzzing street food stalls and restaurants. Many of the city's most exciting food ventures started out small with a stall at Borough Market before going on to open brick-and-mortar sites thanks to their immense popularity, so eat your way around the various offerings and see if you can spot the next big thing. Buy your meat from The Ginger Pig, enjoy the brightly-coloured displays at The Tomato Stall, pig out on Kappakasein's raclette, and try not to blow your entire salary on a weekly shop (warning: it's extremely tempting).
Billingsgate Fish Market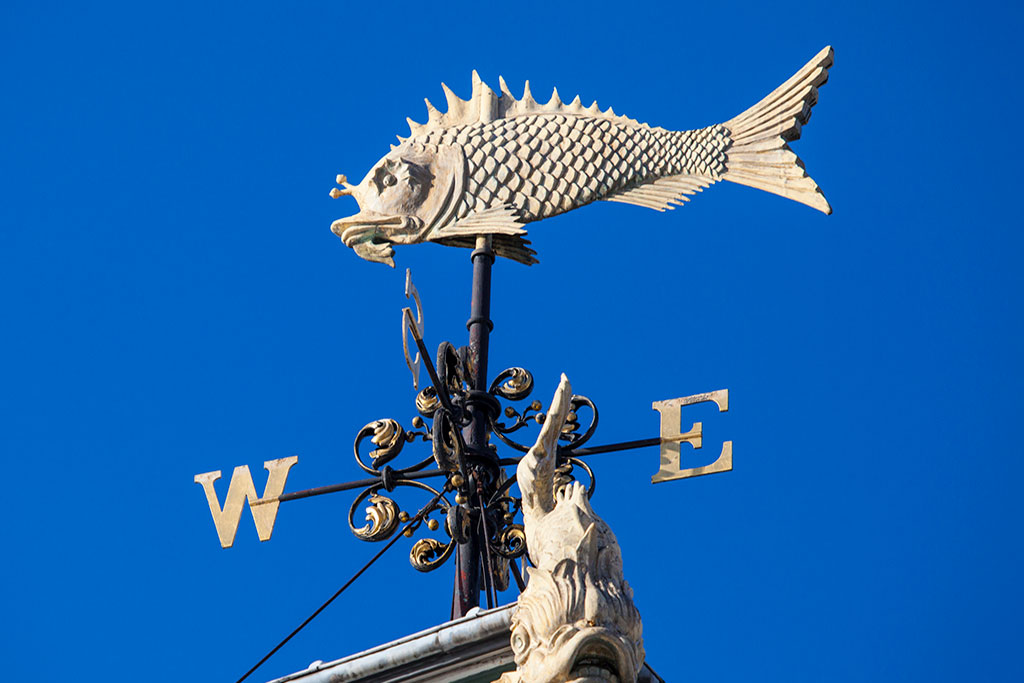 The not-so-pleasant parfum of fish may not usually entice you to get out of bed at 4am, but it's well worth the early wake-up call to experience the best that Billingsgate Market has to offer. As the UK's largest wholesale fish market, it covers a whopping 13 acres of land and sells over 140 varieties of fresh fish and shellfish to tradesmen, top chefs and restaurants, as well as the general public. It can be slightly overwhelming to try and buy small quantities of fish at the same time as the wholesale is going on, so we advise that you head there between 6-6.30 am when it's a bit quieter (and you'll get to have a mini lie-in). Make sure you're fully prepped by wearing non-slip footwear, and bring a coat as it does get cold. There's a great atmosphere, but a word of warning: the traders do not take well to haggling so stick to the already-low prices.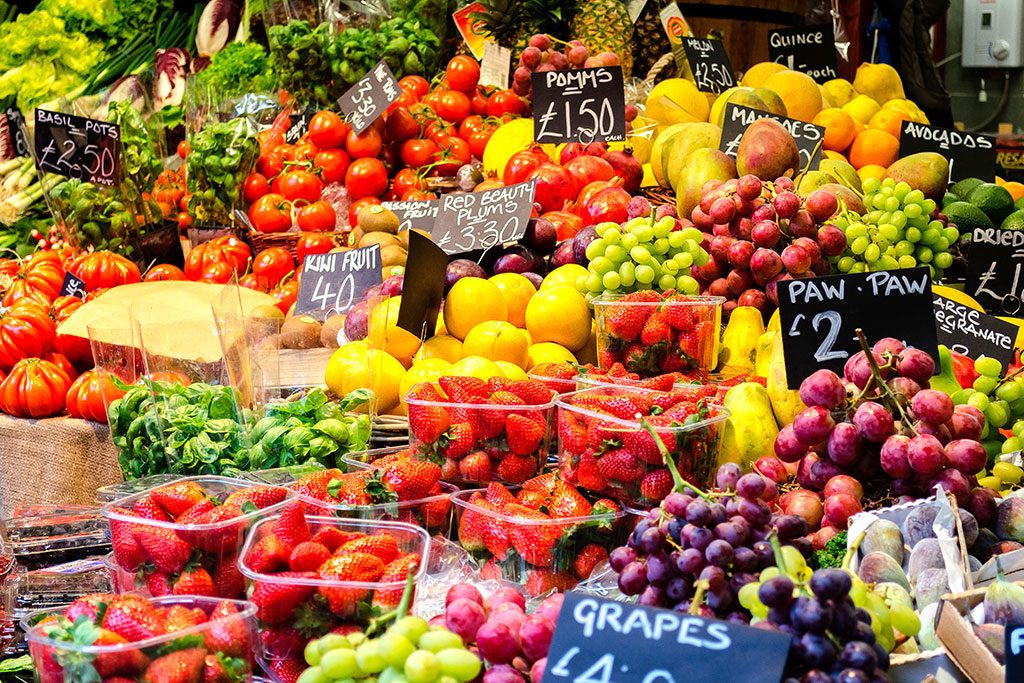 Hackney's Broadway Market on a Saturday is the vision of vibrant, multicultural London with its various stalls offering authentic food produce from small producers and street food alongside the area's bustling independent pubs, restaurant and cafes. Highlights include fresh oysters on the go from Oyster Boy, salt beef from the Jewish Deli, Chegworth's pressed apple juice and the decadent Bad Brownies. Go hungry, and prepare to hole up for a long Saturday afternoon.
Dating all the way back to 1778, Soho's Berwick Street Market is full of vibrant colours and flavours from all over the world. It's busiest during lunchtimes when the creatives from Soho's workspaces descend to pick up a falafel wrap, but is open from Monday to Saturday from 8am – 6pm. Traditional fruit, veg and flower stalls sit alongside exciting street food traders covering every cuisine from devilishly hot Caribbean jerk chicken, to Greek souvlaki, Afghan curries and authentic paella.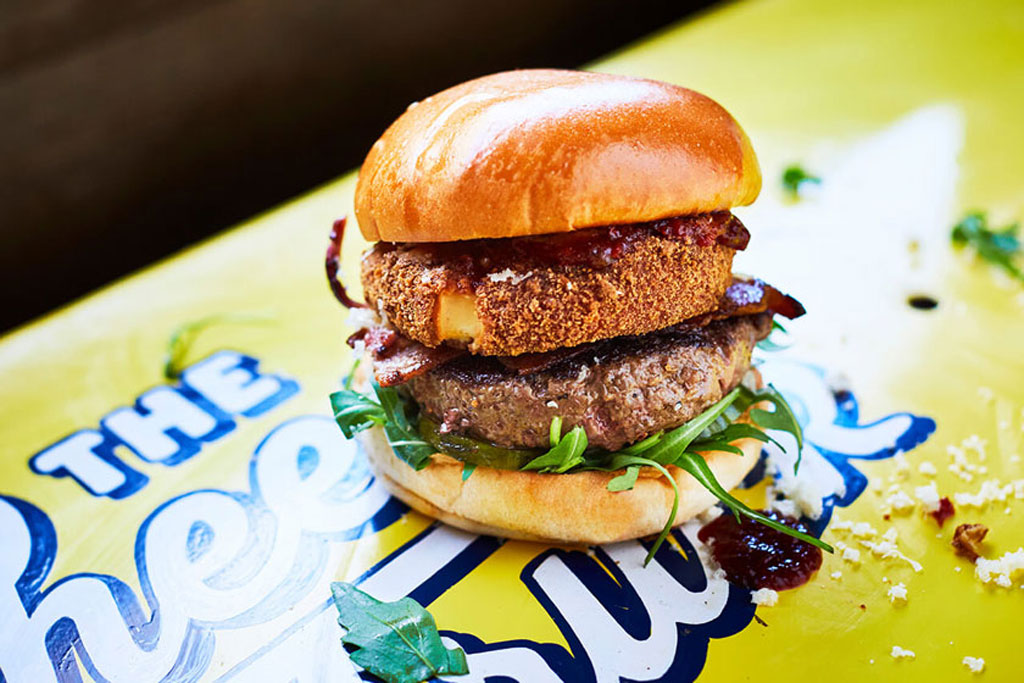 This Wandsworth gem has been around for over 80 years, but is yet to lose its shimmer. The foodie scene has taken off recently thanks to the smashing line-up of traders, including shamelessly piggish Boom Bap Burgers, homebrews from We Brought Beer, an unbeatable Aussie brunch at Brickwood, handcrafted Graveney Gin and many, many more. Our resident Tooting local has put together a comprehensive guide to the market, which you can read here.
Between Clerkenwell and Islington lies the London hipster's current obsession. Exmouth Market is an outdoor street market which boasts some of London's best food and drink joints, coming alive particularly in the warmer weather which lends beautifully to an afternoon spent meandering through its stalls. Unusual for central London, almost every cafe and restaurant has outdoor seating and cover, making for a lovely sidewalk cafe ambience that feels distinctly European. With Vietnamese, Italian, Middle Eastern food and some of the city's best coffee shops, there's something for everyone.
New Kids on the Block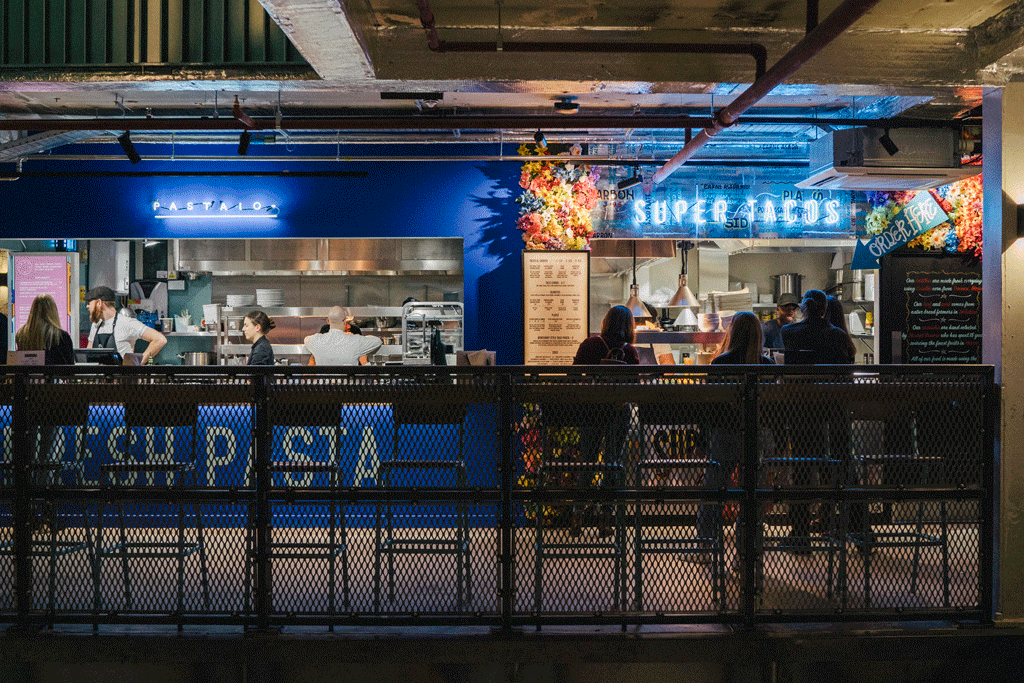 Following successful sites in both Fulham and Victoria, Market Hall has launched in the West End, scooping the title of the UK's largest food market. A three-storey space with room for 900 diners, Market Hall West End is home to eleven kitchens and four bars, with highlights including cult vegan restaurant CookDaily, BBQ joint HotBox, wrap stars Fanny's Kebab's and Stevie Parle's Pastaio.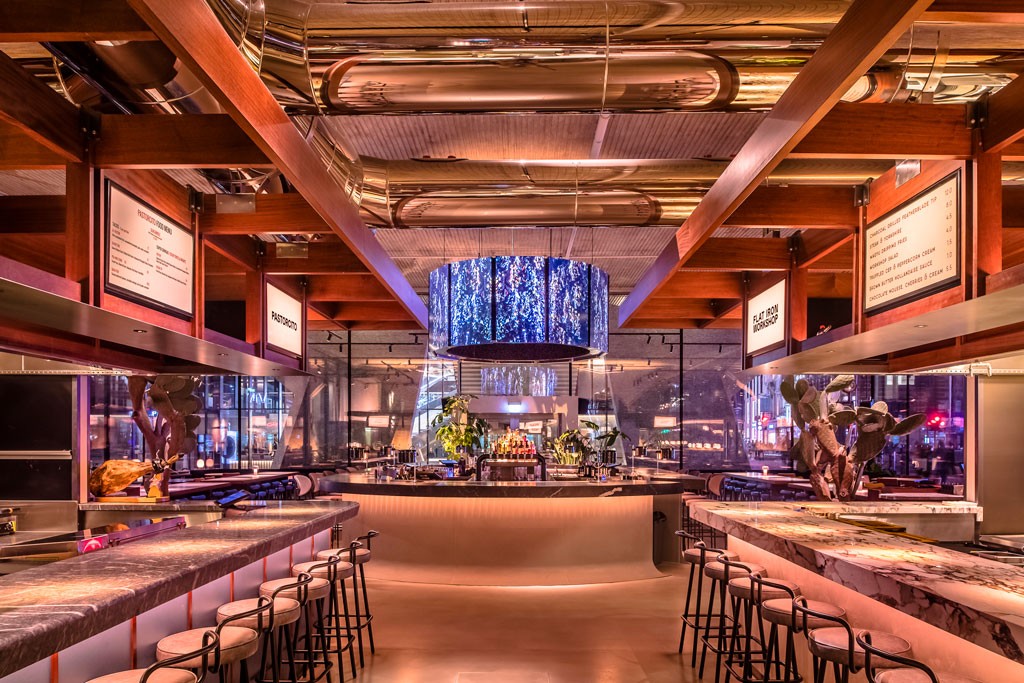 Centre Point's culinary mecca isn't your average food court. A grand space featuring numerous restaurants and bars, it's all about the theatre of food: the sights, the smells, and – of course – the tastes. This November it's relaunching with eight new kitchens, plus a standalone bar and outdoor dining. Think pasta from Lina Stores, succulent steak from Flat Iron Workshop, piri piri chicken from Casita do Frango, sushi from Chotto Matte and much more. The hard part? Choosing just one…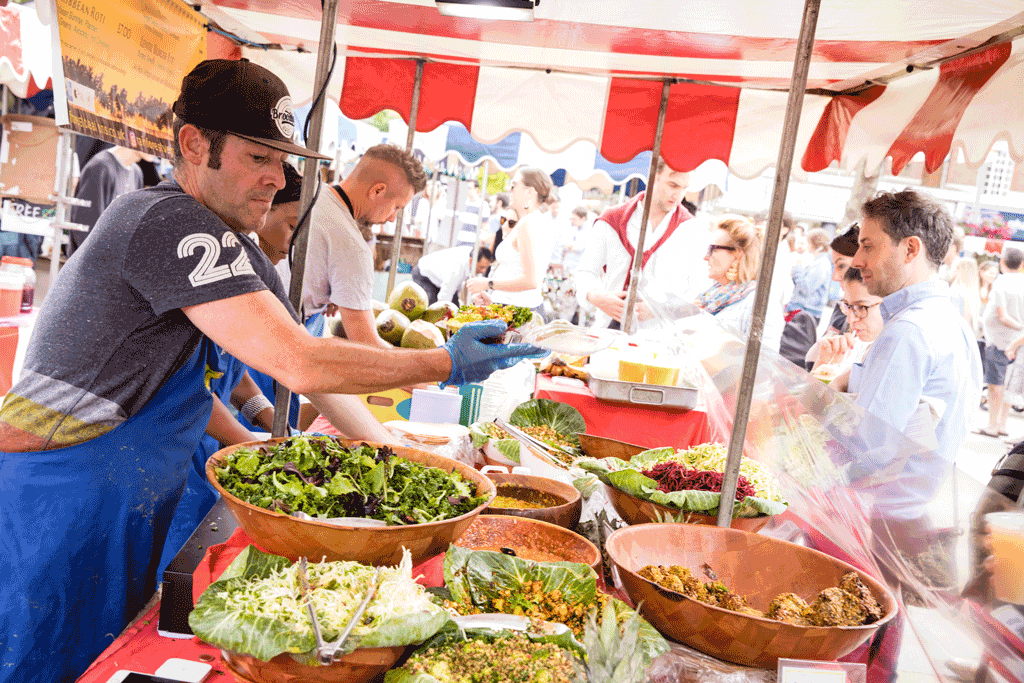 Duke of York Square holds a weekly food market on Saturdays, but one that has been curated by Partridges, the Royal warranted grocers – specialising in fine foods befitting the postcode. Make sure to stop by on your way out of the Saatchi Gallery's latest exhibition, and join the queue for Fins & Trotter's legendary fish and chips. Pick up some Wapping Sourdough for your Sunday breakfast, and some Sicilian sweet treats from Casa Cannoli.
Cool older brother of Peckham Levels, Pop Brixton champions independent and local businesses, including many great food stalls. Among the best are pizza place Made of Dough, jerk chicken favourite Mama's Jerk, and Halo Burger: the UK's first 100 per cent plant-based bleeding burger joint. It's open all year round, with weatherproof surroundings, but Pop is at its prime on a fine summer afternoon.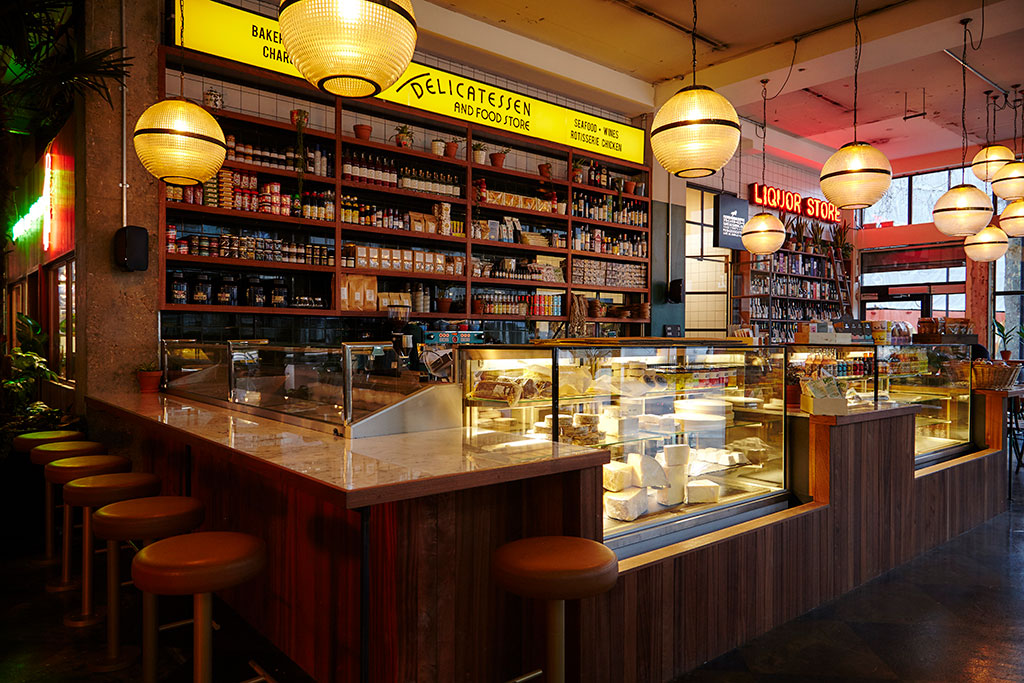 Though sadly no longer headed up by celebrity chef Gizzi Erskine, Mare Street Market remains filled with foodie delights. As well as hipster fashion pop-ups and record stores, the venture's focus is on collecting London's finest producers and traders under one roof. Three dining spots serve only the best quality home-grown food and drink, while the Deli and Off-Licence are the new go-to for Hackney residents to pick up weekly treats. A modern marketplace if ever we saw one, the whole place is cashless – so nothing will hold you back from shopping to your heart's content.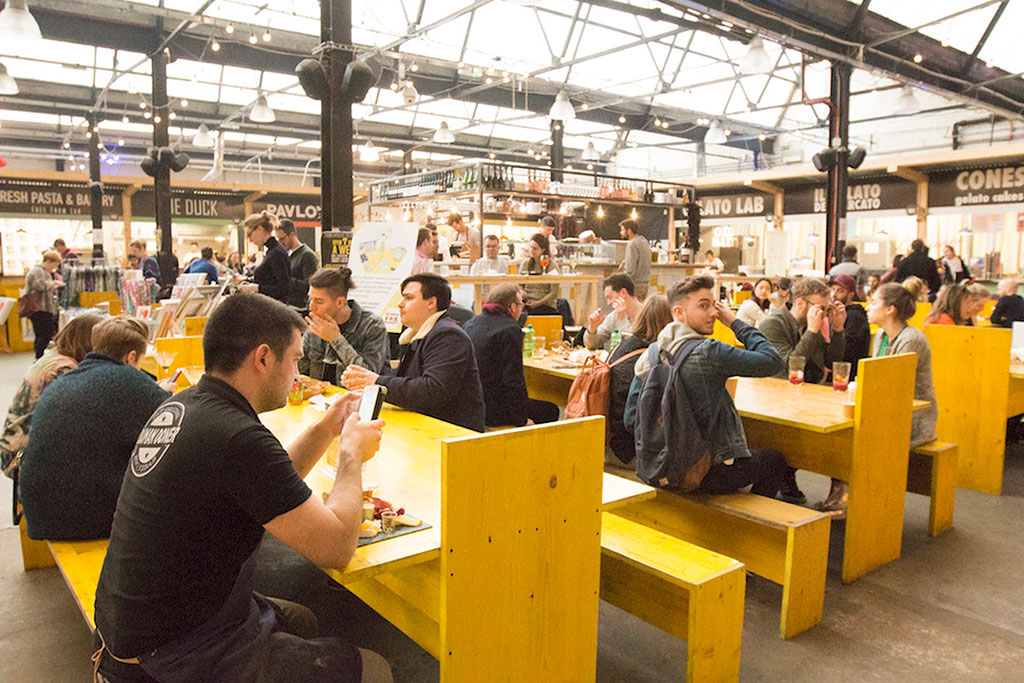 This urban community marketplace takes inspiration from Italy's covered food markets and slow food movement, drawing on principles of 'small is beautiful' and 'natural is good' in a reaction against large scale big industry. Mercato Metropolitano revolves around small-scale farmers, local producers and members of the community, with a focus on sustainability to bring Londoners high-quality food and artisanal products. Italian stalls are plenty and delicious, while small-producer Champagne, cheese and meats bring a village authenticity and cuisines from all over create a kaleidoscope of flavours and cultures. Keep an eye out for regular events, parties and live music.
Shoreditch's cutting-edge addition to the London food market scene features craft beer and whisky shots from German Sex Dungeon, perfectly steamed Yumplings, bao buns, doughnuts, jerk chicken and kebabs and every cocktail under the sun. Head to the uber-trendy 'street food arena' Wednesday – Saturday from 5pm and don't be surprised if you don't leave until the early hours, particularly during the long evenings of the summer.
With five markets across the city – and their first bricks-and-mortar site in Seven Dials – Kerb is popular with office workers looking for a pick-me-up lunch. And pick-me-up they will get, because the food is great. Will you go for crispy buttermilk chicken from Other Side Fried? A hearty thai curry from Greedy Khao? Creamy, warming mac and cheese from The Mac Factory? A jackfruit burger from Biff's Jack Shack? The options are endless. In an ideal world you'd try them all, but if we had to choose our favourite it would have to be the halloumi fries courtesy of Oli Baba's – heaven on a plate.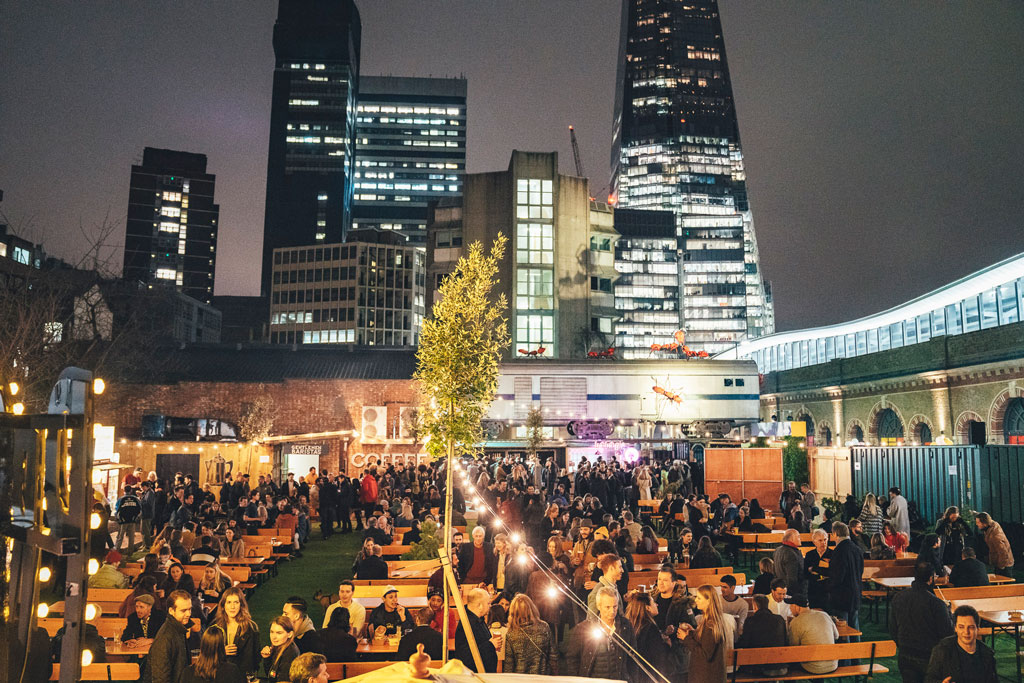 Opened last April in London Bridge, Vinegar Yard is a buzzy eating, drinking, shopping and art space. With Indian dishes from Baba G's, Argentinian-inspired steak and chimichurri from barbecue experts Up in My Grill and burgers from Nanny Bills, its a strong addition to London's food market scene, popular with post-work city revellers.
London's Greatest Food Stalls / Best Food Markets in the UK