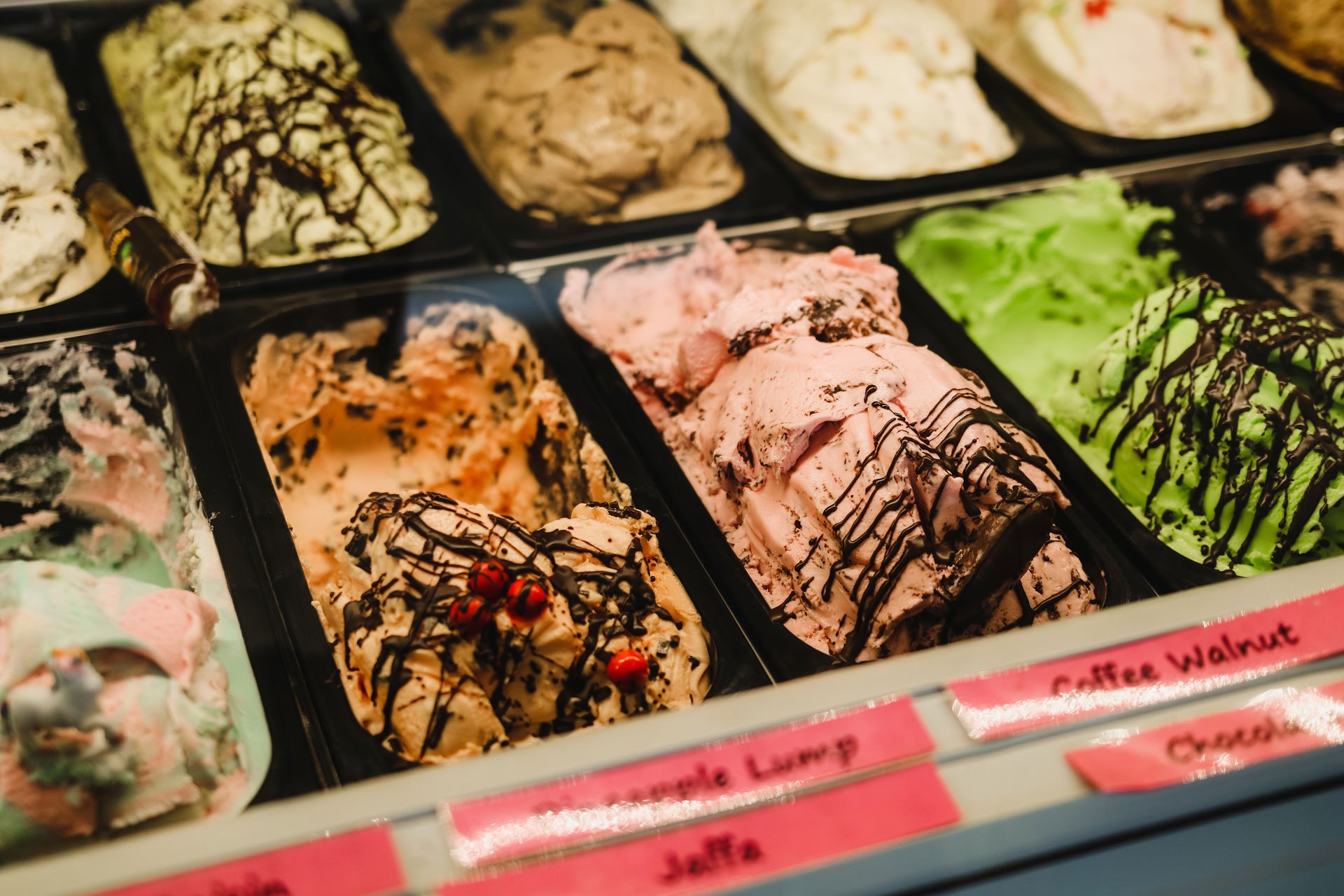 London's Best Ice Cream Parlours For Summer 2023
From old-school gelaterias to new wave parlours, here's where to eat ice cream in the city
On a hot summer's day in the city, the tastiest way to cool down is with a fresh ice cream. But where are the city's finest parlours? Here we bring you the best spots for ice cream in London. Whether you're a gelato purist, a sucker for sorbet or love trying out the wacky Instagram trends (think candy floss cones and ice cream made of liquid nitrogen), there's something for everyone. 
The Best Ice Cream in London
Jefferson's
Balham is filled with great cafés, but if ice cream is what you're after you won't find a better spot than Jefferson's. Husband and wife duo Celine and Christopher Thompson left their corporate jobs to set it up in 2019, with a focus on creating a beautiful environment which complemented natural ingredients. Small batches of ice-cream are made daily with organic milk, unrefined sugar cane and only natural colourings and flavours. There are a whole host of flavours to choose from, but our top picks are Brookies & Cream, Sea Salt Caramel and Raspberry Orange Blossom. Watch out for their flavour of the month too – and it's also worth noting that a second site has recently opened in Brixton.
191B Balham High Rd, London SW12 9BE, jeffersonsicecream.com
Foubert's
With outposts in Chiswick, Fulham and Kensington, Italian-inspired Foubert's certainly knows its stuff. The gelateria has been using the same recipe to create ice cream for the past 40 years at its Chiswick branch, with 16 signature flavours alongside a variety of newbies. Highlights include Pistachio, Hazelnut and Yoghurt – or if you prefer something more refreshing, there's lemon, mango or orange sorbet. For those at the Chiswick branch, stroll down the road to enjoy your ice cream on pretty Turnham Green.
Multiple locations, fouberts.co.uk
Chin Chin Club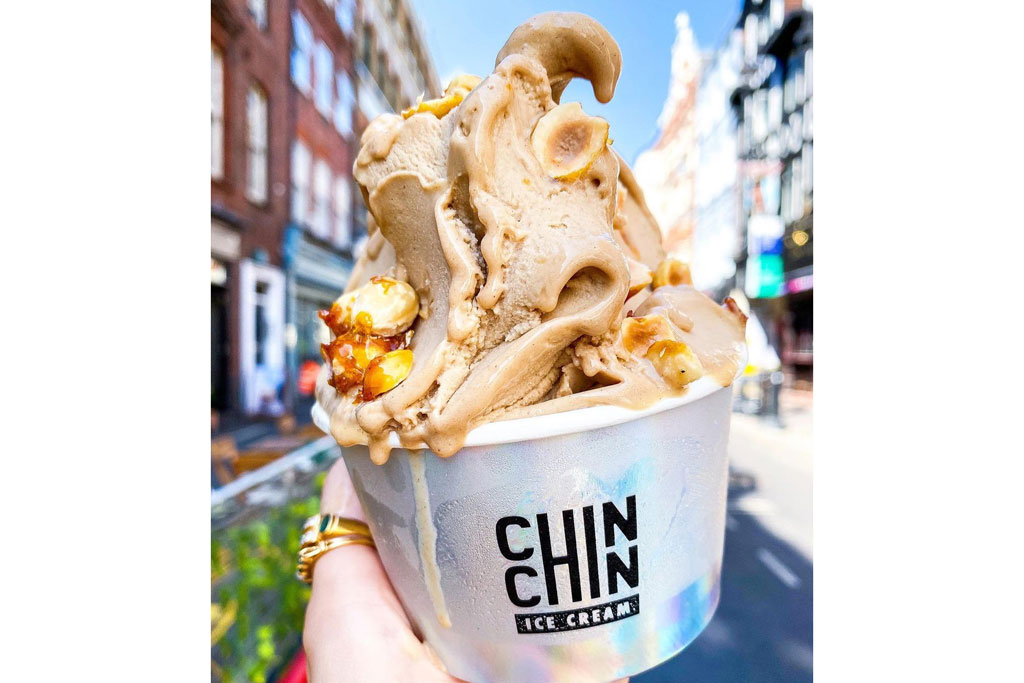 Science meets pudding at futuristic wonderland Chin Chin Club, where ice cream is churned using billowing clouds of liquid nitrogen. A wacky idea, but thankfully it tastes great too. Classic flavours include Tonka Bean and Burnt Butter Caramel, but there are wild specials each week (think Lychee and Geranium Rose, and Purple Carrot Cake) – all of which can be topped with a plethora of tasty add-ons, from caramel sauce truffle crumble to bee pollen honeycomb. Following the roaring success of the original branch in Camden, they have since opened two more, one in Soho, and another in Shoreditch's Dinerama.
54 Greek St, London W1D 3DS, chinchinicecream.com
Mamasons Dirty Ice Cream, Chinatown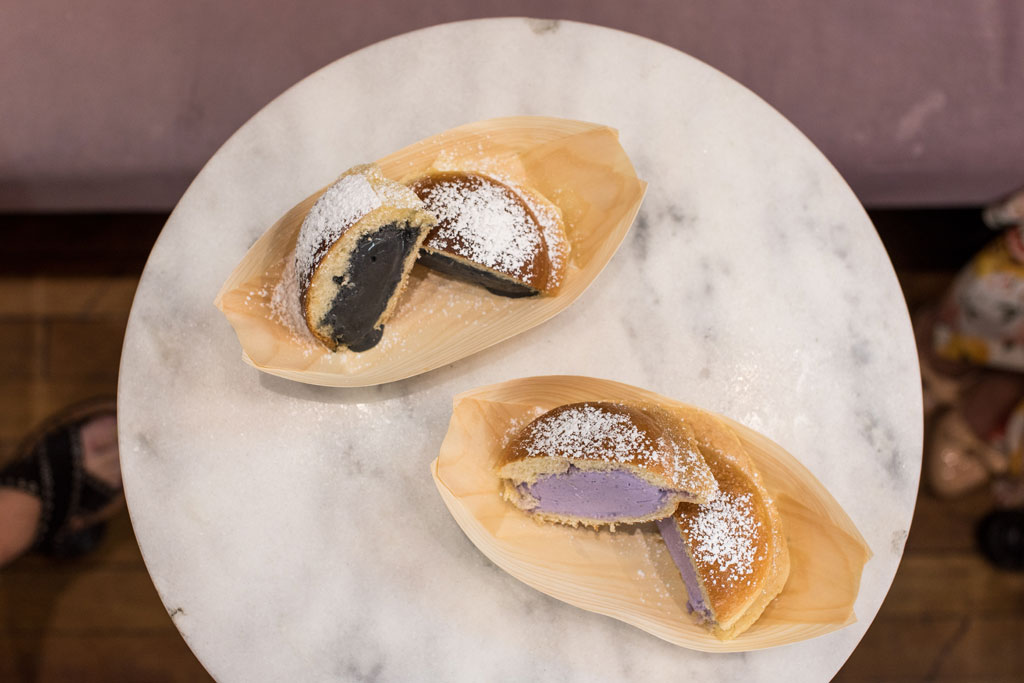 If you've got a notoriously adventurous sweet tooth, no doubt you'll love Chinatown's Mamasons Dirty Ice Cream. Not only did they take home Best Sweet Treat at the 2019 Golden Chopstick Awards, but this innovative eatery is also the first in London – and even Europe – dedicated to serving up flavourful Filipino ice cream. Every dish at the parlour is deliciously Instagram-worthy (head to @mamasonsdirtyicecream for picture-perfect proof) and created using special flavours from the Philippines; think coconut with activated charcoal, Filipino milk buns and 'Ube', purple yams. Be sure to try their signature 'ube bilog', a moreish milk bun filled with purple ube ice cream, toasted and coated with icing sugar.
32 Newport Ct, London WC2H 7PQ, dirtyicecream.co.uk
La Gelatiera
Young and fun La Gelatiera is one of London's coolest ice cream shops. Everything is made on-site daily using only the freshest ingredients, and with flavours changing constantly, you won't be short of choice. Did we mention they have a glass panel in the floor so you can sneak a peak at the kitchen in action downstairs?
27 New Row, London WC2N 4LA, lagelatiera.co.uk
Milk Train Café
Another Instagram-famous spot, Covent Garden's Milk Train is renowned for its fluffy candy floss ice cream cones – which, thankfully, are as delicious as they look. Live out your childhood fantasies at this eclectic ice-cream playground, which is based on a concept from Taiwan, and features flavours from all over the world – think matcha green tea, mango sticky rice and Victoria sponge. All sorts of toppings and mix-ins are available; this isn't the place to hold back.
12 Tavistock St, London WC2E 7NY, milktraincafe.com
Gelateria 3BIS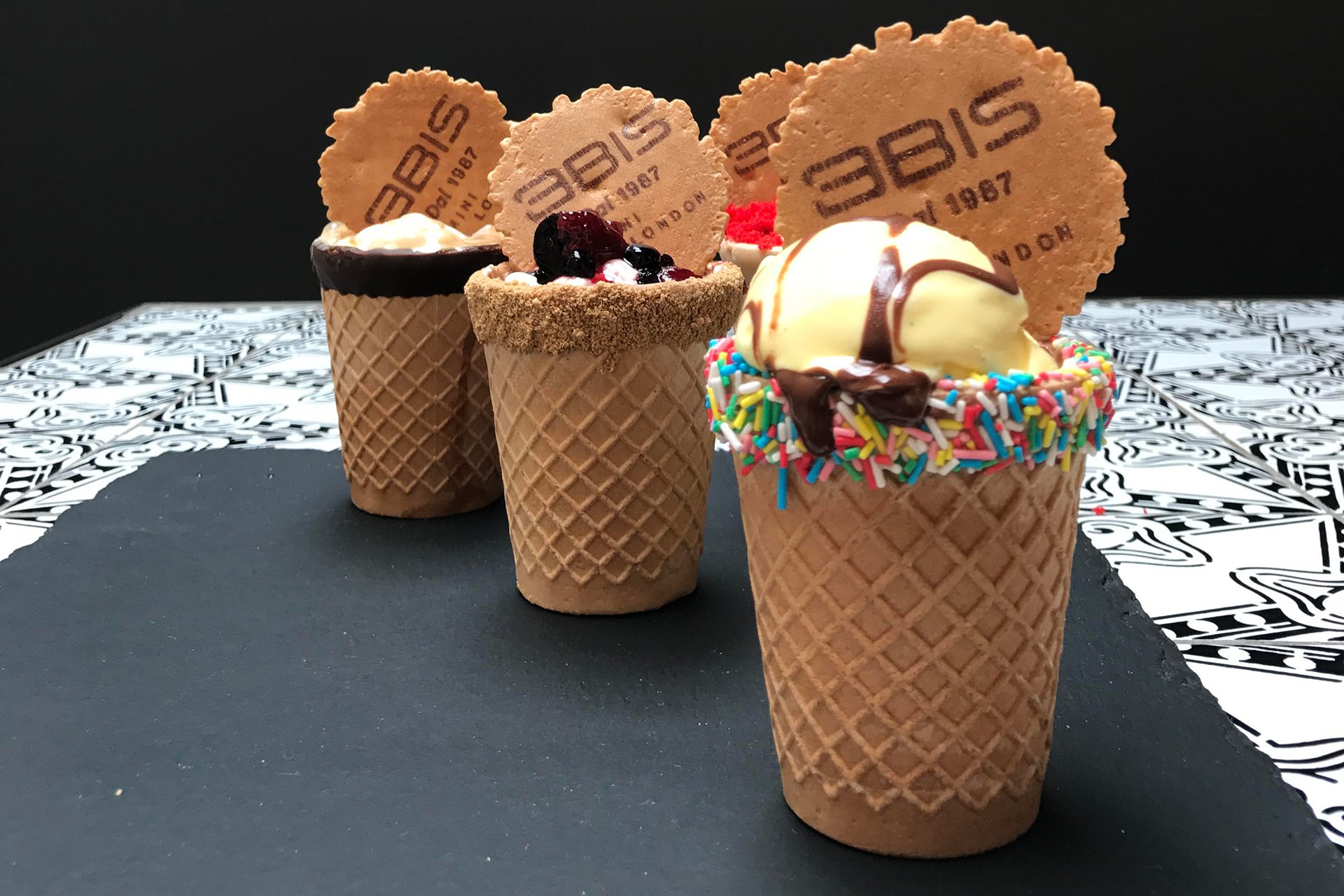 A passion for all things ice cream is felt at Borough Market shop Gelateria 3Bis. Quality of products, rich taste and passion are its unique ingredients. Each gelato is made from organic milk and high-quality Italian products such as Sicilian pistachio, hazelnuts from Piedmont, and liquorice from Calabria. Ice cream here is always ultra-fresh too, as it's made in small batches throughout the day.
Borough Market, 4 Park St, London SE1 9AB, gelateria3bis.co.uk
Oddono's
If you prefer traditional gelato, you can't go wrong with Oddono's – which now has branches all over London. The first launched in South Kensington in 2004, set up by Christian Oddono, whose grandmother used to make homemade gelato in Italy. Everything is produced from scratch using high-quality ingredients from around the world: vanilla pods from Madagascar, natural pistachios from Siciliy and hazelnut from Piedmont. There are over 130 flavours to date, with favourites including Nocciola (hazelnut) and Bacio (milky chocolate and hazelnut), plus sorbets including mango, strawberry and coconut.
Multiple locations, oddonos.com
Bears
Since it was founded by English/Icelandic couple Phil Harrison and Vera Thórdardóttir back in 2016, Bears has become a key player on the capital's ice cream scene. Branches across west London serve top-quality soft serve ice cream, inspired by the traditional Icelandic parlours. Everything is made from Jersey milk and cream, with plenty of interesting flavours to choose from such as Milk Chocolate, Raspberry and Hazelnut Swirl, and Salted Pumpkin Seed Nougat – plus an array of toppings.
Multiple locations, bearsicecream.co.uk
Cookies and Scream
One of Camden's best-kept secrets, this multi-award-winning ice cream parlour is completely vegan and gluten-free. Tucked away in the heart of the market, grab one as you wander around the various stalls. We love the cookie sandwich.
130 Holloway Rd, London N7 8JE, cookiesandscream.com
Udderlicious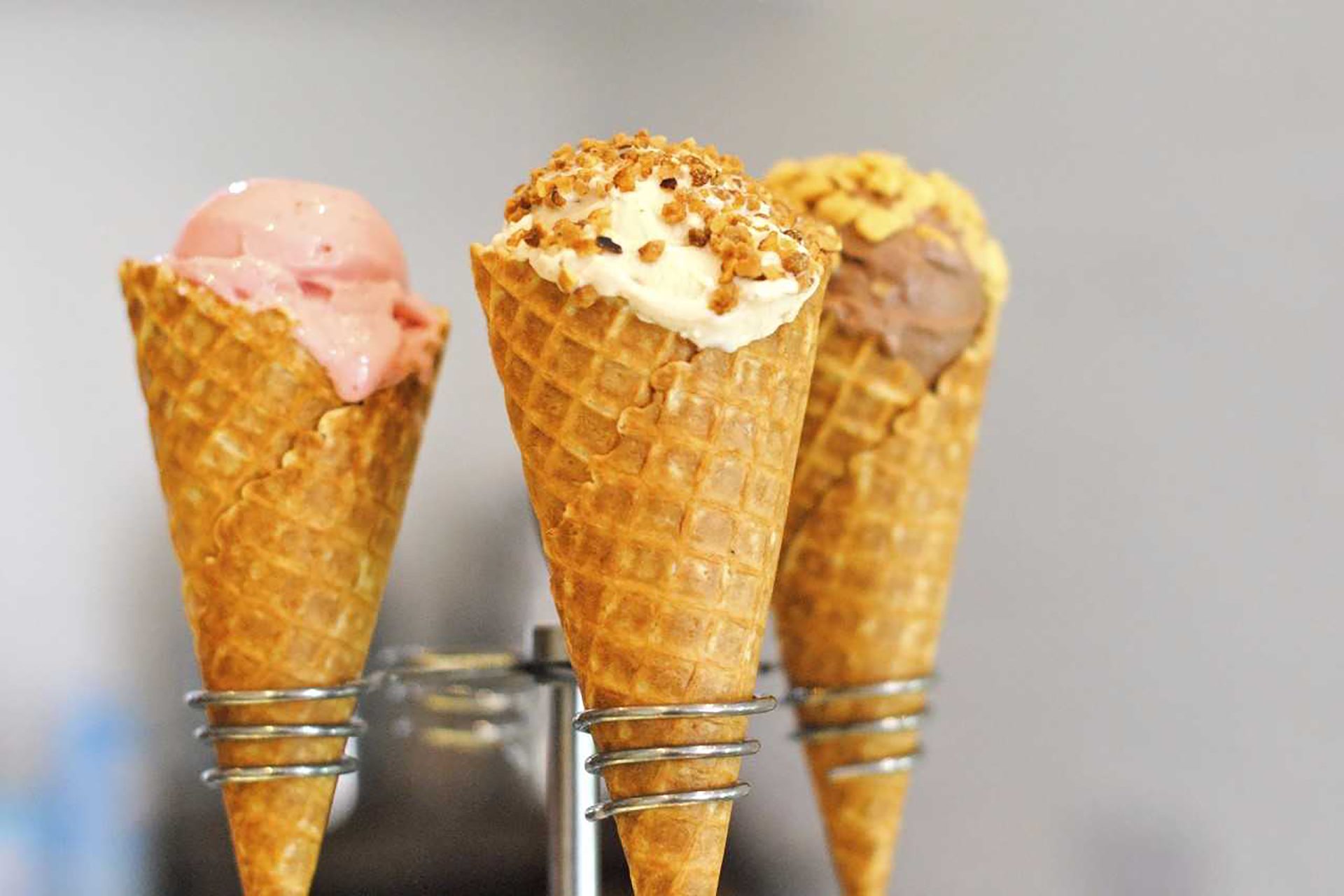 Udderlicious is one impressive business. With a special focus on its ingredients, couple Raj and Raj wanted to ensure only organic milk from proper grass-eating cows was used. Travelling far and wide to ensure they learnt all they could about this delightful summer treat, they returned to London to create their dream. With a range of flavours, including the must-try Dark Chocolate and Sea Salt Sorbet, they have got something for everyone – Marmite and chocolate anyone?
Multiple locations, udderlicious.co.uk
Gelupo
Hidden away in the depths of Soho, Gelupo is the creation of Bocca di Lupo owners Jacob Kenedy and Victor Hugo, who source the best ingredients from the local markets. Gelupo uses traditional gelato-making techniques from Italy to ensure its ice creams and sorbets are full of the most natural flavours – the Fresh Mint Stracciatella, for instance, tastes of the fresh mint you find in your garden.
7 Archer St, London W1D 7AU, gelupo.com