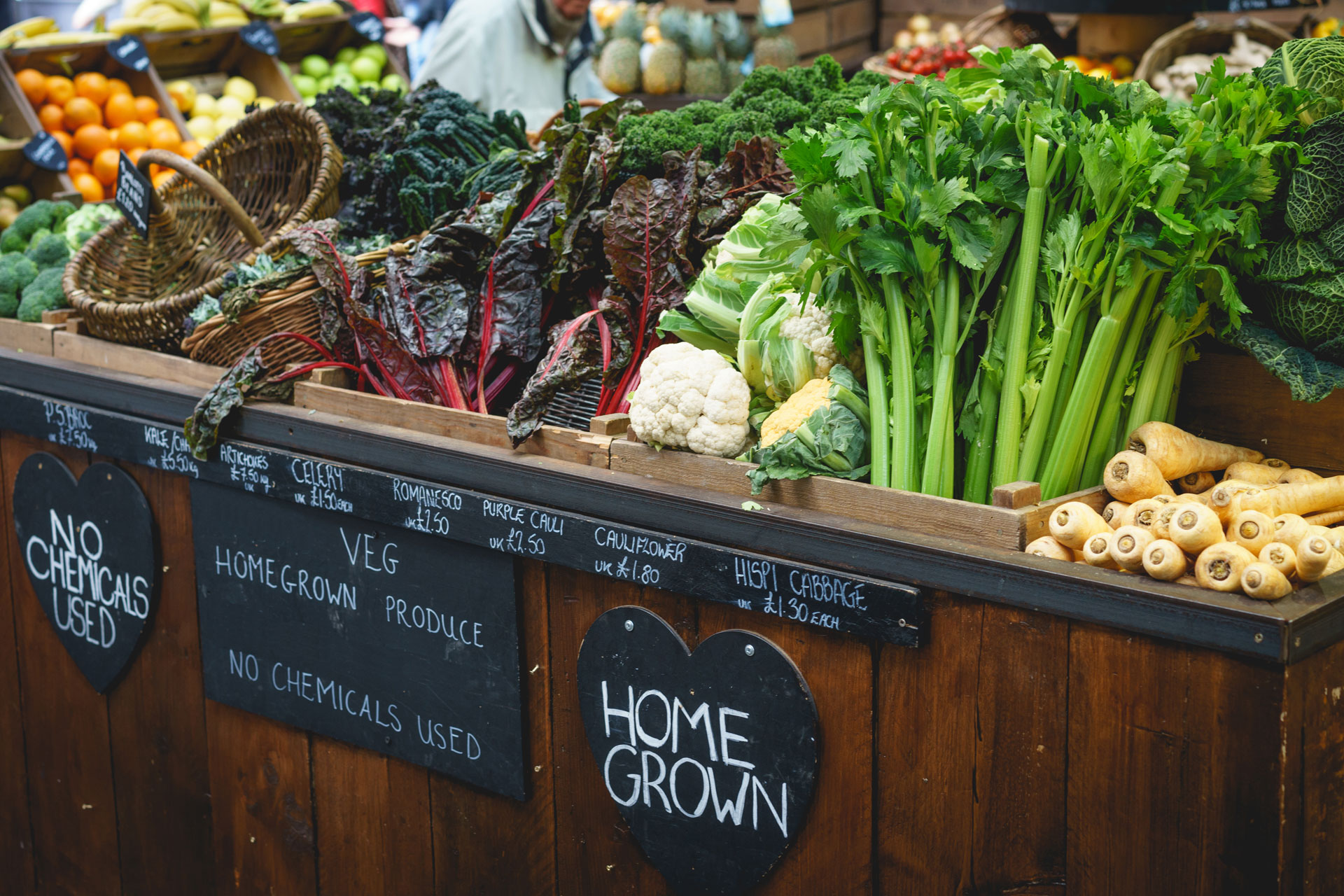 What Is Organic Food?
All your questions about organic food, answered
We all know organic food and drink is good for the planet, but what does the term actually mean? Here's everything you need to know.
What is Organic Food?
Unlike many buzzwords in the sustainability sphere, organic (within the food and drink industry) is a legally protected term. That means to label a product as organic, it must adhere to a strict set of standards, be registered with an approved control body and undergo inspections at least annually.
These guidelines are to do with farming and food production, with the focus being on maintaining the health of soils, ecosystems, animals and people. The Department for Agriculture and Rural Affairs (DEFRA) states that: 'Organic food is the product of a farming system which avoids the use of man-made fertilisers, pesticides, growth regulators and livestock feed additives. Irradiation and the use of genetically modified organisms (GMOs) or products produced from or by GMOs are generally prohibited by organic legislation.'
The DEFRA website also lists the UK's approved control bodies, which includes The Organic Food Federation, Quality Welsh Food Certification Ltd., and the UK's largest: The Soil Association. While some standards are set by law, each body has slightly different stipulations. The Soil Association has one of the most rigorous certification processes, adding, for instance, a ban on pig and poultry mutilations such as feather clipping and beak tipping.
Why Is It More Expensive?
There's no denying organic food comes at a higher price point. There are a number of reasons for this: firstly, the production process requires more care and attention to detail – as The Soil Association explains on its website: 'organic farmers play a vital role as environmental stewards, and the price tag can sometimes reflect the increased time, effort and expertise that goes into working with nature to produce organic food.' Secondly, certification bodies charge a fee, which is used to fund inspections and develop standards. Organic farms also offer better living conditions for animals, which is why organic meat and dairy products in particular are more expensive.
Saying that, there are ways to save a few pennies. Eating seasonally tends to be cheaper as it cuts import costs – plus it's better for the environment. Keep an eye out for own-brand organic products in supermarkets too, which often aren't actually more expensive. You'll often get good deals on store cupboard essentials, such as milk and eggs. And if you're deciding which fruit and veg to go organic with, prioritise foods which tend to be contaminated with pesticides, such as strawberries and spinach.
When it comes to buying meat, the 'less and better' mantra is a good one to follow – high-quality meat costs more, but if it's seen as more of a treat than an everyday purchase, the prices will even out.
Is It Healthier?
So organic food is better for the planet – but is it better for humans too? It's a hotly debated topic, and the evidence is inconclusive. However, there is some research to show the added health benefits. Organic products are minimally processed and contain fewer pesticides, which is surely a positive, plus some studies show fresh organic produce may supply more micronutrients like vitamin C, iron, magnesium and phosphorous. Some organic products may also contain more antioxidants, according to a long-running study in the Journal of Agricultural and Food Chemistry, which looked at antioxidant activity in onions. And, in 2016, a study published in the British Journal of Nutrition found that that organic meat and milk have 50 per cent more omega-3 fatty acids (healthy fats) than conventionally produced products.
Main image: Getty Images