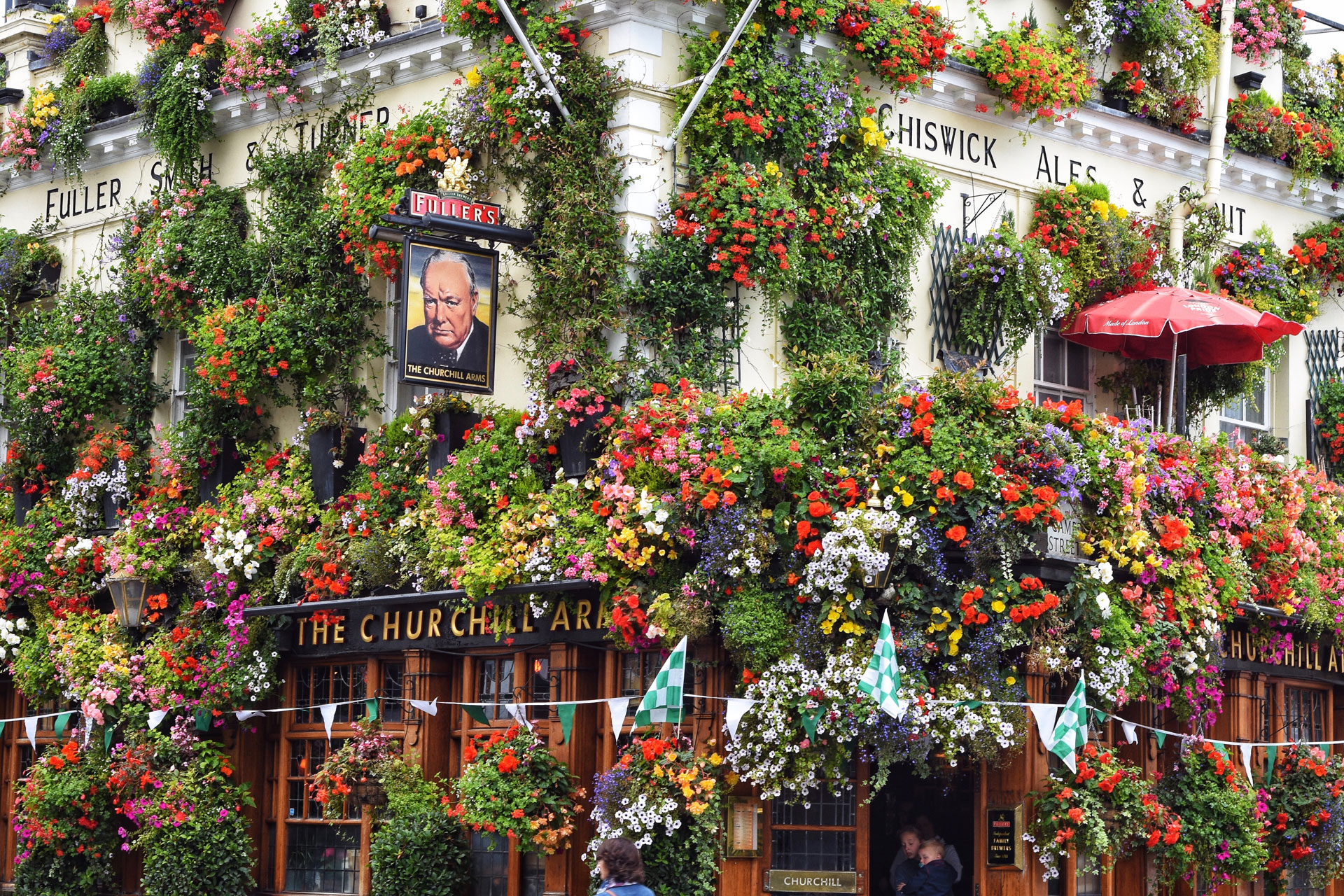 10 Best Pubs in Central London
Where to go for a pint in the city centre
London is arguably the best city in the world for pubs. But, with over 3,500 of them lining its streets, it can be tricky to sort the wheat from the chaff. With that in mind, we've picked out some of our favourites, focusing on the central London area (a loose, and often debated term, but most agree that includes the West End, Soho and the City of Westminster). From historic inns dating back hundreds of years to modern gastropubs, these are the best central London pubs.
10 Best Pubs in Central London
Mr Fogg's Tavern, Covent Garden
View this post on Instagram
The Covent Garden branch of Mr Fogg's is perched on the corner of New Row and St. Martin's Lane, with a gin parlour sitting upstairs. It's a quirky spot themed around explorer Phileas Fogg, which transports guests to the Victorian era – think eccentric décor and walls bedecked with memorabilia. There's a suitably fun drinks offering, which includes a selection of unique cocktails and punches, plus a 'Sarnie and Chips' menu (crucial for avoiding the Mr Fogg's hangover). 
58 St Martin's Ln, London; WC2N 4EA; mr-foggs.com
Ye Olde Cheshire Cheese, Fleet Street
View this post on Instagram
One of the city's most historic pubs, Ye Old Cheshire Cheese dates all the way back to the 1500s, but it was rebuilt in 1667 after being damaged in the Great Fire of London. Despite being a well-known spot, it has something of a clandestine feel: you enter through a small side street off the main road, and descend down a staircase to discover a labyrinth of different rooms. You'll be walking the footsteps of many literary greats too, with Charles Dickens and George Orwell believed to have once drunk there.
145 Fleet St, London EC4A 2BP; ye-old-cheshire-cheese.co.uk
The Ship & Shovel, Charing Cross
View this post on Instagram
This cosy spot is London's only pub that's split in two halves. You can enter on either side of Craven Passage, with the two buildings connected by a tunnel where the kitchen and cellar sit. Dating back to the 1730s, it exudes classic ale house charm, serving award-winning draught Badger Beers from Dorset plus a food menu of pub classics. 
1-3 Craven Passage, London WC2N 5PH; shipandshovell.co.uk
The Harp, Covent Garden
View this post on Instagram
This long-standing central London boozer is always buzzing, with a friendly, convivial atmosphere. It's a haven for beer enthusiasts, specialising in cask beer, with an array of daily changing guest ales alongside ciders and perries from all over the country. Surprisingly, it's not too pricey either. All this means it's often rammed – but that's all part of the fun.
47 Chandos Pl, London WC2N 4HS; harpcoventgarden.com
Cittie of York, Chancery Lane
This characterful City pub on High Holborn is worth a visit for the interiors alone. It has its roots in the Tudor period, but in the early 1900s it was rebuilt in a medieval style, so now it resembles an Olde English baronial hall – think stained oak beams, cosy booths and an iron fireplace. Marvel at all this while sipping Sam Smith's beers (some of the cheapest pints in the UK). 
Cittie of Yorke, 22 High Holborn, London WC1V 6BN
The French House, Soho
View this post on Instagram
The walls of Soho favourite The French House pay homage to the pub's interesting history, which has seen a stream of writers and actors popping in for a pint. It has a no music, no television and no mobile phones policy, which makes it the perfect spot for conversationalists, with a choice of 30 champagnes and wines by the glass. And if you're hungry, you can pop to the upstairs restaurant for steak and oysters. 
49 Dean St, London W1D 5BG; frenchhousesoho.com
John Snow, Soho
View this post on Instagram
Not a tribute to the Game of Thrones character, or the Channel 4 news presenter for that matter, the John Snow pub in Soho is an ode to Dr John Snow, a Victorian physician who proved that cholera was spread by contaminated water. A replica of the pump which caused an epidemic at the time sits outside; inside is a dark-wood saloon bar serving Yorkshire ales by Sam Smith. A classic British pub, this one is perfect for after-work drinks, with the kind of lively atmosphere you'd expect from a Soho institution.
39 Broadwick St, Carnaby, London W1F 9QJ
The Newman Arms, Fitzrovia
View this post on Instagram
Another pub with historic significance, The Newman Arms was apparently the inspiration for George Orwell's 'Proles' pub in his novel 1984. It retains some old-school charm today, though it was revamped in 2010 after becoming the first tap house to be opened by Truman's brewery. Expect a classic wood-clad pubby vibe, with a basement bar nicknamed 'The Prole's Parlour' alongside an upstairs dining area specialising in pies (though the kitchen is currently on hold while the menu is being revived).
23 Rathbone St, London W1T 1NG; thenewmanarms.co.uk
Ye Olde Mitre, Hatton Garden
View this post on Instagram
It's notoriously hard to find, but a trip to Ye Old Mitre is worth the schlep. Perched in a tiny alleyway off Hatton Garden, it's a traditional pub housed in a historic building, dating back to the 16th century. Fun fact: apparently Queen Elizabeth I once danced around a cherry tree in its garden with Sir Christopher Hatton. Nowadays, it's owned by Fuller's, and serves ales on tap from across the country, plus a menu of bar snacks and toasties.
1 Ely Ct, Ely Pl, London EC1N 6SJ; yeoldemitreholborn.co.uk
The Grenadier, Belgravia
View this post on Instagram
Belgravia pub The Grenadier has a spooky past. As legend goes, a gambling soldier named Cedric was killed there after being caught cheating at cards – and some believe his ghost haunts the venue to this day. That also explains the ceiling, which is covered in bills from those keen to help him pay off what he was owed. Don't let its haunted history put you off though: The Grenadier is a welcoming, unpretentious spot offering an ever-changing selection of cask ales alongside Sunday roasts and good pub grub.
18 Wilton Row, London SW1X 7NR; grenadierbelgravia.com