It's London Food Month, and the vodka masters at Ketel One have teamed up with some of the capital's best restaurants to showcase brunches from around the world. Try a selection of new brunches at various pop-ups around the city, all accompanied by a Bloody Mary, of course. Or try it at home with one of these alternative brunch recipes, perfect for a lazy Sunday…
Bacon and eggs not cutting it for you anymore? It's always good to try something a little different, and with these two alternative brunch recipes with paired Bloody Mary, you might just find yourself converted…
The Carrot Mary with Carrot Pancakes and Greek Yogurt
Try this exotic mix of Ketel One vodka with freshly pressed carrots, apples and pears, fresh orange, Asian spices and strong heat.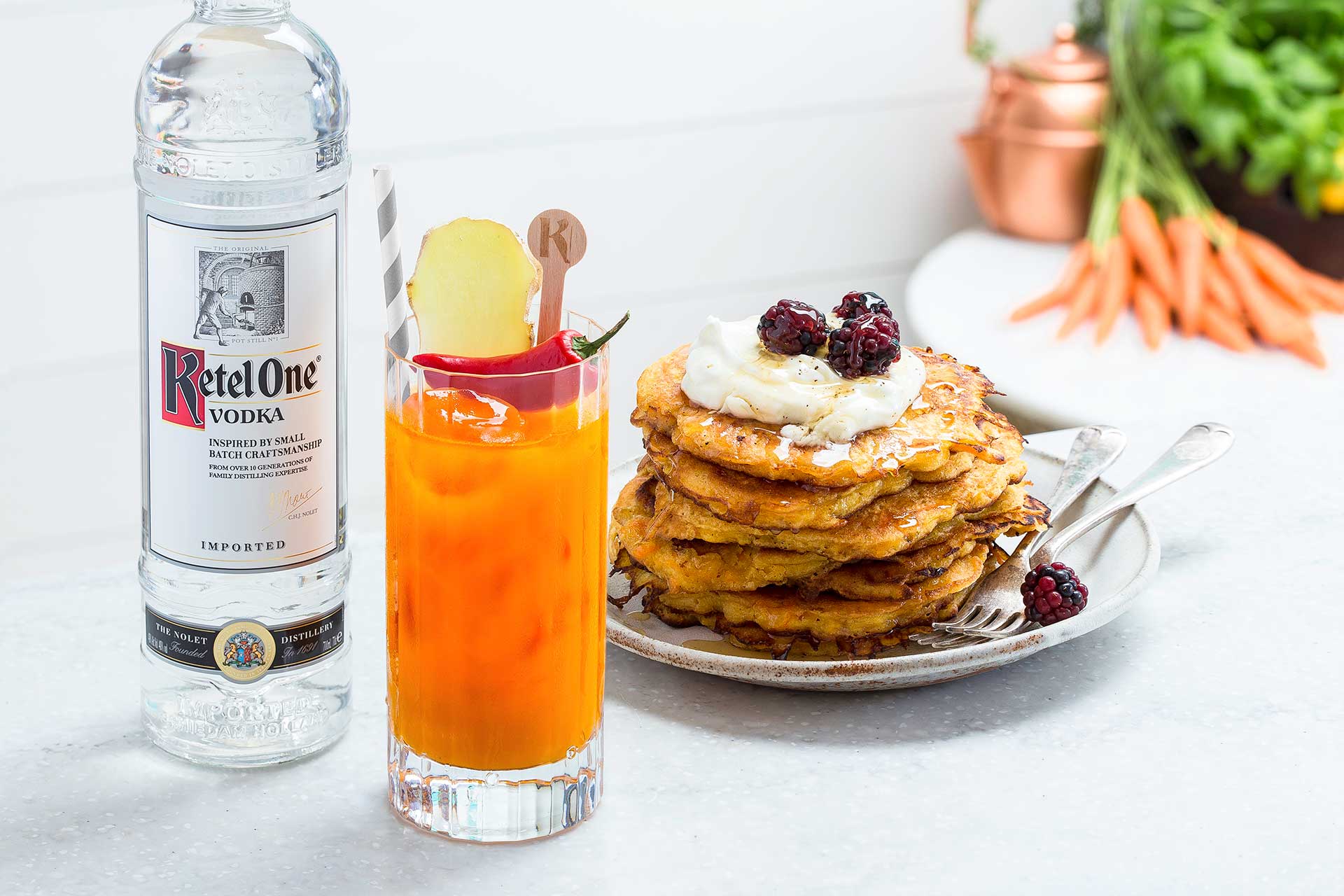 The Carrot Mary
35ml Ketel One Vodka
100ml equal parts of carrot, apple & pear juice
30ml freshly squeezed orange juice
1 pinch of rock salt, pepper, cayenne pepper and dried chilli flakes
1/2 teaspoon of tamarind
1/2 teaspoon ginger paste
Method
Add all ingredients to the glass, stir well, add ice, garnish with a long, flat slice of ginger and fresh red chilli.
Carrot Pancakes with Greek Yogurt
Ingredients (Serves 2)
For the pancakes:
130ml milk
135g plain flour
1 large egg- lightly beaten
30g melted butter
2 tbsp caster sugar
1 tsp baking powder
1/2 tsp salt
2 medium carrots- peeled and finely grated
For the rest:
300ml Greek yogurt
4 tbsp honey
A handful of your favourite berries
Black pepper
Butter for cooking
Method
Sift the dry ingredients into a large bowl, and in a separate bowl mix the egg, melted butter and milk together.
Add the wet mix to the dry ingredients and mix together until the lumps are gone, then add the grated carrot and stir briefly to combine, set aside for a few minutes to rest.
Add a dollop of butter to a medium/hot frying pan. Once the butter has melted, add some of the pancake mix into the pan, making pancakes that are about 1cm thick and turning them once they're golden brown on each side.
Serve topped with the Greek yogurt, berries and honey.
The Green Mary with Chimichurri Fried Egg and Salmon Bagels
A vibrant combination of Ketel One Vodka and green vegetables with celery, cucumber and lettuce, fresh lime, warming spices and a hint of heat.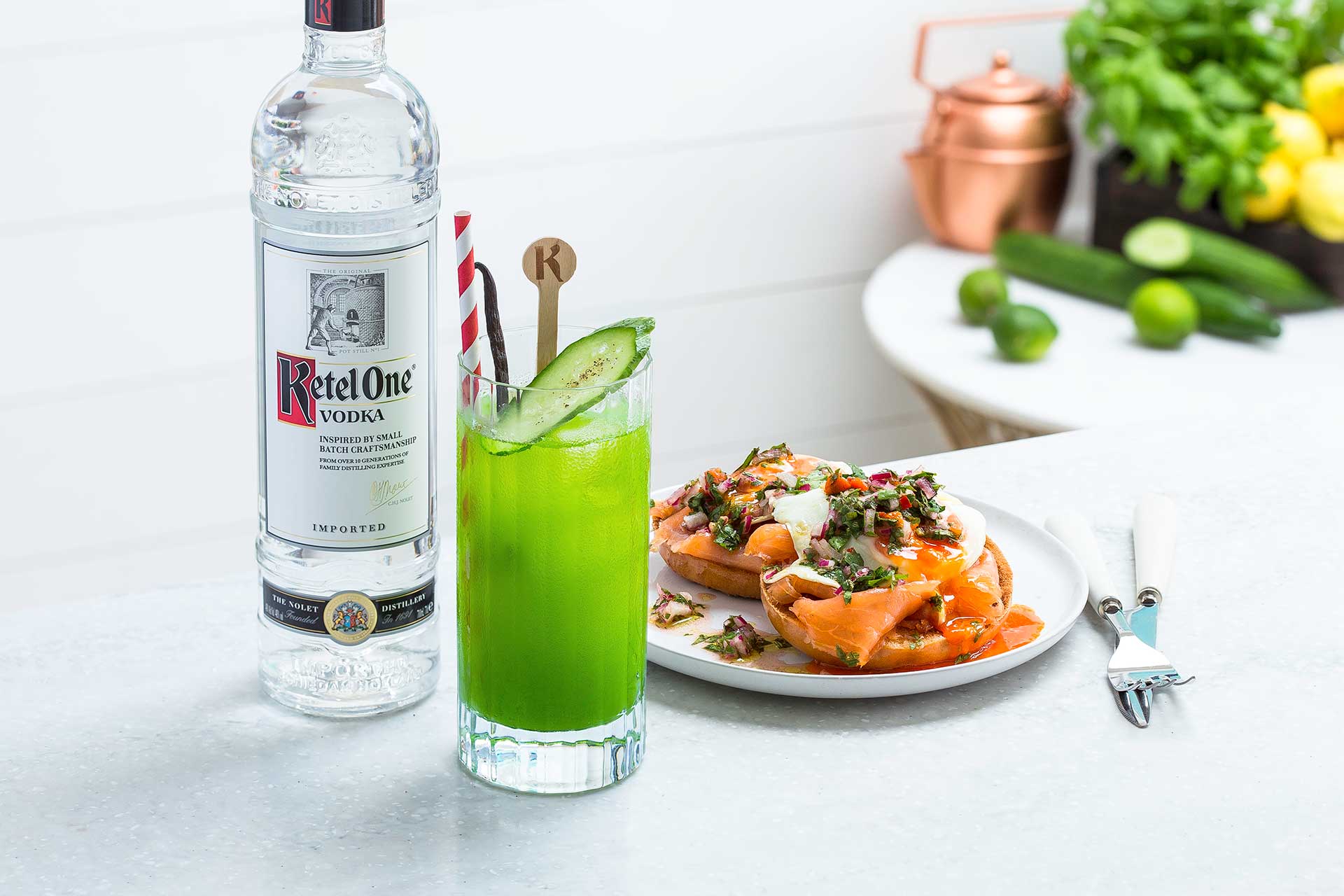 The Green Mary
Ingredients
35ml Ketel One Vodka
100ml freshly juiced equal parts of celery and cucumber
20ml freshly squeezed lime
1 pinch of rock salt, pepper, cinnamon, nutmeg and chilli
Half a vanilla pod
Add all the ingredients to the glass, stir well, add ice, garnish with a salted cucumber slice and vanilla pod and enjoy!
Chimichurri Fried Egg and Salmon Bagels
Ingredients (Serves 4)
For the bagels:
2 bagels
600g smoked salmon
4 free range eggs
Black pepper
For the dressing:
A handful of fresh flat leaf parsley
A handful of fresh coriander
1/2 red onion
1 clove garlic
1/2 tsp jalapeno / half a deseeded cchilli
Zest of 1/2 lemon
A scrunch of sea salt
80mls extra virgin olive oil
3/4 tbsp red wine vinegar
Method
Finely chop the dressing ingredients and mix together until super smooth. Taste and adjust the seasoning as needed, add some more salt or lemon/vinegar if required.
Start toasting your bagels. Add a dollop of butter and some olive oil to a frying pan and heat on a medium-high heat. Once the butter melts, crack your eggs and cook on a medium heat until the whites are nearly set.
While they're cooking, top the bagels with the salmon, then take the eggs out of the pan and place them carefully on top of the salmon.
And, enjoy!
Don't miss out on a series of International Brunches happening all over London this month, in association with Ketel One.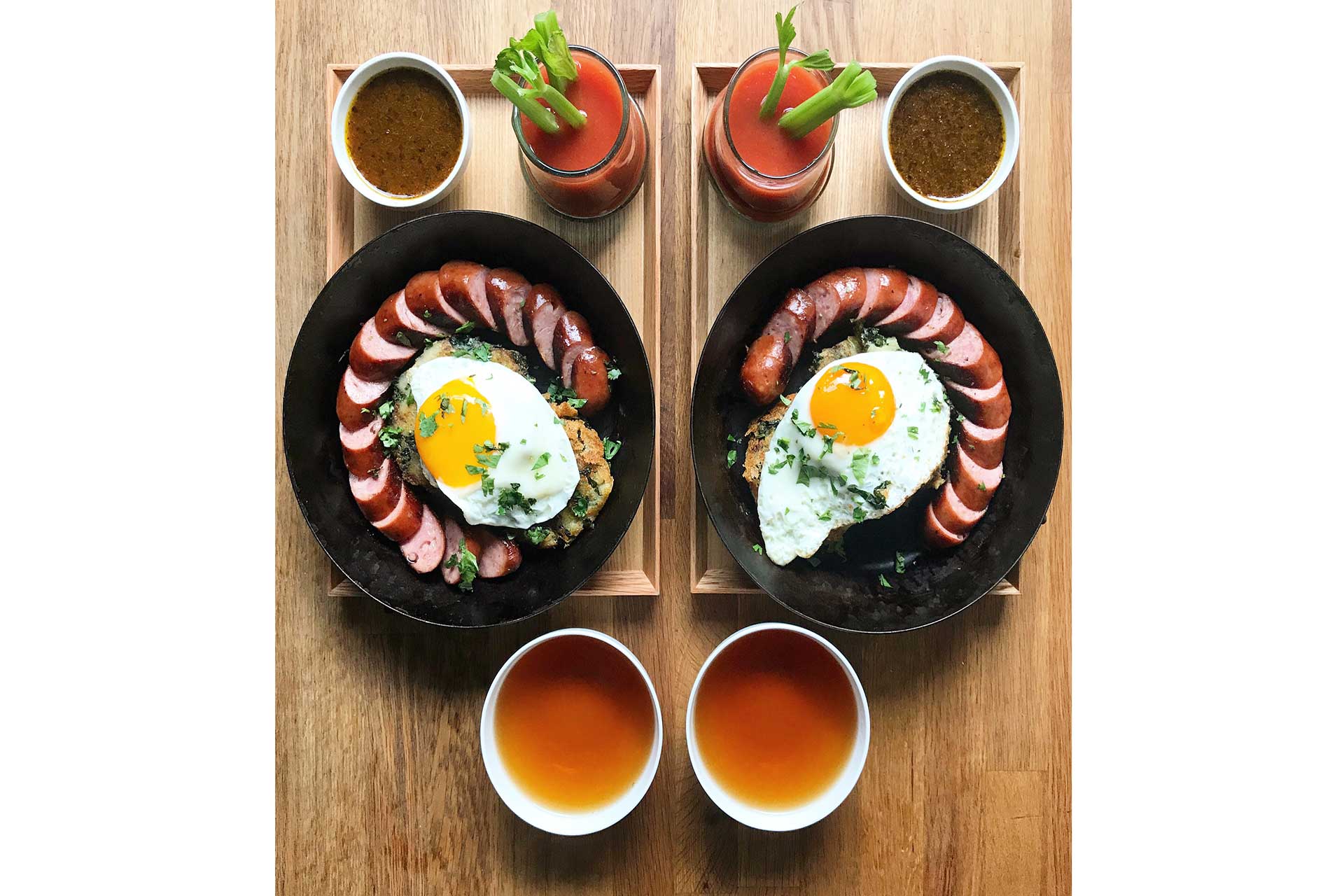 Head to Robin Gill's Paradise Garage in Bethnal Green from June 25 for newly-launched Dutch Brunch, the first of its kind in London. In collaboration with Michael Zee from Insta-phenomenon Symmetry Breakfast, the Dutch Brunch offers a menu inspired by traditional Dutch ingredients and foods, combined with contemporary versions of classic Brunch dishes. Order the rookwurst and chicory bubble and squeak with fried Tilley's farm egg, and team with a Bloody Mary from the Ketel One bar for a proper start to your Sunday.
Why not brunch your way around the world? Check out the Ketel One Vodka Weekend Brunch at contemporary Japanese hotspot Aqua Kyoto, or the American-style Dirty Mary and Brunch at Dirty Bones for offerings such as chicken and waffles, the Benedict burger or an indulgent 30-day aged flat iron steak with fried eggs and smoky tomato ketchup.
MORE FOOD: 7 of the Best Healthy Breakfasts | Recipe: Linda Tubby's Toast, Egg & Bacon Breakfast Bites | Best Brunches in London
---