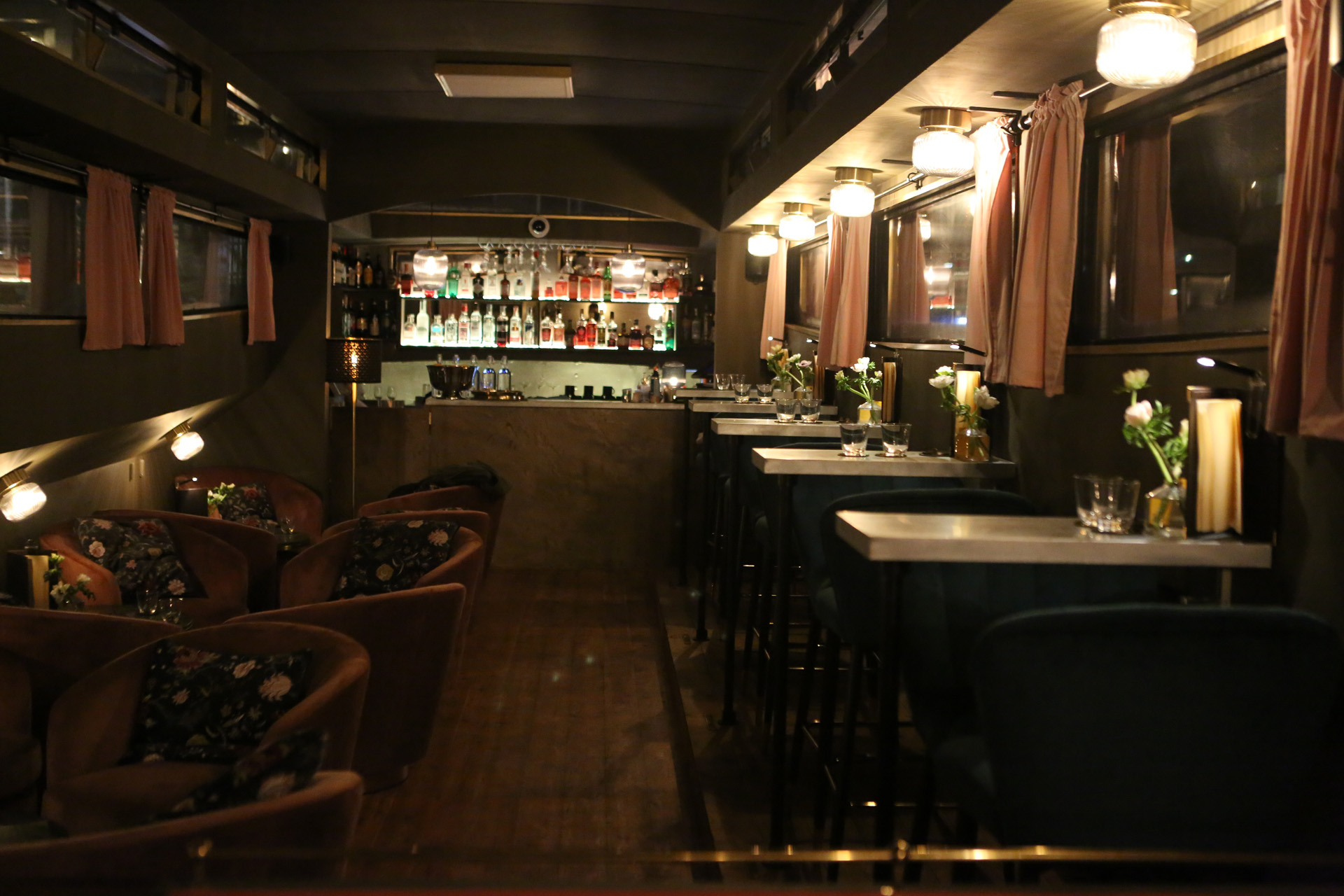 Restaurant Of The Week: Caravel & Bruno's, Hoxton
---
Venture to Hoxton's slice of Regent's Canal for a waterway experience brimming with delicious cocktails and delicate dishes, says Olivia Emily. Caravel is our restaurant of the week – but don't miss neighbour narrowboat Bruno's for a moody pre- or post-dinner drink.
Restaurant Of The Week: Caravel & Bruno's, Hoxton
Looking back, the speakeasy vibes begin long before we board Bruno's, a moody narrowboat-turned-cocktail bar decked out with red leather sofas with burgundy velvet cushions, soft pink armchairs with matching curtains, and ridged wall lights casting starry pools of light onto the grey walls. Approaching Studio Kitchen N1 – which sits next door to Holborn Studios, and plays host to the moored converted narrowboats of Caravel and Bruno's – you'd be forgiven for almost missing the turning as you near the end of Shepherdess Walk, met with a footbridge and a sign directing you to a daunting metal gate with a doorbell.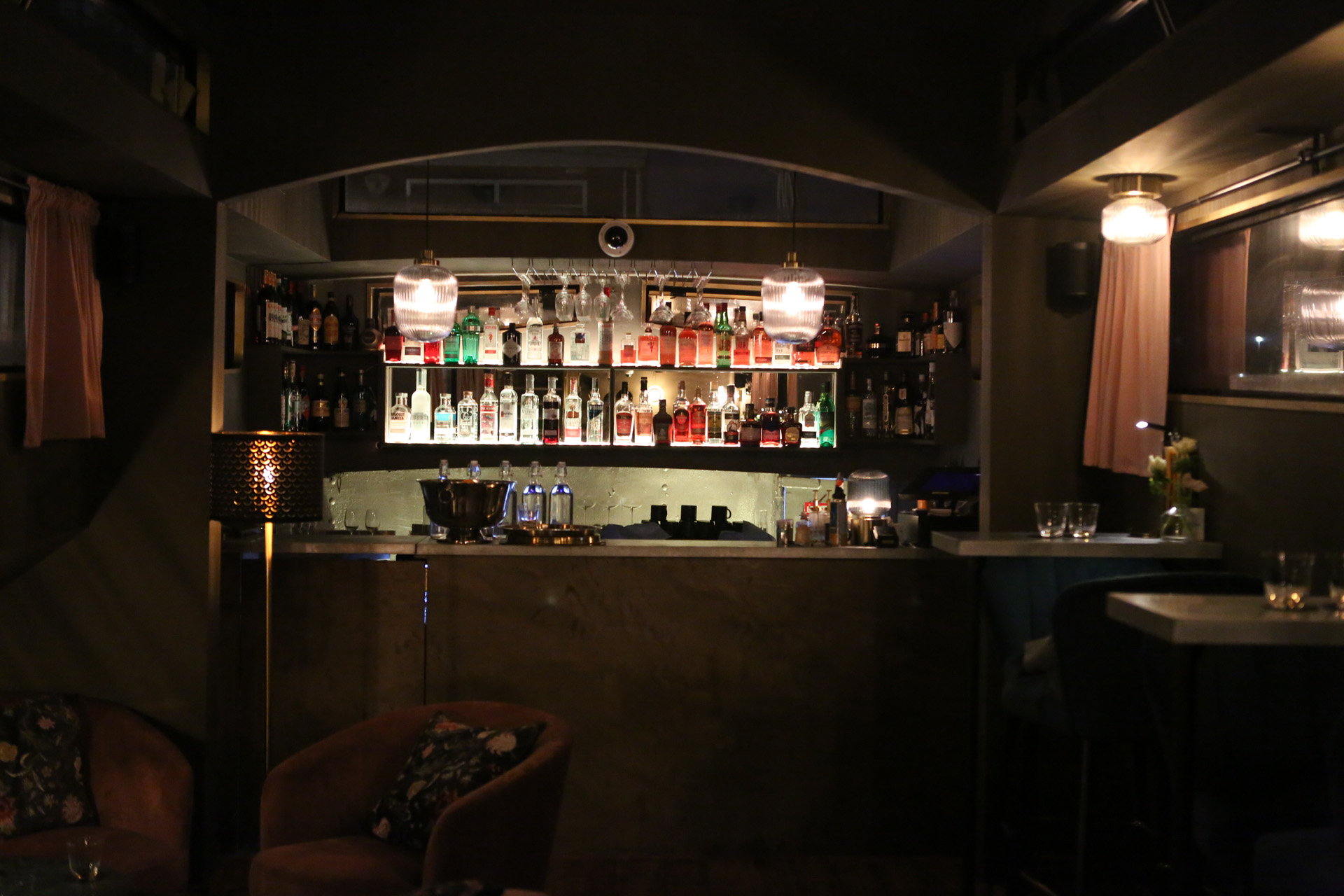 Buzzed in, venture down the fairy-lit metal stairs onto the pontoon. Keep walking, strolling past moored boats, slightly convinced you're in the wrong place, until you see a Staffordshire Bull Terrier – the titular Bruno – painted onto one of the boats. Step inside, greeted by that moody New York-inspired vibe stretching the length of the boat, and a friendly barman bearing menus brimming with delicious concoctions. Peer through the portholes to see the gentle lap of the canal's waves.
With a selection of House Cocktails, Forgotten Classics, and After Dinner drinks, the Bruno's menu is playful, with grown up cocktails (plenty of mezcal, campari and bourbon) rejuvenated with teasing nautical titles such as 'Below Deck' and 'Bowline' begging an intrigued taste, and drawing on nostalgic flavours such as cherry cola and peach drops. It's an ode to a childhood shared by the Spiteri brothers behind the project, Lorcan and Fin (for posterity, Bruno is Fin's dog). The menu is devised by Fin, who previously worked at some of London's best-loved bars, including 69 Colebrooke Row and Quo Vadis.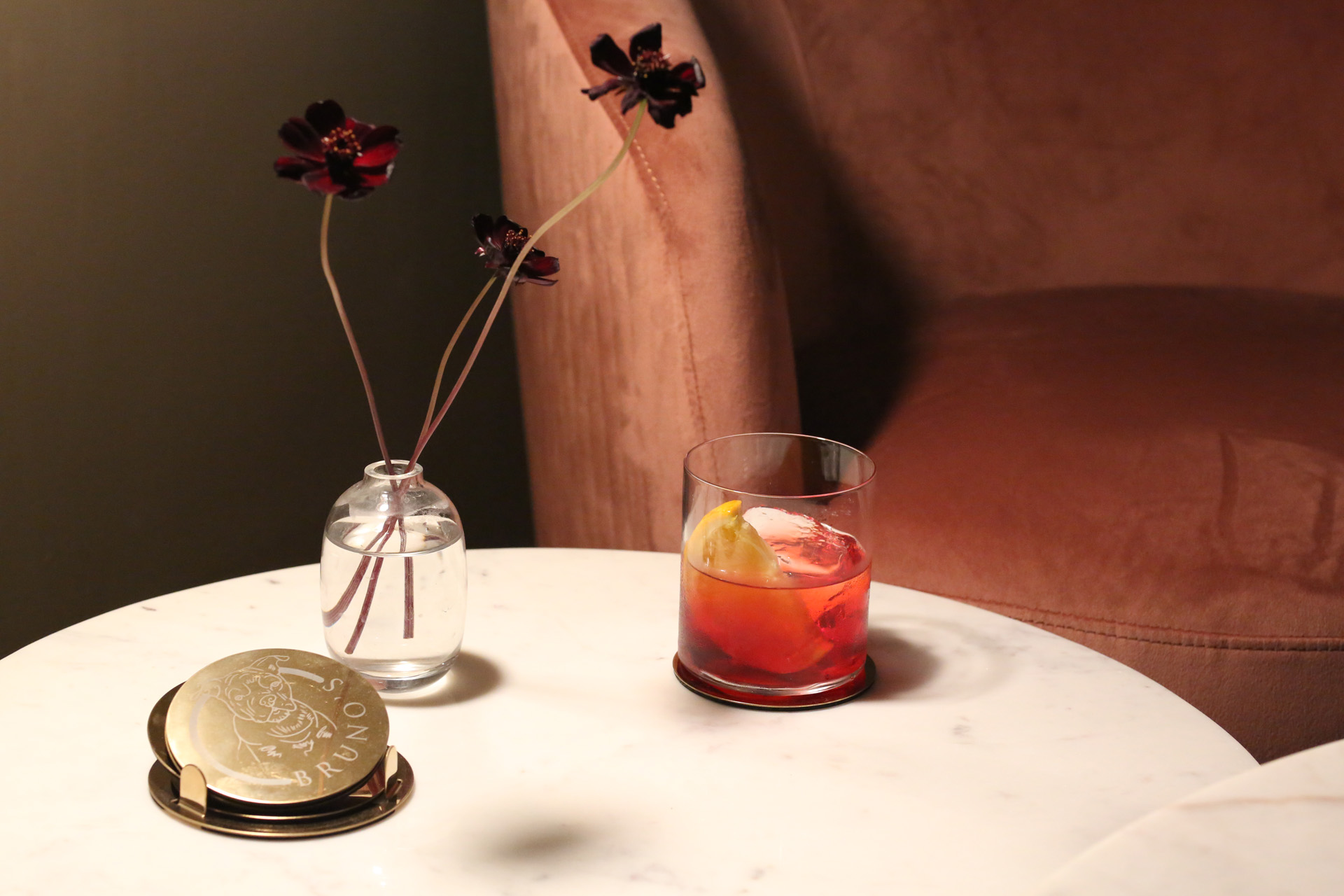 Thankfully, interiors wise, any nautical references are thrown overboard. Instead, an arched bar gleams at the boat's end, where mixologists shake up a storm. No detail too minor, you'll appreciate the reading lights clipped to the menus, and you'll fall in love with weighty gold coasters engraved alternately with a drawing of Bruno the dog or a narrowboat.
Outside, rows of rainbow benches patiently await warmer months. Wander to the boat next door, Caravel, for dinner; keep your eyes peeled for the cute (if slightly harrowing) stained glass window picturing a duck trapped in six-pack plastic rings. Descend into this wider hull, where moodiness makes way for elegance, and the day's final light pours through larger windows and flickering candlelight bounces off the green walls. 
The menu is led by Head Chef Lorcan, who cut his teeth at Quo Vadis, Oldroyd and Rochelle Canteen before opening Studio Kitchen with his brother in 2020. You'll see the glow emanating from the nearby Studio Kitchen – the brothers' more casual, land-based dining affair – when you inevitably need to nip to the toilet, emerging from the narrowboat onto dry land to do so; the trip into the chilly air is alleviated by jazzy music, indulgent soaps and glowing mirrors.
Back inside, just as in Bruno's, spy the open kitchen at the boat's end, where a selection of delicious small and large plates are cooked up, all based on simplicity and seasonality. Think Calçots topped with gribiche, picada and crunchy hazelnuts, indulgent Sesame Prawn Toast with chilli jam, and Roast Hake with chickpeas, chard  and saffron aioli.
BOOK IT
Bruno's and Caravel are open Wednesday to Sunday. Don't miss Caravel's new 'Family Dinners' series of pop-ups, running until late summer and featuring like-minded collaborations with Max Halley, Cynthia Shanmugalingam and Amy Poon.