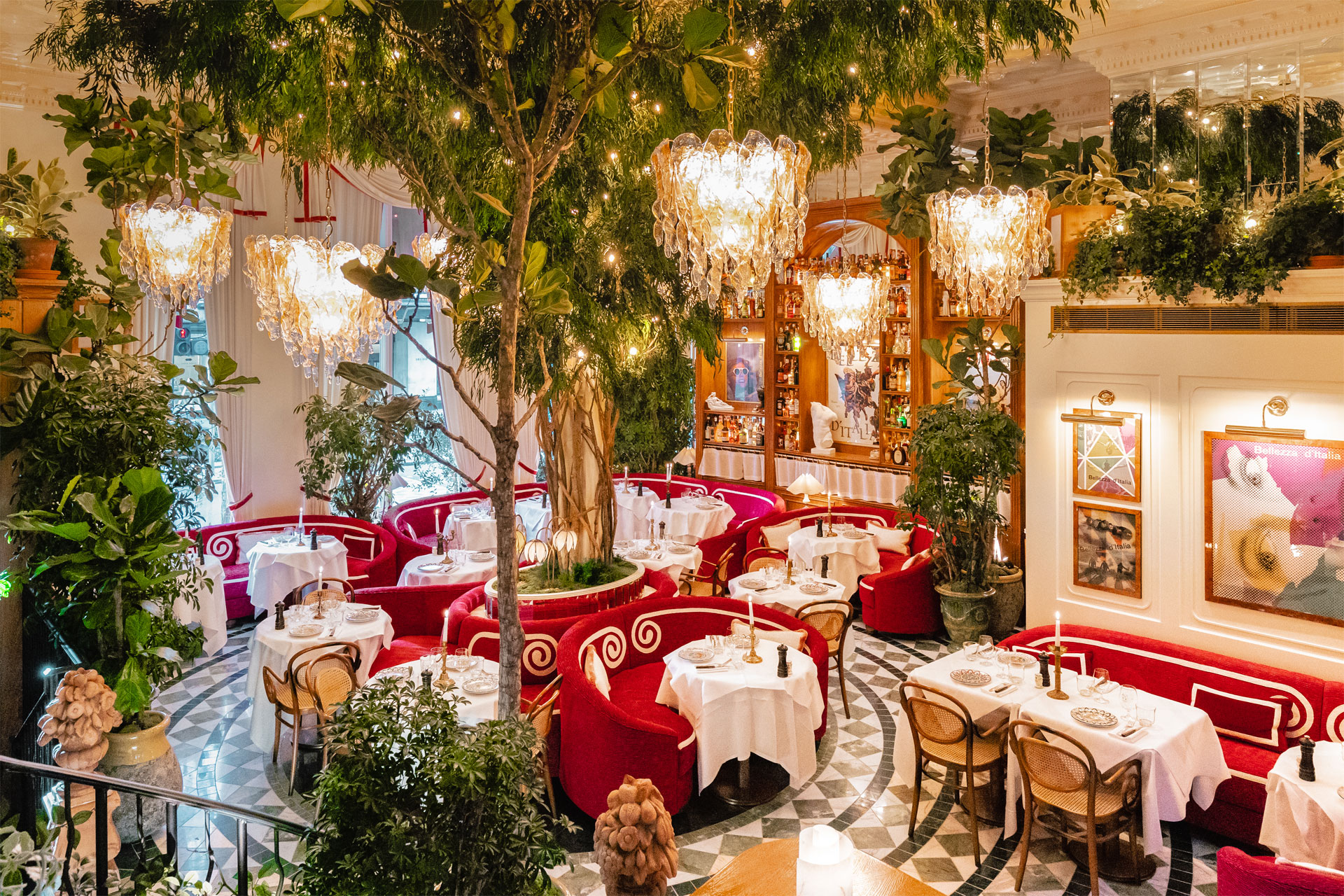 Restaurant Of The Week: Jacuzzi – Glam And Playful, But Still Serious Eats
Elevated Camp
Looking for an Instagram-friendly restaurant which doesn't miss on the food? Jacuzzi, High Street Kensington, is our Restaurant of the Week, says Tessa Dunthorne. 
Restaurant Review: Jacuzzi, High Street Kensington
What do you get when you cross your Instagram explore page with a larger-than-life (and slightly camp) Italian trattoria? The latest from the Big Mamma group, of course – Jacuzzi, the newest open from the foodies behind Gloria, Ave Mario and Circolo Popolare. 
On the site of an old bank, this new restaurant screams more is more. In everything it does. But it pulls it off. 
The interiors are clever – split across four floors, Jacuzzi is sprawling, and yet it never feels anything less than cosy. As you step into the space, you're immediately cocooned by the dangling branches of trees, and glass chandeliers refract light in a pretty, starry way. Vines and plants spill from balconies and surround your table. They've somehow brought the outside in – even the waitresses are wearing coats – without, obviously, making diners brave the elements. And the banquettes on which you sit? You're perched alongside your dining companions comfortably, forgoing the formality of the dreaded face-to-face dining of a stuffier restaurant. Great for dates, and great for sharing plates (which they encourage you to do). 
Step downstairs to check out the bathroom for a moment, and you're once again transported completely elsewhere. The bathrooms are a party, sporting disco lights and mirror funhouses. But a word of warning: the toilet stalls will give you the fright of your life when you first go in, as they employ one-way mirrors meaning you'll have a plain view of comers-and-goers. 
With all the exciting glamour of the space, its party bathrooms and biophilic landscaping, this restaurant is surely going to be popular on social media as more and more diners experience it. 
And it deserves to be. Because – bells and whistles aside – the food is genuinely excellent.  
Arriving on beautiful and eclectic crockery, all dipinto a mano (painted by hand), the classic Italian fare is intended for sharing. Which is good, because the portion sizes are huge. Tuck first into a mountain of dribbly burrata, topped with either pistachio or truffle, and take a grazing, European approach to your dining by poring over the food for a luxurious stretch of time, glass of wine in hand. Soak in the atmosphere.
One dish not to miss is the puttanesca con tonno crudo. Puttanesca is a classic, so you already know that it's salty – check – and acidic – check – but what really sets Jacuzzi's take on it is the quality of the tuna. This is so-fresh-it's-basically-still-wet tuna masterfully prepared, and head chef Manuel Prota proves his culinary chops with the subtlety of this dish.
FINAL WORD
Food should be fun. At Jacuzzi, it is. Jacuzzi proves it can deliver serious flavours – while still achieving a playful and glamorous atmosphere. It'll be a smash hit on your social media and you'll genuinely be able to say the food was great.
BOOK