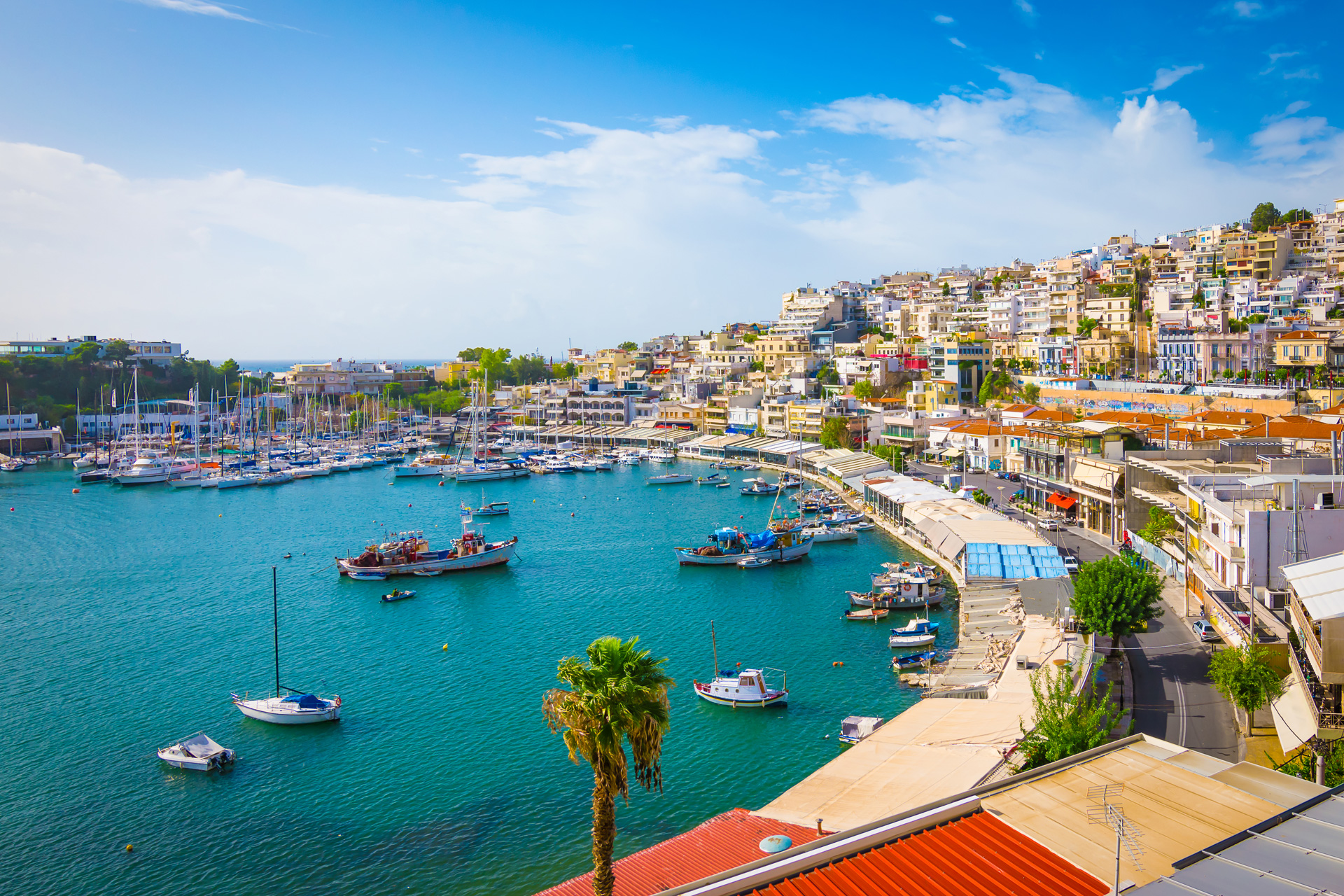 A Chef's Guide To Piraeus, Greece
Where to dine in the buzzy port city
No longer just a place to catch a ferry to the islands, nowadays the Greek town of Piraeus is a destination in itself. Located ten kilometres southwest of central Athens, it's home to the largest port in the Mediterranean, and nestled within its streets you'll find a whole host of great seafood restaurants, traditional tavernas and lively bars. Planning a trip there? We've enlisted local chef Sophia Koletsiou, who works at The Alex hotel, to share her favourite restaurants in Piraeus.
A Chef's Guide To Piraeus, Greece
Sophia Koletsiou
After growing up in Trikala, a city in northwestern Thessaly, Sophia moved to Athens and began her career working for Greek hotel group Santikos Collection. She went on to work at esteemed restaurants in Athens such as Island Riviera and Athénée, both members of the Panas Group, before returning to Santikos, this time at The Alex in Piraeus.
Best Restaurants in Piraeus: Sophia Koletsiou's Pick
Varoulko Seaside Restaurant
If you are looking for a fine dining experience, Varoulko is the place to be. Holding a Michelin star since 2002, it is one of the best places to indulge in high-quality Greek cuisine. Focusing solely on fresh seafood, my favourite experience at Varoulko is the seven-course degustation menu which highlights the talent of chef patron Lefteris Lazarou
Akti Koumoundourou 54-56, 104 35 Piraeus, varoulko.gr
Jimmy's Fish
When I fancy fish but I want a more relaxed environment I go to Jimmy's Fish. This restaurant has been going since 1996 and it redefined the term 'taverna' in Piraeus. Relaxed ambience, retro decoration and a scampi pasta to die for!
Akti Koumoundourou 46, 104 35 Piraeus, jimmysfish.gr
Kitschen
A relatively new opening in Piraeus, Kitschen is a funky little restaurant with a dim sum kitchen and extremely good Asian-inspired cocktails. Don't miss the Enter the Dragon cocktail if you like tequila and spices. As for the food, definitely try the Shrimp Jiao Zi, a shrimp dumpling with yuzu and garlic.
Kanari 5, 185 37 Piraeus, instagram.com
Vosporos Tavern
Here in Greece we have a type of kitchen called 'politiki kuzina'. The term refers to the culinary habits that the Greeks brought with them when migrating from Istanbul. One of the best places to experience this style of cuisine is Vosporos Tavern. Located in Mikrolimano (which means small port), Vosporos is famous in Piraeus for its large portions, very friendly service and its flavoursome meats and starters. I particularly enjoy the kebabs and of course the bougatsa dessert in the end.
Akti Koumoundourou 20, 185 33 Piraeus
Pancho, Cantina Cocteleria Mexicana
At least one Tuesday a month I visit this beautiful Mexican restaurant in the heart of Piraeus. Vibrant colours, carefully curated recipes to represent Mexican food and of course countless margaritas. Don't miss the taco combo if you want to savour their food, and my favourite: fajitas de carne.
Marina Zeas, 185 36, Piraeus, pancho.gr
Tony Bonanno
The go-to place for Italian cuisine in Piraeus. Tony Bonanno is famous for its atmospheric ambience and its pasta, made with very good sauces. My favourite there is the salsiccia pappardelle with Italian sausage and mushrooms.
Alexandrou Papanastasiou 63, Kastella-Piraeus 185 33
NEST Rooftop Bar & Bistro
Nest is located on the rooftop of The Alex Monte Kastella Hotel, part of Santikos Collection, boasting some of the finest views of Athens. Dine with the backdrop of the Acropolis and Lycabettus Hill in the far distance with the water and Athenian Riviera stretching as far as the eye can see. The style of cuisine at NEST is Mediterranean with international influences with a menu to satisfy even the most demanding gourmet aficionado. 
My favourite starter is the saffron arancini – rice croquettes with spicy chorizo that uplifts the dish and a citrus mayo to calm your palette. The creamy burrata with cherry tomatoes and basil pesto is perfect for hot summer days. I love the shrimp and quinoa salad with succulent shrimps and a quinoa mixture – it's light and very tasty. A great one to share with friends is the porcini ravioli, filled with porcini mushrooms and a heavenly creamy sauce. For the main, I always struggle to choose between the Red Sea Bream with Topinambur and Nut Crust and the Sea Bass with Burnt Leek and Yellow Curry Sauce – both are real highlights. As for the desserts, just try them all!
Leof. Al. Papanastasiou 109, Pireas 185 33, Greece, santikoscollection.com