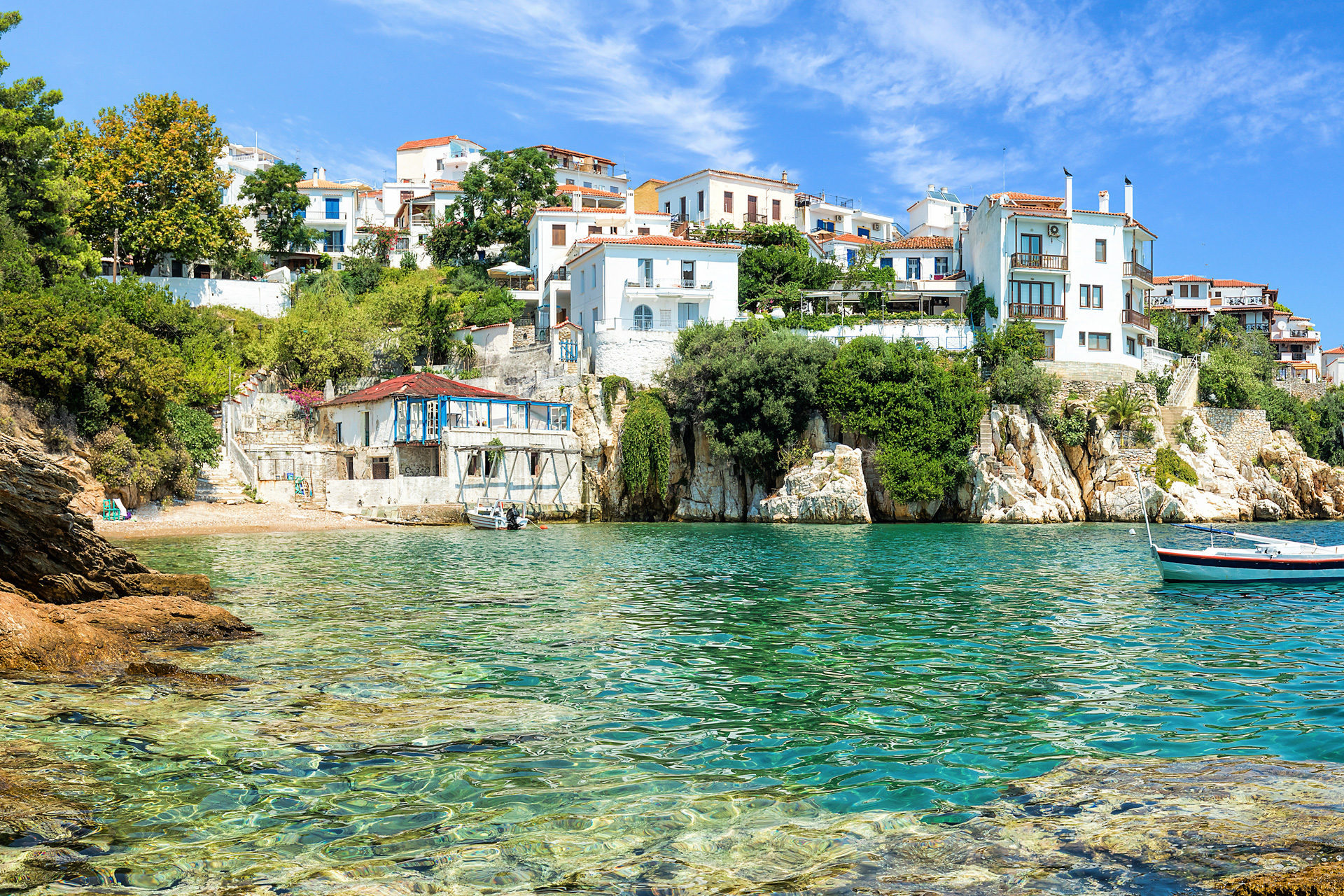 A Chef's Guide To Skiathos
Where to eat on the dreamy Aegean island
The westernmost of the Sporades island, Skiathos is renowned for its greenery, beautiful beaches and lively nightlife scene. And, like all Greek islands, its streets are lined with idyllic tavernas, serving fresh seafood, grilled meats, mezzes and salads aplenty. Planning a trip there? We've enlisted Nikos Dimos, executive chef of the Princess Resort, to help guide visitors on a tour of the island's culinary hotspots. Here are the best restaurants in Skiathos.
A Chef's Guide To Skiathos
Nikos Dimos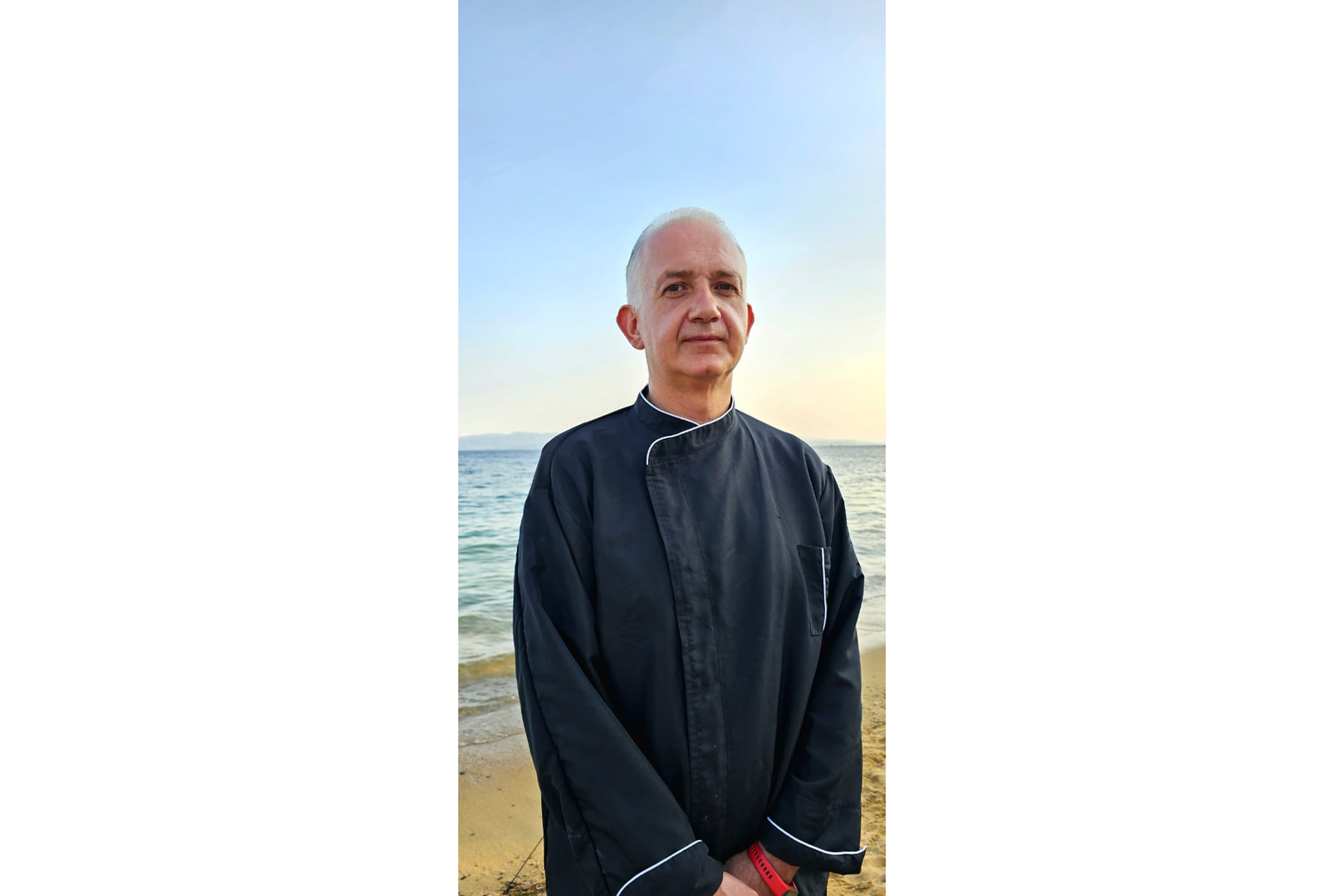 Born in Ioannina, Northwest Greece, Nikos trained at the Culinary Arts School in Greece before beginning his career in the restaurant world. For the past 19 years, he has been at the helm of the Princess Resort, a luxurious five-star hotel located in the bay of Agia Paraskevi, home to three restaurants.
Where To Eat in Skiathos: Nikos' Pick
Amfiliki Tavern
Being in Skiathos for 19 consecutive years, I have developed some strong feelings for a few restaurants in Skiathos. One of them is called Amfiliki. Run by the same family since 1993, Amfiliki is one of the best representations of local cuisine. Great local seafood and traditional recipes such as langoustines with courgettes, and dentex 'stifado' are a must. 
Megali Ammos, 70 02 Skiathos, Greece, facebook.com
Grill House Koziakas
If you love meat, you should pay a visit to Koziakas. Most of the meat is cooked in front of you on the spit. There's a good variety of beef, pork and lamb; also try the traditional kokoretsi, a special delicacy usually eaten on Easter Sunday.
Old Port, Town, 370 02, Greece, facebook.com
Kalo Pigadi
I love to visit Kalo Pigadi when I fancy a traditional Greek food experience. Located in the north side of Skiathos Chora, just a few minutes' walk from the port, Kalo Pigadi is a great escape for traditional mezzes, accompanied with local tsipouro. Simplicity is the key here: traditional flavours with high quality ingredients, served by a single family of four: a mum, dad, son and grandma. 
Karaiskaki, Skiathos 370 02, Greece, facebook.com
Bakaliko
A must-visit when vacating Skiathos is Bakaliko, a fish taverna. There's fresh local fish, a great view of the port and very friendly and accommodating staff.
ΑΜΜΟΥΔΙΑ, Skiathos 370 02, Greece, facebook.com
Kabourelias Ouzeri
When looking to feel like a local, Kabourelias Ouzeri is one of the places to go. Packed usually with locals, here you can savour special fish mezzes and seafood. Don't miss their fish of the day 'stifado', and try the crispy courgette chips.
Palio Limani, Skiathos 370 02, Greece
Taverna Anatoli
I usually go to Anatoli for two specific reasons. Mainly Anatoli reminds me of home: the owner is cooking homely meals such as traditional rooster or goat stews, made with locally sourced ingredients. The other reason is the serenity of the place that relaxes me after a long day at work. Definitely worth a visit if you want to try delicious local cuisine 
Καλύβια 370 02, Greece, facebook.com
Diamanti Beach Bar Restaurant
Diamantis is located at Diamanti Beach and it won my heart with its scenery and good food. Found literally on the beach, this restaurant is known for its intriguing flavours. Access is mainly by boat and that makes it even better. For the brave ones, there is a steep path you can follow to lead you there.
Skiathos 370 02, Greece
Ammos Beach Restaurant
Ammos' menu is based on Greek and Mediterranean cuisine, using locally sourced ingredients from the region, married harmonically with traditional and international recipes. Israel Campos our Chef de Cuisine, together with Nikos Dimos Executive Chef of Princess Resort, have composed a menu with traditional flavours painted with some Spanish flair and ingredients from all over the world.
For starters, you will find the raw bar that features international recipes painted in blue and white. Don't miss the sea bass ceviche with local rock samphire, cherry tomatoes, fava bean puree and ouzo. For the appetizers you will find traditional Greek dishes, such as feta cheese wrapped in fyllo pastry, Kolokihtokeftedes, mezze platters and variety of fish based starters like shrimp saganaki, grilled calamari or octopus with smoked hummus, olives capers and pomegranate. A must try is the seafood giouvetsi with orzo pasta coated with squid ink, and the calamari ragout, with fresh calamari in rich tomato sauce and herbs.  
Moving to the main courses, if you are a party of three or more, definitely try the seafood paella, made using a recipe from Seville, the hometown of our chef. Of course, you can't visit Ammos without having some fresh fish or lobster – our fishmongers from Alonnisos supply us daily. 
Πλατανιάς 370 02, Greece, skiathosprincessholidays.com