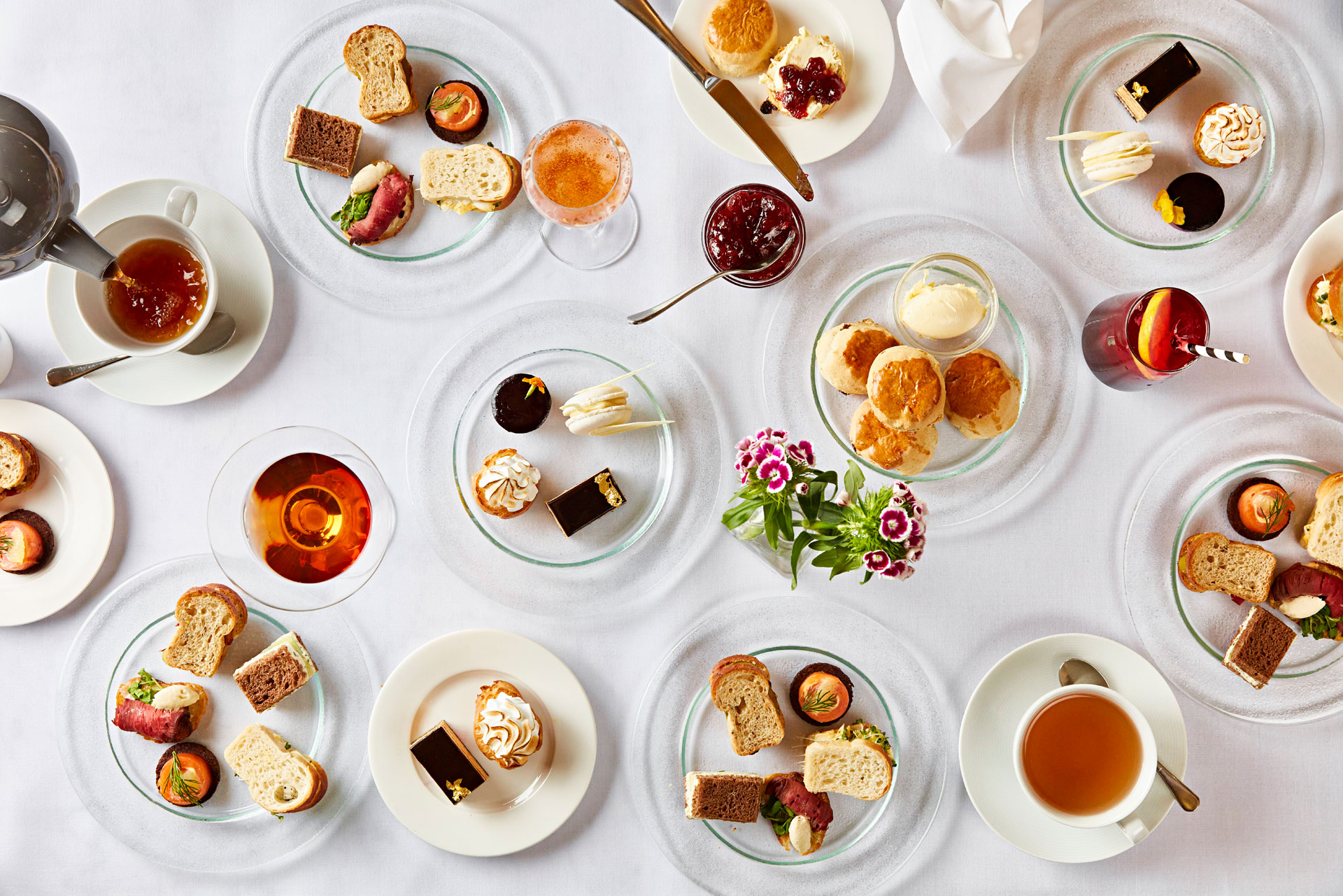 DIY Afternoon Tea: A Guide
Bring the quintessential British tradition to your home with our handy guide
The C&TH team are big advocates for afternoon tea, so we've come up with a guide to creating a DIY version. Your living room may not be as fancy as The Ritz – but knowing you've made everything from scratch will make it taste that little bit sweeter. Here's how to do afternoon tea at home.
How To Create Your Own Afternoon Tea At Home
At Home Afternoon Tea Tips
The average Brit drinks 900 cups of tea a year, but how much do you really know about the nation's favourite drink? Get educated with our guide to tea drinking, which includes information on everything from its history to the correct way to drink it.
Speaking of tea, get clued up on the differences between loose leaf and tea bags here.
If you're serious about afternoon tea, it's worth investing in a cake stand to display your show-stopping bakes. This one from Wedgewood is our top pick (£135).
At Home Afternoon Tea Recipes
Sandwiches
First thing's first: the bread. Quality makes all the difference here – many bakeries offer home delivery now including GAIL's and Poilâne, so we'd advise getting some homemade bread in. Alternatively, make your own with one of these easy bread baking recipes. Oil-based loaves like focaccia and ciabatta are good with Mediterranean-inspired ingredients, such as feta, olives and capers. For something a bit healthier go for rye or multigrain. And sourdough is delicious with pretty much anything!
In terms of toppings you can be as creative as you like, but here are a few suggestions for popular fillings:
Smoked Salmon & Cream Cheese
Egg Mayonnaise & Cress
Ham & Mustard
Cheese & Chutney
Cucumber & Cream Cheese
Scones
'The secret to a light, airy, buttery scone is to keep the processing to a minimum,' says head baker at GAIL's Bakery, Roy Levy. 'The more you handle the dough, the more you develop the gluten in the flour, and the harder the scone. Keep your butter cubes cold and your scones will be as light as a feather.'
Recipe: GAIL's Bakery Classic Scones
Ingredients:
Makes about 12 large scones
200g butter, chilled and diced
720g plain flour
1⁄2 tsp fine sea salt
3 tbsp baking powder
140g caster sugar
3 eggs
160ml milk
Egg wash
Method:
Preheat the oven to 170°C.
Sift 720g of plain flour, 1⁄2 tsp of fine sea salt and 3 tsp of baking powder together into a large bowl. Tip in 200g of butter in cubes and rub them into the mixture. Lastly rub in 140g of caster sugar.
Beat 160ml of milk and 3 eggs together in a jug, then pour this into the flour mixture, stirring as you go.
Roll the dough out to a square, roughly 3–4cm deep, and cut out round circles of approximately 8cm diameter.
You should get about a dozen large scones.
Paint the tops lightly with egg wash and bake for about 20 minutes until risen and golden.
Sweet Treats
Recipe: Hemsley & Hemsley Cannellini Vanilla Sponge Cake
Ingredients:
Serves 25–30
For the cake:
125g butter or coconut oil, melted, plus extra for greasing
3 x 400g tins of cannellini beans, drained and rinsed
9 medium eggs
1 tablespoon vanilla extract
220ml maple syrup
5 teaspoons apple cider vinegar or lemon juice
90g coconut flour
2½ teaspoons bicarbonate of soda
¼ teaspoon sea salt
150g punnet of fresh raspberries, to decorate
For the chocolate avocado frosting:
4 medium ripe avocados
5 tablespoons (about 75g) coconut oil, melted
8 tablespoons raw honey (to taste)
10 tablespoons cocoa powder
1 tablespoon vanilla extract
2 tablespoons lemon juice
½ teaspoon orange extract (not essence)
A pinch of sea salt
Method:
Preheat the oven to fan 180°C/gasmark 6, then line the bases of two 25cm-diameter cake tins with baking parchment and grease the sides with butter or coconut oil.
Blend all the ingredients for the frosting together in a food processor until smooth, adding a dash of cold water if needed. Taste, adjusting the flavourings to taste, then transfer to a bowl and set aside in the fridge.
For the cake, add the cannellini beans to the cleaned food processor bowl with the eggs, vanilla extract and maple syrup and blend until smooth. Add the remaining cake ingredients, except the raspberries, and blend to combine.
Divide the cake batter between the prepared cake tins, spreading out evenly and smoothing the surface. Bake in the oven for 35 minutes until well risen and lightly golden on top (Check the cakes after 25 minutes and swap the tins between shelves, if necessary, as they will cook at different rates).
Remove from the oven, transfer to a wire rack and allow to cool completely in the tins before turning out.
While the cakes are cooling, gently wash the raspberries and dry them carefully using kitchen paper or leave to air dry (they must be thoroughly dry before adding to the cake).
Spread half the frosting on one of the cooled sponges, top with the other sponge and spread over the rest of the frosting. Store in the fridge and bring to room temperature to serve. Decorate with the fresh raspberries just before serving.
Extracted from Good + Simple by Jasmine and Melissa Hemsley. Photography by Nicholas Hopper. Nutrient-rich, gluten, grain and refined sugar free.
Recipe: Rhubarb Tart from Social Pantry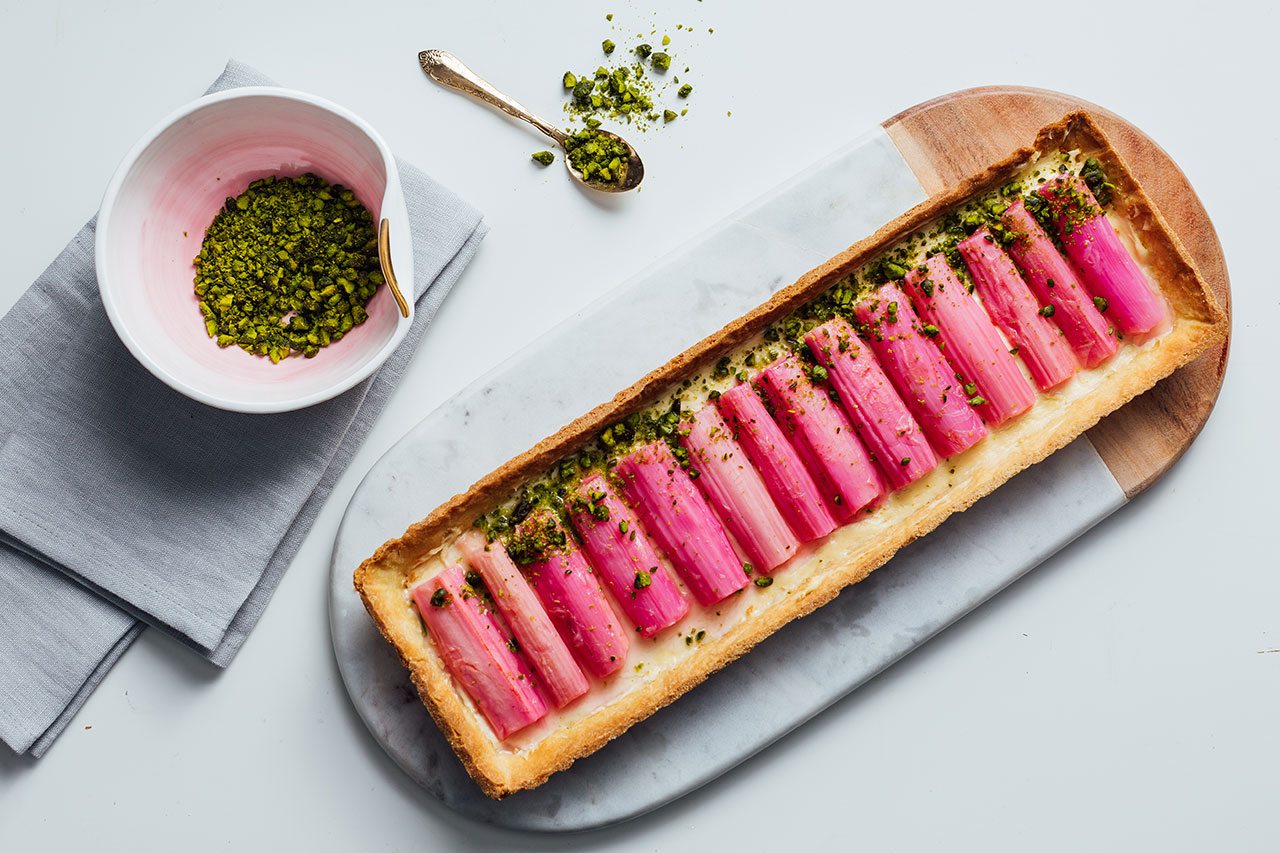 Ingredients:
For the sweet pastry:
250g flour
150g unsalted butter
60g icing sugar
1 egg, beaten
For the rhubarb filling:
2 large sticks red rhubarb
50g caster sugar
2 tbsp of chopped pistachio
For the frangipane:
100g butter
100g caster sugar
100g ground almond
15g plain flour
2 eggs, beaten
Method:
To make the pastry, rub the flour, butter and sugar together in a large bowl until the mixture resembles fine breadcrumbs. Add the egg and vanilla and knead gently until the pastry comes together and forms a smooth dough. Set aside in the fridge to chill for one hour.
Preheat oven to 100 C. Whilst the pastry is chilling, prepare your rhubarb. Cut the rhubarb into batons the same width as your tin. Place in an ovenproof dish and sprinkle with sugar. Cover with foil and cook in the oven for 30 minutes, until tender. Leave the rhubarb to cool, and then strain the liquid. Tip: this can be reduced on the hob and used as a glaze (see stage 14).
Turn the oven up to 165 C. Whilst the rhubarb is cooling, make the frangipane. To start, gently melt the butter in a medium pan. Once melted, remove from the heat and whisk in the sugar for 2 minutes, until creamed. Add half the beaten egg mixture and whisk until smooth. Fold in the remaining egg along with the flour and ground almonds until fully combined. Set aside.
Remove your pastry from the fridge. On a clean, floured surface roll to approx 3mm thick., big enough to fit your tin. Line the tin with the rolled out pastry and leave in the fridge to cool for a further 10 minutes. Once cooled, evenly pipe the frangipane into the lined tin and top with the cooled rhubarb batons.
Bake in the preheated oven for 30 – 40 minutes, until golden brown. Leave to cool for 10 minutes then brush with the rhubarb glaze and sprinkle over the pistachio. Serve warm.
Recipe: Dominique Ansel's Mini Madeleines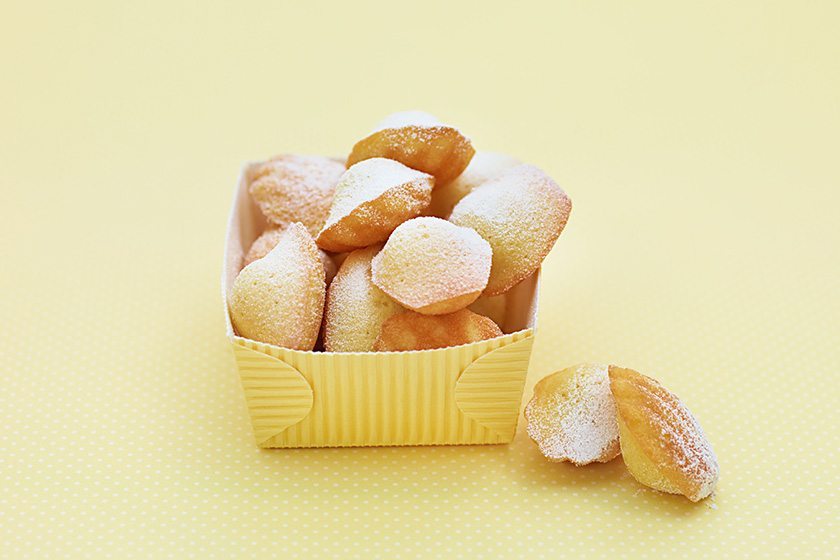 Makes about 100 mini madeleines
Ingredients:
95g granulated sugar
15g raw sugar
10g honey
2g salt
120g all purpose flour
4g baking powder
140g whole eggs
100g butter
Zest of 1 whole lemon
Powdered sugar (for serving)
Method:
Melt the butter and add in the raw sugar and honey.
Mix together the salt, granulated sugar, flour, baking powder in a bowl. Add in the eggs at room temperature.
Add in the melted butter and raw sugar mixture and the lemon zest. Mix together everything until evenly incorporated.
Leave the batter to rest for a few hours prior to usage.
When ready for service, prepare the madeleine mould by spraying it liberally with a non-stick cooking oil. Pipe the madeleine batter into the mould and cook at 190 degrees centigrade until it is golden brown and puffed in the centre (approximately 4 minutes).
To unmold, simply knock the madeleine pan against a table top.
Sprinkle with sifted powdered sugar.
Best Children's Afternoon Teas / More Cakes