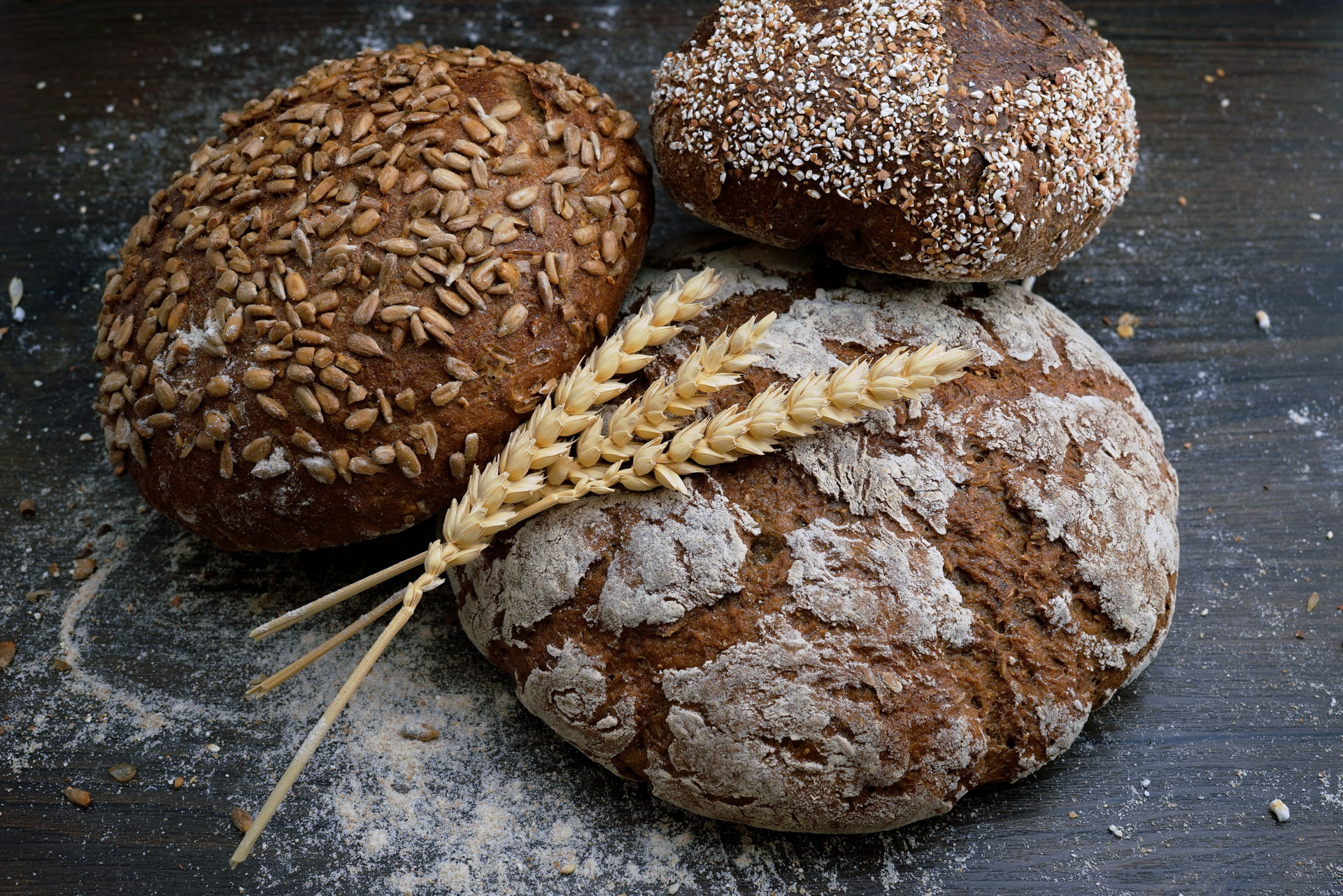 GBBO Bread Week: 3 Easy Bread Recipes
---
Inspired by Great British Bake Off? Us too. It's Bread Week this week, so get involved by trying one of these three delicious recipes.
GBBO Bread Week: 3 Easy Bread Recipes
Spelt and Rye Loaf
Makes: 450g loaf
Preparation time: 25 minutes, plus 1 3/4 hours rising.
Cooking time: 50 mins at 220°C/425°F/Gas 7 / 190°C/375°F/Gas 5
Ingredients:
A little oil, for greasing
500g spelt & rye flour
2 tsp sea salt
15g fresh yeast, crumbled or 7g fast-action dried yeast
350ml cold water
A little milk or beaten egg
Spelt and rye flakes, for sprinkling (optional)
Method:
Lightly oil a large bowl and a baking sheet.
Put all the dry ingredients in another large bowl and make a well in the centre. Add the water, mix together using a wooden spoon to a rough dough.
Turn the dough out onto a lightly floured work surface and knead for 10–12 minutes until the dough is smooth and elastic and springs back when poked. Transfer the kneaded dough to the prepared bowl, cover with a clean, damp tea towel and leave to rise in a warm place for 1 hour, or until doubled in size.
Turn the dough out onto a lightly floured work surface, knock the air out of the dough by punching it with your fist and knead it gently once or twice. Shape the dough into a round ball and put on the prepared baking sheet. Cover again and leave in a warm place for 45 minutes, or until the dough has doubled in size and no longer springs back when poked.
Using a sharp knife, slice three or four diagonal cuts into the top of  the dough and brush with either some milk or beaten egg diluted with a little water before sprinkling with some flour and a few spelt and rye flakes, if you like.
Splash a little water in the hot oven to create steam to help the bread rise. Bake for 15 minutes, then turn the oven down to 190°C/375°F/Gas 5 and bake for a further 30–45 minutes until the bread is just firm and hollow-sounding when tapped. Transfer to a wire rack to cool.
Extracted from Spelt by Roger Saul of Sharpham Park. 
Round Rye Loaf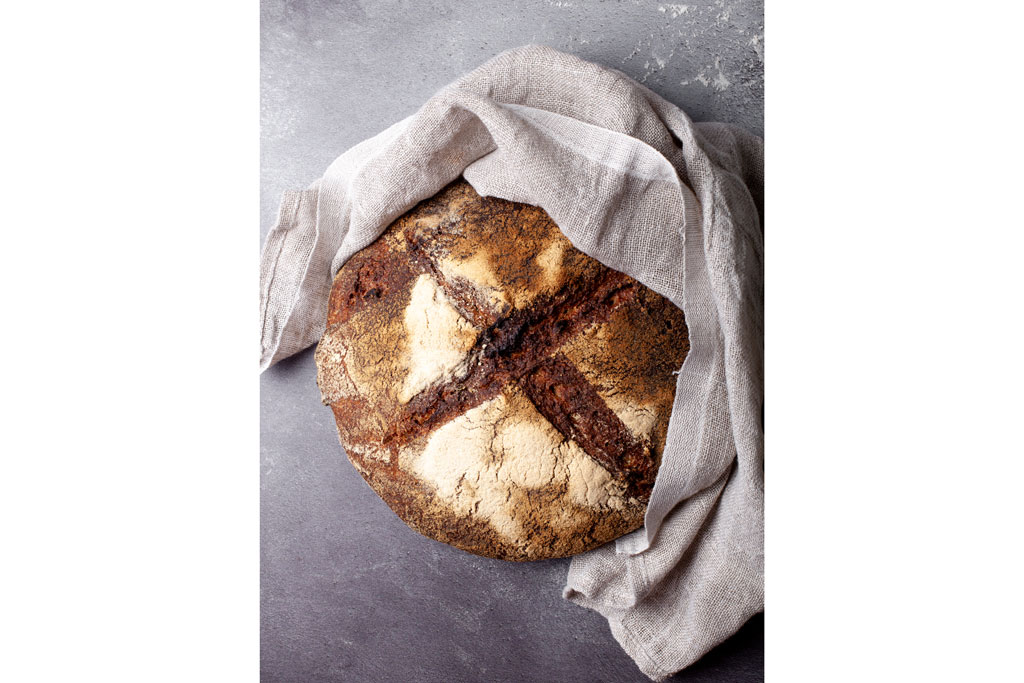 Rye flour behaves differently to wheat flour, and on its own it won't give you a loaf with an open, bubbly crumb — but it is a wonderfully moist and flavoursome bread. Don't be intimidated by the gelatinisation process: this is one of the simplest loaves you'll ever make.
Ingredients:
300g white (light) rye flour
5g (1 tsp) fine salt
50ml warm water
200g rye starter (see step 1)
Vegetable oil, for kneading
For the rye starter
1 tbsp sourdough starter
125ml warm water
100g rye flour, either white (light) or wholemeal (dark)
For the gelatinised rye mixture
240ml hot water
60g white (light) rye flour
Method:
Take a clean jar, add 125ml of warm water, and dissolve a tablespoon of your regular starter in it. Add 100g of rye flour, either white (light) or wholemeal (dark). Depending on the temperature, it should be bubbling away and ready to use within 8—12 hours.
You need to prepare the gelatinised rye mix before you start work on this loaf, allowing at least an hour for it to develop. Boil a kettle of water and pour 240ml into a mixing jug. Leave it to cool to about 90°C (if you have a heavy glass mixing jug, this only takes a minute, as the hot water will cool quickly in it). Add 60g of light rye flour and whisk it in thoroughly. It will form a thick, gluey paste as the long starch molecules break down and absorb the water. Put the mix to one side to cool.
Mix the flour and salt together in a mixing bowl. In a large mixing bowl, whisk together most of the gelatinised rye mixture (reserving a tablespoon for glazing the loaf later on), the warm water, and the starter.
Add the flour and salt to the wet mixture, and mix everything together until you have an even, slightly sticky, dough.
Lightly oil your work surface then pull, fold and rotate the dough for one minute. Shape into a neat ball.
Dust a small proving basket liberally with rice flour and gently place the ball of dough into it. Cover with a clean tea towel and leave to prove. It will take a long time for the dough to rise — don't be impatient. When the ball has grown by about 50 per cent, you're ready to bake.
Preheat the oven to 230°C (210°C fan)/gas mark 8), with a heaving baking tray or baking stone on the middle shelf, and add a source of steam. Carefully tip the loaf out of the proving basket and onto the hot stone. Lightly brush last of the gelatinised mixture over the top of the loaf to glaze it, then with scissors or a sharp knife make three cuts in the top of the loaf, 2cm deep, then place the stone back in the oven.
Bake for approximately 50 minutes, or until the base of the loaf has browned and sounds hollow when you tap it. Leave to cool on a wire rack for at least an hour before slicing.
Extracted from How to Raise a Loaf by Roly Allen, published on 28th May 2020, £12.99, Laurence King Publishing.
Challah Loaf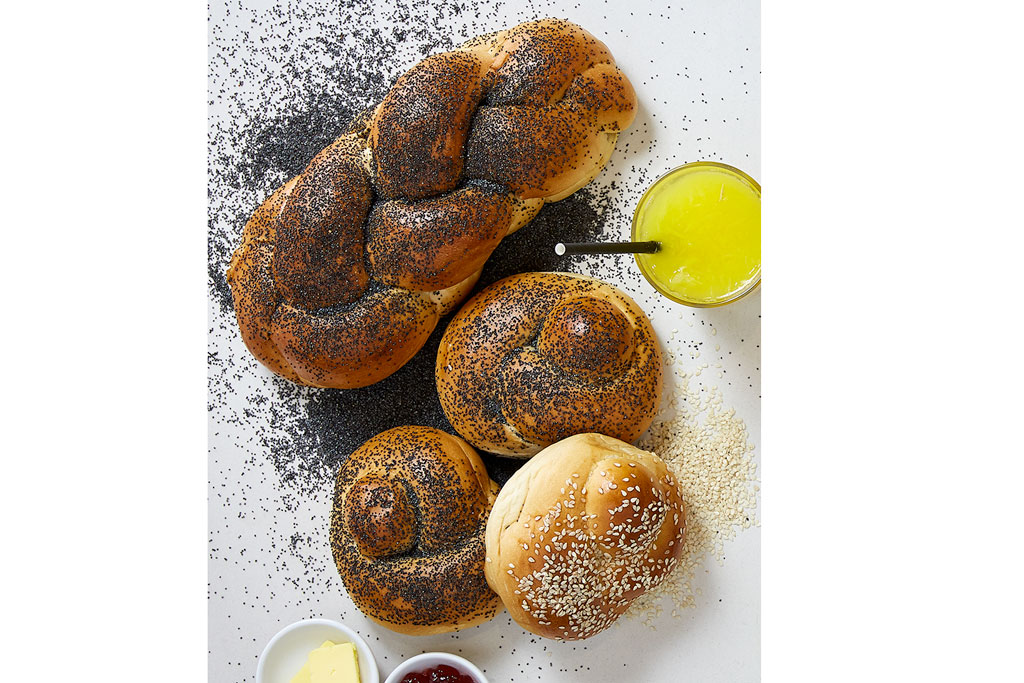 Ingredients:
1 kg strong white bread flour
40g dried yeast (or 60g fresh yeast)
60g granulated sugar
40g honey
20g salt
100ml vegetable oil
200g eggs (approximately 3 large eggs), plus 1 extra egg for your egg wash
350ml water at room temperature
Your favourite topping (e.g. sesame or poppy seeds)
Method:
In a free-standing mixer fitted with a bread hook, mix the dry ingredients together (flour, yeast, sugar, salt).
Separately, mix the wet ingredients (honey, vegetable oil, eggs and water) and slowly add this to the dry.
Mix for around 13 minutes on a medium speed – the dough should be soft and still slightly hot once this time has passed.
Cover the dough and leave it to prove until it has doubled in size (this should take around one hour).
Once proved, divide the dough into six pieces. Roll each piece a long cylinder shape.
To shape the challah, take three of the rolled dough pieces and plate, gently tucking the ends underneath at each end. There are many ways to braid a challah, but in it's simplest form it is just like plaiting long hair!
Carefully transfer to a baking tray lined with paper. Cover with cling film and leave to prove again until doubled in size (this should take around one hour) .
Heat your oven to 180°C
To make the egg wash, beat your extra egg until smooth. Brush the egg wash over the risen challah. Sprinkle with seeds, or leave plain if you prefer.
Bake in the pre-heated oven for around 35-40 minutes, until the challah is cooked and a deep golden colour.
Recipe from B Bagel.