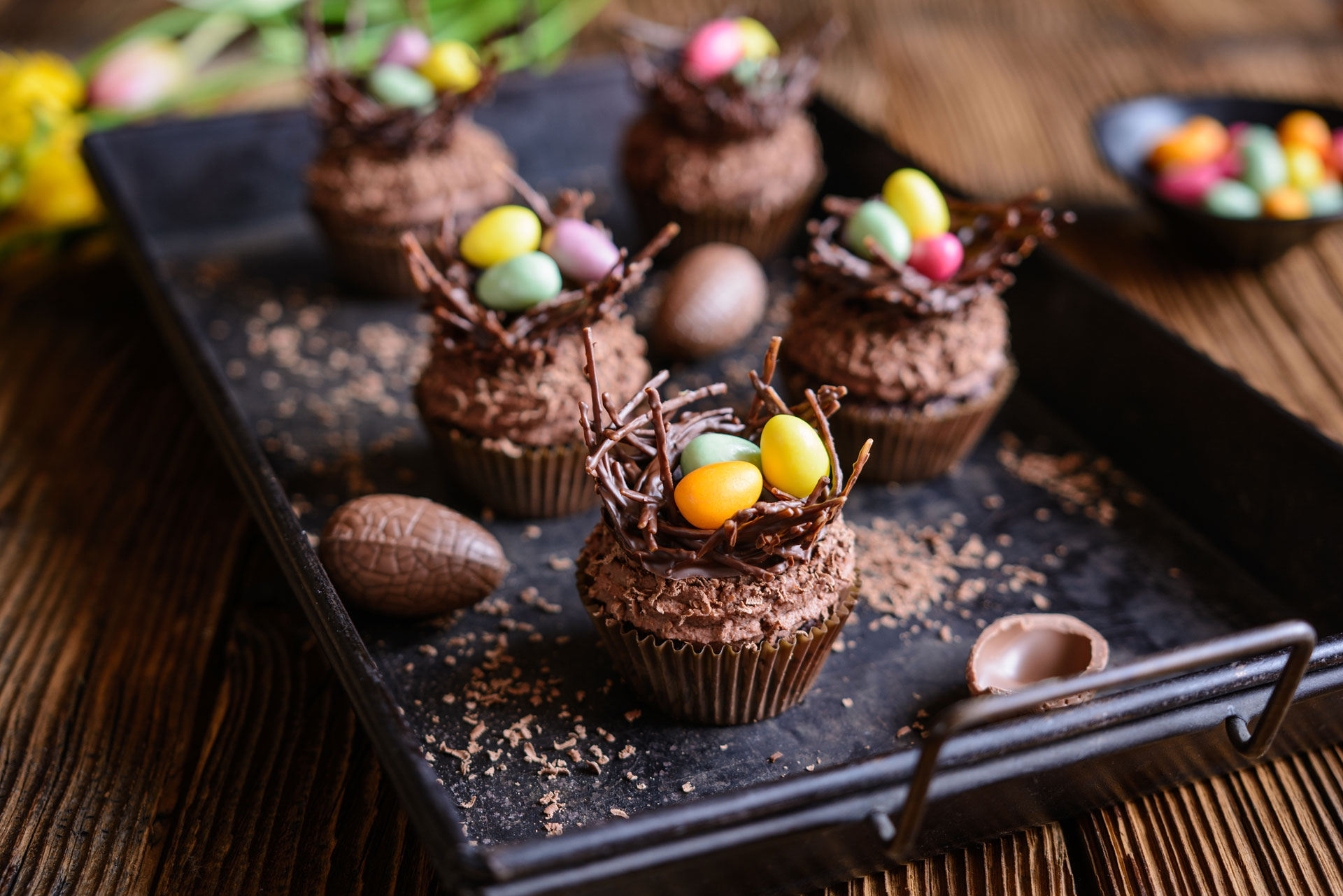 Easter Baking Recipes To Try At Home
---
Get crafty in the kitchen this Easter
Easter weekend is the perfect time to get creative in the kitchen. With that in mind, we've picked out a selection of the best Easter baking recipes for you to try this weekend. Happy feasting.
Easter Baking Recipes To Try At Home
Bird Nest Easter Egg Cupcake
This is an easy Easter recipe which can be made with two different flavours of cupcakes decorated with vanilla, chocolate icing and chocolate eggs, created by Surender Mohan, executive chef of Jamavar and Bombay Bustle.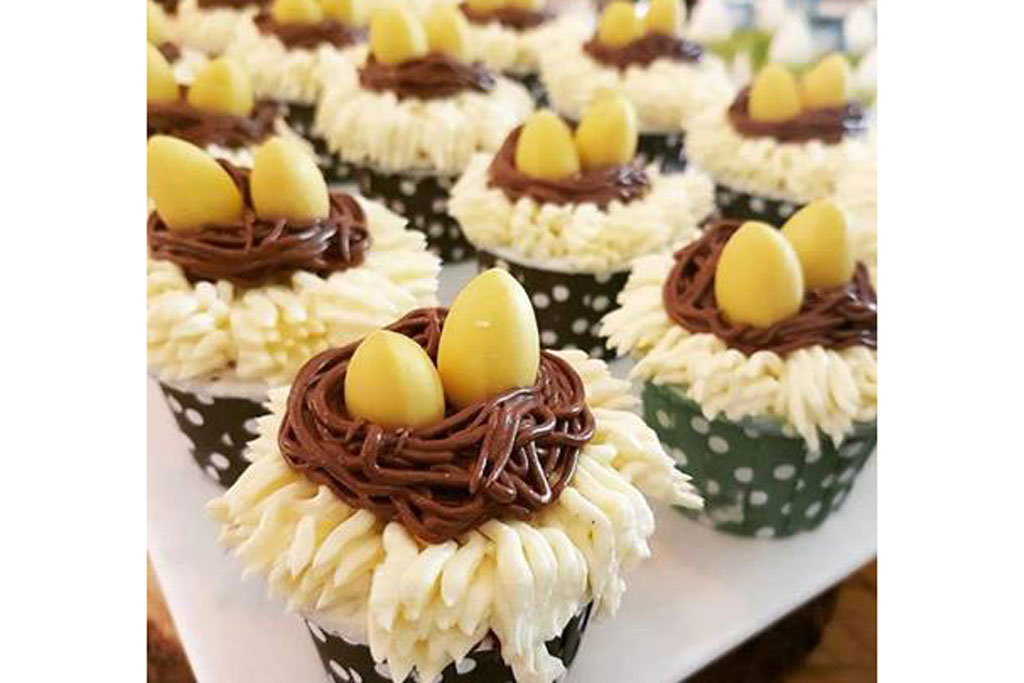 Carrot cupcakes
Makes around 20 cupcakes
Ingredients:
150g butter
100g sugar
100g egg yolks
50g milk
175g flour
15g baking powder
100g almond powder
250g grated carrot
1nos lemon zest
5g cinnamon powder
100g egg white
50g sugar
Method:
Cream the butter and the sugar until light and fluffy.
Add the egg yolks.
Add all the dry ingredients together.
Prepare meringue with egg white and sugar and fold in the above mix.
Fill the mixture in cupcake liners and bake it at 180 degrees celsius for 12 minutes.
Vanilla cupcakes
Makes 20 cupcakes
Ingredients:
280g flour
6g baking powder
2 eggs
260g sugar
175g milk
260g oil
4g vanilla
Method:
Mix well milk, oil, vanilla, sugar and eggs until the sugar dissolves.
Add the flour and the baking powder and make a smooth batter.
Fill the cupcake liners and bake at 180 degrees celsius for 12 minutes.
Vanilla and Chocolate Icing
Butter Vanilla Icing
Ingredients:
200g butter
100g icing sugar
5ml vanilla essence
Method:
Cream the butter and the icing sugar until light and fluffy.
Add the vanilla essence.
Butter Chocolate Icing
Ingredients:
200g butter
100g icing sugar
20g dark cocoa powder
Method:
Cream the butter and the icing sugar sieved with cocoa powder until light and fluffy.
Chocolate Eggs
Ingredients:
200g white chocolate
4g colour as desired
Method:
Melt white chocolate on a double boiler.
Add the oil based edible colour and stir well to bring the temperature down.
Line up Easter egg moulds and fill with the tempered coloured chocolate and let it set in the refrigerator.
Arrange them and serve.
Mini Chocolate Delights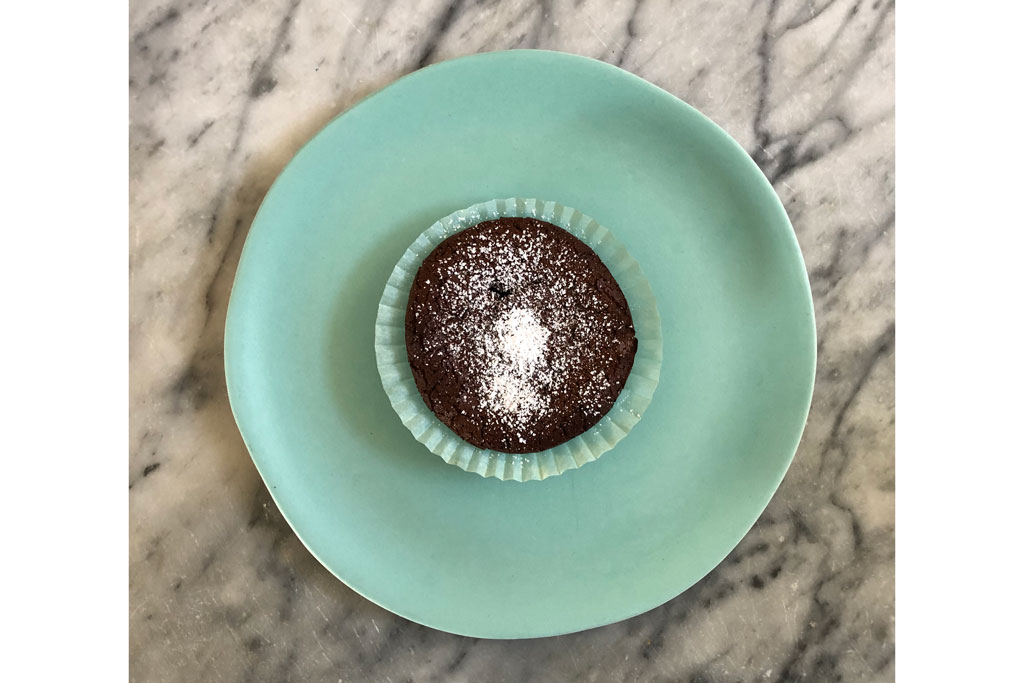 By Lina Stores chef Masha Rener
Makes 6
Ingredients:
150g dark chocolate (70% cacao)
150g butter
100g sugar
3 eggs
40g corn starch
Pinch of salt
Creme Fraiche and any jam to serve
Method:
Melt the chocolate in the double boiler. Take it away from the heat once melted and add sugar, then mix together.
Add one egg at a time and mix together. Then add starch and a pinch of salt, and combine everything.
Put the dough in individual muffin paper cups or in a muffin tray and freeze for 4 hours.
Bake in the oven straight from frozen for 10 min at 160 degrees.
Serve with creme fraiche and jam of choice
This dessert can also be served semi-frozen with whipped cream.
Hot Cross Bun and Easter Egg Bread and Butter Pudding
This recipe from Cookery School at Little Portland Street is a great way to use up leftover hot cross buns and any remains of Easter eggs you may have.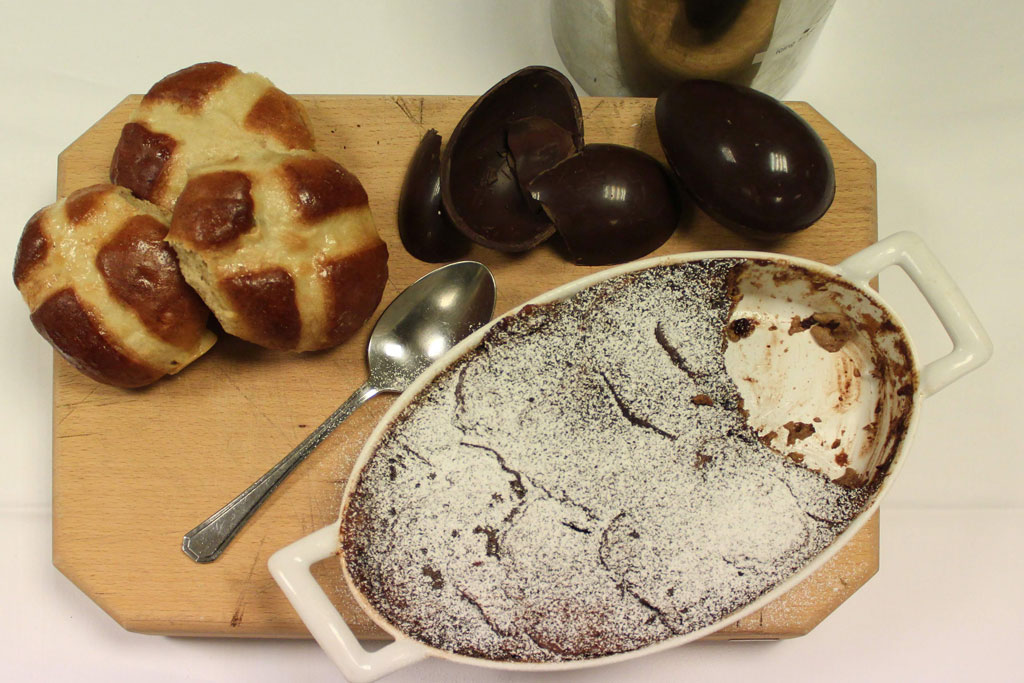 Ingredients:
3 hot cross buns, sliced into 6 vertical slices
600ml whole milk
75g softened butter
6 eggs
2 tablespoons sugar
Leftover Easter eggs, broken up
Method:
Butter the bread and place into a baking dish that will hold about 850ml of liquid.
Beat the eggs and sugar lightly and add the broken-up chocolate.
Bring the milk to the boil.
Whisking the eggs all the time, slowly pour the hot milk over the egg, sugar and chocolate mixture until all the mix has been beaten in and the chocolate has all melted.
Strain this mixture into a large jug. This help ensure a smooth custard.
Pour this mixture over the buttered bread which has been placed in a baking dish.
Place the whole dessert in the fridge for a few hours during which time the bread will absorb some of the egg and milk mixture.
When ready to cook the bread and butter pud, place it in a bain marie in oven 150ºC/300ºF and cook for about ¾ hour or until a knife inserted into the pudding comes out clean.
Serve at room temperature, dusted with icing sugar.
Hot Cross Bun Brownies
By Edinburgh bakery Twelve Triangles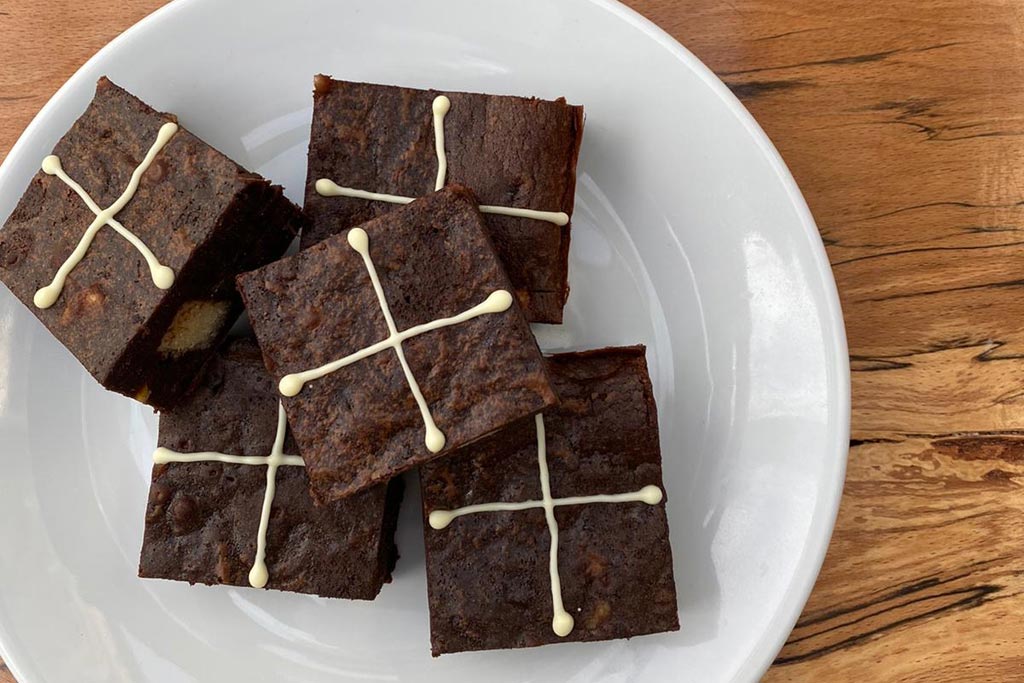 Ingredients:
240g unsalted butter
240g
70% dark chocolate
360g soft dark brown sugar
4 eggs
200g plain flour
5g Maldon sea salt
Zest 1 orange
1tsp mixed spice
3 pieces stem ginger finely chopped
120g marzipan roughly chopped
60g mixed peel
Method:
Pre-heat your oven to 180c or 175c fan Line a 12"x8" tin with greaseproof paper
Melt the butter and chocolate together slowly over a low heat.
Whisk the sugar and eggs together, just for a minute we do not need to add air in as we want the brownies to be fudgey and rich.
Pour the chocolate mixture into the eggs and sugar and whisk to combine.
Sift the flour, spice and salt into your mix and carefully fold it through until there are no dry patches of flour left.
Add in the orange zest, stem ginger and mixed peel stirring this in.
Pour half you mixture into your lined tin and then sprinkle your chopped marzipan over the top,then cover it with the remaining brownie mix.
Bake for 26-30 minutes until you see a crack form around the edge and there will be a skin over the top but it will still be quite wobbly.
Take it out the oven and allow to cool before cutting.
Easter Cake Lollipops
By Robin Freeman, head chef at 1 Lombard Street and Ekte
Ingredients:
85g caster sugar
275g golden syrup
330g peanut butter
1 teaspoon vanilla sugar
70g coconut flakes
140g of cereal flakes
About 450g chocolate: white, milk or dark
Method:
Heat caster sugar, syrup and peanut butter in a saucepan (note, do not boil).
Crush or crumble the cereal flakes slightly.
Take the pan aside and add the vanilla sugar, the coconut flakes and the cereal.
Mix well, and when cool enough to handle shape into small egg shapes, balls or any shape you want.
Push a lollipop stick or skewer into each ball. Let set in the fridge for 30 minutes.
Melt the chocolate in a microwave or in a bowl over simmering water and dip each one into chocolate.
Dip the egg-shaped ones into white chocolate or add some yellow food colouring to the chocolate to make chickens. Cool down and use a tooth pick dipped in dark chocolate to make eyes and sprinkles as a beak.
Decorate with additional melted chocolate, sprinkles or any other decorations you have. You could use flaked almonds as bunny ears, hundreds and thousands as eyes – whatever you can think of. Just make sure to do it soon after you dip in the chocolate as it makes it easier to attach.
Store in the fridge.