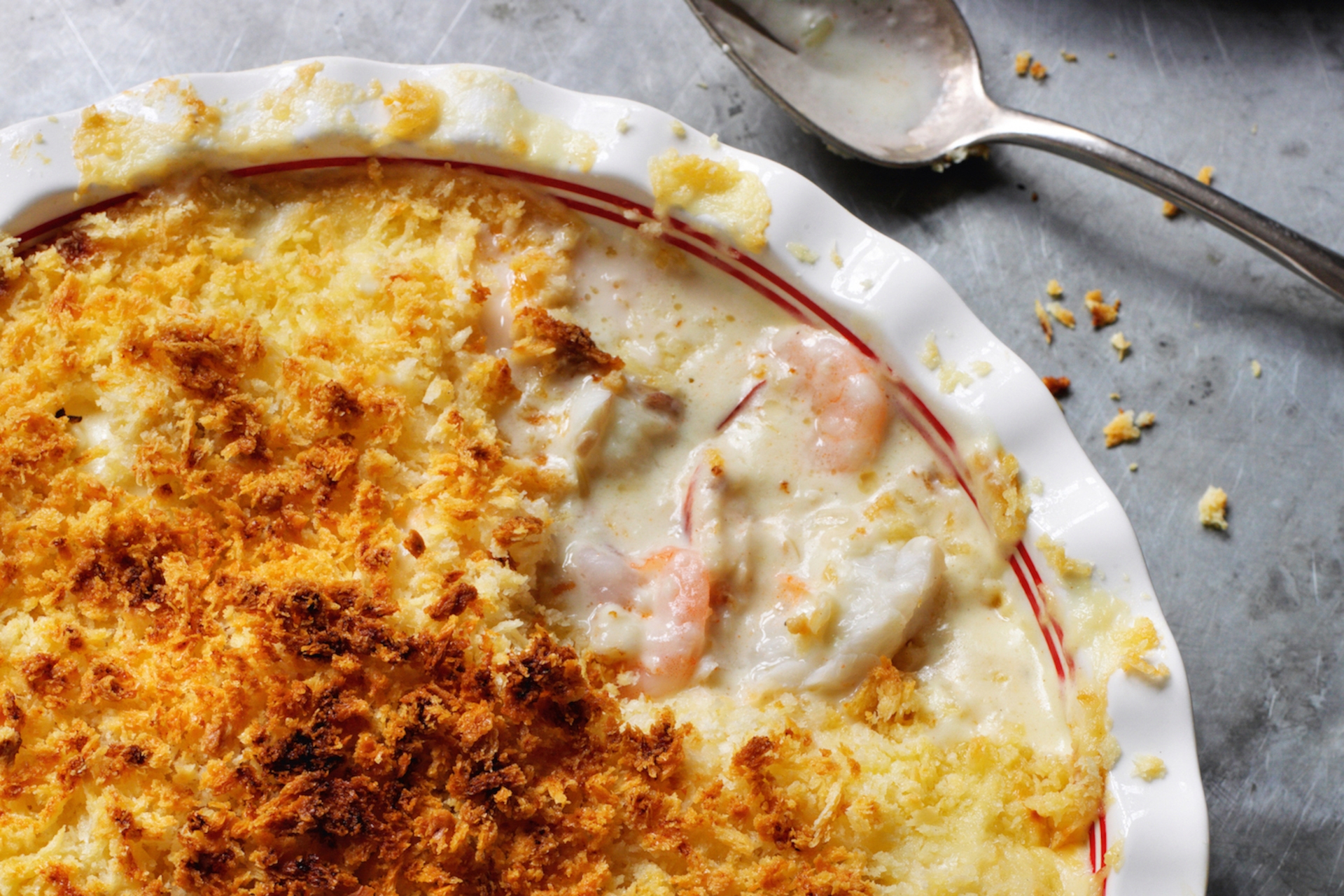 British Pie Week: Rick Stein's Newlyn Fish Pie Recipe
---
A hearty fish pie that will make you want seconds (and thirds)
Yet again, Rick Stein imparts his industry-leading seafood knowledge – this time in the form of his Newlyn Fish Pie recipe. The best bit? You can tailor the recipe to suit your fish preferences. A creamy, citrus sauce with parmesan and truffle oil is combined with fish fillet, with a choice between cod, monkfish, hake, pollack or snapper. Top it off with a handful of shellfish or crustaceans, such as crab, lobster, peeled prawns or scallops, and sprinkle over a generous amount of breadcrumbs (add the Japanese panko variety for extra crunch). A solid fish pie recipe to have in your repertoire.
Recipe: Rick Stein's Newlyn Fish Pie
Ingredients
Serves 4–6
For the pie
200g finely chopped onion
60g butter
1 quantity velouté made with 2 bay leaves, 1 crushed clove, 1 pinch freshly grated nutmeg
30g Parmesan cheese, grated
50ml double cream
Juice of ½ lemon
Salt
500g mixed seafood: aim for ¾ fish fillet and ¼ shellfish or crustaceans, such as prawns, lobster or crab
50g flour
30ml vegetable oil
10g butter
100g button mushrooms, thinly sliced
1 tsp French mustard
1 tsp truffle oil
50g Japanese panko breadcrumbs or fresh breadcrumbs dried out for 10 minutes in a hot oven
30g melted butter
For the velouté
600ml fish stock
300ml milk
50g butter
50g flour
Method
For the velouté
Boil the stock and milk together.
Melt the butter in a saucepan, add the flour and cook for about 2 minutes without colouring, stirring constantly.
When it starts to smell nutty, add a third of the stock and milk mixture, and keep stirring until it thickens and is completely smooth.
Add another third and stir as before, then add the final third and, when smooth, leave to simmer gently for about half an hour.
If not using immediately, transfer to a lidded container and refrigerate when cool. You can keep it indefinitely in the fridge if you re-boil it every five days. It doesn't freeze well.
For the pie
Preheat the oven to 180°C/gas 4. Slow-cook the onion in the butter in a saucepan for 10 minutes.
Make the velouté but adding the bay leaves, clove and nutmeg.
Pour the velouté through a sieve into the sautéed onions and add the Parmesan cheese, double cream and lemon juice, and a little salt if necessary.
Cut the fish fillet into bite-size pieces, 3–4cm long. Season with a little salt and turn over in the flour.
Fry for 2–3 minutes in a frying pan over a medium heat using the vegetable oil and butter and remove the fish to your pie dish.
Fry the mushrooms in the same pan adding a little salt; stir in the mustard and add to the pie dish.
Now add the shellfish or crustaceans to the pie dish. They can be raw or cooked, but if raw scallops or prawns are large, slice them in half. Drizzle the truffle oil over.
Pour the sauce over the fish and mix the breadcrumbs with the melted butter, and spread over the top. 9. Bake for 20 minutes.