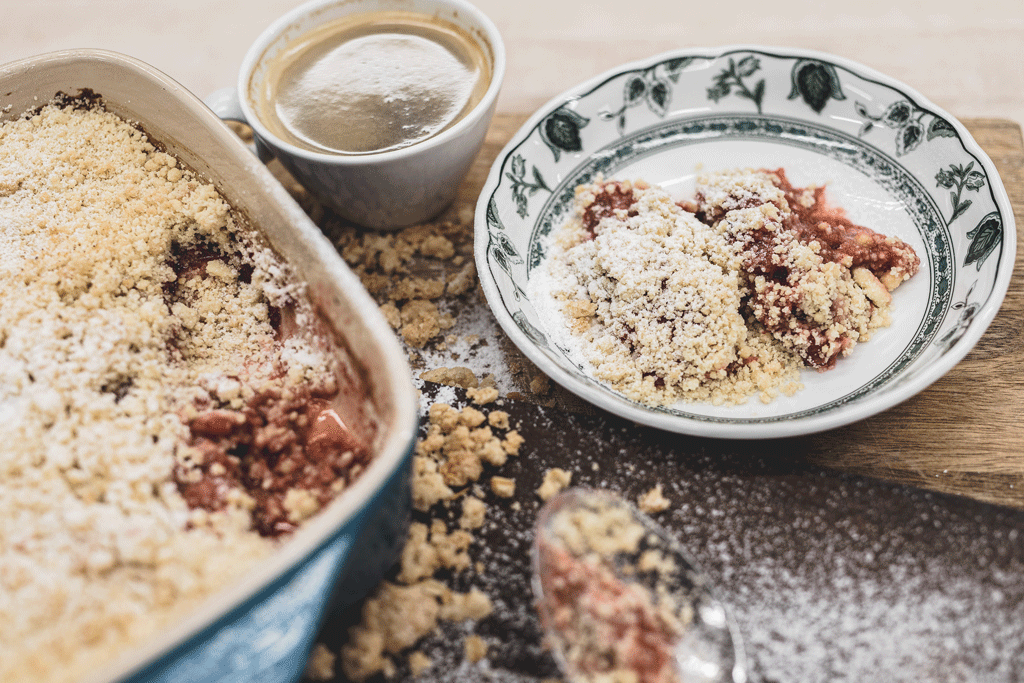 Zero Waste Christmas Recipes from Fairmont Hotels & Resorts
Great taste, less waste
Wondering what to do with all that leftover turkey this Christmas? Why not try one of these tasty zero waste recipes from Fairmont Hotels & Resorts…
Fairmont Hotels & Resorts is part of hospitality group Accor, for which sustainability is a key focus. In recent years they've made cutting food waste a key priority, taking steps such as measuring kitchen waste, reducing buffet food quantities and educating staff, partners and guests.
The group has expanded its environmental practices beyond the walls of its hotels by sharing a series of recipes designed by chefs around the world, encouraging us to make the most of Christmas leftovers.
Fairmont Waterfront's Leftover Turkey Ragout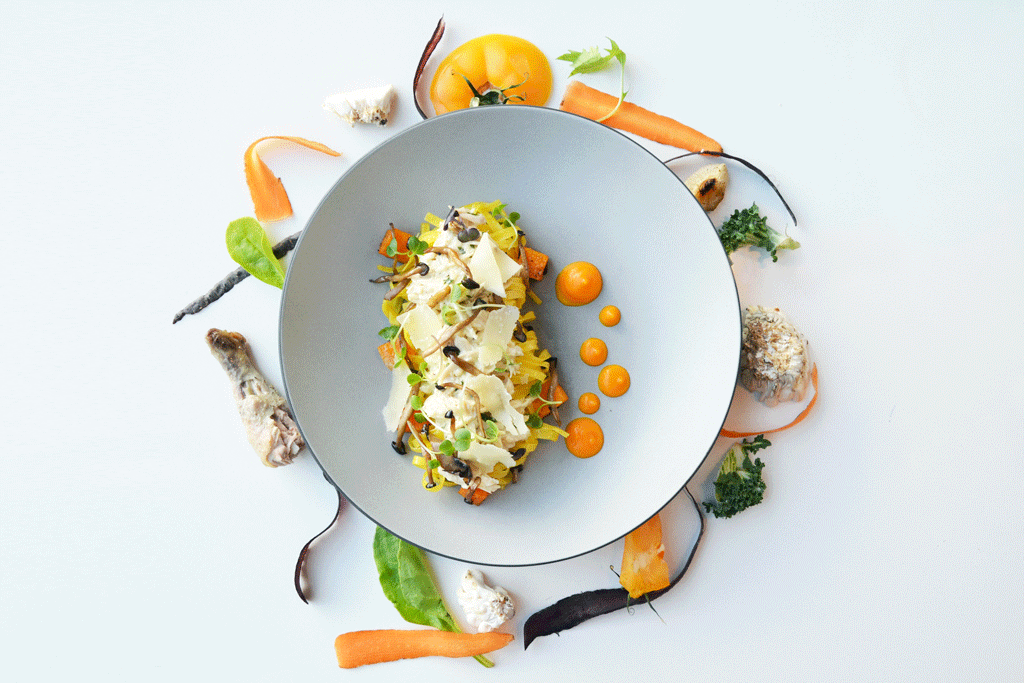 Ingredients
2 tbsp Butter
2 tsp Chopped onions
1 tsp Chopped garlic
25ml Dry white wine
2 tbsp Shimeji mushrooms
1 tbsp Plain flour
1 cup Chicken stock
1/2 cup Heavy cream
1 cup Chopped cooked turkey
3 tbsp Diced, roasted squash
4 Portions cooked tagliatelle
1 tbsp Grated parmesan
Salt and pepper to taste
Method
In a large frying pan, over medium low heat, cook butter until golden brown. Sauté the onions and garlic, before adding white wine and deglaze.
Add the shimeji mushrooms and cook briefly for 2 minutes then stir in flour until smooth, slowly whisk in chicken stock and cook until slightly thickened. Stir in the cream, turkey and roasted squash. Reduce heat to low and cook until thickened.
Season with salt and pepper and add grated Parmesan. Toss your favourite pasta in with this turkey ragout and enjoy!
Fairmont Quasar Istanbul's Crispy Turkey Ball with Bread-Based Pasta and Mushroom Sauce
This particular recipe consists of a bread-based pasta, crispy fried turkey ball, mushroom sauce with turkey jus and vegetables.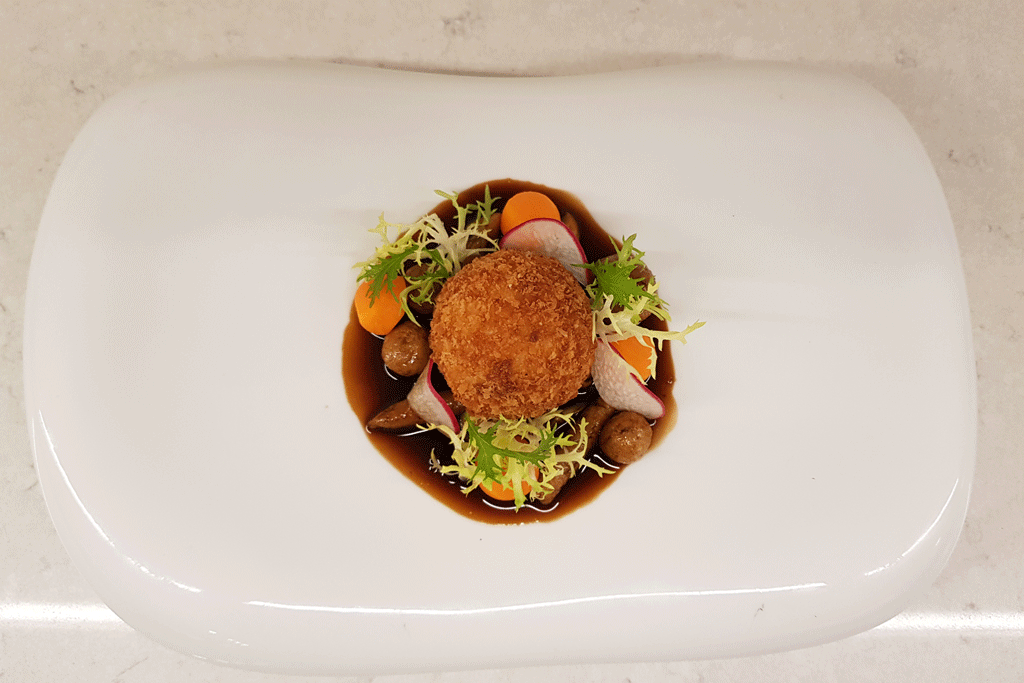 Ingredients
BREAD-BASED PASTA
250g Leftover pretzel and bread
50g Parmesan
20g Flour
1 Egg
Lemon zest (1/4 of a lemon)
0.5g Nutmeg
FRIED TURKEY BALL
200g Leftover pulled turkey (will be used both inside the recipe and panéed)
40g Leftover bread crumb (will be used both inside the recipe and panéed)
15g Flour
1 Egg
5g Thyme
5g Salt
2g Black pepper
MUSHROOM SAUCE
200g Turkey jus (stock)
70g Slice mushroom, sautéed
Salt and pepper for seasoning
Parisienne carrot

Fresh thyme for taste
Method
Mix all of the bread-based pasta ingredients together to make a dough. Cut into long julienne pieces and boil in salted water for about 5-7 minutes. Mix with mushroom sauce before serving.
Mix the pulled turkey meat with half of the breadcrumbs, flour and
egg to make ball shape dumpling and pané with the other half of the breadcrumbs, flour and egg. Chill in fridge for about 10 – 15 minutes before deep-frying. As all ingredients are precooked, once the turkey ball is golden in colour and crispy, it can be served. Ensure food is piping hot throughout.
Heat the pan and sauté the mushrooms before adding the turkey jus and cooking for a few minutes. Add the pasta, thyme and boiled carrots to the pan before seasoning with salt and pepper. Place them on the plate, before topping with the panéed and fried turkey ball.
Fairmont Royal York's Strawberry Rhubarb Cobbler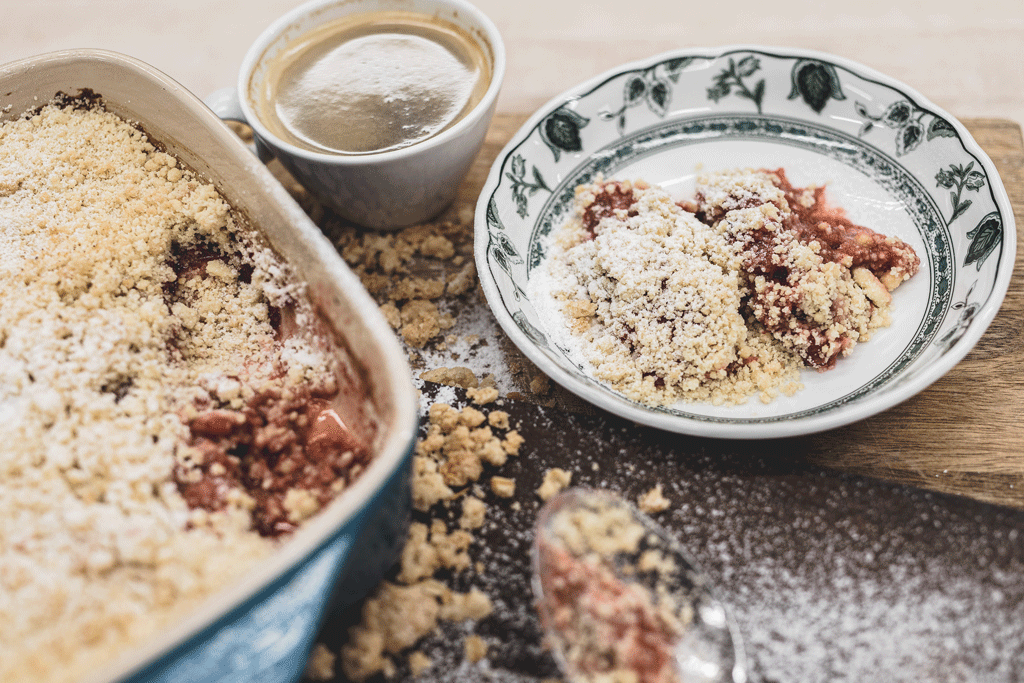 Ingredients
150g All-purpose flour
55g Ground almonds
110g Unsalted butter, small dice
200g Cane sugar, divided
1 tsp Rhubarb, large dice
470g Fresh or frozen end-of-season strawberries
465g Ground cinnamon
1 1⁄2 tbsp Corn starch
1 tsp Freshly grated ginger
1 Vanilla bean pod, split and scraped
Method
In a medium-sized mixing bowl, combine flour and ground almonds. Mix, slowly adding cold butter a few pieces at a time, until it breaks down into pea-sized pieces. Add 75g of sugar and all the cinnamon; mix gently and set aside.
In a large mixing bowl, combine the rhubarb, strawberries, remaining 12g sugar, corn starch, ginger, and vanilla bean paste. Gently mix and spread out in a 9×13-inch baking dish (mixture should come halfway up
the side).
Evenly cover the entire fruit mixture with the crumble topping. Bake in a preheated 180°C oven for 20 to 25 minutes, until the crumble is golden brown. Remove from oven and allow to cool before portioning.
How To Have a Greener Christmas / Recipe: Healthy Vegan Mince Pies