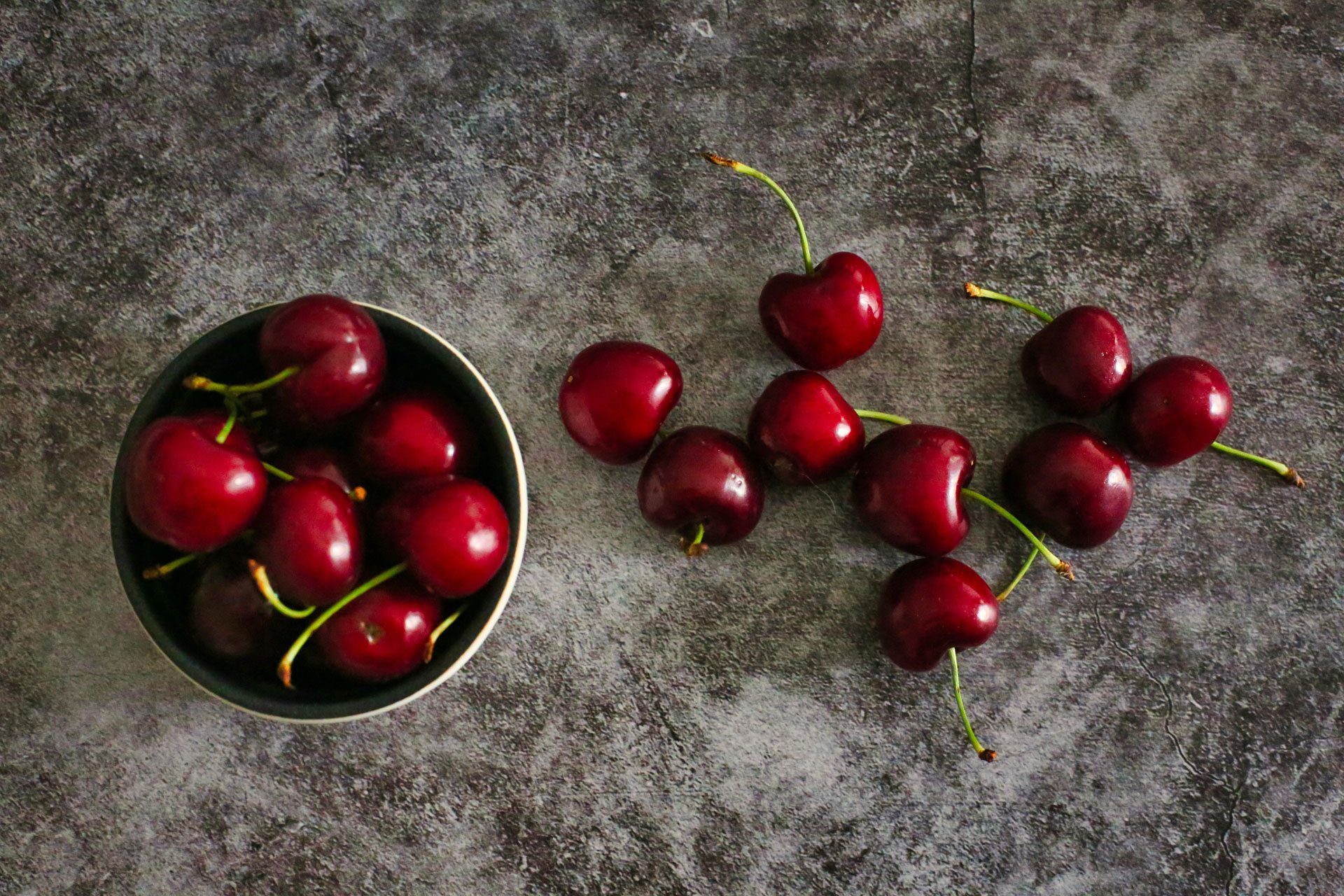 Fruit of the Week: Cherries
---
How to pick, store and cook cherries
Each week plant-based cook Bettina Campolucci Bordi, founder of Bettina's Kitchen, gives us the lowdown on a particular seasonal vegetable or ingredient, offering cooking tips and a recipe. This week it's cherries.
I love cherries, they hold so many childhood memories for me. My grandma always used to make cherry jams – I dread to think how much sugar she used. Later on, I took that tradition upon myself and whenever we would happen to stumble on a cherry tree, I would make cherry jam in her memory. I intently wait every year for cherry season to arrive so that I can eat as many as possible.
Cherries were introduced into England by order of Henry VIII in Kent, a region which still grows cherries today. Europe is the biggest producer of cherries across the world, although they are also produced in America and Australia to a certain degree.
Cherries have a naturally deep base flavour which works well in a sauce, relish, cocktail, dessert, ice cream or jam. The fruit has its best flavour as soon as it is picked from the tree. Cherries have a reasonably short shelf life and should be consumed within a couple of days of picking and stored at a temperature between 0 and 4°C (32 – 39 °F).
Not only are cherries renowned for their stunning taste, but also for the picturesque blossom they produce in spring. As cherry blossom season is short-lived, it's very symbolic in Japan – some believe it depicts extreme beauty followed by a quick death. In Japan cherry blossoms are used as a foodstuff – and at festive events, they're put into boiling water and served as a type of tea known as sakurayu.
You have to try this delicious plant-based dessert. The creaminess of the macadamia is the perfect combo for the sweet apricots and tanginess of the summer fruits. The orange zest on top just adds that extra tangy magic. It's a mouth-watering treat for a summer's day.
Recipe: Vanilla Macadamia Cream with Warm Apricots & Summer Fruits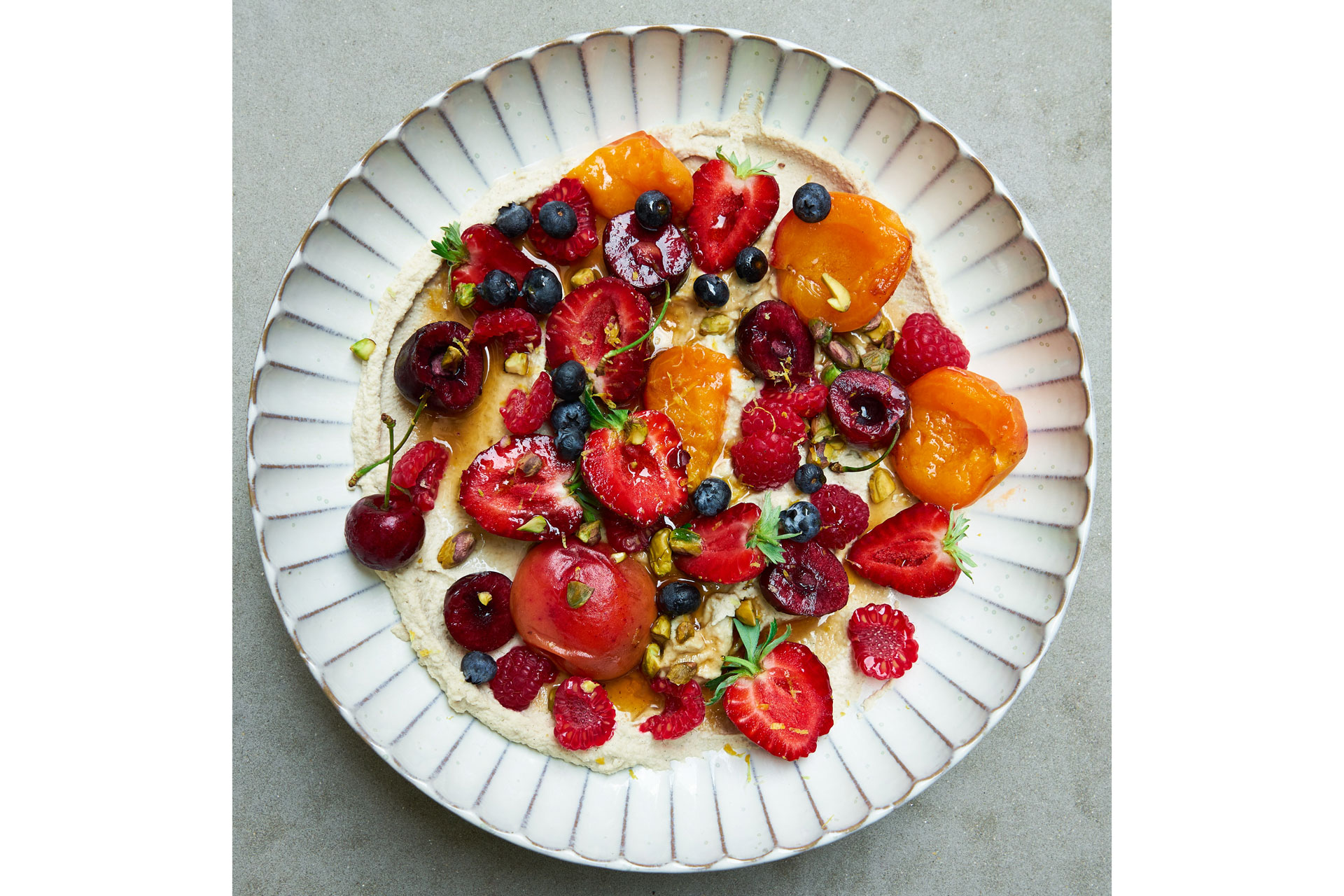 Ingredients
For the vanilla macadamia cream:
100g raw macadamia nuts
2 tbsp maple syrup
1 vanilla pod, or 1 tsp of vanilla pod powder
250ml water (may need extra)
For the warm apricots & summer fruits topping
2 apricots, halved and de-seeded
1 tsp coconut oil, for frying
handful of summer fruits of your choice, such cherries, raspberries, strawberries, sliced in half
1 tsp pistachio nuts, chopped
Zest of 1 orange
Method
Start off by soaking macadamias in water for 2 hours or overnight.
Heat coconut oil in a small frying pan and fry the apricots halves, flat side down for a few minutes until they catch colour. Remove and set aside.
Drain and rinse the macadamias and add these to a high speed blender and blitz until you have a creamy consistency.
Once nice and smooth, spread on a plate or a bowl, add your sliced fruits and warmed apricots.
Top with pistachios and grate orange zest on top.
MORE INGREDIENT OF THE WEEK: