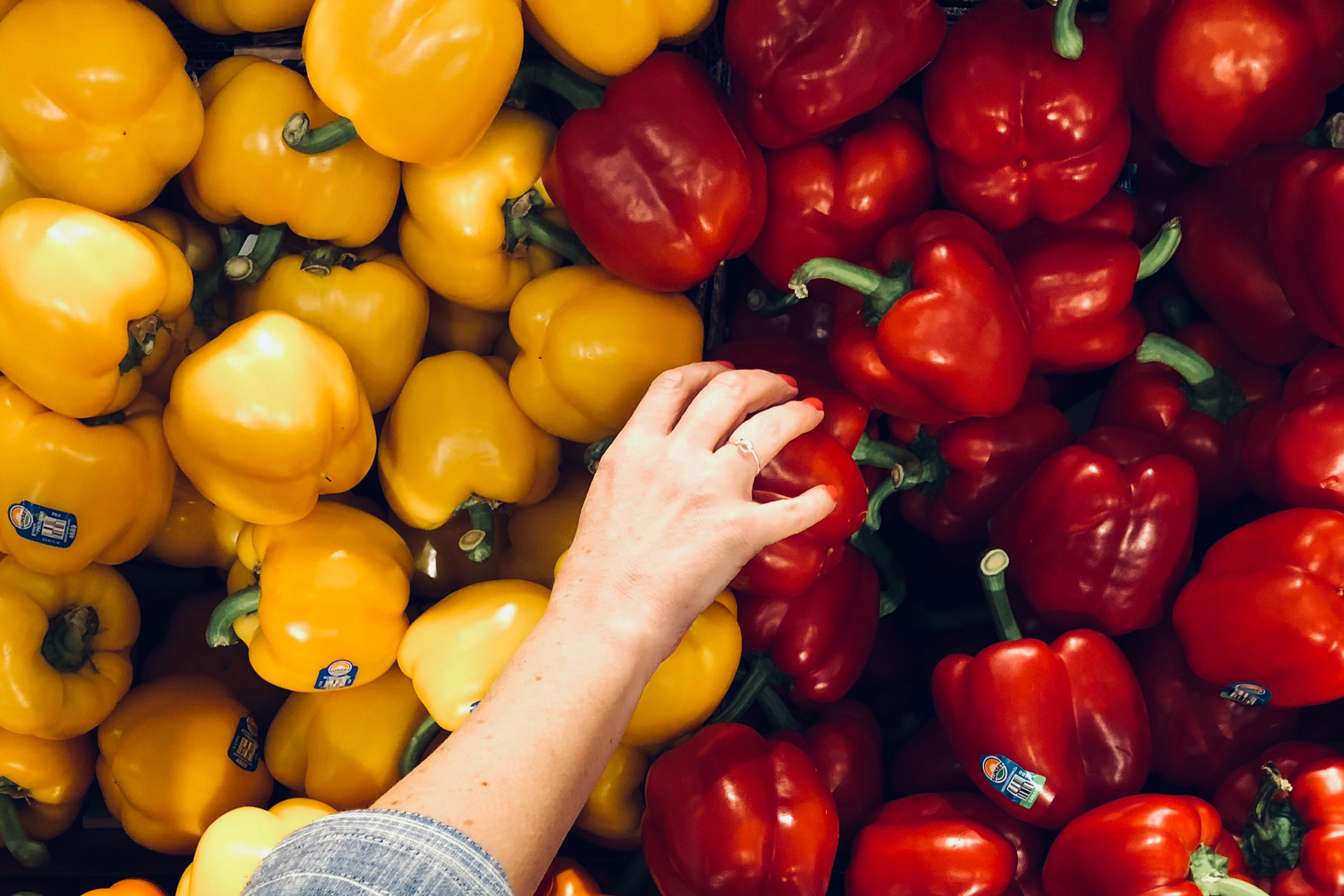 Fruit of the Week: Peppers
---
How does a pepper's colour affect its taste? Bettina gives us the lowdown
Each week plant-based cook Bettina Campolucci Bordi, founder of Bettina's Kitchen, gives us the lowdown on a particular seasonal fruit, vegetable or ingredient, offering cooking tips and a recipe. This week it's peppers.
Just like their salad comrade, the tomato, the pepper is actually a fruit. Belonging to the nightshade family and cultivated in the Grossum group, the capsicum (the fancy name for a pepper) can be split into different varieties. There's the hot variety, known as the chilli pepper, and the sweet variety, more commonly known as the bell pepper. Peppers can be eaten raw or cooked and are often identified by their colour, with variety packs of the three common colours: red, green and yellow (or orange) on offer on the supermarket shelves. Peppers also come in white, brown, lavender and purple – but you would probably need to explore your local farmer's market or a speciality store to get your hands on one of those.
Green is probably the most common of all the peppers as it has a shortest growing time – and cheaper too. Green peppers are harvested earlier than the rest of the family, and then, depending on the varietal of the pepper, that green can mature into either a yellow, orange or red pepper. The amount of time spent hanging on the vine directly contributes to the amount of nutrients each holds, which is why red peppers are notably sweeter and more nutrient-dense than the rest. A red pepper can have almost 10 times more beta-carotene than its younger sibling, green, and a substantial difference in Vitamin C, too.
As peppers grow, their degree of ripening significantly changes – and it's not just their colour that it affects. Red peppers tend to carry a fruiter flavour, with yellow and orange following close behind. Green peppers don't have the luxury of allowing their flavour to develop, so you can expect a more bitter and less sweet flavour – but not in an unpleasant way, they have a brilliant freshness about them. This lends itself well to stir-fried dishes that are packed with salty, umami rich dressings and need something to lighten the load.
Although more expensive, red peppers are the most adaptable. They pair perfectly with salt and oil rich foods, soft cheeses, white meat and fish and the traditional garnish for a classic gin martini: a sliver of red pepper stuffed inside a green olive.
Each colour can be sliced, diced and blitzed into a sauce or soup or stuffed and roasted in the oven. Just make sure to pick up a pack of peppers that are well-shaped and firm with a slight sheen to their skin. Avoid purchasing those that are showing signs of ageing through wrinkles, black spots or sunken areas on the surface. To keep them at their optimum freshness, make sure to store them whole, unwashed and in a brown paper bag in the crisper drawer in your refrigerator and aim to use them within two weeks. If you want to pre-prep, store freshly cut slices wrapped in a moist paper towel or cloth before placing in an airtight container. These will last around five to seven days.
This is one of my most loved and cooked recipes that include peppers from my second cookbook 7 Day Vegan Challenge. They are absolutely delicious.
Recipe: Veggie Fritters with a Sweet Chilli Dip
These colourful little beauties are crispy on the outside and soft on the inside. They pack a spice punch and hit the spot.
Makes 6 fritters, enough for 3 portions
For the vegan egg
60g chickpea (gram) flour
1 teaspoon bicarbonate of soda (baking soda)
1 teaspoon apple cider vinegar
125ml water
Olive oil, for frying
For the filling
1⁄4 courgette (zucchini), cut into ribbons with a vegetable peeler
1 teaspoon Jamaican jerk spice
1 red or yellow (bell) pepper, thinly sliced
1 Carrot, cut into ribbons
1 Spring onion (scallion), green and sliced
1 bunch of rainbow chard or kale, chopped
Salt and freshly cracked black pepper – chilli jam and vegetables or green salad, to serve
Method
Mix the flour, bicarbonate of soda, cider vinegar and water in a large mixing bowl and leave to stand.
Squeeze the courgette of excess liquid and add to the vegan egg mix with the rest of the vegetables.
Heat a splash of olive oil in a large frying pan (skillet) and spoon out the fritters four at a time. I then gently press down the fritters with a saucepan lid that is smaller than the pan. Fry for 3–5 minutes on each side until golden brown and crisp.
Repeat with the rest of the mixture and serve immediately with chilli jam and extra fresh greens or seed sprinkles.
MORE INGREDIENT OF THE WEEK: