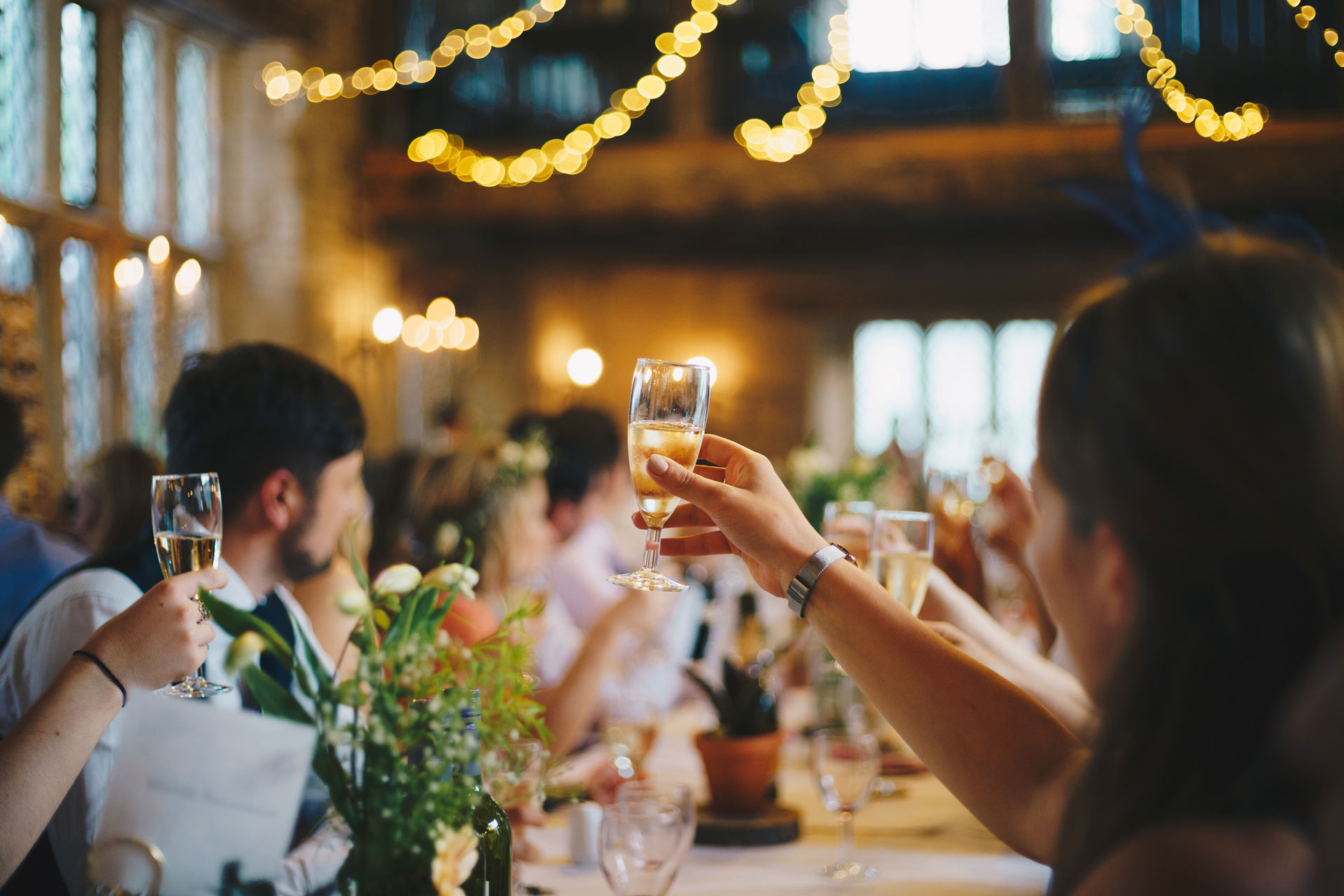 How To Source Wine For Your Wedding
---
From the bottles to avoid to how much you'll need, here's your ultimate guide to wedding wine
What wine to choose for your wedding, one of the happiest and most expensive days of your life? It has to be perfect, and you've got the hot potato of choosing the wine that's going to keep the party swinging. It's a quandary that's been put to wine expert Tom Gilbey many times: here he shares some top tips.
How To Source Wine For Your Wedding
What Wine To Choose
No matter what time of day or year the big occasion is, or where it is, you'll surely be wanting a fizz. It's the ultimate celebratory tipple and the perfect wine to bookend the big celebration, but does it need to be champagne?  
You'll probably also be going for a white and a red. The golden rule here is to go for what you both like. It's your day after all and everybody is there to celebrate it with you, and for you. Don't worry too much about whether the wine goes with the food and if you can, go one step further and choose wine that means something to you both – you met there or you've been on holiday there, you had it at a special dinner etc. Perhaps draw the line at Uzbekistan, but if it's a half decent wine growing country then why not start there.  
We'll deal with the fizz later but here are some ideas for table wines to go for and avoid.  Firstly, to keep things simple, avoid a rosé. It's one extra thing to worry about and all rosé lovers will also love well chosen white, red and fizz. Keep it simple and stick to white and red and start with this list below for wine styles – the 'go fors' and the 'avoids'. The 'go fors' are classy, reliable and will be enjoyed by virtually everyone, including the biggest wine snob you could possibly be inviting, and the 'avoids' are slightly 'marmite' wines with some of your guests maybe not liking marmite.
Go for whites: Gruner Veltliner, Picpoul de Pinet, Sancerre, Chablis, Albarino
Avoid: NZ Sauvignon, Buttery Chardonnay, Viognier, 'off dry' Riesling
Go for reds: Cotes du Rhone, Fleurie, NZ Pinot Noir, Syrah
Avoid: Jammy Merlot, Cheap US Cabernet or Merlot, Ausy Shiraz
How Much To Spend
Chances are, the most expensive wine you'll be buying is the fizz. Does it have to be champagne? Seldom does anybody turn their nose up at champagne. If you're out to really impress then you could up the game and go for a wonderful English sparkling wine instead, but you could be making your guests just as happy by serving a Crémant or a Blanquette de Limoux from France, or a bottle fermented sparkling wine from the new world; and you'll save yourself a packet. Crémant and New World sparkling tend to be about two thirds of the price of champagne and Blanquette is generally about half.  When these are good, all of them can be better than many champagnes.
I'd avoid prosecco or Cava despite there being some excellent examples of both. They tend to be a bit more 'love it or hate it' than Crémant, Blanquette or New World fizz so I'd stick with the crowd pleasers.
Here are some picks for great value fizz:
Maison Antech 'Mademoiselle Marguerite' Blanquette de Limoux Brut, £10.99,

majestic.co.uk

Langlois-Chateau 'L'Extra par Langlois' Crémant de Loire Brut, £11.99

majestic.co.uk
For the table wines, stick to the grape varietals and styles mentioned earlier and spend £8 a bottle or more if you can. There are plenty of good examples of the wine styles recommended at between £8 and £10 a bottle and, if chosen carefully, they'll be sure to make all of your guests happy. Taste them first if you can – any good wine store or merchant will be up for helping you with this.
How Much Wine To Order
There's nothing worse than worrying you're going to run out. Whilst the quantities you'll need will vary massively depending on the age group you're having, what other booze is on offer, how many drivers etc. you'll be fairly safe following these general rules.
Allow about a bottle of wine in total per person (note you get six glasses to a 75cl bottle) and a glass and half of this should be fizz. This would cater for a toast as well.
So for a wedding of 100 people you'd need:
25 bottles of fizz

75 bottles of wine split 60 per cent red and 40 per cent white
To keep feeling calm, buy from a store or wine merchant who offers sale or return and be careful to make sure that whoever is serving/looking after the wine keeps the bottles out of ice bins etc. The wine supplier will only take back stock that is in perfect condition for resale.
And that is a quick and easy guide to getting one of the most important things right on your big day. Above all, don't overthink it. Deal with a wine store/merchant/shop who's got great grog and is going to make it easy for you – there are plenty of them out there.
Tom Gilbey has over 30 years of experience in the wine trade. In 2020 he founded his eponymous wine company, which curates wine-focused events in venues across London, plus sells wine online. Find out more at tomgilbey.com
READ MORE:
How To Make Your Wedding More Eco-Friendly / Wedding Planners To Know