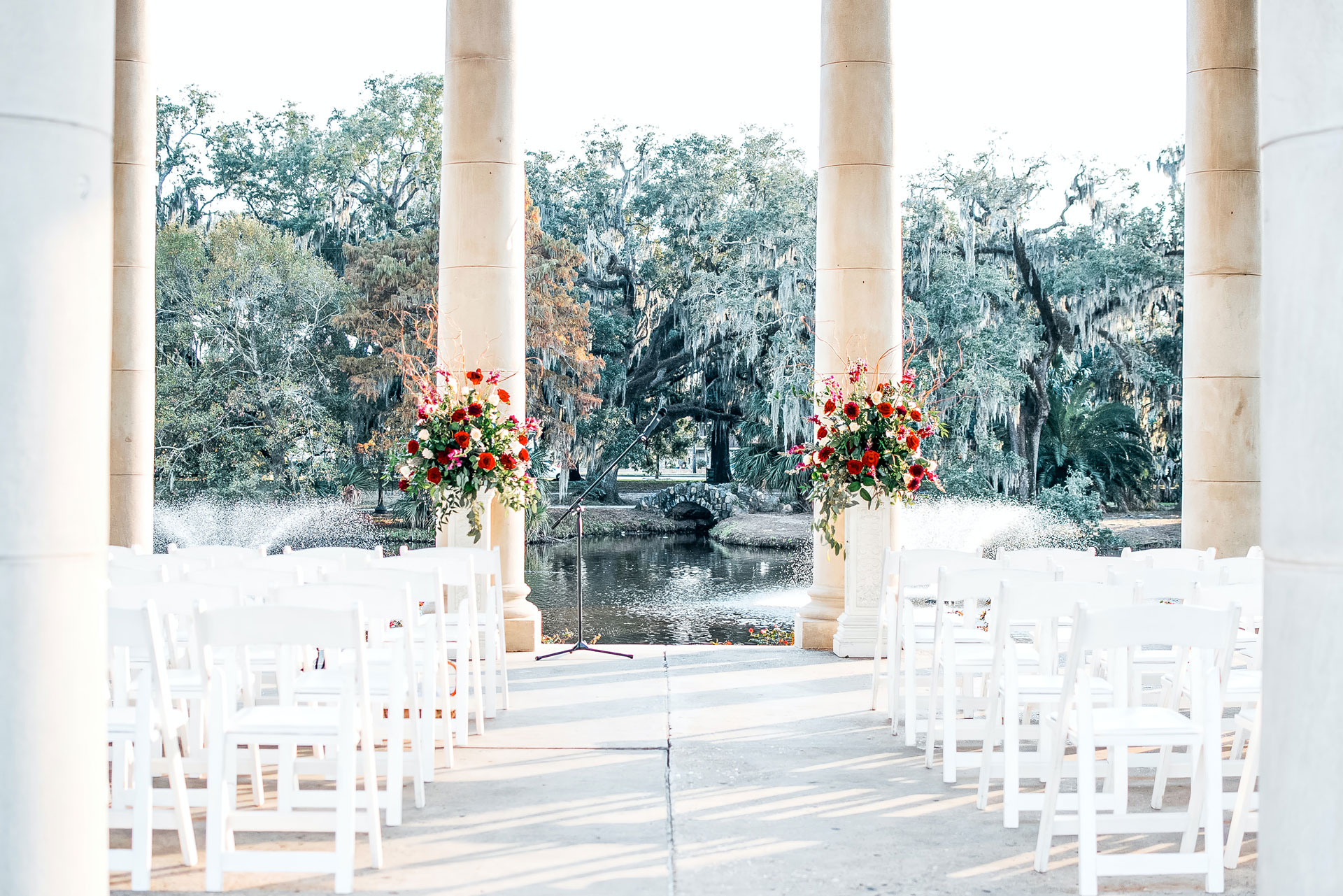 How To Have an Eco-Friendly Wedding
---
A guide to getting hitched sustainably
Your wedding is meant to be the best day of your life – but it's also likely to be the most wasteful. Many miles are racked up from guests travelling to the venue, copious amounts of food ends up in landfill, leftover flowers are tossed to the wayside and single-use outfits are the go-to. All this means that the average wedding emits up to 21 tonnes of carbon dioxide. Yet as we become increasingly conscious of our carbon footprint, more and more couples are looking for ways to have a more eco-friendly wedding.
If you're planning a wedding for 2022 and beyond, read on for some sustainable swaps to consider, from bride gown rental services to biodegradable confetti to low-waste food companies.
How To Have an Eco-Friendly Wedding
Invitations
Sending out numerous paper invites to guests is clearly not the most planet-friendly option, so you have two choices: find a sustainable stationery brand or go digital. If you're keen to send out something physical, look into companies that use recycled paper like Paper Culture, or Botanical PaperWorks which sells seed paper products that grow into wildflowers, herbs or vegetables.
Alternatively, go paperless – brands such as Paperless Post and Greenvelope offer pretty digital designs. Continue the online theme by setting up a wedding website with all the information guests will need: menus, location, timings and so on.
Venue
We're seeing more and more wedding venues up their sustainability practices. Elmore Court in Gloucestershire, for example, has been built with rammed earth and timber from the estate, and uses a biomass boiler to heat the house, using wood from the estate. There's also Doddington Hall, renowned for its farm-to-table food, or the low carbon, low energy River Cottage, which offers the chance to say 'I Do' in the famous farmhouse. Fancy something a bit different? From Autumn 2022, you can get married on a boat at Oceandiva, which is set to be UKs first co2 neutral events and hospitality venue on the River Thames.
You could also consider taking things al fresco. Booking a wedding at a national park, for instance, helps provide funding for its conservation – and you'll save energy by cutting down on the amount of lighting you need.
Dress
When choosing a dress, look for brands who are honest about their supply chain and opt for natural fibres – ideally organic. Eco-friendly brand Mother of Pearl has a beautiful bridal collection titled Pearly Whites (Gwyneth Paltrow is a fan), as does Stella McCartney. Halfpenny London also recently launched the Unveiled collection, which is all about repurposing fabrics and deadstock materials, with 16 new garments available.
How to Buy a Vintage Wedding Dress
If you're keen to take things even further, consider opting for vintage. The second-hand wedding dress market has soared in popularity recently, inspired in part by Princess Beatrice's decision to borrow a dress from the Queen. OK, so you might not be able to get a royal hand-me-down, but there are lots of great vintage dress sellers out there. Check out Hardly Ever Worn It, Vestiaire Collective, Jane Bourvis and Open For Vintage – or, if you'd rather browse in person, head to sustainable wedding dress shop Brides do Good in Fulham. It sells pre-loved designer wedding gowns from brands including Vera Wang, Charlie Brear, Caroline Castigliano, Temperley, and Pronovias.
Renting is another great sustainable option. Girl Meets Dress has an extensive wedding dress section, as does Rent the Runway – which recently went online-only.
Confetti
It may look great in your wedding snaps, but traditional confetti is really bad for the environment: it's difficult to clean, not biodegradable and will undoubtedly end up in landfill. There are plenty of eco-friendly alternatives though, such as flower petals, dried leaves or lavender, as well as biodegradable confetti made with natural, dye free materials.
Florists
While the fruits of the earth are naturally sustainable, there's a growing generation of florists evolving the industry into an even greener one. Blooming Haus, for instance, has a tree planted for every couple whose wedding flowers they create. Choose British-grown, seasonal flowers, ideally grown locally without pesticides, and avoid floral foam as it can't be recycled.
It's also worth thinking about what's going to happen to your flowers after the wedding. Ensure they don't end up in landfill by working with a company like Repeat Roses, which repurposes event flowers that would otherwise go to waste, instead breaking down floral displays and sending them to communities such as hospitals and nursing homes.
Food & Drink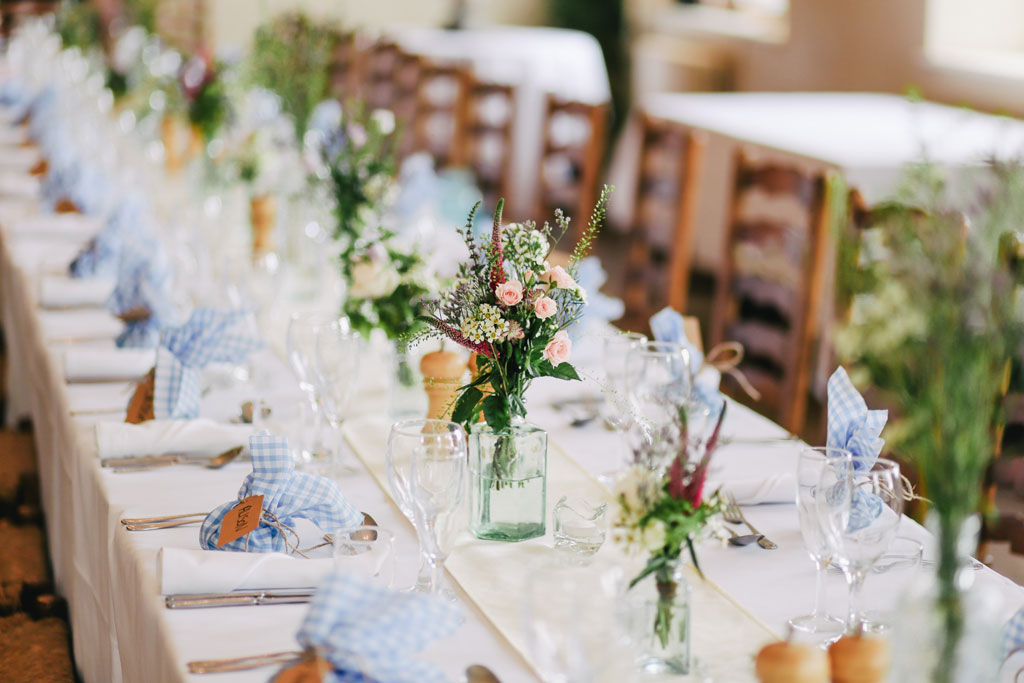 According to a study from Sainsbury's, a tenth of all wedding food ends up in the bin – an average of £488 worth of wasted food. But there are ways to reduce this figure, such as serving family-style dinners on platters rather than plating individually, allowing guests to choose what they want.
It's also worth asking questions to your caterer, such as: is the meat and fish you use ethically farmed? Do you use plastic? Rose & Food is big on sustainability – free range meats are sourced from local butchers, while fruit and vegetables are hand-picked from local grocers and growers.
George's Kitchen, too, is taking steps in the right direction. 'To save waste we tell all our suppliers not to bother wrapping anything, and we donate food we don't use to a homeless charity in London,' founder George Rouse tells C&TH. If you want to go even greener look into The Real Junk Food Project, which collects food that doesn't meet supermarket standards but is still safe to eat.
On the drinks side, check out our guide to sustainable wine to learn what all the different terms mean – organic, biodynamic, natural – and hear the stories behind a selection of impressive producers.
Gifts
This may not be the most appealing suggestion, but one way to adopt a more conscious approach to your wedding day is by asking guests to not bring physical gifts. Instead, suggest a chosen charity for people to donate to – bonus points if it's an environmental one, such as Greenpeace or Friends of the Earth.
READ MORE:
Best Wedding Venues UK & Ireland / Best Wedding Planners, Florists & Photographers