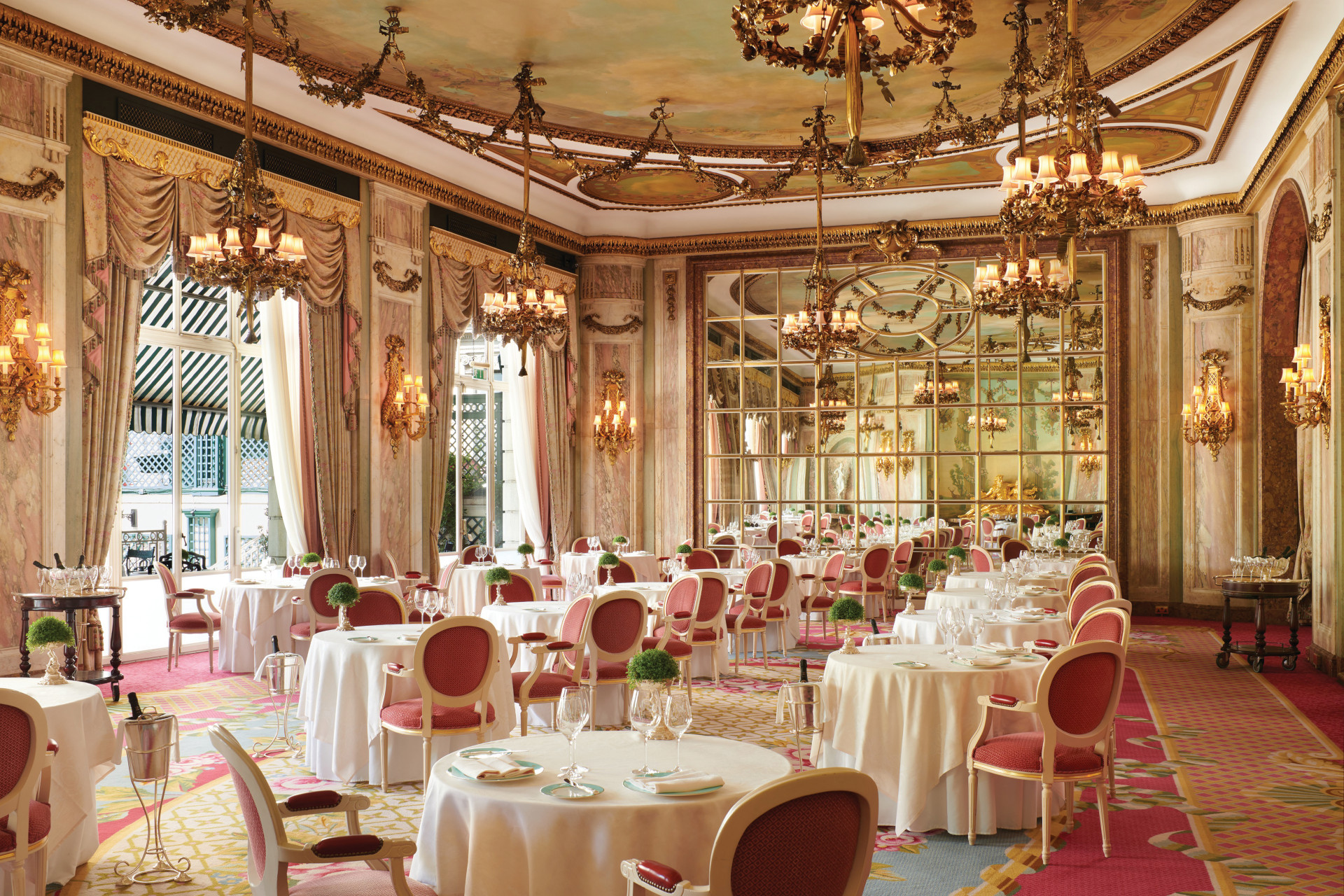 Iconic London Restaurants Everyone Should Visit Once
The stories behind the city's most famous dining rooms
New restaurants pop up left right and centre in the capital – but only a select few stand the test of time. Here we highlight the most iconic London restaurants, some dating back hundreds of years, others modern institutions. From the city's most star-studded hotel to the world-famous Ritz and the recently revamped Langan's, these stalwarts should all be added to your culinary bucket list.
Iconic London Restaurants Everyone Should Visit Once
Simpson's in the Strand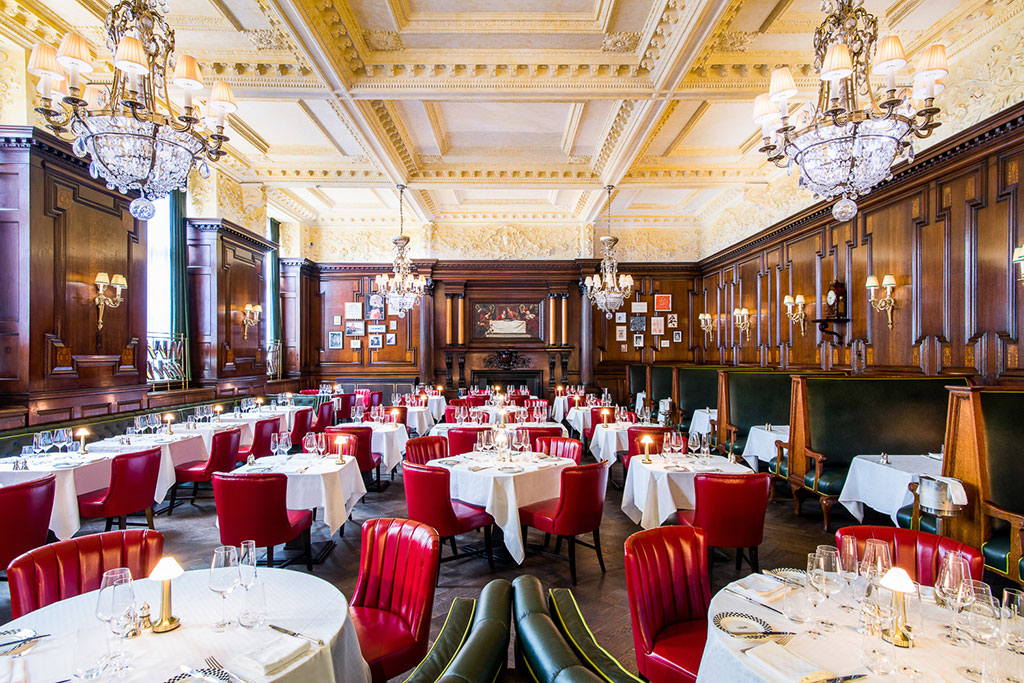 Simpson's in the Strand first opened in 1828 as a chess club, and was once a favourite haunt of Arthur Conan Doyle and Charles Dickens. Renowned for its top-class old-school service and delicious English dishes, long-standing features include the famed silver trolley which carves roast beef tableside, a tradition which began as a way to avoid disturbing chess games in progress. The legendary West End restaurant is a mere hop, skip and jump from The Savoy, and was refurbished under The Savoy's name in 2017 following murmurs it was losing its touch. Despite this new lease of life, recently there has been speculation about the restaurant's future, sparked by the news that it was auctioning off thousands of items. However, it has now been announced that restaurateur Jeremy King is helming a relaunch. He hopes to revamp the stalwart into a 'big theatre brasserie' that would 'very much hark on its tradition'.
100 Strand, London WC2R 0EW; simpsonsinthestrand.co.uk
Le Gavroche
When the late Albert and Michel Roux opened Le Gavroche back in 1967, it was the only French restaurant of its kind in London. It was quickly awarded with one Michelin star – the first UK eatery to do so – and went on to receive two more (two of which it has retained since 1993). A stream of star-studded chefs have earned their stripes there over the years, from Gordon Ramsay to Marco Pierre White and Marcus Wareing, and since 1991 it has been run by Albert Roux's son, Michel Roux Jr. Though it has modernised and evolved over the years, the principles of sophisticated French cuisine remain at the heart of the restaurant – with some dishes, like the cheese souffle, having remained on the menu since its opening. However, it was recently announced that Le Gavroche will be closing next January after an impressive 56-year stint. In a statement posted on its website, Roux said: 'This decision has not been made lightly. Le Gavroche means so much, not just to myself and the Roux family, but to the wider Gavroche team and you, our guests, who have become our family over so many years. I have always felt that should Le Gavroche ever close, it must be on a high. Le Gavroche continues to be fully booked, week in, week out, but I have known for a while that I must make time for a better work/life balance, so I can spend more time with my family and on my other business ventures.' So if you haven't been yet: get in there quick before it's too late.
43 Upper Brook St, London W1K 7QR, le-gavroche.co.uk
The Wolseley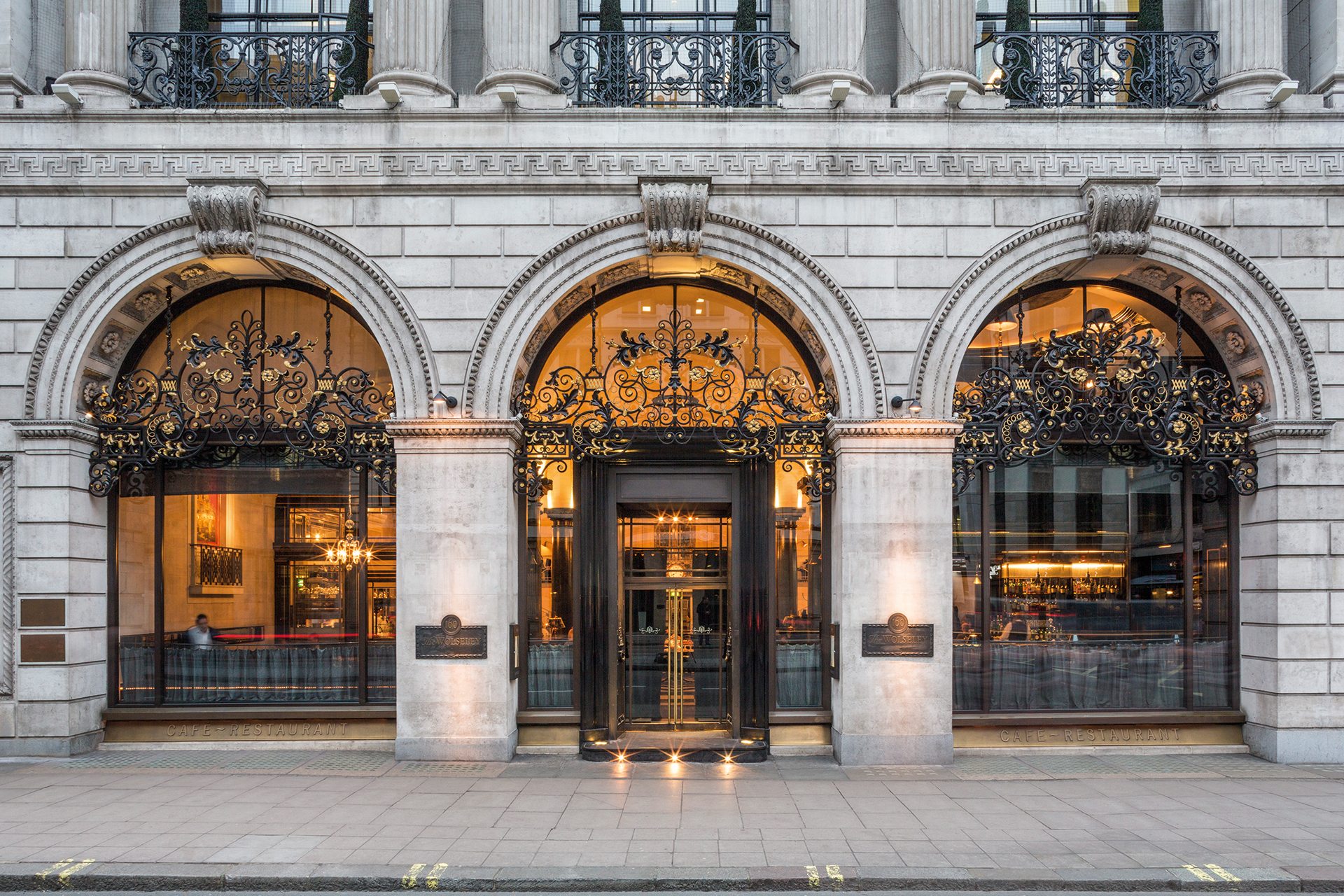 If AA Gill wrote a whole book about it, then it's got to be good. The Wolseley has stood proudly on Piccadilly since 2003 – though the building itself dates back to the early 1900s, when it was first built as a prestigious car show room, going on to serve as a Barclays Bank for some years. Restauranteur duo Chris Corbin and Jeremy King acquired the site in July 2003, and just a few months later the restaurant opened its doors. Its eclectic history is reflected in the interiors: high vaulted ceilings and Venetian pillars intermingle with red and gold Japanese panels, and Oriental friezes on the walls – a feature from its brief stint as a Chinese restaurant. The Wolseley oozes glamour, and you'll usually spot at least one famous face there (the Beckhams are regulars, and Kate Moss is a fan). It's a particularly popular spot for breakfast, when Londoners flock in for Arnold Bennett omelettes and baskets of pretty pastries. An all-day menu, meanwhile, offers everything from caviar and oysters to steaks and fish dishes – plus a selection of ice cream coupes, including a pistachio and hazelnut number inspired by the late Lucian Freud.
160 Piccadilly, St. James's, London W1J 9EB; thewolseley.com
Wiltons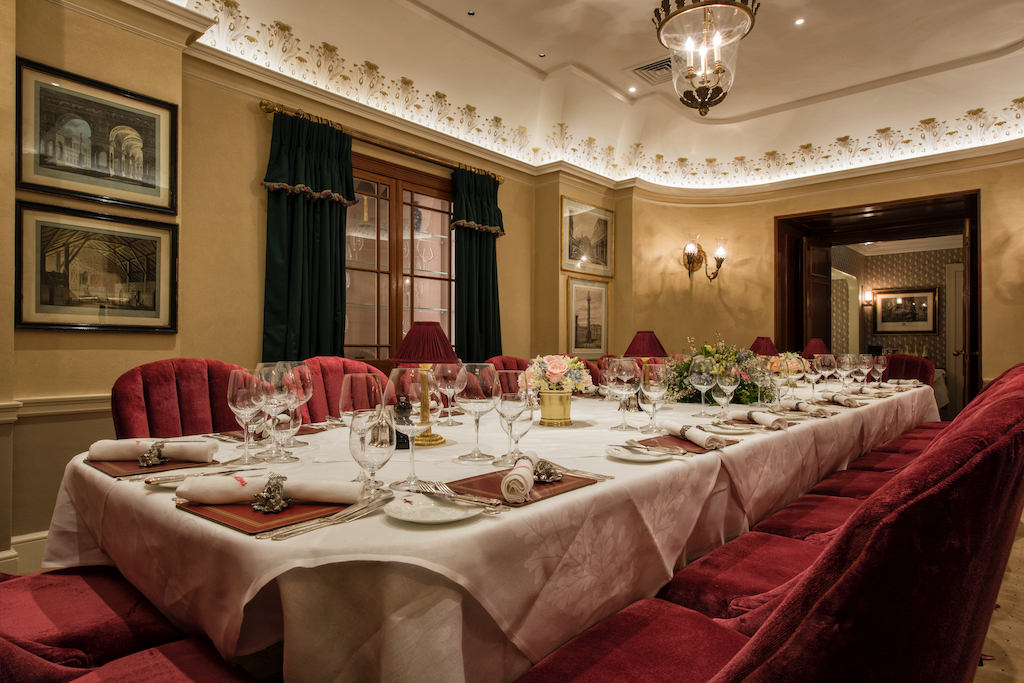 London's second oldest restaurant (and that's only because Rules got their liquor license first), Wiltons is the height of sophistication and old-school elegance. The Jermyn Street eatery has long been a firm favourite amongst politicians and celebrities not wanting to get papped; since 1742 it's become synonymous with discretion, impeccable service – your name will be known after just one sitting – and of course, delectable food. Tradition is at the heart of this refined dining spot, with a carving trolley available daily, serving up roast leg of Romney Marsh lamb and Blythburgh pork, among other meats. If fish is more your thing (or even if it's not), we urge you to try Wiltons' famed Dover Sole; as one of the last restaurants to offer fork filleting service at the table, it's an experience in itself, and one so delicious that it accounts for 90 per cent of the main course orders at Wiltons. The restaurant has been supplying the royal household with its oysters since gaining its first Royal Warrant in 1836, so you can rest assured that when you pull up a seat at the oyster bar, you'll be sampling the very best. For extra special occasions (anything from a client lunch to a romantic proposal) the restaurant's private Jimmy Marks Room is perfect. Utterly elegant, it can accommodate up to 20 guests for a seated meal – we suggest hiring the carving trolley as well.
55 Jermyn Street St James's, London, SW1Y 6LX; wiltons.co.uk
The Ritz Restaurant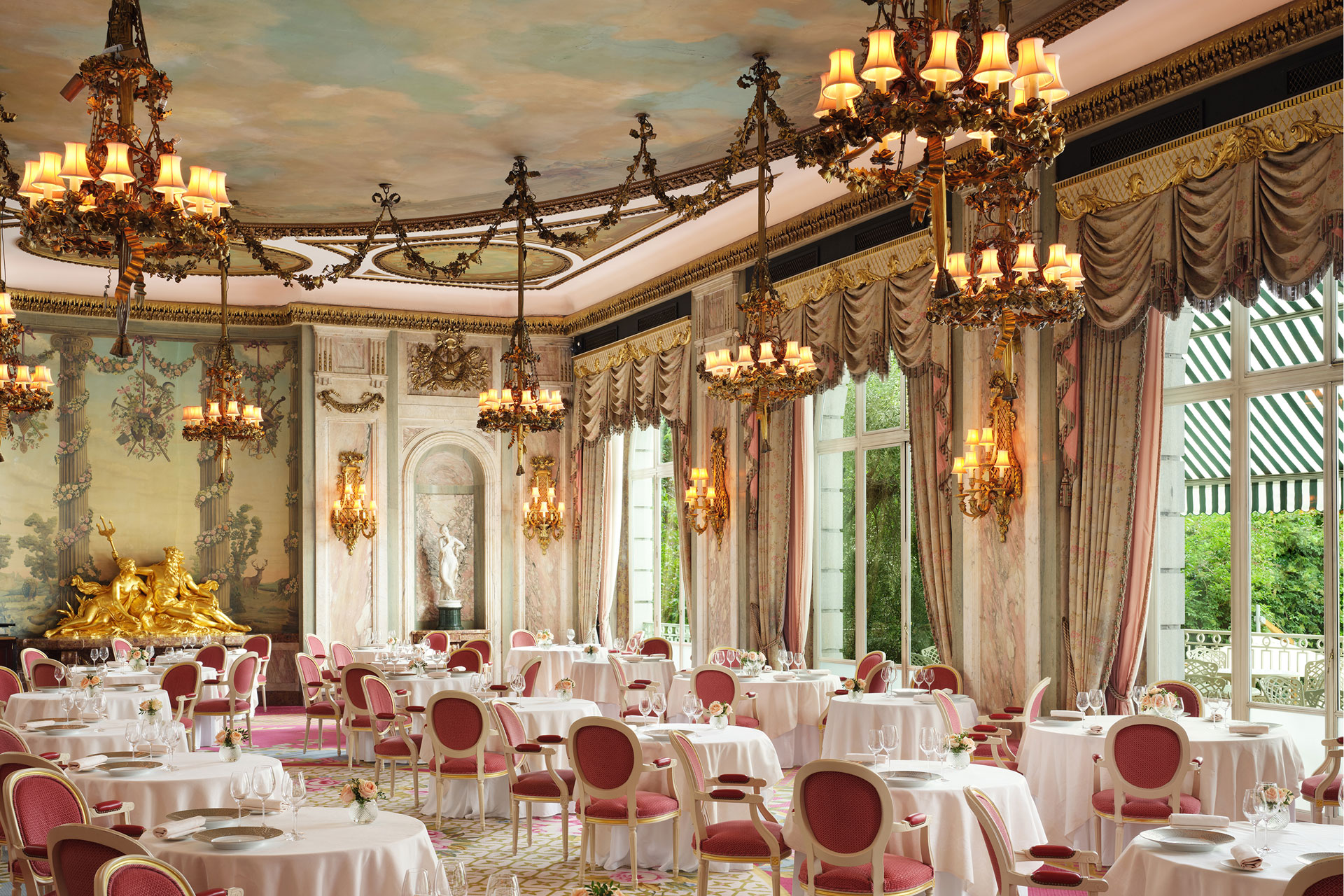 The Ritz is one of the most iconic hotels in the world, with an enviable location on London's Piccadilly overlooking the Royal Green Park. Opened in 1906 by hotelier César Ritz, the hotel quickly became a favourite home-from-home for Hollywood stars and royalty alike – and in 2002, it was the first hotel to be awarded a Royal Warrant. More than a century after its launch, The Ritz remains at the top of its game: the hotel exudes a feel of timeless elegance, with faultless service and an excellent food offering. In the exquisite Michelin-starred Ritz Restaurant, with its sparkling chandeliers and marble columns, Executive Chef John Williams MBE uses the finest seasonal ingredients throughout the menus. His famed signature dishes include dishes such as Cornish turbot, beef wellington and langoustine à la Nage. Afterwards, spend the evening sipping cocktails in the intimate Art Deco Rivoli Bar.
150 Piccadilly, St. James's, London W1J 9BR; theritzlondon.com
Langan's Brasserie
With one of the world's biggest actors, Sir Michael Caine, at its helm, Langan's Brasserie was destined to draw in big names. He opened the restaurant in Mayfair back in 1976 in partnership with the eponymous Irish entrepreneur Peter Langan, and it quickly became a magnet for the rich and famous, frequented by the likes of Princess Margaret, Mick Jagger and Muhammed Ali. As Joan Collins once put it: 'Anybody who was anybody lunched or dined there'. Yet when Langan died, and his partners traded in their shares, the venue slowly faded away – and in 2020, it went into administration. In late 2021 though, it was revived by restaurateurs Graziano Arricale (previously of Birley Clubs) and James Hitchen (former CEO of Manchester restaurant group East Coast Concepts). Their aim was to bring the spirit of the '70s and '80s heyday to a new generation. That means the showpiece dining room and brasserie-style food remain, but there's also a raw seafood bar, a basement private dining room, and an invitation-only upstairs bar, designed by Peter Mikic. For a taste of the original, try the beef tartare – prepared tableside – or the famed spinach soufflé with anchovy sauce.
Stratton St, London W1J 8LB; langansbrasserie.com
J Sheekey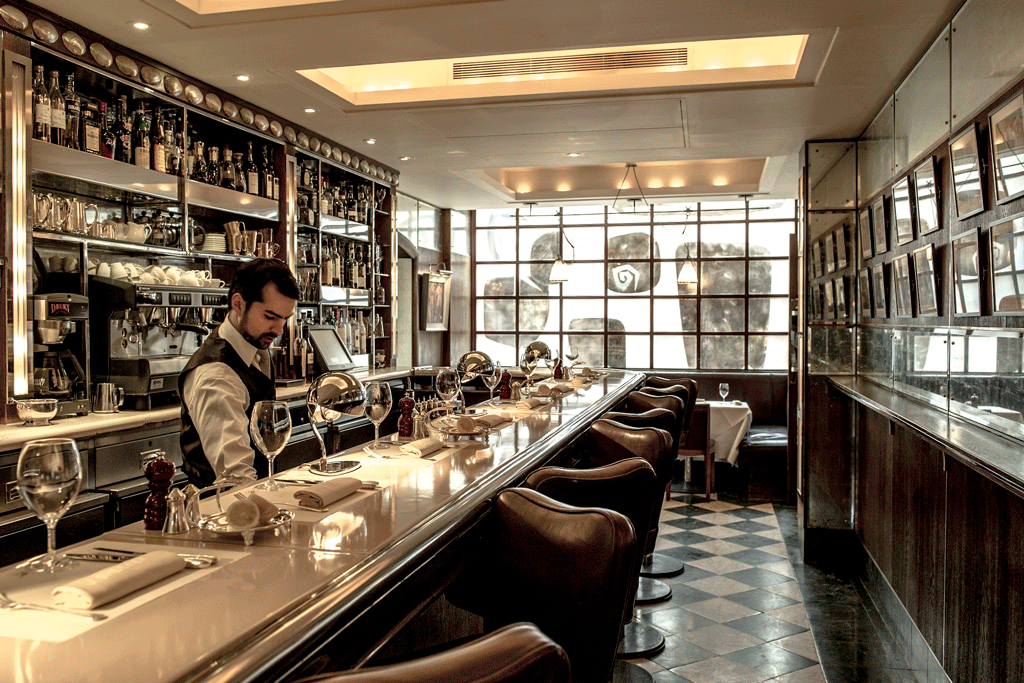 Back in 1893, stallholder Josef Sheekey was given permission by Lord Salisbury to serve fish and shellfish in St Martin's Court, in return for supplying meals to Salisbury's after-theatre dinner parties. This was the beginning of Sheekey's – and, to this day, the restaurant retains its Victorian charm. Located bang in the middle of the West End, it's always been a hotspot for actors, hosting an endless stream of A-listers over the years – from the Beckhams to Jude Law and Bradley Cooper. Food-wise, it's all about high-quality seafood: think oysters, fruits de mer platters and lobster thermidor, alongside its famous fish pie. Head there for a pre or post-theatre dinner and ensure you sample the excellent cocktail list, which features recreated versions of 10 iconic cocktails from the restaurant's 125 years.
28-32 St Martin's Ct, London WC2N 4AL; j-sheekey.co.uk
Chiltern Firehouse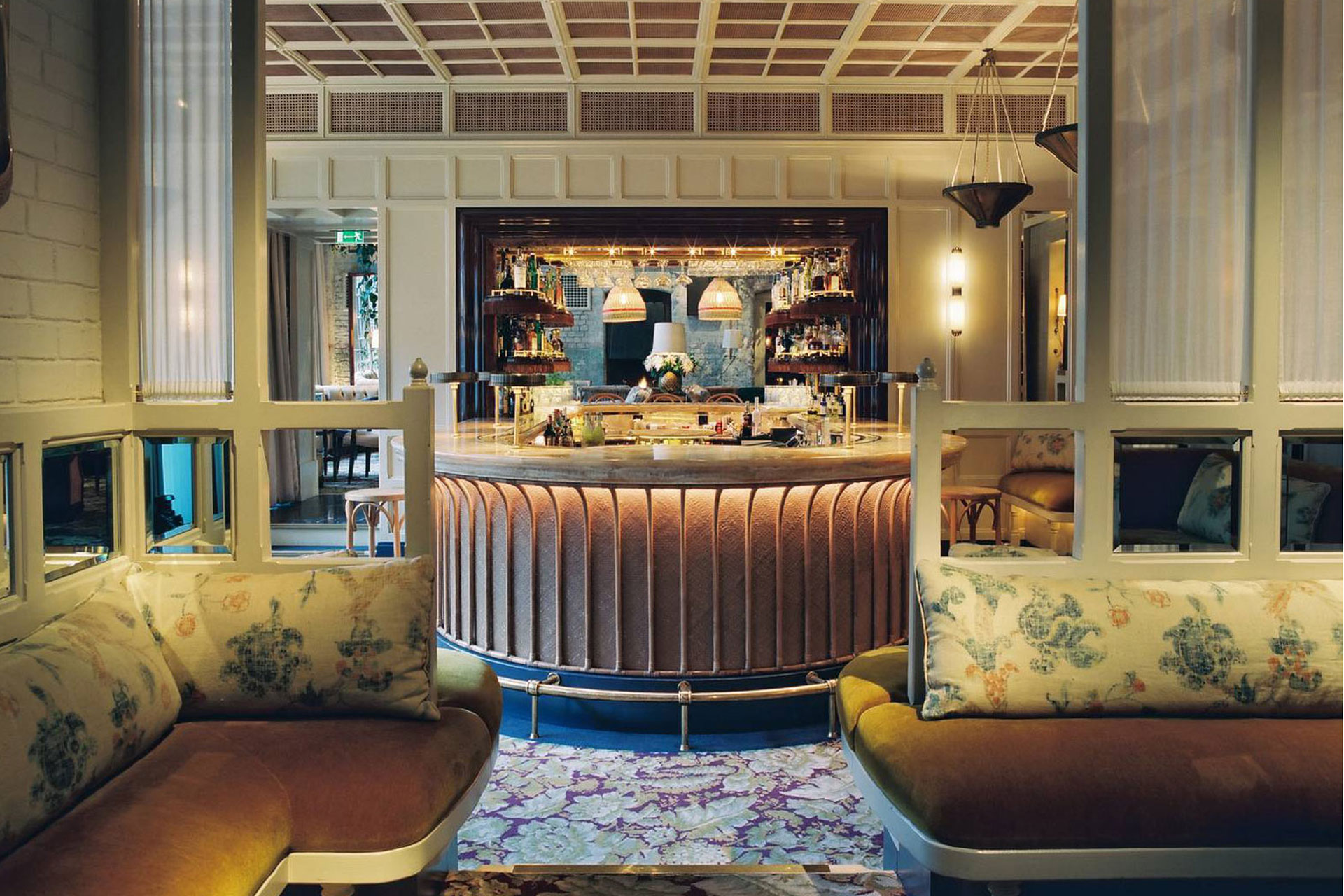 How did a red-brick fire station in Marylebone become London's prime celeb haunt? Through the wizardry and charisma of Hungarian-born, American hotelier André Balazs, that's how. When Chiltern Firehouse opened its doors in 2014, everyone who was anyone was snapped there. In its first few months of existence alone, Cheryl Cole, David Beckham, Naomi Campbell, Simon Cowell, Bono and Bill Clinton were all guests – and Rita Ora apparently stayed there before it had even opened. Naturally, the buzz has died down over the years, though it remains uber-chic – and these days us regular punters can actually book a table. Chefs Nuno Mendes and Richard Foster cook up a suitably fashionable menu: the crab doughnuts are perhaps the most talked about dish: crispy batter packed with creamy crabmeat with a picante punch.
1 Chiltern St, London W1U 7PA; chilternfirehouse.com
Quo Vadis
Occupying four townhouses on Soho's Dean Street, Quo Vadis is a restaurant with no shortage of history. The building was once a notorious brothel, and from 1851 to 1856 it was home to Karl Marx and his family. It was Italian-born restaurateur Peppino Leoni who gave Quo Vadis its moniker – which translates as 'where are you going?' in Italian' – opening a restaurant there in 1926. Since then the restaurant has had numerous owners, including Marco Pierre White and Damien Hirst, and in the late noughties it was bought by its current owners, Sam and Eddie Hart – the brothers behind Barrafina. Nowadays the space comprises a restaurant, two bars and a private members' club, with Scottish chef Jeremy Lee spearheading the culinary side. The menu is distinctly British, with signature dishes including the smoked eel and horseradish sandwich, and a daily changing pie.
26-29 Dean St, London W1D 3LL; quovadissoho.co.uk