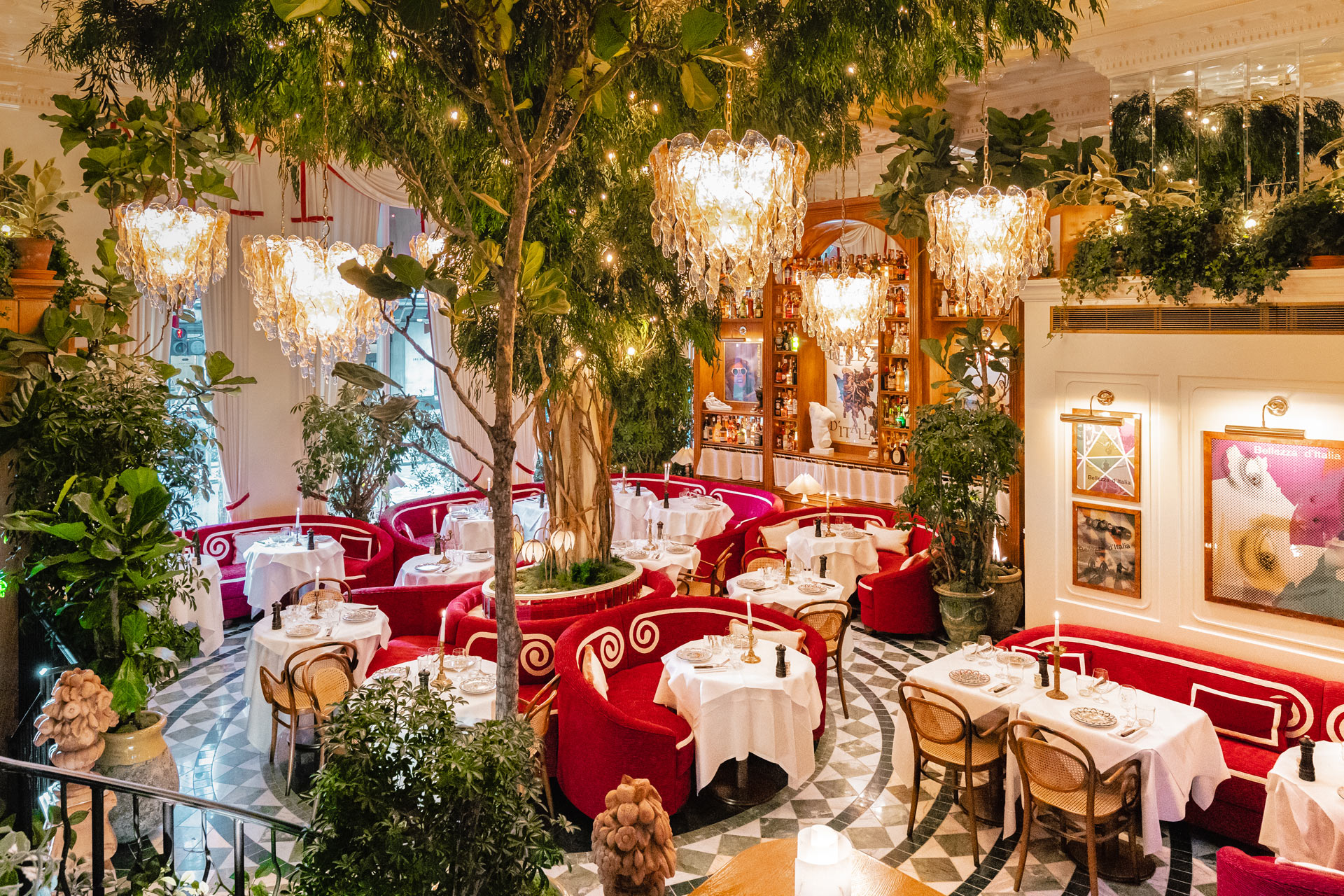 19 of London's Most Instagrammable Restaurants
Crystal-encrusted statues, rose ceilings and retro walkways: these restaurants deserve a spot on your feed
Looking for places to eat where the interiors are just as appetising as the food? From the glitzy Sexy Fish to the pink-hued sketch, London is brimming with snap-worthy dining spots. And it's not just about the Instagram staples anymore (think flower walls and noteworthy loos): restaurants have upped their game with exciting new features, from real-life aquariums to extravagant sculptures. Of course good food is always crucial too, so we've pulled together a list of the most Instagrammable restaurants in London which don't compromise on substance. Happy snapping.
The Most Instagrammable Restaurants in London
Galvin Bar & Grill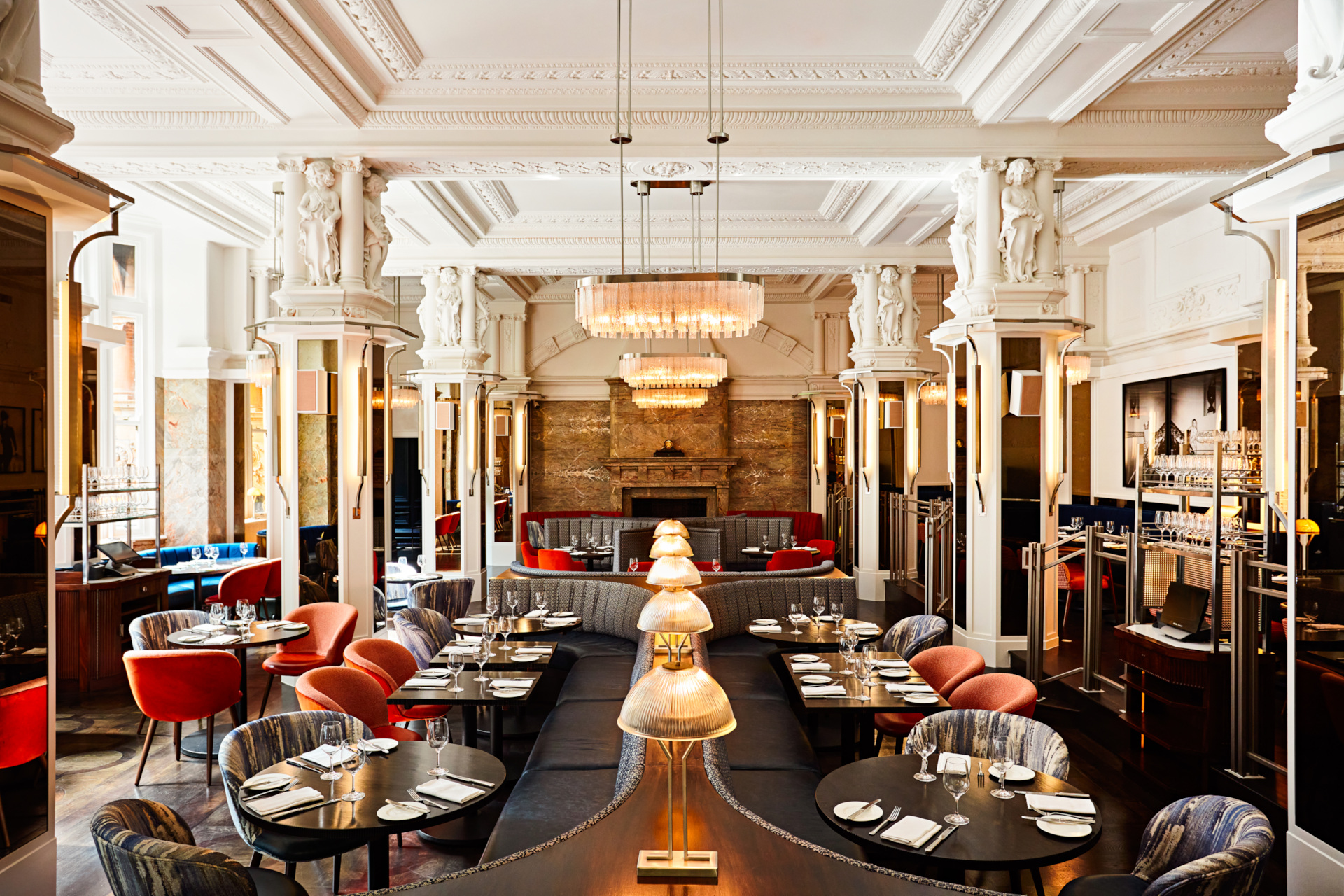 Sitting on the corner of Russell Square and Guildford Street, this swanky eatery from Galvin restaurant group oozes urban charm. A blend of Art Deco and modern finishes – think glass chandeliers, black and white photographs, low-lit lamps and neoclassical columns set against dark wood and plush curved benches – Galvin Bar & Grill was used as inspiration for the RMS Titanic's infamous dining room, and continues to lure guests in with its relaxed atmosphere and tasty dishes. Part of the fun of dining at Galvin is the interaction with its waitstaff; after the in-house sommelier has brought over a cold bucket of bottles to choose from (we opted for Galvin's own champagne, a tangy drink with an undertone of sweetness and lots of bubbles), a waiter will make their way over with a selection of meats from the grill for you to choose from (they'll also recommend how each cut is best cooked), and then later drop by your table to prepare your salad starter in front of you. Don't be afraid to ask for recommendations, especially if you don't usually go for the grill – and be prepared to come away with a full, happy stomach. By Charlie Colville.
Address: 1-8 Russell Square (Corner of Guilford Street and Russell Square), London WC1B 5BE
BOOK: galvinrestaurants.com
Jacuzzi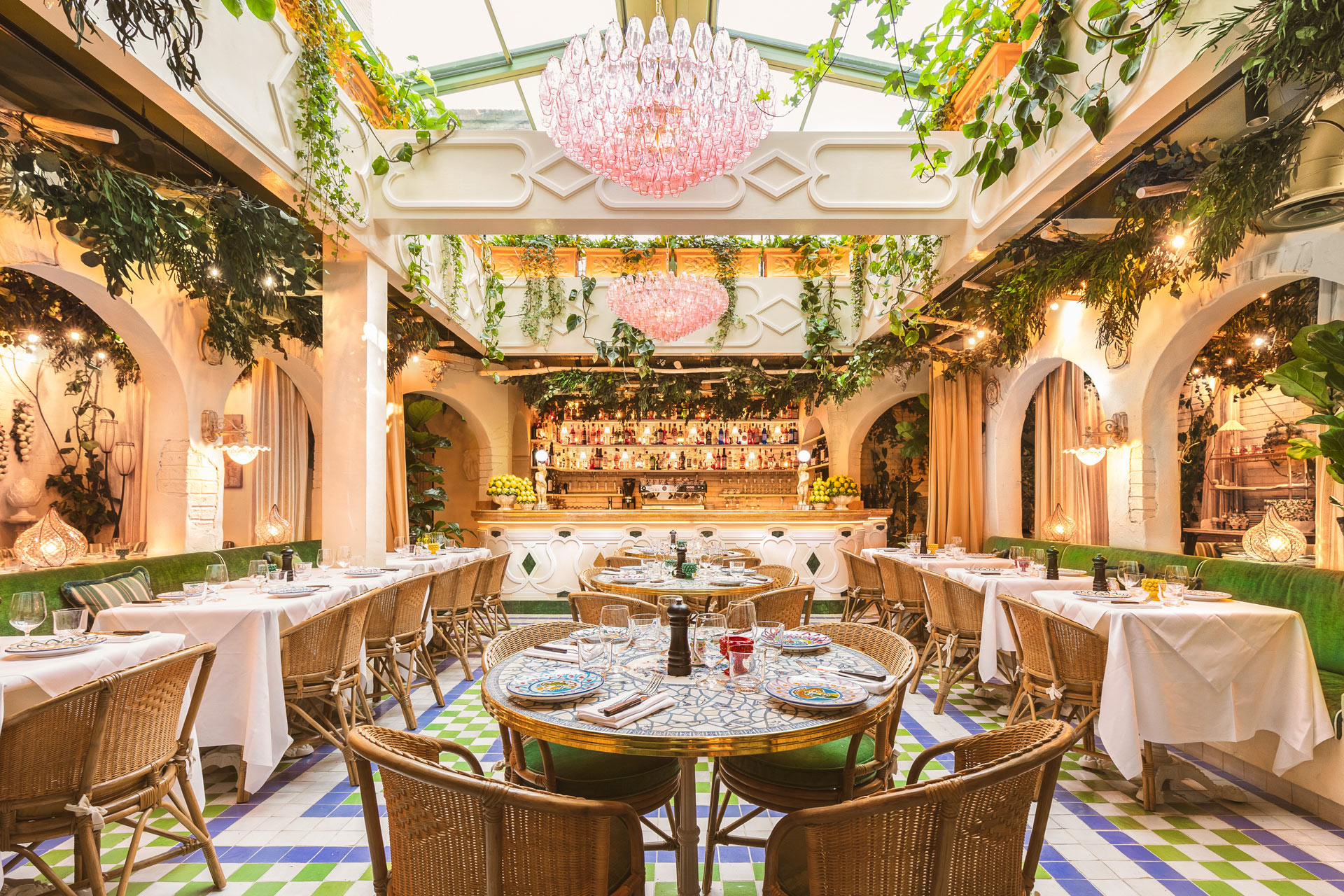 Parisian powerhouse Big Mamma Group is renowned for its extravagant restaurants, but this one is perhaps the most OTT yet. Jacuzzi, opener earlier this year in Kensington, is jam-packed with selfie opportunities, with a botanical-style mezzanine, a retractable glass ceiling and glitter ball toilets. The food is equally snappable, with the group's famous cheese wheel pasta now served in a 4kg wheel of pecorino and topped with truffle. Check out our full review here.
Address: 94 Kensington High St, London W8 4SJ
BOOK: bigmammagroup.com
Decimo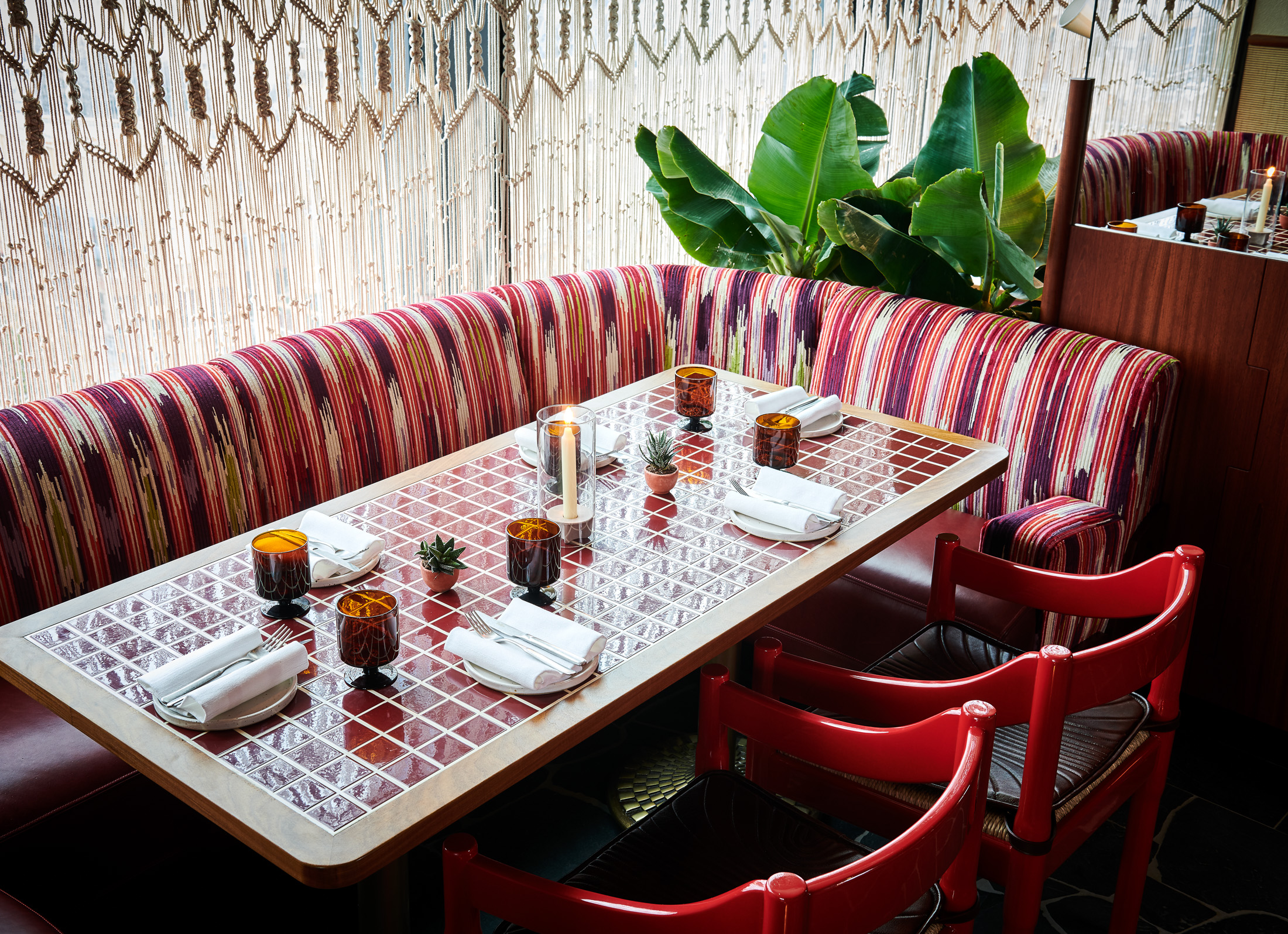 The curvature of the floor-to-ceiling windows of this intimate, exciting restaurant on the tenth floor of the Standard Hotel has you raptured as you peek out across the light-dazzled city sky to St Paul's Cathedral, the Shard to the south and the St. Pancras Renaissance Hotel just across the road – every side needs examining. The roaring fires only add to the warm glow of Chef Peter Sanchez-Iglesias' first London outpost, which is enhanced by sexy lighting, deep banquettes and the gold and reddish hue emanating from the interiors. The bathrooms too are up there with the most exciting in the city. Your camera can be firmly trained on the food – daring, delicious, stunningly conceived by the Michelin-starred chef who mixes up Spanish and Mexican dishes with flawless flair (the pork ribs with mole glaze is a standout).. 'This is the perfect place to conduct an affair,' quoted one diner…. We promise we won't tell anyone.
Address: 10 Argyle Street London WC1H 8EG
BOOK: decimo.london
Isabel Mayfair
With its gold-fabric lined walls, mirrored ebony bar and polished brass lamps adorning the ceiling, Mayfair hotspot Isabel is certainly a feast for the eyes. Opened in 2017 by Chilean banker turned restaurateur Juan Santa Cruz, it's the sister venture to the glossy Casa Cruz in Notting Hill, designed as a more feminine counterpart – the name apparently a tribute to Santa Cruz's grandmother. Venture down a wooden hallway to find the gilded dining room, which is decked out in a mix of Art Deco and Chinoiserie décor and filled with suitably well-heeled diners – who glow even more than usual under the light of 300 overhead lamps, designed to enhance skin tones. Perhaps the most Instagrammable of all, though, are the bathrooms, with each loo featuring hand-painted wallpaper from de Gournay. Check out our full review here.
Address: 26 Albemarle St, London W1S 4HY
BOOK: isabelw1.london
The NoMad Restaurant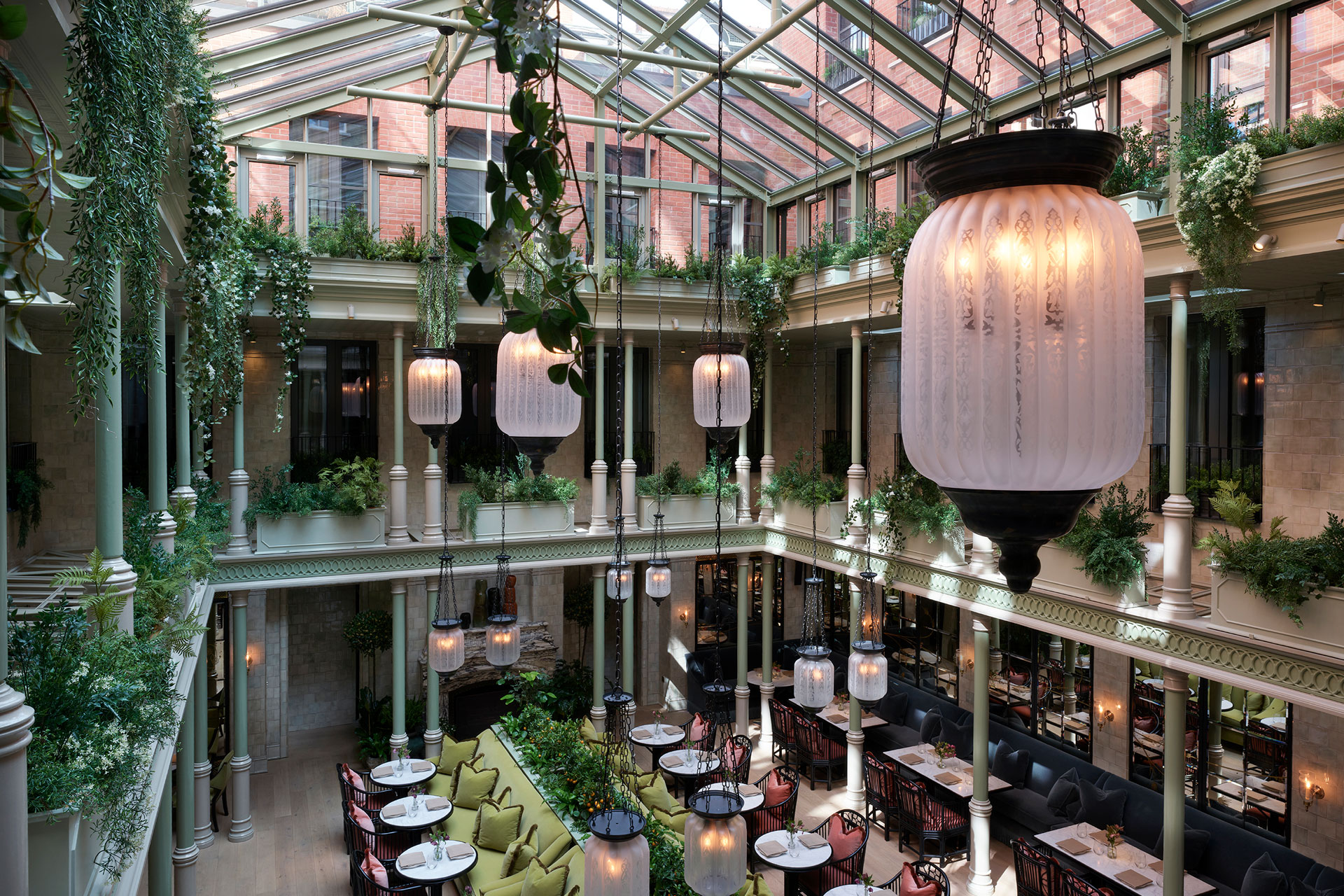 Causing a stir in Bow is the first London outpost from New York's buzzy NoMad Hotels group, located in a former Magistrates Court. Its piece de resistance? The soaring three-story glass-roofed atrium, which serves as the hotel's restaurant, and will no doubt continue to pop up on many Instagram feeds this season. Luckily it's not all style over substance though, with an eclectic menu that blends comfort with decadence. Check out our full review here.
Address: 28 Bow St, London WC2E 7AW
BOOK: thenomadhotel.com
Gloria
Brightening up Great Eastern Street with its sunny yellow façade is Gloria: another larger-than-life Italian trattoria from Big Mamma Group. If you haven't been yet you'll most likely have seen this Instagrammable restaurant all over your feed: the interiors – courtesy of Studio Kiki – were designed to be photographed. With its pinstripe upholstery, marble table tops and gilded light fixtures, Gloria takes diners back to 1970s Capri. The food, meanwhile, is a sight for the eyes as well as the tastebuds: the carbonara sharing dish, for instance, comes served in a wheel of parmesan.
Address: 54-56 Great Eastern St, London EC2A 3QR
BOOK: bigmammagroup.com
Sketch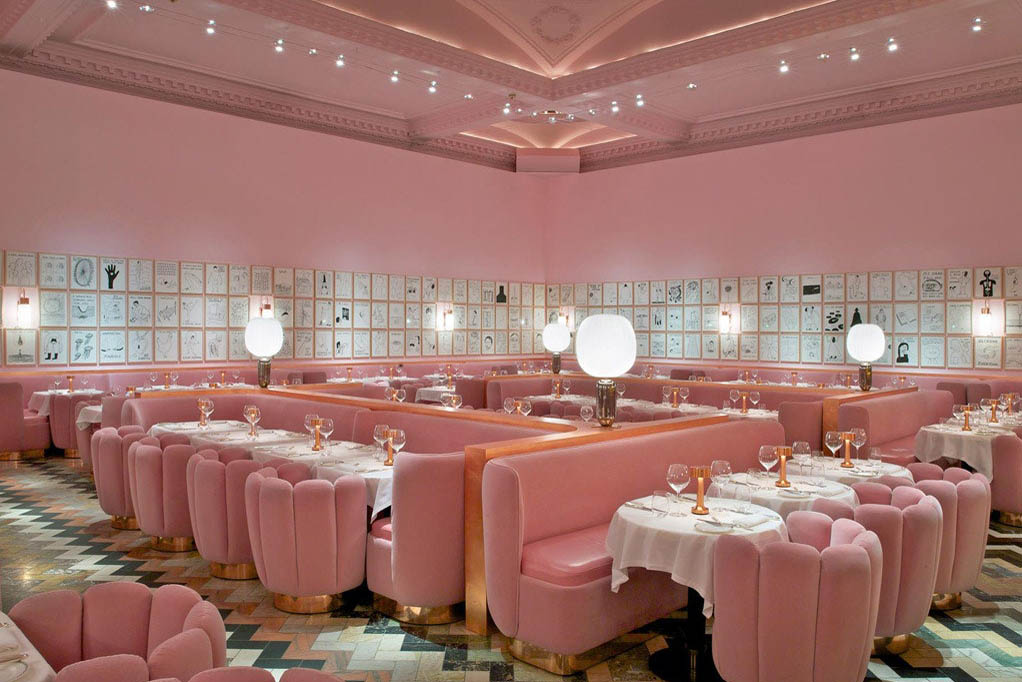 A Narnia-style hub of Instagrammable restaurants, bars and art on Mayfair's Conduit Street, sketch is a dining emporium like no other. Dreamed up by restauranteur Mourad Mazouz, it's made up of four uniquely designed restaurants and a bar which sits beneath the pod-style toilets – most likely the most photographed bathroom in the city. Other famous snap spots include the pastel pink Gallery with David Shrigley artwork adorning the walls, and the Swarovski-encrusted bathroom: Instagram gold.
Address: 9 Conduit St, London W1S 2XG
BOOK: sketch.london
Sexy Fish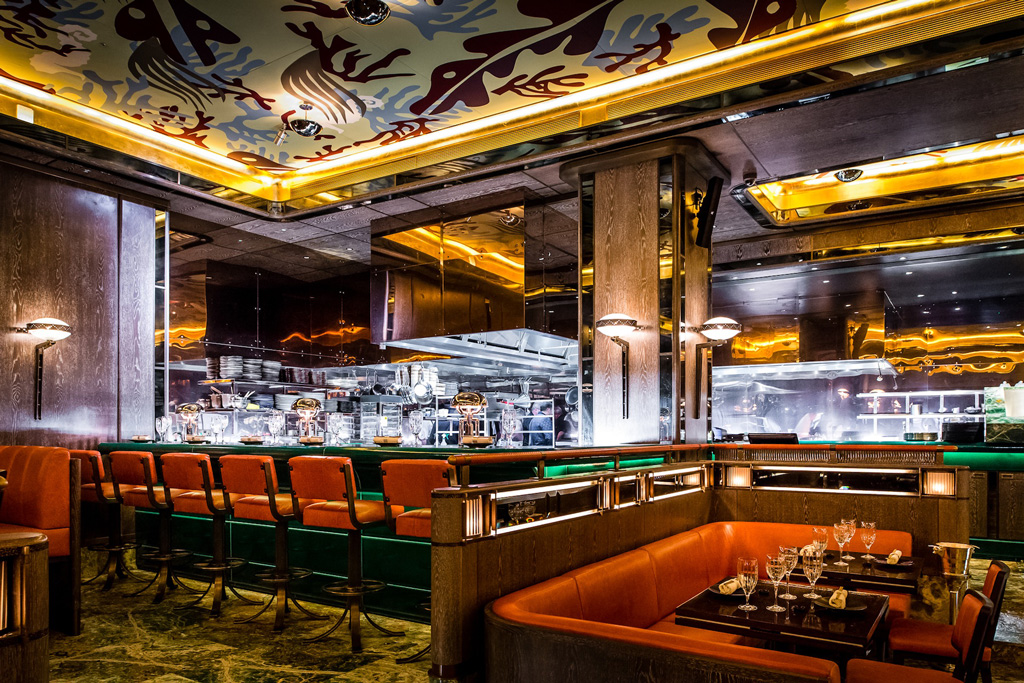 Arguably the city's most flamboyant restaurant, Richard Caring's Sexy Fish is a sight to behold. Apparently it cost £15 million to produce – which won't come as a surprise to anyone who has stepped inside. With bronze Damien Hirst-designed bronze mermaids adorning the bar, a coral reef ceiling, a giant gold-plated crocodile on display and walls running with water, the space feels like some kind of mystical, underwater-inspired wonderland. And to take things even further, the private dining room boasts its own real-life aquarium.
Address: Berkeley Square House, Berkeley Square, London W1J 6BR
BOOK: sexyfish.com
Milk Beach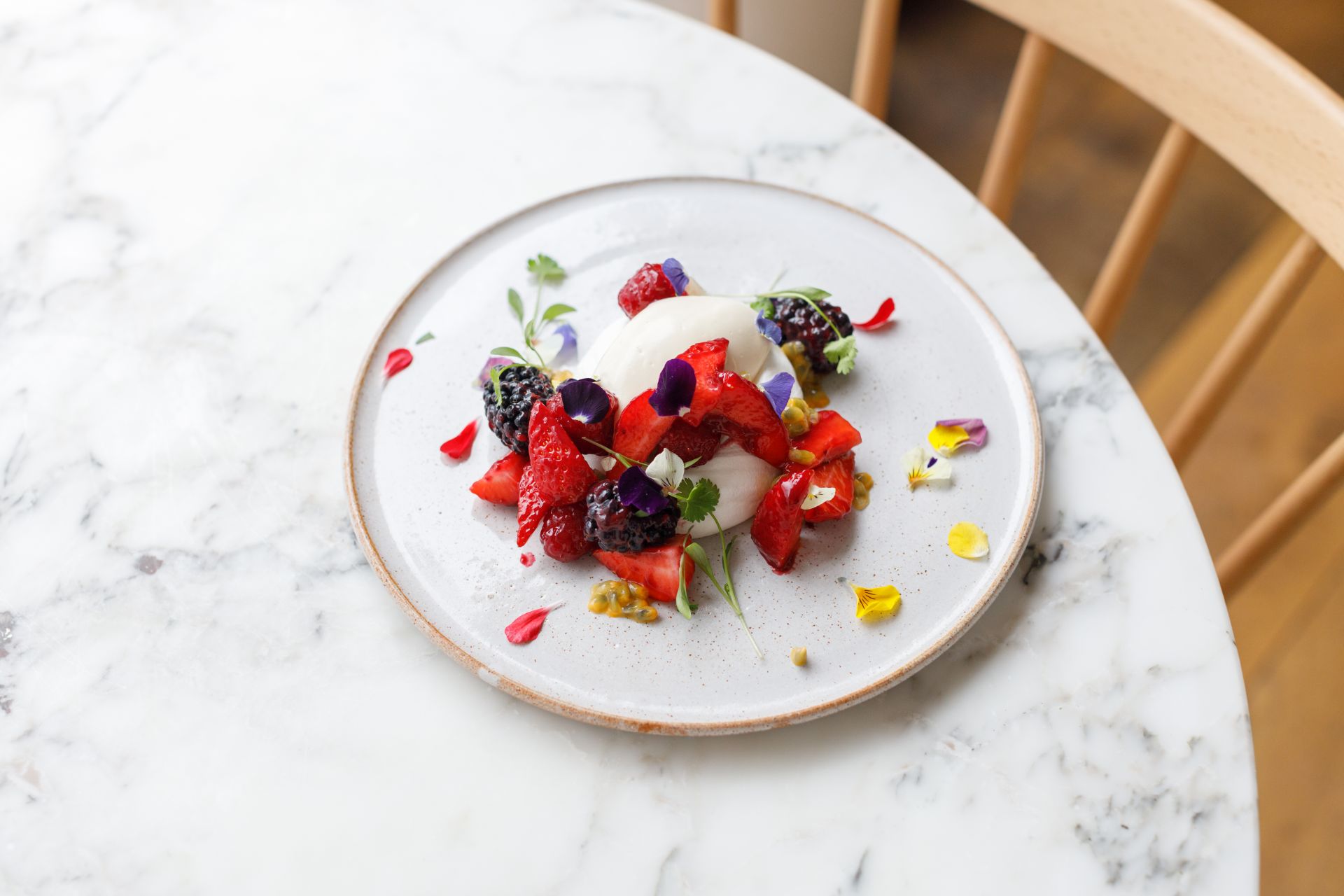 Sydney is renowned for its breezy café culture, which Elliot Milne has brought to London with Queen's Park hotspot Milk Beach. Perched on a cobbled mews street, with a jazzy exterior and plants flanking the entrance, it's Instagram material even from the outside. Inside is equally cool: all pale wood, whitewashed walls and natural woven lampshades, with an Australian-inspired menu serving food from breakfast through to dinner. There's an outpost in Soho, too.
Address: 19-21 Lonsdale Rd, London NW6 6RA
BOOK: milkbeach.com
Annabel's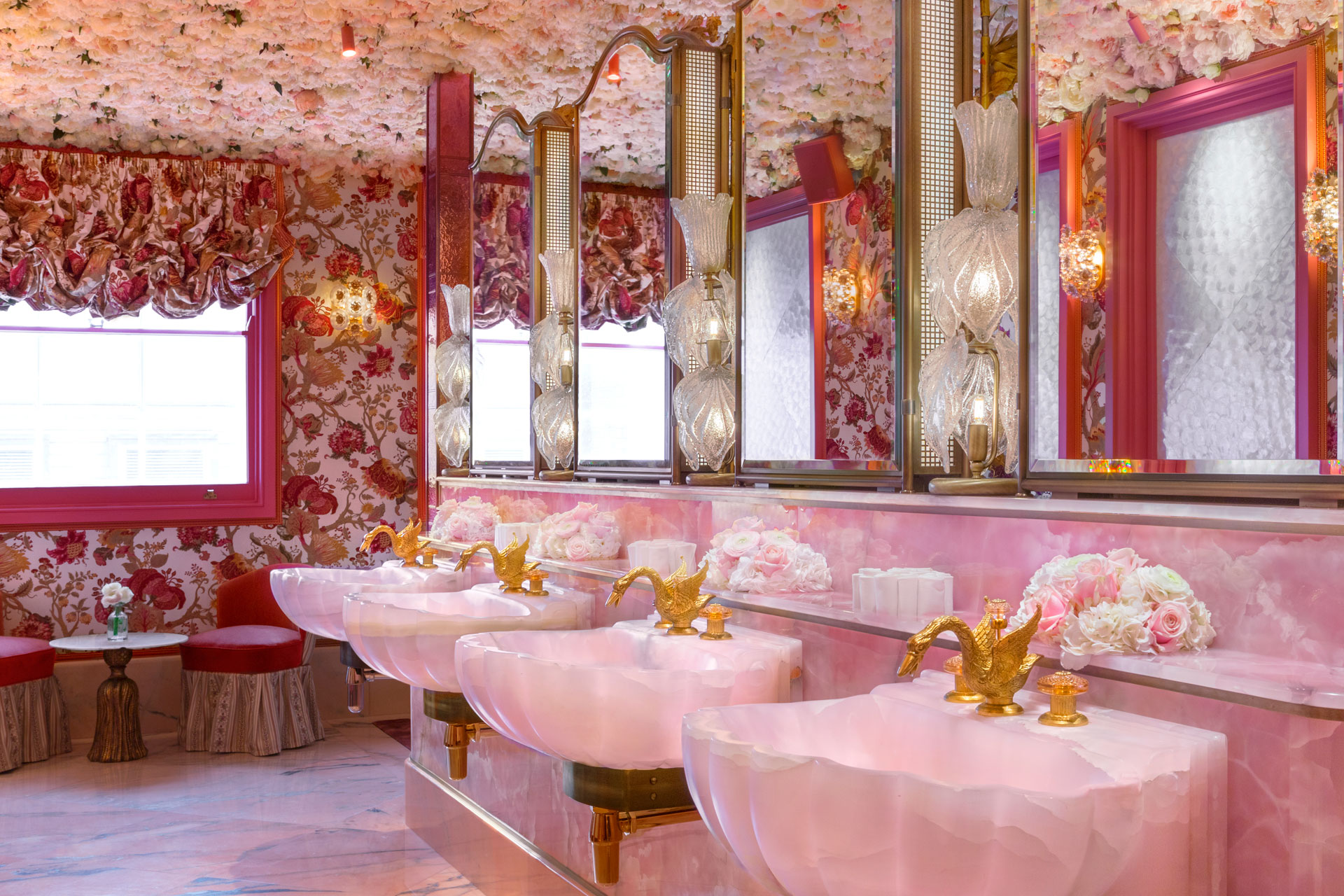 We have London-based designer Martin Brudnizki to thank for the interior dream (and Instagram fodder) that is Annabel's. The iconic members club re-opened in 2019 following a revamp, with a glitzy new design theme which draws on surrealism and eccentricity – Brudnizki describes it as 'like falling down the rabbit hole.' Vying with Sketch for the award of London's most beautiful bathroom is the rose-hued pink powder room, complete with floral wallpaper, pink onyx shell shaped sinks with gold swan taps and a pink silk rose ceiling. Elsewhere, a bespoke chandelier installation festooned with unicorn and monkeys swoops through several floors.
Address: 46 Berkeley Square, London W1J 5AT
BOOK: annabels.co.uk
Bourne & Hollingsworth
Green-fingered diners will love the leafy vibe at Bourne & Hollingsworth, a bright and airy dining room tucked away in Clerkenwell. From the dishes to the décor, everything at this Instagrammable restaurant is waiting to be photographed. Interiors have a minimalist yet vibrant vibe, with whitewashed walls, antique furniture, tropical upholstery and foliage aplenty.
Address: 42 Northampton Rd, London EC1R 0HU
BOOK: bourneandhollingsworth.com
Restaurant Ours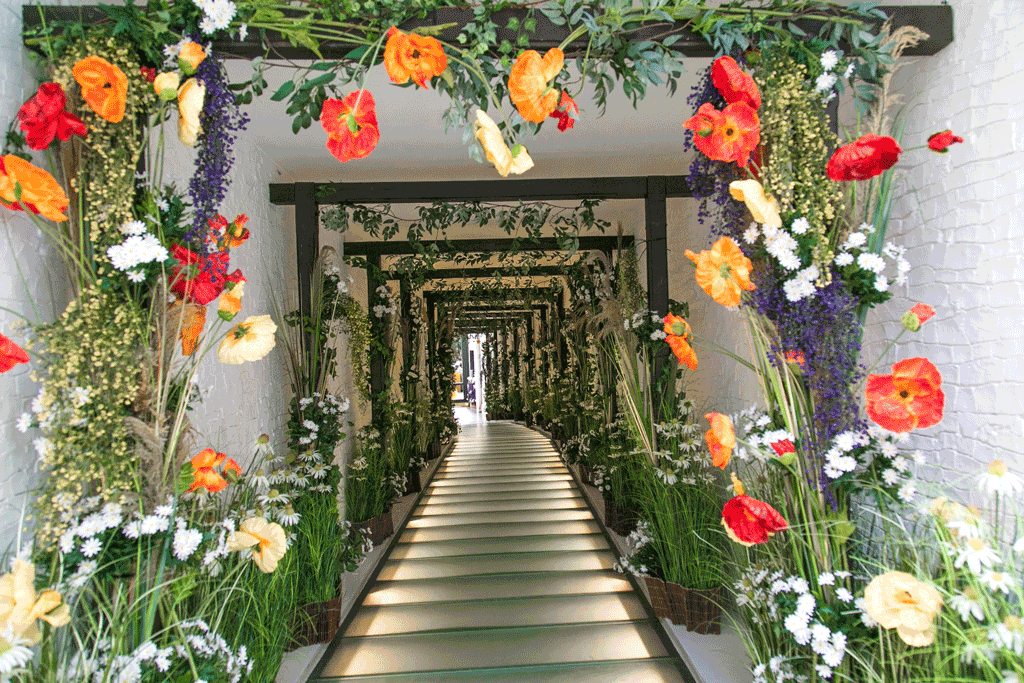 Everyone knows flower walls were designed for Instagram feeds, and Restaurant Ours is well-equipped on that front. But the most mesmerising space here is in fact the entrance: a catwalk-inspired, flower-bedecked, lit-up walkway which seems to stretch back for miles. Once inside, you'll be met with 'outside inside' interiors, with fairy-lit trees, a living plant wall and tropical bathrooms.
Address: 264 Brompton Rd, South Kensington, London SW3 2AS
BOOK: restaurantours.com
Brasserie of Light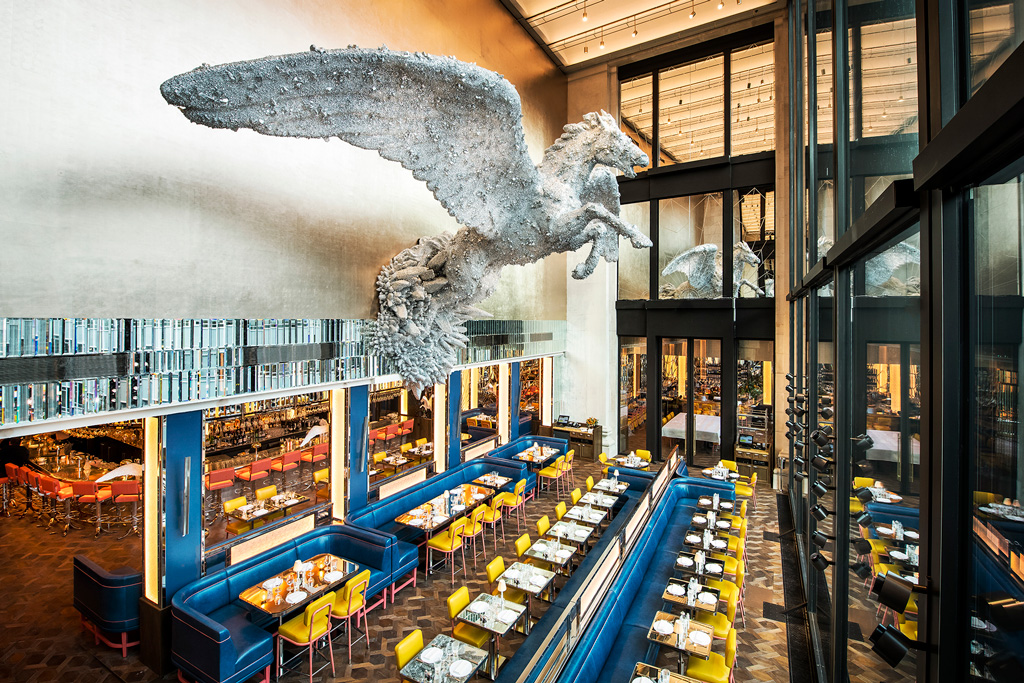 Selfridges' all-day restaurant Brasserie of Light stays true to its name. Illuminated by glowing orbs, the centre-piece is a 24ft crystal-encrusted statue of Pegasus by Damien Hirst, which soars over diners with its colossal 30-ft-wings outstretched – Hirst's largest piece of artwork in London to date. Another of Martin Brudnizki's projects, the restaurant was created as the final part of the department store's £300 million investment in its London flagship. It was one of the most talked about openings of 2018, and most likely one of the most photographed too.
Address: 400 Oxford St, Duke St, London W1A 1AB
BOOK: brasserie-of-light.co.uk
Toklas
For more of a laid-back, Mediterranean vibe in the city, head to Toklas in Temple. Just down the road from Somerset House, you'll venture up some concrete stairs to get here, doubting the whole time that you're in the right place. But at the top you'll be welcomed by an expansive terrace filled with colourful chairs and terracotta potted plants, covered by a white veranda. Instagram pics taken here benefit from the less showy design choices; you'll simply look like you've taken an impromptu trip to the Med, or you're cool enough to know the spots in London that give that impression anyway. Inside, there's a similarly chic, understated scheme, with pinks, greens, natural wood and art adorning the walls. And, with a weekly-changing seasonal menu that celebrates seasonal produce and exciting flavour combinations, a playful cocktail list and extensive wine options, it's not just a feast for your eyes. Don't miss the thick bread, baked just down the road at Toklas Bakery. Or the fresh veggies. Or the fish. Truly, you'll be spoiled for choice. By Olivia Emily.
Address: 1 Surrey Street, London WC2R 2ND
BOOK: toklaslondon.com
Clos Maggiore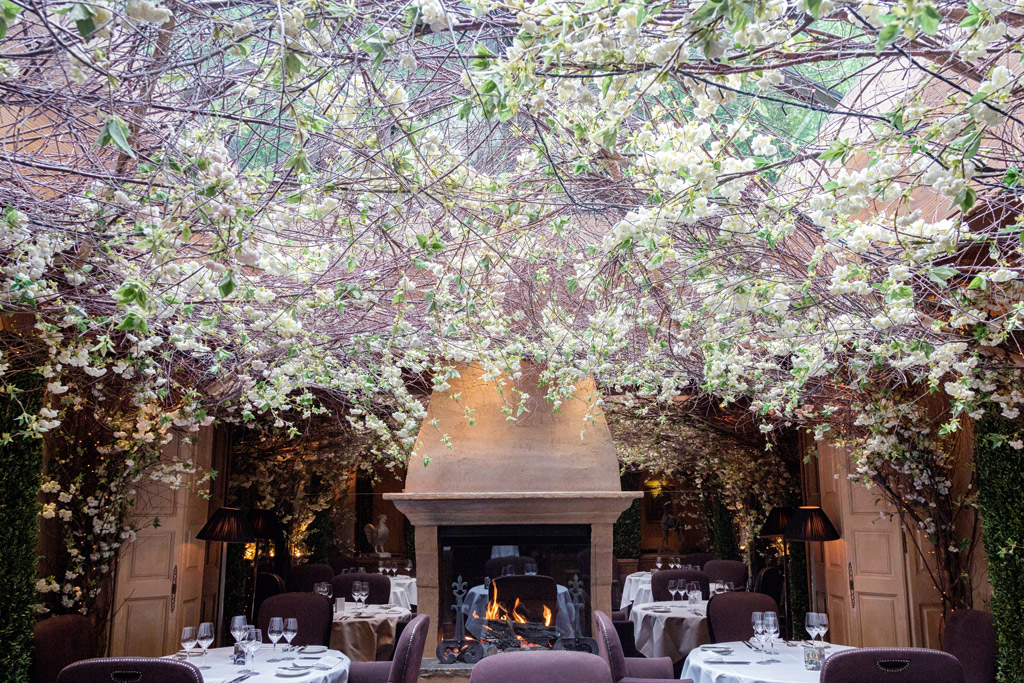 With its canopy of blossoms, twinkling lights and cosy fireplace, it's no surprise Clos Maggiore is often billed as the most romantic restaurant in London. Whether you're sitting in the glass-roofed conservatory or the wood-panelled restaurant, you'll struggle to resist getting some snaps for the gram.
Address: 33 King St, London WC2E 8JD
BOOK: closmaggiore.com
Winter Garden at The Landmark London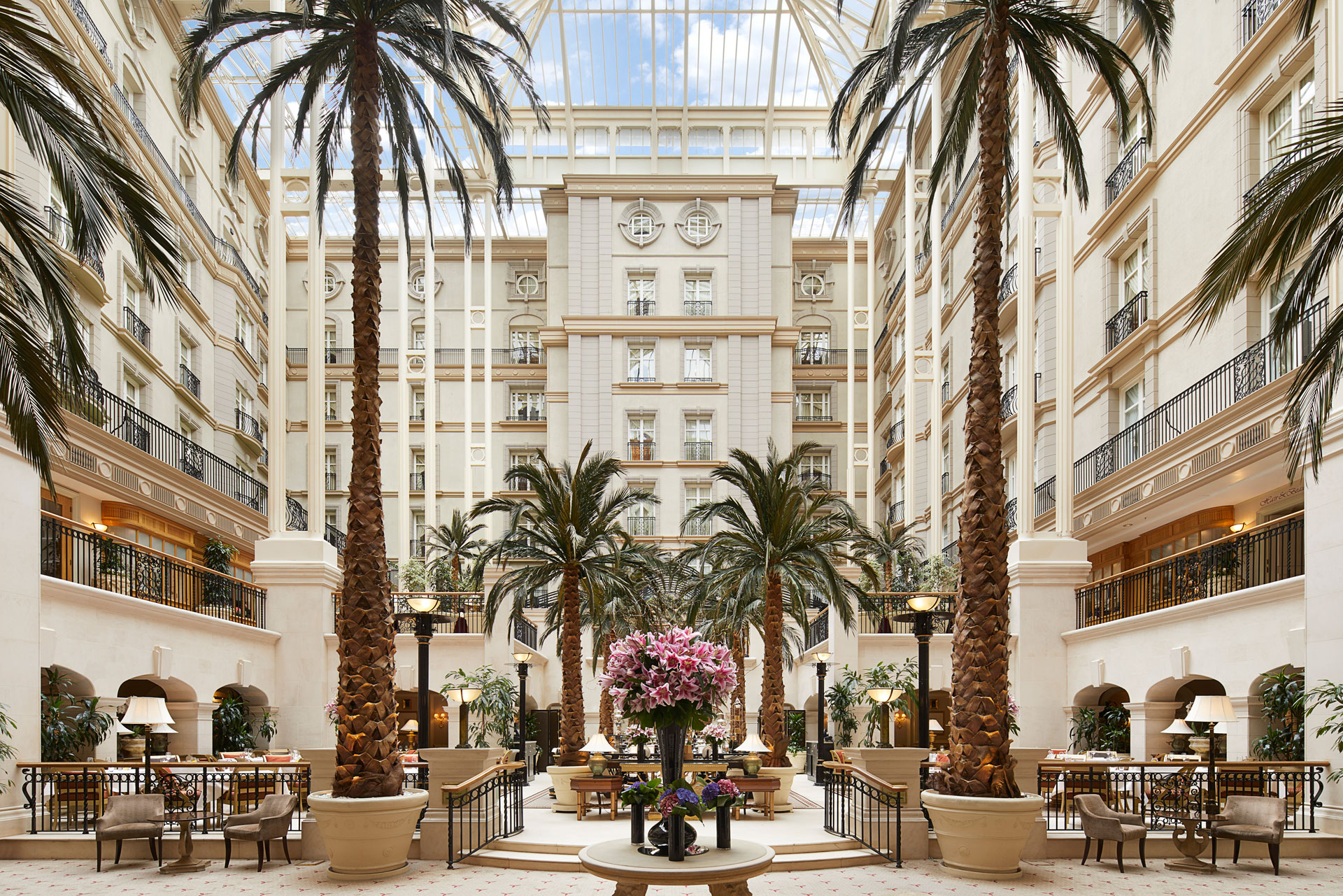 Stepping inside Marylebone hotel The Landmark London feels like entering a huge, luxurious greenhouse. An eight-storey glass-roofed atrium with towering palm trees and marble galore, the Winter Garden is designed to dazzle, with interiors a cross between glamorous Dubai and traditional Britain. Go for its award-winning afternoon tea, camera at the ready.
Address: The Landmark London, 222 Marylebone Rd, London NW1 6JQ
BOOK: landmarklondon.co.uk
Dalloway Terrace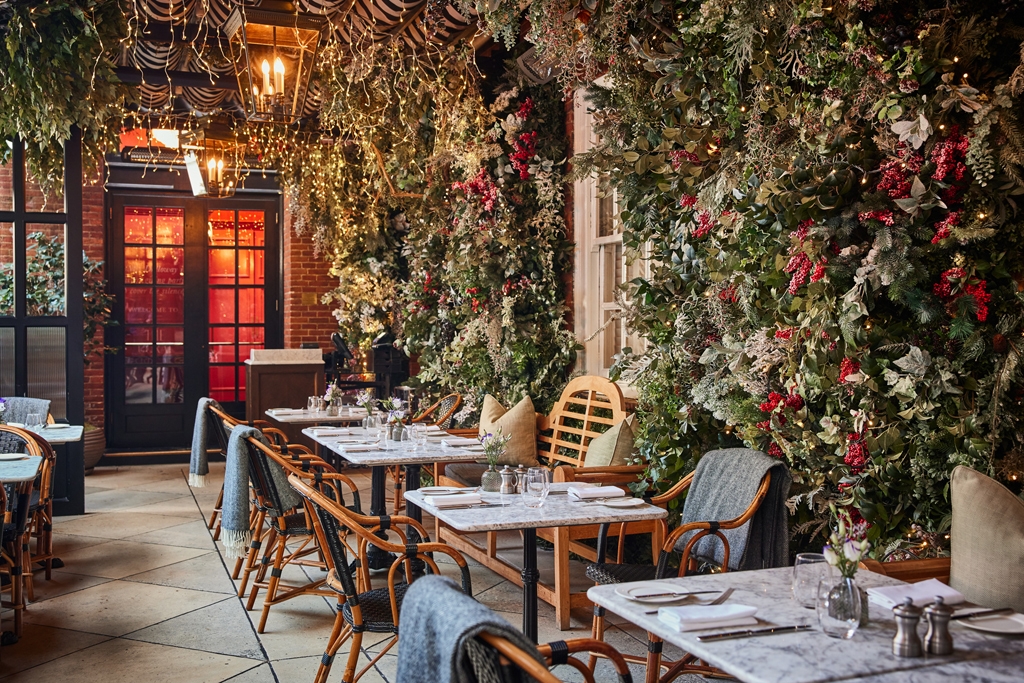 Another big name when it comes to Instagrammable restaurants is the beautiful Dalloway Terrace. Named after Virginia Woolf's famous character Mrs Dalloway, the balcony at the Bloomsbury Hotel's al fresco restaurant and bar is picture-perfect. Covered and heated, it's a popular spot year-round, with décor changing along with the seasons. The terrace is now available to book exclusively too, the perfect secluded outdoor space for small events and missed celebrations.
Address: 16-22 Great Russell St, London WC1B 3NN
BOOK: dallowayterrace.com
Coppa Club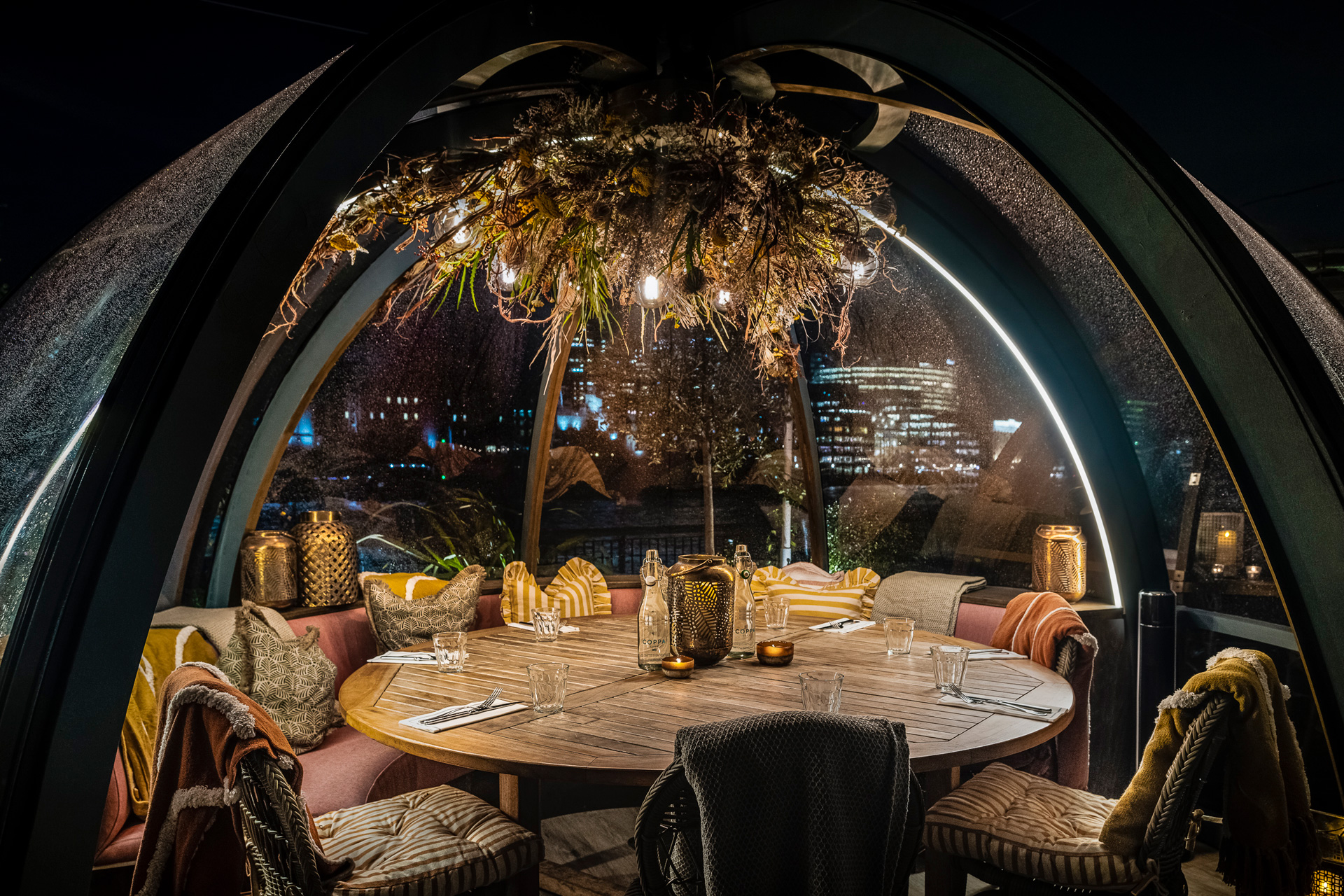 Whatever the season, us Londoners can't seem to get enough of Coppa Club's riverside igloos. In summer they're plant-filled, tropical-inspired spots; in winter cosy hangouts with sheepskin rugs and fairy lights. Go on a clear night for optimum Insta-worthy snaps of the igloos in their prime, sparkling against the night sky with Tower Bridge as a backdrop.
Address: 3 Three Quays Walk, Lower Thames St, London EC3R 6AH
BOOK: coppaclub.co.uk
Linnaean
South London's answer to Instagrammable restaurants is Linnaean: a health-focused café, apothecary and beauty salon named after Swedish naturalist Carl Linnaeus. Located in the heart of London's Embassy Gardens, Linnaean is a beautiful space, with a very Instagram-friendly flower ceiling, hanging lights and pastel pink bar seats, alongside an equally pretty – and delicious – food offering. Afterwards, pop into the salon for a treatment for a long-awaited self-care day.
Address: Embassy Gardens, 2 New Union Square, Nine Elms, London SW11 7AX
BOOK: linnaean.co.uk
Featured image: Jacuzzi