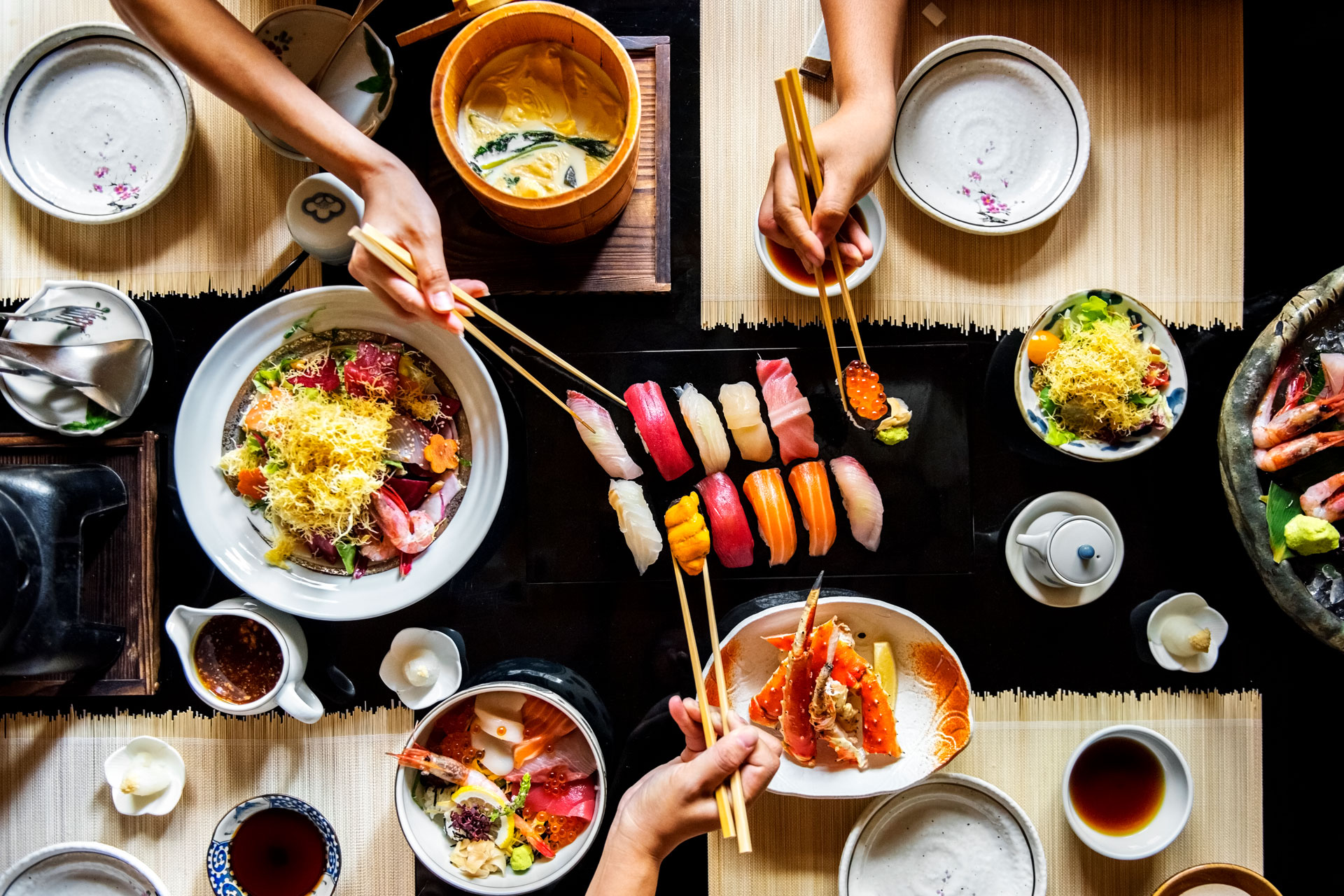 The Best Japanese Restaurants in London
It's sashimi, tempura and noodle galore at the capital's finest Japanese spots
Whether you're after an omakase blowout or the best wagyu in town, we've got you covered with our guide to the best Japanese restaurants in London. Japanese food is notoriously expensive, particularly when it comes to sushi, so we've picked out the glitziest spots worth shelling out for – including Michelin-starred restaurants and sky-high city spots. But if you're on a budget, there are plenty of low-key, good-value options too – from cheerful ramen joints to street-food style gems. Read on for the best of the bunch.
The Best Japanese Restaurants in London
The Aubrey at the Mandarin Oriental, Knightsbridge
KOYN, Mayfair
Omakase by Sushi Kamon, Tottenham Court Road
Junsei, Marylebone
TOKii, Marble Arch
Aqua Kyoto, West End
Taka Marylebone
Nanban, Brixton

Angelina, Dalston

Zuma, Knightsbridge
Tsunami, Clapham
SUSHISAMBA, City
Nobu London Old Park Lane, Mayfair
"mu", Dalston
Shoryu, various locations
UMU, Mayfair
Kanada-Ya, various locations
Rika Moon, Notting Hill
Chotto Matte, Soho and Marylebone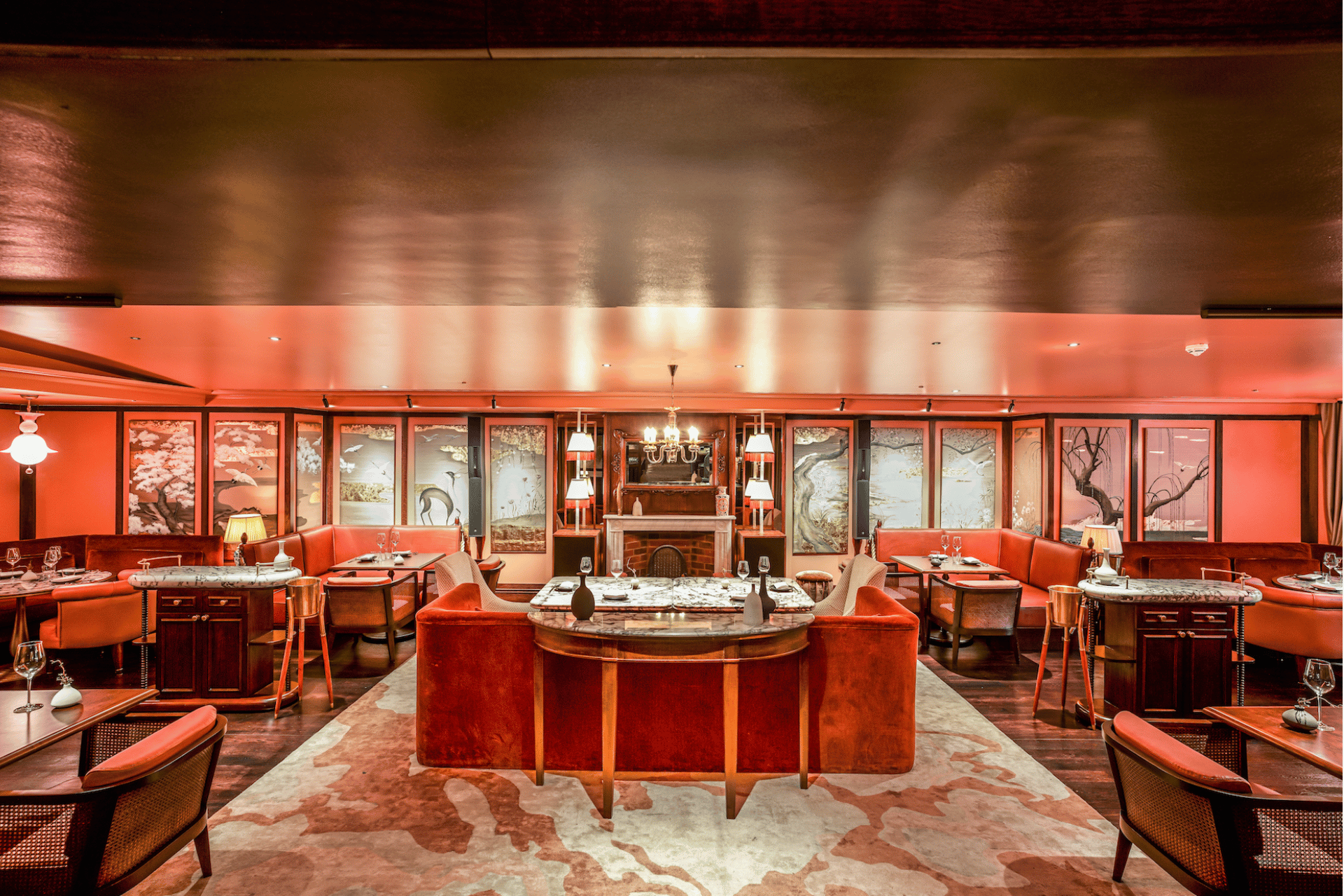 The Aubrey at the Mandarin Oriental, Knightsbridge
Nestled in the iconic façade of Mandarin Oriental in Knightsbridge, The Aubrey is an eccentric Japanese restaurant and bar offering a tantalising izakaya (a place to settle in and get comfortable) experience. The menu is extensive and offers the freshest ingredients with dishes such as A5 Kagoshima Wagyu Sando, Yellowtail Nigiri with an interesting sprinkle of ants (yes, the insect…) and Lamb Rack Robata. While the food is nothing short of exquisite, the heart of this izakaya lies in its carefully crafted signature and seasonal cocktails. The Aubrey has an innovative take on its cocktails, marrying Japanese flavours and Asian ingredients to take you on an adventure. The experience is as if you were on a night out in Ginza, Tokyo's buzziest upmarket district with live DJs performing late into the night from Thursday through to the weekend in its vibrant setting.
66 Knightsbridge, London SW1X 7LA; mandarinoriental.com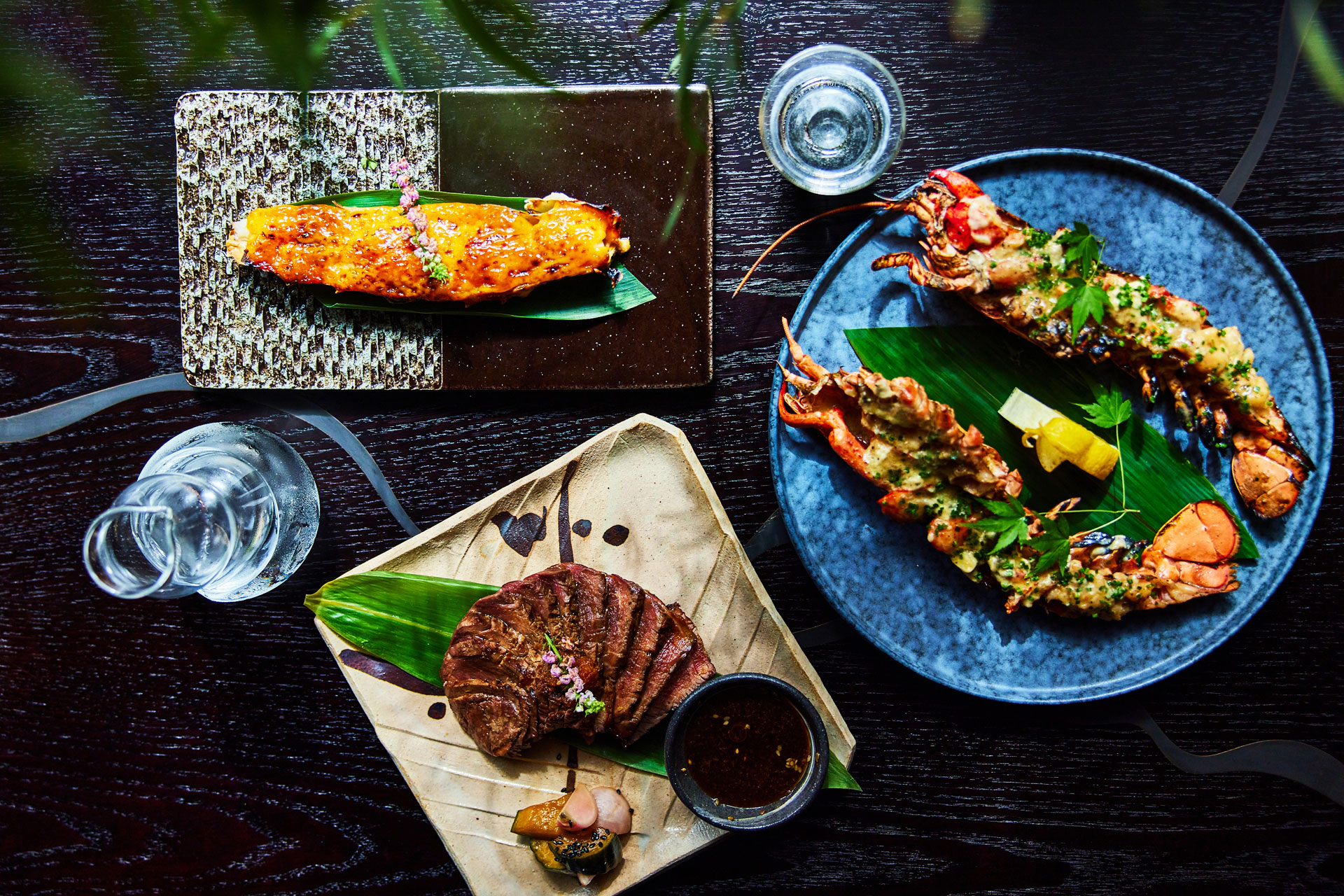 KOYN, Mayfair
Samyukta Nair is a key player on the Mayfair restaurant scene, having created some of the neighbourhood's most popular hotspots – from Jamavar to MiMi Mei Fair. But her latest opening is arguably the best yet. Launched in September 2021 on Grosvenor St is KOYN, a Japanese restaurant with chic interiors and a stellar food and drink offering spearheaded by ex-Nobu chef Rhys Cattermoul. The concept was inspired by Mount Fuji, and its dual nature – both its calm slopes and its fiery centre. Housed in the former US embassy, the restaurant is split into two distinct areas. Upstairs there's MIDORI, a calm space which channels Japanese zen gardens with iridescent oyster shell walls and blue banquette seating, plus a marble sushi bar. Head down the staircase for a mood change at MAGMA, a subterranean space reflecting the volcanic insides of Mount Fuji, complete with a fiery robata grill, black oak ceilings, terracotta walls and burnt orange leather stools. 
38 Grosvenor St, London W1K 4QA; koynrestaurants.com

Omakase by Sushi Kamon, Tottenham Court Road
Located at Arcade Food Hall, Sushi Kamon offers an Omakase experience where Chef Michael Nonato personally takes patrons through a nine-course tasting menu that centres on the key principles of sushi. For instance, seasonality, texture, oiliness of the fish and the delicate balance of ingredients required to form each dish. This allows for a fully immersive experience for those who enjoy learning about the dishes being served. Highlights on the current menu include seven days aged Maltese Tuna Chutoro with zuke soy; Scottish dived scallop tempura with Caviar house Prunier; Japanese Yellowtail; and Smoked Otoro, which is cherry wood smoked and marinated in garlic soy. There's also the option of a sake pairing alongside the menu, or cocktails from the bar, such as Spicy Margaritas, Amber Negronis and Dirty Martinis, too. Seatings are at 6.30pm and 8.30pm for the Omakase experience from Tuesday to Saturday and we recommend booking at least a week or two ahead of time.
103-105 New Oxford St, London WC1A 1DB; arcadefoodhall.com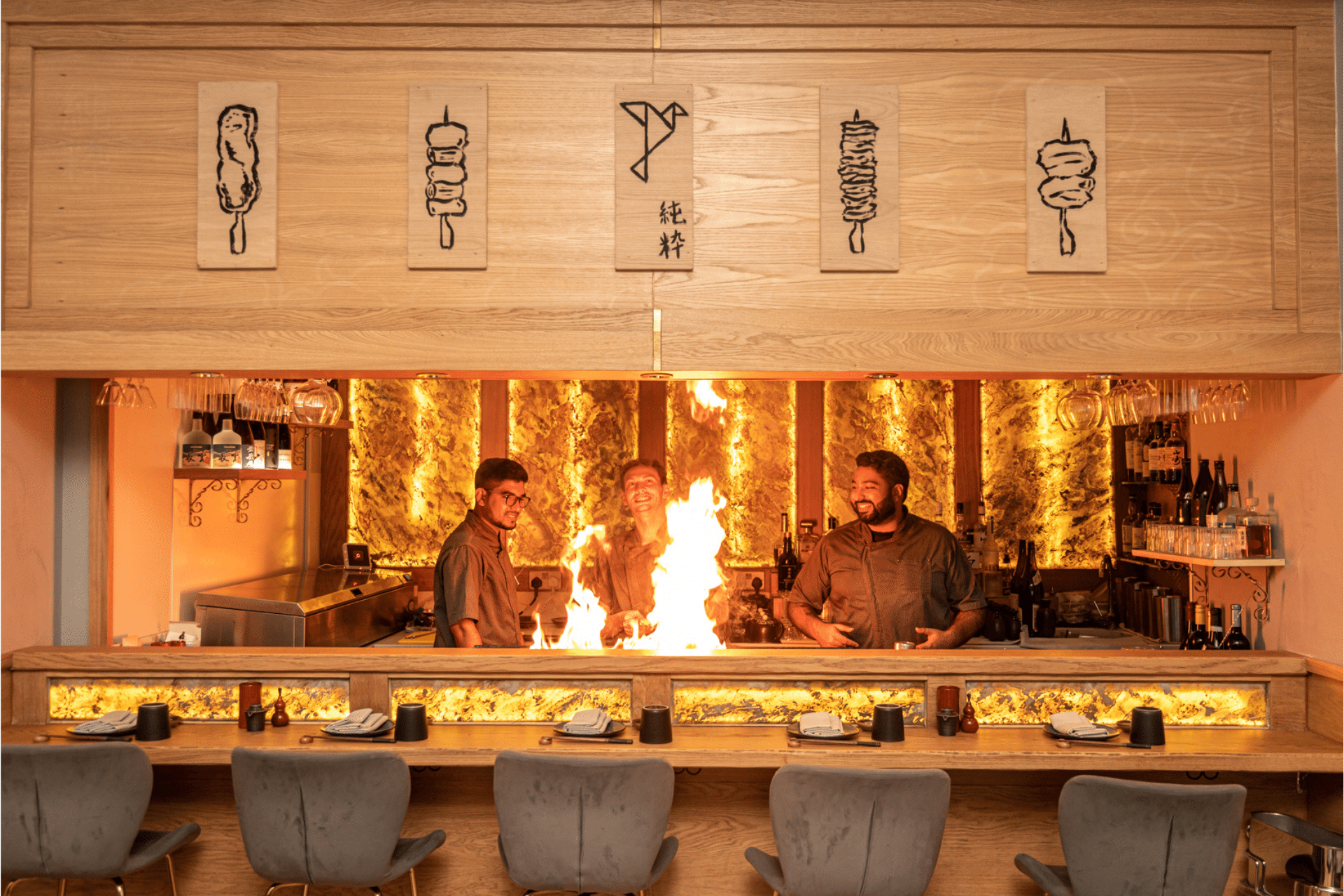 Junsei, Marylebone
Junsei at Marylebone is an elegant Japanese restaurant with a relaxed and minimalistic interior. The intimate restaurant puts the spotlight on yakitori (grilled bird) and focuses on zero waste with a menu that features a myriad of skewers that uses every part of the chicken, kushiyaki vegetable skewers, elevated donabe (rice) bowls and seasonal Japanese hot plates. The skewers are beautifully cooked over Binchōtan charcoal (made from Japanese oak and considered the purest charcoal in the world) on high heat resulting in a succulent texture and a pure finish. For those who love a surprise, you can opt for Omakase. Eight seasonal dishes will be prepared at the counter where guests can interact with the chef and see how the food is made. An extensive sake and shochu menu including Tamagawa 'Red Label' Heirloom Yamahai Genshu, the only sake made by an English sake master, is available alongside a carefully curated Japanese-inspired cocktail menu.
132 Seymour Place, London W1H 1NS; junsei.co.uk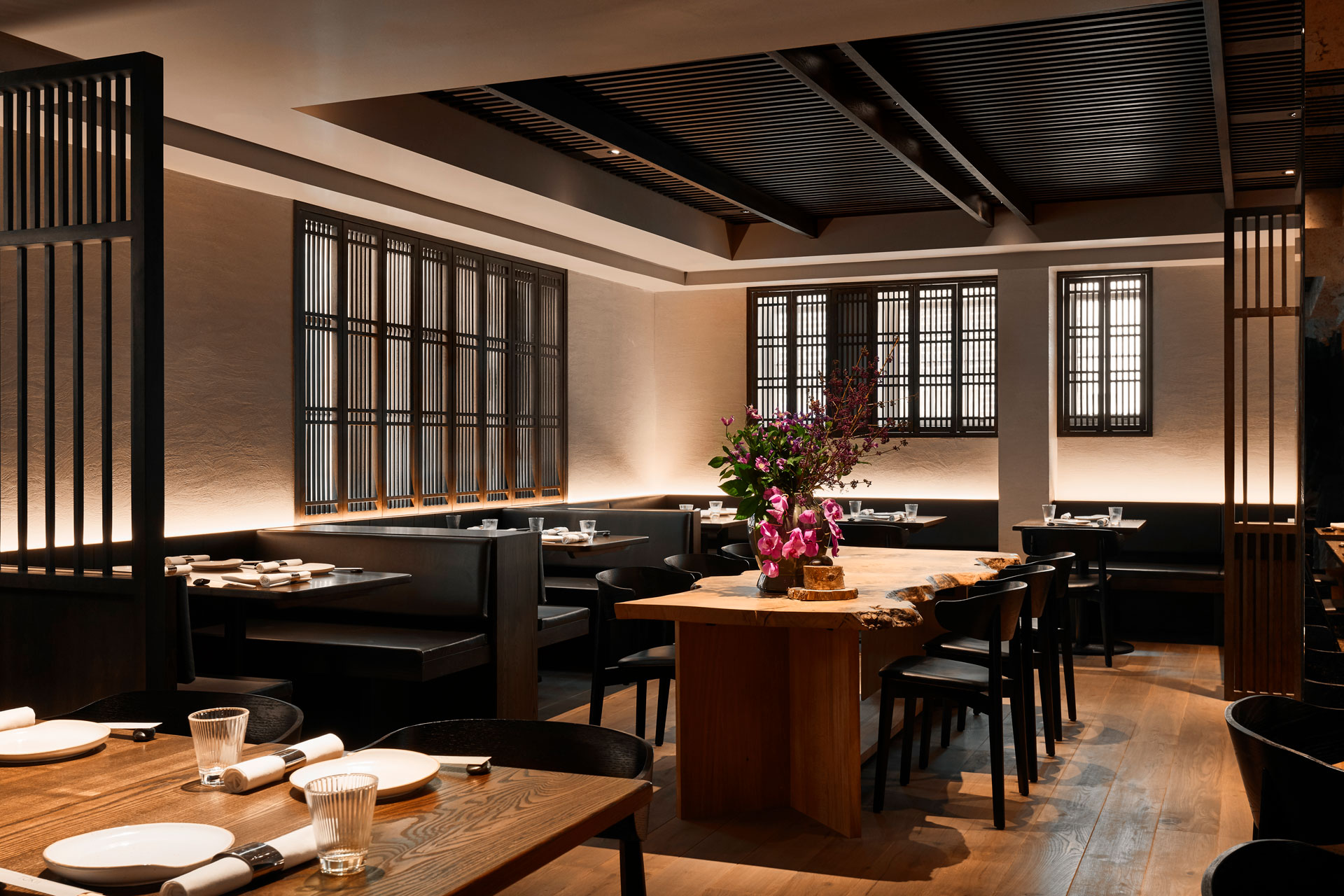 TOKii, Marble Arch
Found within The Prince Akatoki ('Akatoki' translating as dawn in Japanese) is the fine-dining restaurant TOKii. Japanese hospitality in the centre of the big smoke, here you'll find a simplistic Japanese design with sophisticated décor, subtle mood lighting and minimalist furnishings. Tradition meets mastery at TOKii, with its anything-but-ordinary cuisine. A nod to Japan's culinary heritage, the restaurant offers an authentic Japanese breakfast, afternoon tea, and in-house sushi masterclasses – (in addition to its lunch and dinner menus). The hotel's Malt Bar & Lounge is also a whisky lovers' paradise with a floor-to-ceiling cabinet that displays blends from around the world, and a unique cocktail list inspired by Japanese minimalism and flavours. The restaurant blends home-grown produce with Japanese flavours. This includes caramelised black cod with miso, sweetcorn fried rice and vegetarian dishes such as robata grilled aubergine with chilli, spring onion and ginger miso. Beyond this, the menu also offers lobster croquettes with mango and yuzu salsa or teriyaki duck breast with confit leg, orange, pomegranate and hazelnuts. At breakfast or brunch choose from familiar English dishes, or in keeping with the theme: traditional Japanese dishes. This includes the Japanese layered 'Tamago' omelette with miso soup, or rice and grilled salmon, washed down with sparkling sake.
50 Great Cumberland Pl, Marble Arch, London W1H 7FD; tokii.co.uk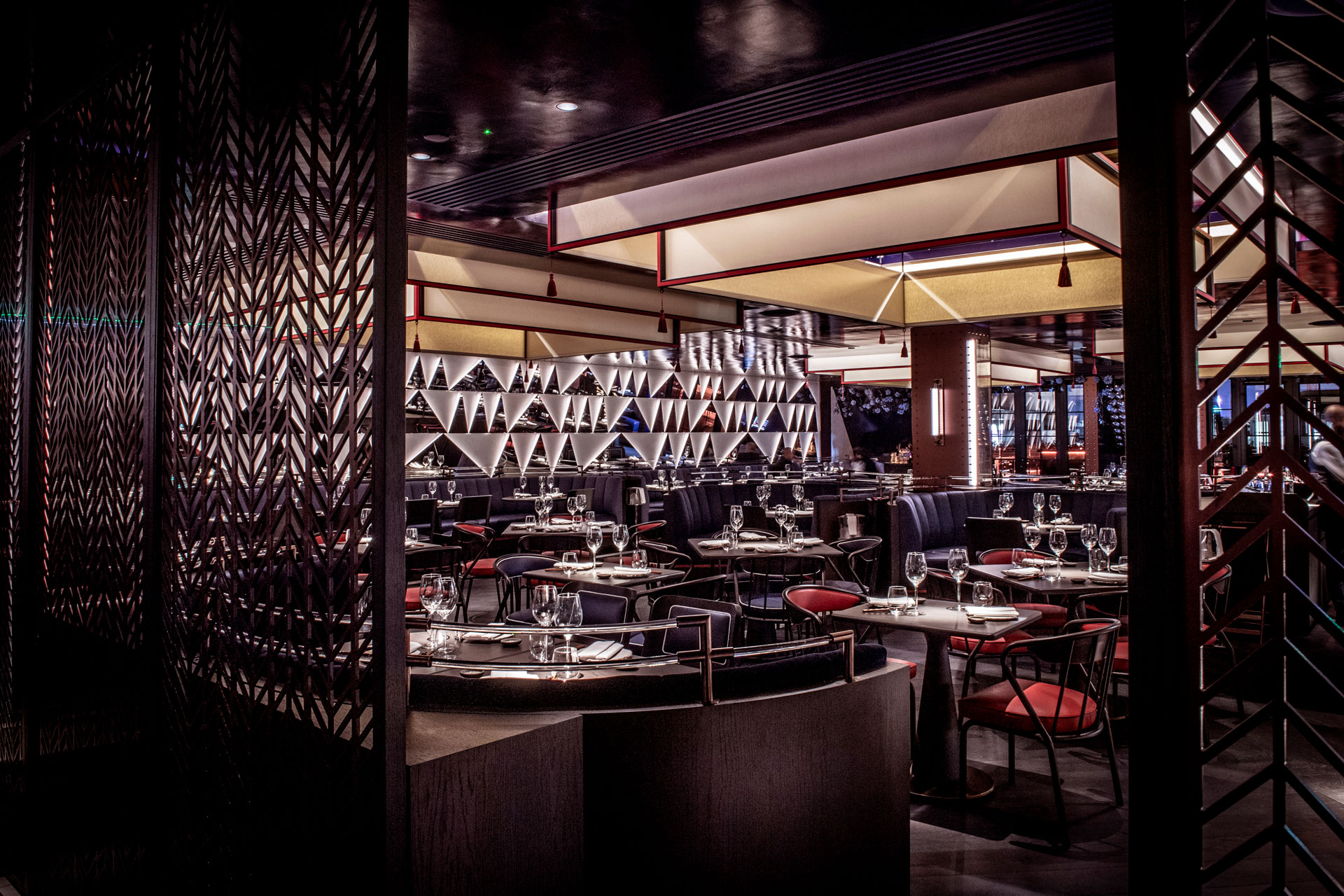 Aqua Kyoto, West End
Tucked away behind an unassuming entrance on Argyll Street is Aqua Kyoto, set on the fifth floor of the former Dickens & Jones building. It's one of two Aqua venues at the location, the other being Aqua Nueva, its Spanish sister – both sitting in the same group as The Shard's Aqua and Hutong restaurants. All restaurants in the Aqua group offer a different type of cuisine, and at the Kyoto branch, it's all about high-end Japanese food. It has always been a swish spot, but a 2020 refurbishment by Robert Angell Design International ramped up the glitz by introducing a marble-clad sushi counter and a mirrored lighting installation on the wall, which casts a sultry atmosphere across the restaurant. An expansive menu serves up everything you'd expect from a Japanese restaurant of this calibre. Overwhelmed? The Experience Menu does the hard work for you by picking a section of the chef's favourites – that includes rock shrimp tempura and grilled yuzu scallops, with sake, wine and champagne pairings available. For those braving it alone, you can't go wrong with the omakase platters: works of art starring Scottish salmon and Orkney scallop rolls, wagyu beef sashimi and lobster tempura.
Regent Street Entrance 30, 240 Argyll St, London W1B 3BR; aquakyoto.co.uk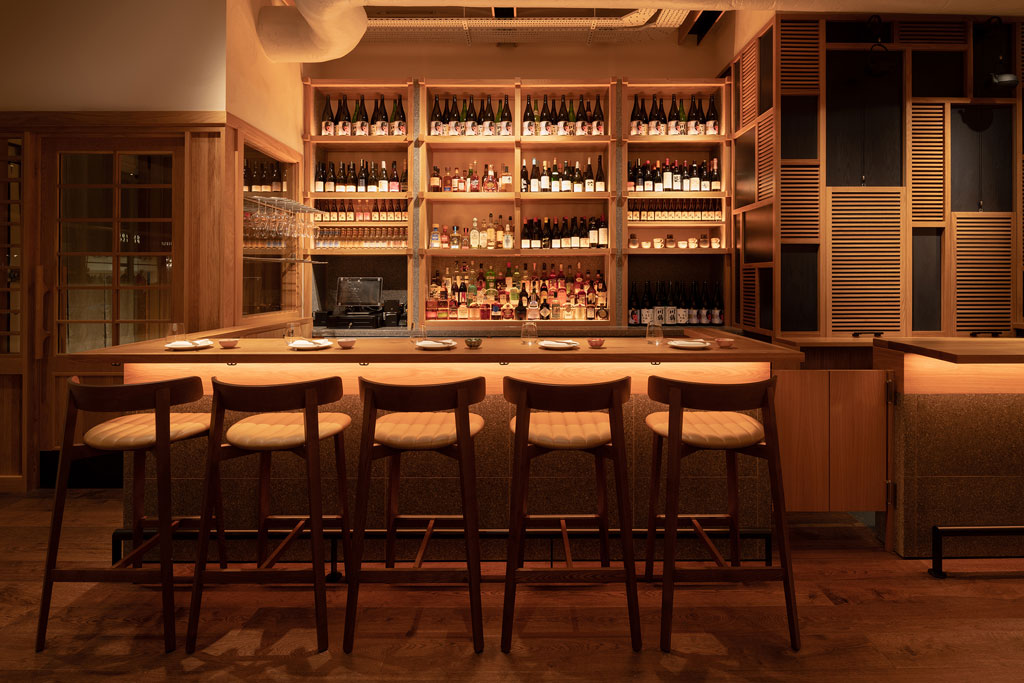 Taka Marylebone
There's more to Japanese food than sushi, says Marylebone restaurant Taka, the sister restaurant of the acclaimed Taka Mayfair, run by brother and sister duo Andrey and Anastasia Datsenko. Set across two floors, the Marylebone eatery has a similar look to its older sibling: minimalist and elegant, with lots of oak, timbers and tan leathers nodding to the 'Japandi' design movement. It may be a low-key setting, but the food is anything but, thanks to an impressive menu devised by group executive chef Taiji Maruyama (Beaverbrook and Nobu) alongside head chef Jonathan Dowling. A farm-to-table ethos lies at the heart of Taka: the restaurant is based around the Japanese philosophy of shun, which means food should only be eaten when it's at its best and at the height of its season. There's a strong focus on British ingredients, including vegetables sustainably sourced from Nama Yasai, a small family-owned organic farm in the UK specialising in Japanese produce. You'll find all the Japanese staples here (black miso cod, sushi rolls, tempura) but there are unique spins too: the wagyu beef, for instance, is served sando style – the Instagram-famous Japanese take on a sandwich. Elsewhere, a whole Botterills chicken (100-day reared from Botterill Farm in Lancashire) is broken down into its different components, grilled over hot coals and served as little bites – a fine example of nose-to-tail dining.
109 Marylebone High St, London W1U 4RX; takalondon.com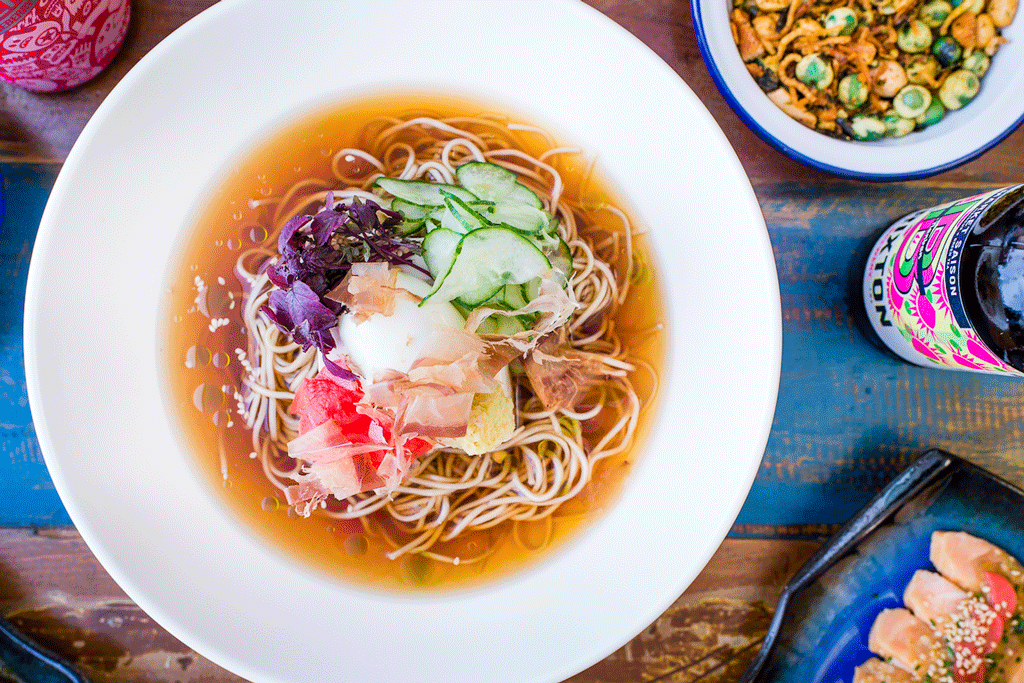 Nanban, Brixton
The term 'nanban' – meaning 'southern barbarian' – was used to describe the first European visitors to visit the Japanese island of Kyushu many years ago. Over the centuries, the province went on to accrue a mish-mash of culinary influences, resulting in a new style of Japanese cooking which uses ingredients and techniques from overseas. This is the inspiration behind Brixton's Nanban, founded by former MasterChef winner Tim Anderson. Forget raw fish: Nanban is all about comfort food, a celebration of the 'barbaric' side of Japanese cuisine. Much of the menu is deep-fried – deep-fried braised pork belly, tempura battered vegetables and crispy fried jackfruit all feature, alongside hearty bowls of ramen, chicken wings and beef patties.
426 Coldharbour Ln, London SW9 8LF; nanban.co.uk
Angelina, Dalston
Venture north east (and out of zone 1!) for Angelina, an exciting Italian-Japanese fusion fine-dining restaurant that opened in Dalston in early 2019 under childhood friends Joshua Owens-Baigler (Bocca di Lupo, River Café) and Amar Takhar (JKS Group). An elegant and warm dining room on Dalston Lane, Angelina spills into the street with a covered outdoor terrace, serving up four course omakase ('I'll leave it up to you' in Japanese; £39) and 10 course kasikei, drawing on Japanese fine dining.
Though it is a set menu, and though the wine list is astronomically long, Angelina is unfussy and friendly – simply sit back and watch the magic happen (that is, the food brought to your table, without having to worry about what to choose). The waitstaff are also well-equipped to navigate the wine list for you, should you find it overwhelming: upgrade your set menu with a wine pairing, or tell the waitstaff what wines you like, and they'll happily do the heavy lifting for you. The food is exciting and indulgent, uniting Italian and Japanese cuisine adeptly, unexpectedly and, of course, deliciously. The appetisers are moorish, the pasta al dente and divine, and the flavour combinations unexpected but unwaveringly tasty. The menu changes every month, so surrender to Owens-Baigler, Takhar, and their always-bustling restaurant – it's a treat worth the trek. By Olivia Emily
56 Dalston Lane, London E8 3AH; angelina.london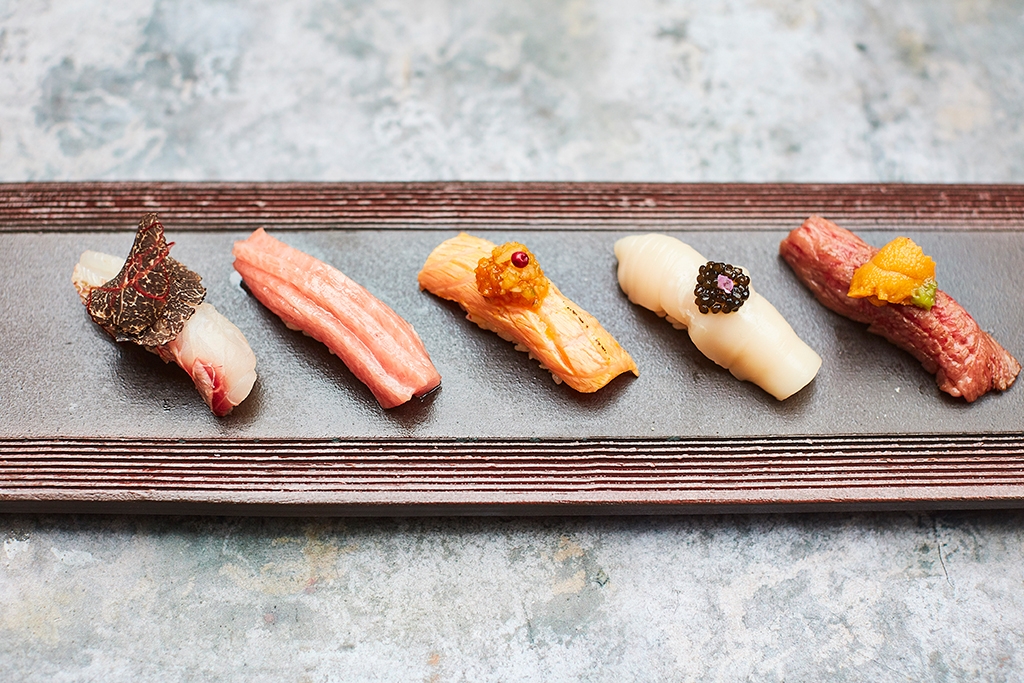 Dinings SW3, Chelsea
Helmed by the quiet genius Masaki Sugisaki, Dinings SW3 is a shining light in the constellation of London sushi restaurants. Everything in this Knightsbridge restaurant is thoughtfully and warmly done, from the elegant, low-key interior to the charming, unassuming staff to the sleek table settings – and that's before you even get to the food. Styled as a modern interpretation of a traditional izayaka (an informal Japanese bar that serves drinks and snacks) Dinings SW3 serves up seasonal sushi and sashimi using the freshest seafood from Cornish day boats, as well as a menu of select dishes like delicious hand-dived scallops, moreish wagyu beef and potted lobster served in an unctuous buttery sauce. To wash it all down are unusual wines from around the world, as well as the usual crowd-pleasers, plus the restaurant's signature cocktails, which are bespoke takes on classic drinks. Try the Dinings SW3 Negroni, with Roku gin, ginger, Campari, nori seaweed and blended Mancino vermouth. An evening at Dinings SW3 is always an evening well spent – but be warned, you might just be tempted to order everything on the menu.
Lennox Gardens Mews, London SW3 2JH; diningssw3.co.uk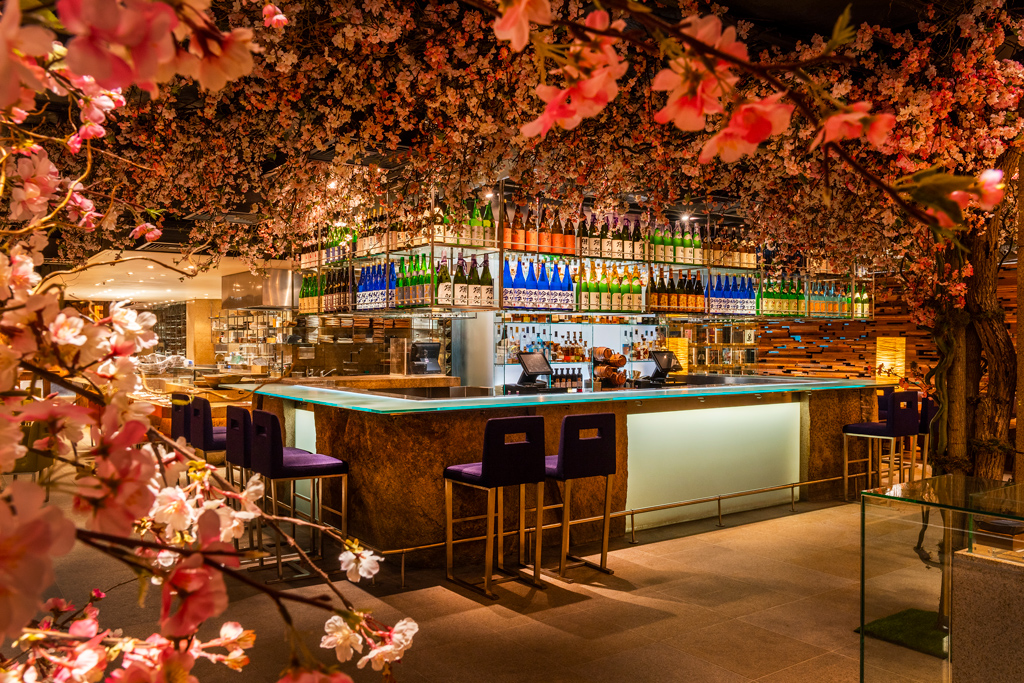 Zuma, Knightsbridge
Just a few moments from Harrods sits one of London's most acclaimed Japanese restaurants, Zuma, which is a suitably glamorous neighbour. The restaurant itself is vast, with a sushi counter, robata grill and sparkly sake bar, and always full to the brim with a mix of stylish locals, discerning fans of Japanese cuisine, and high-end shoppers dressed head-to-toe in designer clothing, all drawn by Zuma's globally-excellent reputation (there are 12 other restaurants worldwide). We can confirm that the hype is strongly rooted in fact – the menu features modern yet authentic dishes which will equally satisfy the guest looking for a recognisable Instagram post as the one on a real foodie pilgrimage. Once you've resigned yourself to the fact that a meal here will be pricey, you may as well go all out on the menu – so order the seared wagyu with truffle, fatty tuna with chilli, coriander and sesame, mixed sushi and sashimi (trust the house on this one), spicy beef tenderloin and finish with the classic Zuma melt-in-the-middle chocolate cake. Don't skip the cocktails.
5 Raphael St, London SW7 1DL; zumarestaurant.com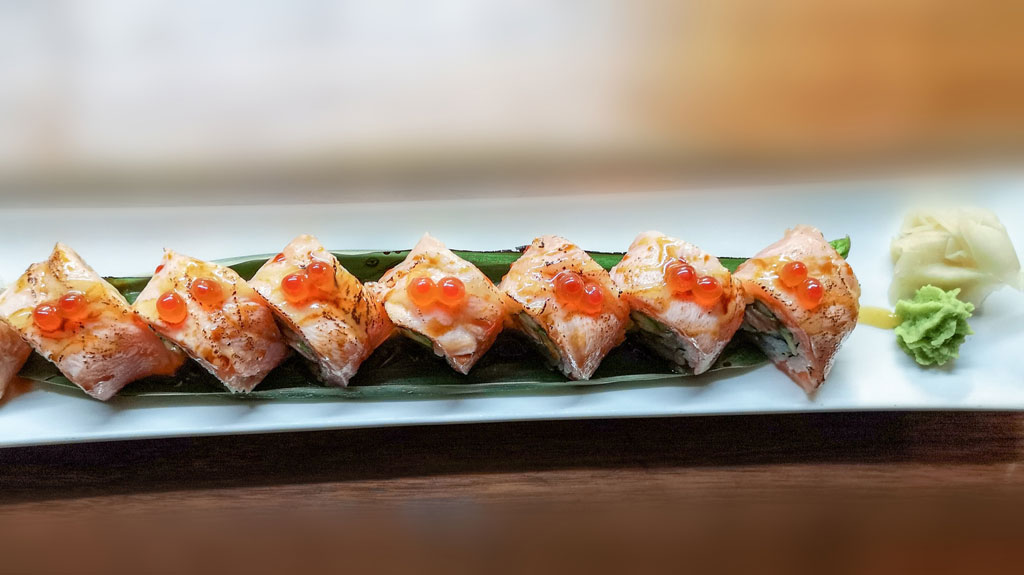 Tsunami, Clapham
Tsunami is tucked away on a side street in Clapham. On a Saturday night, you'd be well within your right to doubt that you'd find near-perfect, melt-in-your-mouth fish after passing a strip of boisterous nightclubs with lines down the block. Within your right, but completely wrong. Tsunami is all class. Simple, clean lines and dim lights make the relatively small interior with tables and booths feel open and cavernous. As the name suggests, the menu is a bit of an exciting rush. Take your time as you pick on some spicy edamame beans. You'll be grateful that the restaurant isn't too buttoned up when you sneakily lick some chilli salt from your fingers. Once you get down to business, your first and foremost priority should be the white tuna, nigiri or sashimi. The soft shell crab roll, lobster maki, and dragon roll are also slam dunks. The snow crab shumai is light and fluffy while the spicy tuna roll is perfectly balanced, too.
5-7 Voltaire Rd, London SW4 6DQ; tsunamiclapham.co.uk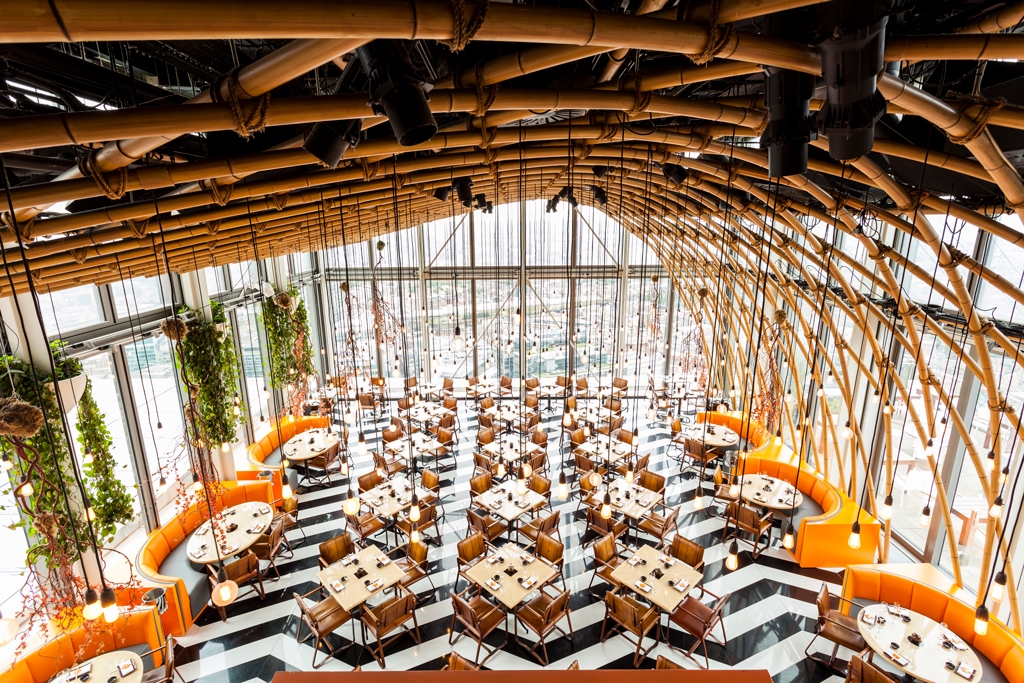 SUSHISAMBA, City
The spectacle of SUSHISAMBA Liverpool Street begins from the panoramic glass lifts, which whisk you up to the 38th and 39th floors of the Heron Tower where the restaurant is located. It boasts one of the highest outdoor dining terraces in Europe, but during the winter months you can admire the views from indoors thanks to the restaurant's three glass walls. A glamorous New York City import, the menu fuses together Japanese, Brazilian and Peruvian cuisines. There's everything from nigiri to samba rolls to ceviche to robata, with dedicated vegan and gluten-free menus too. Our highlights? The wagyu gyoza is the best we've ever had, while the Churrasco Rio Grande is heavenly: perfectly cooked ribeye, chorizo and fillet mignon served with three different dipping sauces. All the sushi rolls are excellent, particularly Samba London: tuna, salmon, avocado and asparagus wrapped in crispy rice and topped with crispy yuba and yuzu dressing. Cocktails are a must here – Shiso Fine is a fruity number mixed with vodka, shiso leaf and Thai basil syrup, while Tom Yam is a refreshing tipple featuring gin, chilli and lemongrass. A heads up: SUSHISAMBA is not cheap, but the combination of top-quality food, unparalleled views and faultless service warrants the high price point.
Heron Tower, Bishopsgate, London EC2N 4AY; sushisamba.com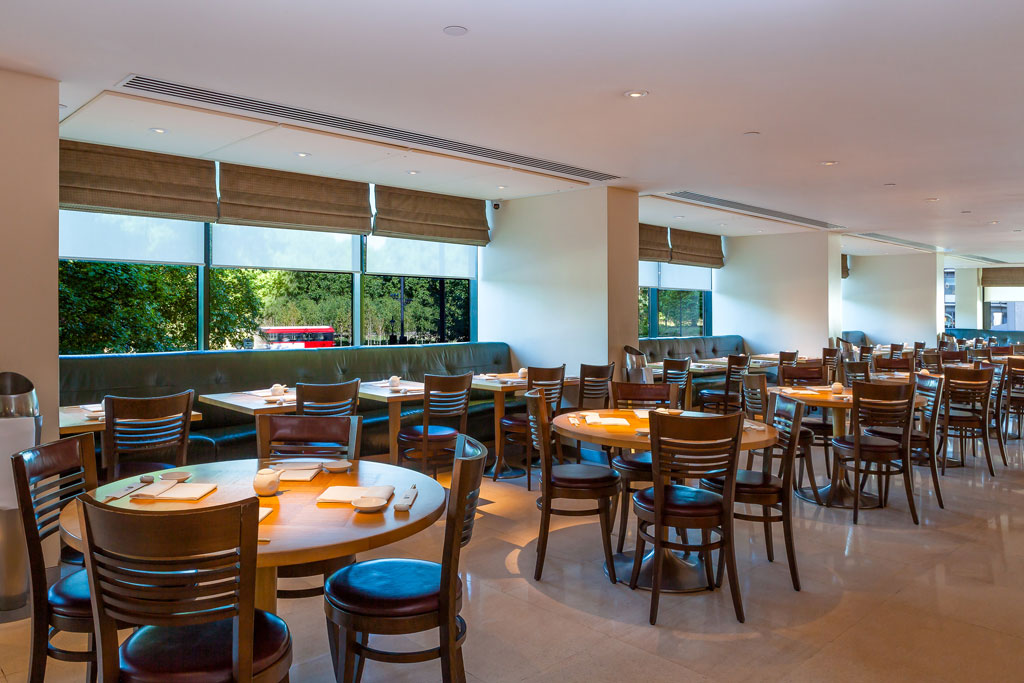 Nobu London Old Park Lane, Mayfair
The hype surrounding Nobu Matsuhisa's first European outpost may have died down since it first opened in 1997, but it certainly hasn't lost its sparkle. In fact, the laid-back feel of modern day Nobu London Old Park Lane is far more appealing than its early days as a celebrity magnet. And, importantly, the food is better than ever – a result of many years of fine tuning. Located within five-star hotel COMO Metropolitan, London's original branch of Nobu is a minimalist, sleek space with wooden tables and views over Hyde Park. The design is less glitzy than many of its sister restaurants – yet this isn't a bad thing, as having such quiet interiors ensures the food takes centre stage. And so it should: Nobu is Japanese fine dining at its absolute best. It may be cliched but don't leave without sampling the restaurant's beloved black cod, or the soft shell crab roll and the 'New Style' sashimi you'll see on the menu.
19 Old Park Ln, London W1K 1LB; noburestaurants.com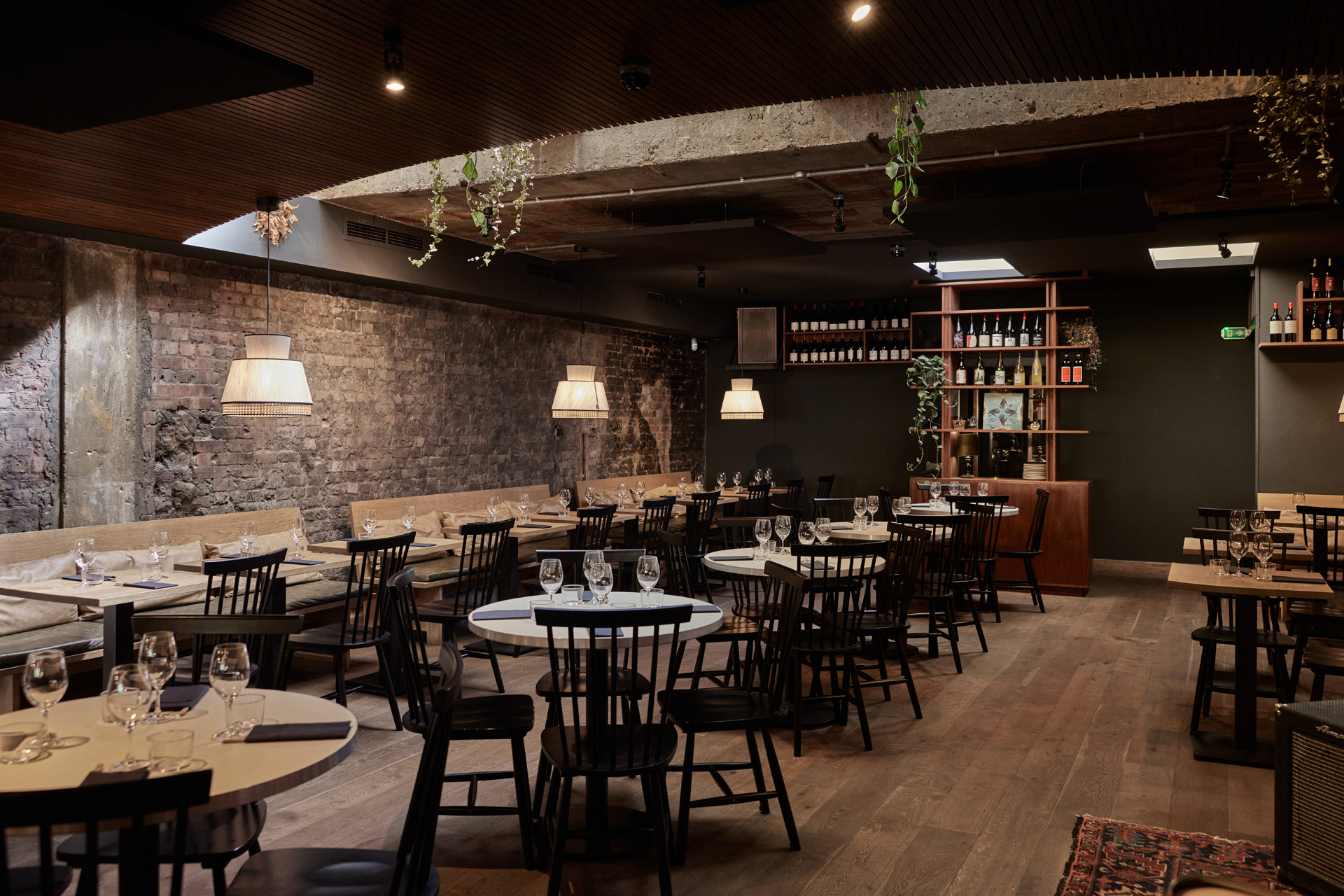 "mu", Dalston
Japanese food with a side of jazz? Don't mind if we do. Over in Hackney, Amit and Aneesh Patel's "mu" opened in April 2022 with a bang, home to nightly live music and unique robatayaki grill Japanese dishes, with a curated list of natural wines and an array of classic and seasonal cocktails for good measure. Named for the seminal album by legendary trumpeter Don Cherry, the live music draws on global influences, and the food draws on the best of British seasonal produce in fine-dining Japanese style. The small, curated menu is led by head chef Duarte Loupa, with an array of bar snacks, small plates, large plates and sides on offer, with one shining dessert: the humble crème brûlée (with a Japanese twist, of course). Sharing is caring at "mu" – and, this way, you get to try even more of their delicious offerings. The delica pumpkin skewers are autumnal and divine, the yellowtail, yuzu and pomegranate fresh, and the scallop skewers with yuzu koscho delicate and delicious. You'll want to try the smoked salmon teriyaki, juntoro and parsnip crisps and black cod miso (and they, buttery and moreish, live up to high expectations), but don't underestimate the small things: the grilled shishito with yuzu salt make an addictive start to the journey, and lettuce has never tasted better than in the baby gem, miso and panko. All served with a large dollop of eclectic jazz, of course. By Olivia Emily
432-434 Kingsland Rd, London E8 4AA; mu-ldn.com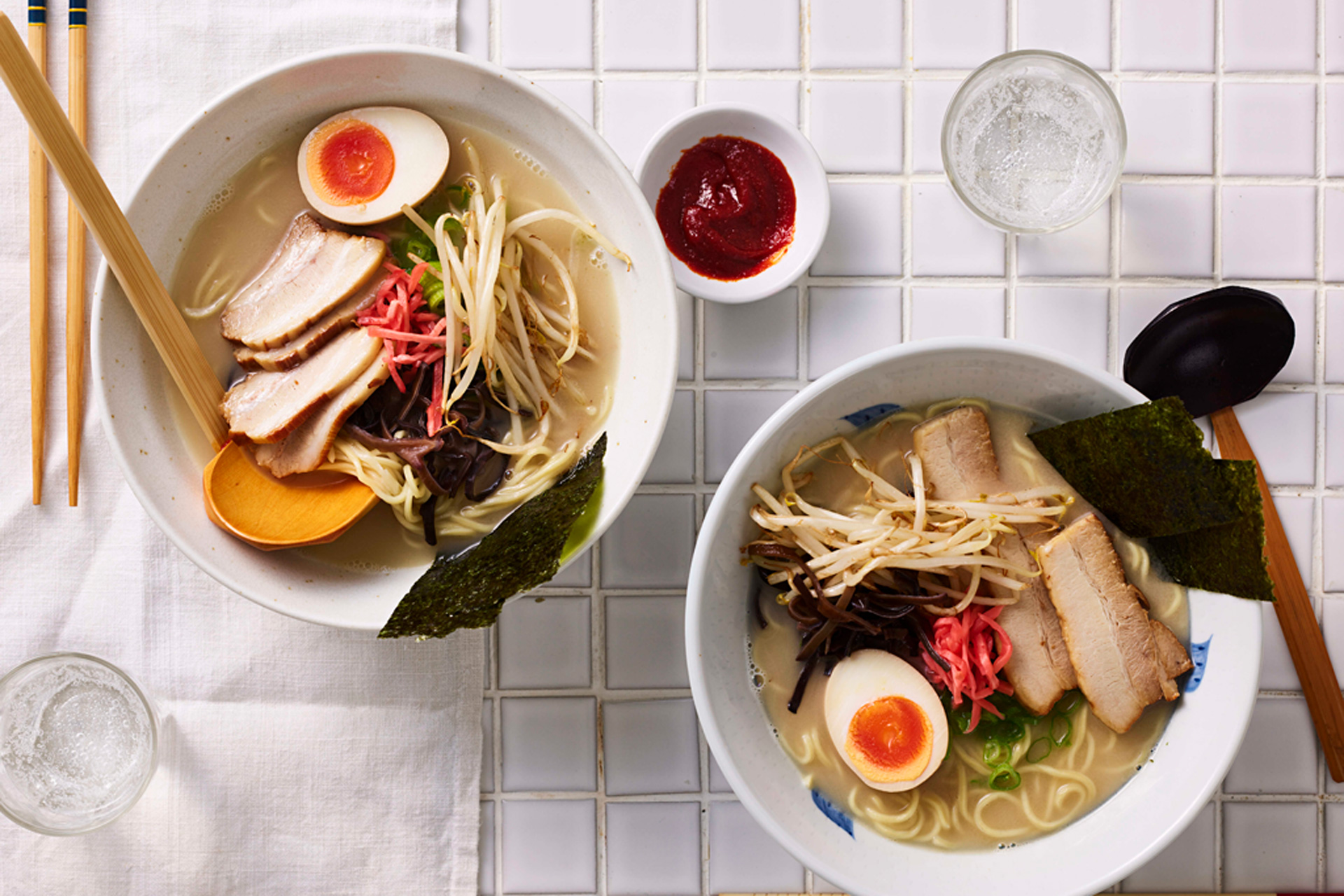 Shoryu, various locations
For a sophisticated take on ramen dining head to Shoryu, which specialises in food from Hakata, a district of Fukouka city in Western Japan. Food comes courtesy of Executive Chef Kanji Funkouka, who grew up there – so you can guarantee authenticity. Ramen here is lighter than some of its competitors but by no means less delicious, with steaming hot bowls packed with ingredients. Special touches are made to ensure top-notch ramen, including the traditional nitimago (soft boiled egg) being soaked overnight in a soy, mirin, sake and ginger marinade. Although tradition is at the heart of Shoryu's food, there are a selection of alternative dishes, such as their curry ramen: futomen noodles in a rich tonkotsu broth made with curry and soy, and a jalapeno-topped Piri Piri version. Explore the vast selection of sakes, and be sure to pop some fluffy bao buns on the side.
Regent Street, Carnaby, Liverpool Street, Shoreditch, Soho, Covent Garden; shoryuramen.com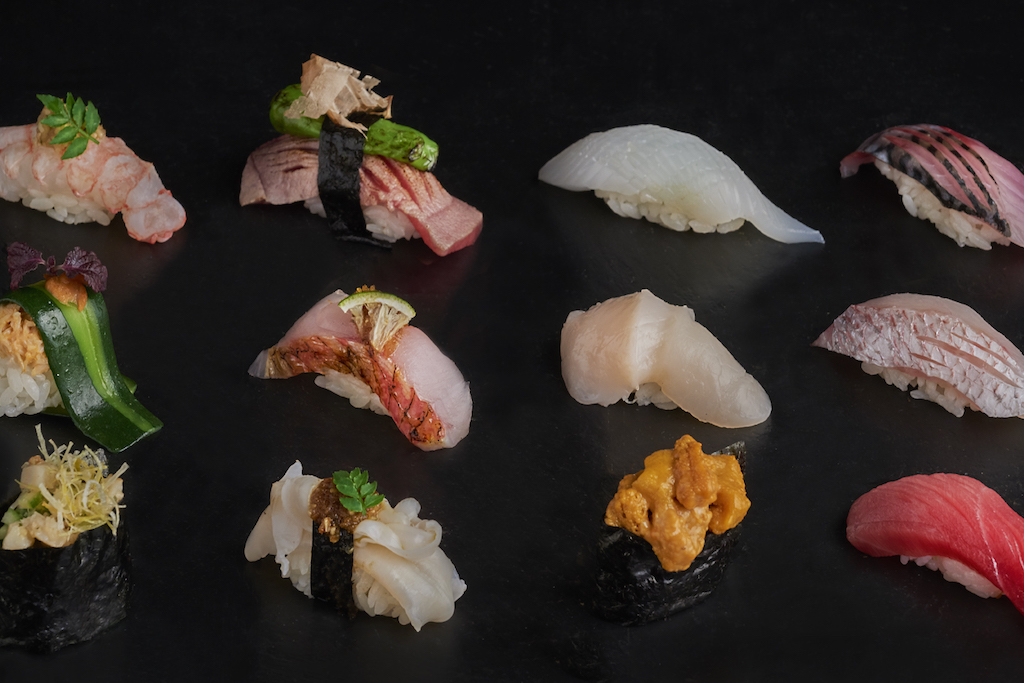 UMU, Mayfair
Forgoing the theatrical bells and whistles found at London's more name-checked Japanese establishments, Umu favours a more refined, less Westernized cuisine that won it a Michelin star within months of opening (it now has two). Around 70 per cent of the fish served is British, and such is Chef Yoshi's dedication to the highest quality produce that he personally trained Cornish fishermen in the ikejime method of killing and preserving fish to ensure it met his exacting standards – order the mixed sashimi and you'll taste the difference. But it's not all about the sushi – the seasonal kaiseki tasting menu takes you on a journey of elegant, traditional and previously unheard-of dishes, with many of the top contenders being fully vegetarian.
14-16 Bruton Pl, London W1J 6LX; umurestaurant.com
Kanada-Ya, various locations
The idea of queuing for 45 minutes for a bowl of soup seems a tad silly – but at Kanada-Ya, it might just be worth it. The award-winning Japanese restaurant arrived in London's St Giles back in 2014 after being founded in Japan a few years before. Ramen takes centre stage here: pork bones are simmered for 18 hours to create the perfect broth, the base for big bowls of wheat noodles and tasty toppings. The signature Tonkotsu Ramen is popular with the restaurant's large fan base, consisting of 18-hour pork bone broth, chashu pork belly, nori, hand-pulled noodles and a secret sauce. Fancy adding a bit of luxe? Order the Truffle Ramen, and thank us later.
Angel, Covent Garden and Carnaby; kanada-ya.com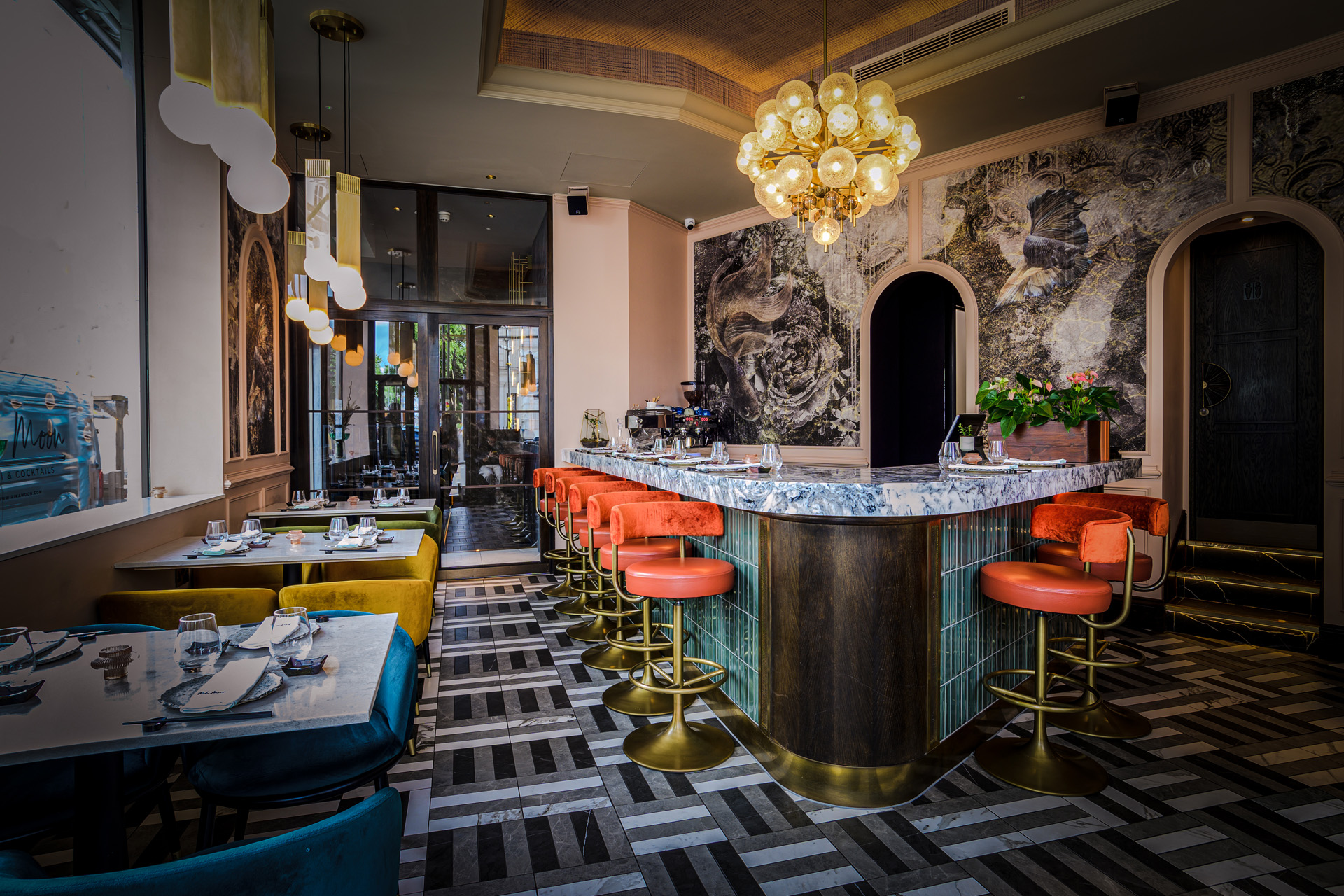 Rika Moon, Westbourne Grove
Family-run and fabulous: Rika Moon is an intimate bar and Japanese fusion restaurant in Notting Hill, on the corner of vibrant Westbourne Grove. With a friendly neighbourhood feel with an added level of elegance, Rika Moon is led by businesswoman Mahsa Salehnazhad with her husband, Marco. The decadent interiors are an apt introduction to chic but playful cocktails (one is served in a mock glass pipe) and delicious, sharing-based dishes. Tuck in omakase style, with the likes of Rock Shrimp Tempura with garlic, ginger dashi and sea vegetables, or the elegant Sashimi Platter with fresh wasabi, or plenty of delicious well-balanced sushi likely to appear before you, all served by friendly staff on chic plates and platters in moody, moon-lit colours. By Olivia Emily
120 Kensington Park Rd, London W11 2PW; rikamoon.com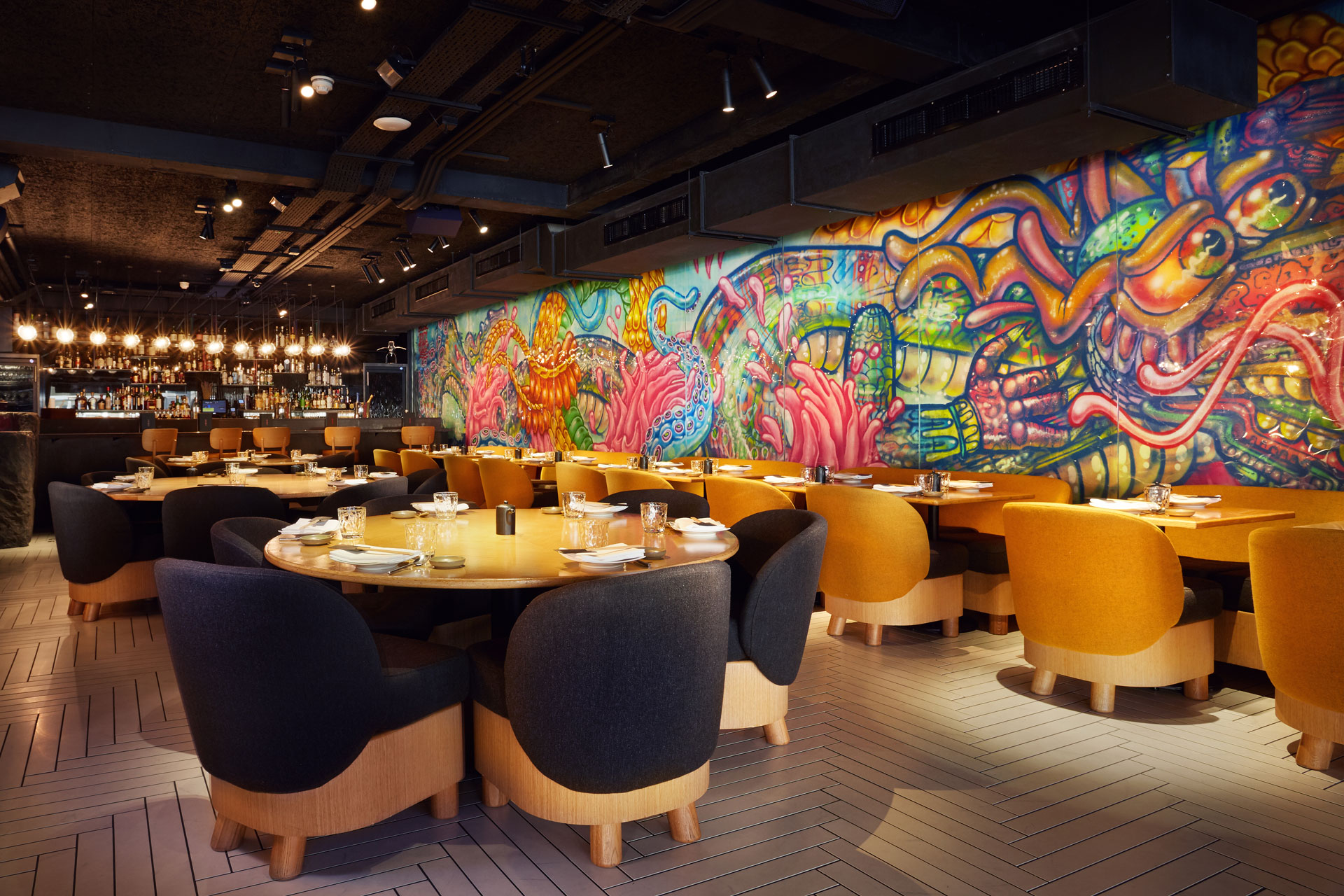 Chotto Matte, Soho and Marylebone
Nikkei cuisine – a fusion of Japanese and Peruvian – is the focus at Chotto Matte, Frith Street's two-floored, neon-splashed venue. There's a distinct buzz to the Soho venue: bright pop art injects colour into the low-lit, black-floored interiors, with a lively soundtrack creating a party atmosphere. In the basement – where the nearly pitch-black loos are located – you'll find a glow-in-the-dark mural from Tokyo-based graphic artist Houxo Que. Food is fittingly colourful and eccentric, with punchy flavours and artistic presentation. Allow one of the friendly waiters to guide you through the different sections, which range from small nibbles ('A Little Something') to dishes from the robata grill. And if you're still overwhelmed, hand the reigns over to the experts by opting for one of the set menus. Typical of Nikkei cuisine, it's all about sharing at Chotto Matte. Whet your appetite with miso-laced BBQ padrón peppers, spicy edamame and spicy tuna crispy rice before getting stuck into the mains. The robata section sees dishes fired up right in front of your eyes at the theatrical open kitchen, with everything from octopus to BBQ-marinated beef and teriyaki chicken on offer. Diners are advised to finish with sushi to avoid filling up on rice. Bright, colourful rolls are artfully arranged on platters – all the classics are available, alongside a decadent wagyu foie gras number. There's also a branch in Marylebone, offering a similar vibe and menu.
11, 13 Frith St, London W1D 4RB; and 26 Paddington St, London W1U 5QY; chotto-matte.com
Main image: Getty Images