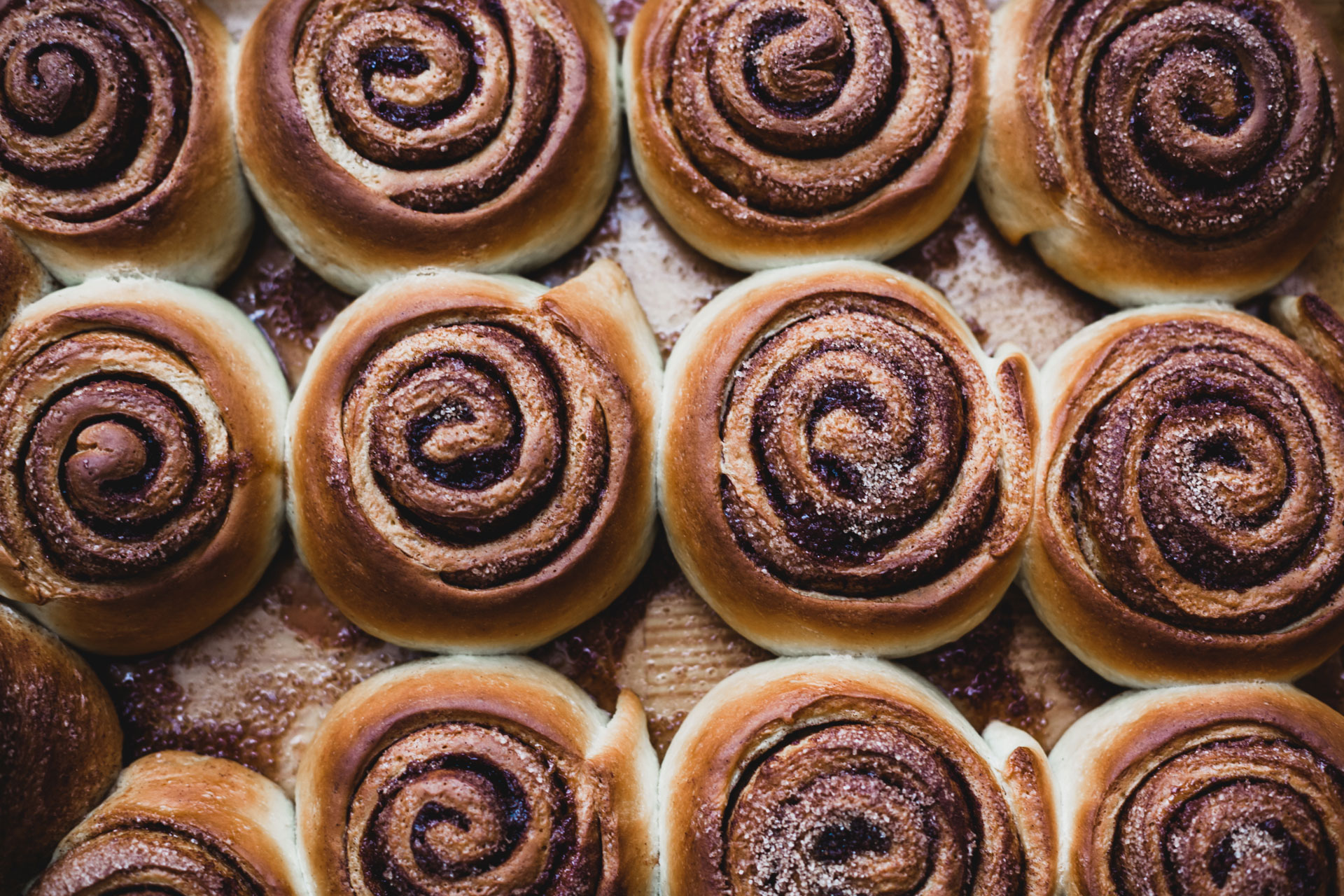 Ingredient of the Week: Cinnamon
---
A seasonal spice to add to your dishes
Each week plant-based cook Bettina Campolucci Bordi, founder of Bettina's Kitchen, gives us the lowdown on a particular fruit, vegetable or ingredient, offering cooking tips and a recipe. This week it's cinnamon.
It's autumn and with it comes cosy jumpers, chilly mornings, open fires and what we in Scandinavia called hygge. Or in Swedish we call it mys. It means that we make things cosy when the weather starts to cool. I can't think of anything more cosy than the smell of cinnamon wafting through the house, whether it is cinnamon rolls in the oven, a cinnamon topped spiced latte or a curry on the go. 
Types of Cinnamon
Contrary to popular belief, there are actually five (not four) botanical species of the tree bark commonly referred to as cinnamon. There are two main types: Ceylon and Cassia, which both belong to the same family of plants, however have slightly different tastes.
Cassia cinnamon is the most frequently found and has a stronger smell and flavour than Ceylon cinnamon. Cassia cinnamon is the type you typically see in the supermarket spice aisle, and in food product supplement formulations when the label only states 'cinnamon'. It's the cheapest and most widely available of the five types, so many manufacturers use it to reduce costs. It's harvested from the bark of an evergreen tree common in Southern China, and ground into a powder. 
Both types of cinnamon have proven health benefits, however Cassia cinnamon can have harmful side effects when consumed in large doses. Coumarin is a compound, rich in Cassia cinnamon, but not Ceylon, and is harmful to the body. In rodents, it has been shown to cause kidney, liver and lung damage. There is a Tolerable Daily Intake, however, this is easy to go over in just one to two teaspoons.
If you have cinnamon daily then I recommend that you choose Ceylon which can be purchased from health food shops or online.
Health Benefits
Generally, cinnamon can be used as a spice for overall health promotion. Using raw cinnamon in food is the way humans have consumed cinnamon for thousands of years. Sprinkled on porridge, steeped in chai, added to stews and baked goods. Whatever you choose to use it in. The health benefits are great and the taste is phenomenal.
Like turmeric, cinnamon has been used for its medicinal properties for centuries. Cinnamon's active component is called cinnamaldehyde, which is responsible for most of its health benefits.
Cinnamon is also loaded with powerful polyphenol antioxidants, so much so that it came out as having the highest concentration of antioxidants in comparison to 27 other spices. Cinnamon's polyphenol antioxidants even outranked garlic and oregano, which have been dubbed top superfoods. How incredible is that?
Here is my recipe for an easy custard and cinnamon apple dessert. This is an old favourite combination of mine, and I'm sure there are some die hard custard fans out there who will agree with me. It's super simple and quick to make – and this dessert will not last very long, I can guarantee you that. 
The warming flavour of the cinnamon apples mixed with the smooth deliciousness of the custard and then topped with the sweet crunch of a cookie makes this dish one of my more popular ones. I hope you enjoy it.
Recipe: Custard, Apples & Biscuits
Makes 4 servings
Ingredients
For the cinnamon apples:
100g of apple (chopped into small ½ cm square pieces)

1 tbsp (10g) of vegan butter

1 tsp of cinnamon

1 tbsp of soft brown sugar
For the custard:
250ml of oat cream

1 tbsp of custard powder (I use Birds)

30g of caster sugar
For the topping:
Method
Start off by preparing the cinnamon apples. Peel and core the apples and cut into half and then chop into smaller square like pieces. Heat up a pan, add the vegan butter and the apples and cook for 5 minutes until soft.

Add the sugar and the cinnamon and give it a good stir and let the sugar dissolve. Once cooked, set aside.

Next, in a pan over medium heat, add the custard powder first followed by a small amount of the oat cream and give it a good whisk to get rid of all the lumps. Add the rest of the cream along with sugar and keep whisking until the custard thickens and starts simmering. Make sure to keep whisking to keep it from burning at the bottom.

To assemble, start off with a layer of the cinnamon apples, followed by the custard and leave to cool. Once cooled, add the cookie crumb on top before serving to keep it from going soggy.
Main image: Getty Images