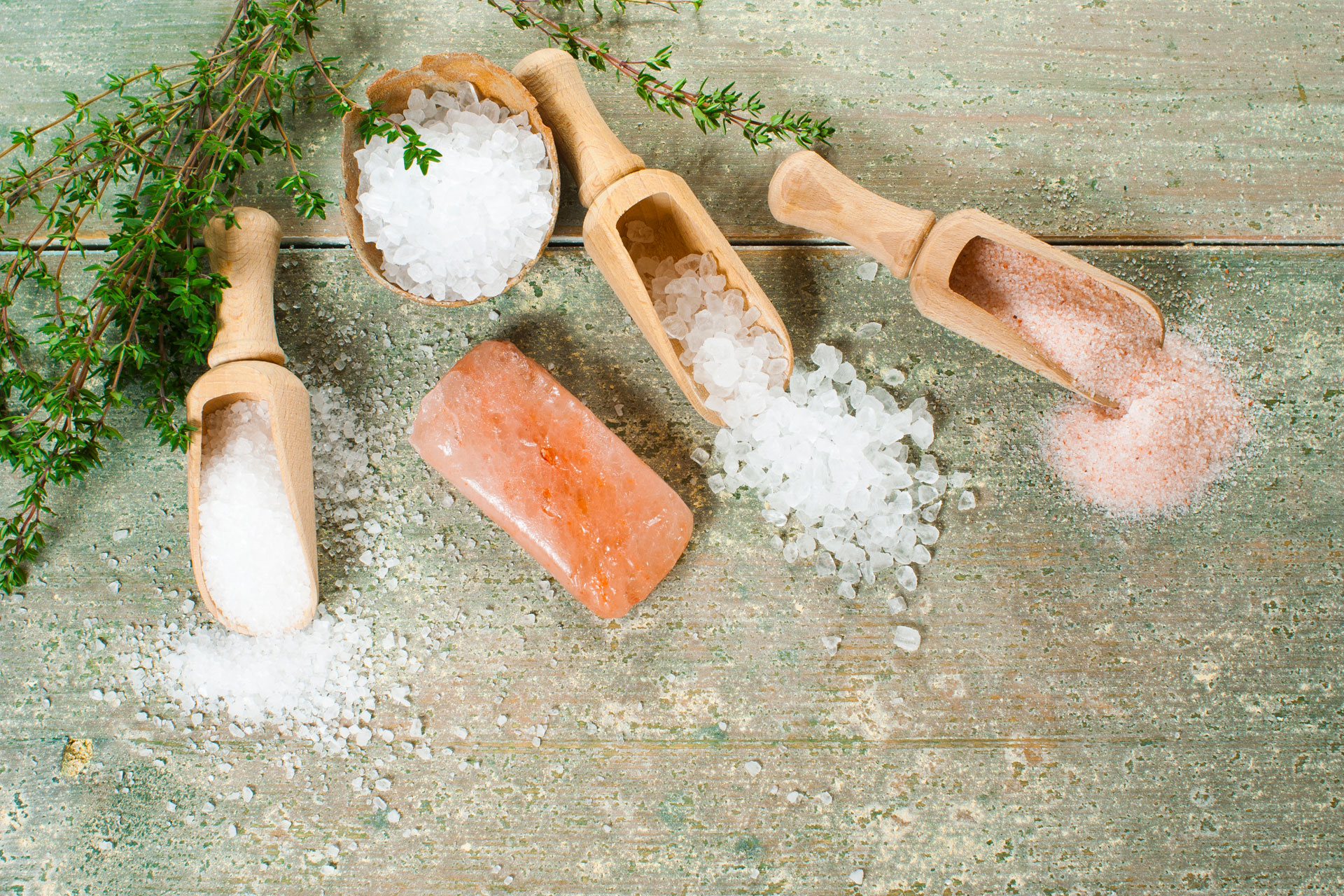 Ingredient of the Week: Salt
---
How much salt should we be using, and what flavours does it help bring out?
Each week plant-based cook Bettina Campolucci Bordi, founder of Bettina's Kitchen, gives us the lowdown on a particular fruit, vegetable or ingredient, offering cooking tips and a recipe. This week it's salt.
Salt is one of the most popular ingredients to have in our homes. It adds flavour to (and preserves) our food, plus the cells in our bodies need a certain level of salt to be able to function well. But where does it all come from, you may wonder?
Salt is produced by either extracting it from underground mines, or by drying out the salt from the sea. It is then processed to remove impurities and the extent to which it is processed and refined is what gives us all the different types, shapes and colours, of which there are many.
Different Types of Salt
Table salt is mined in locations worldwide, and is highly refined with most of the trace minerals removed. It is then finely ground, usually with the addition of anti-caking agents to prevent it from clumping. Kosher salt is similarly produced but is kept as large flakes.
Sea salt is evaporated sea water and can be found finely ground, in flakes or as crystals for salt grinders. This is generally less refined than the table variety and depending on its source, may contain varying trace minerals.
The process of making sea salt is more labour intensive than table salt, which is why you will see the prices of these differing so much.
Pink Himalayan salt is extracted from mines in Pakistan and retains the pink colour due to it being unrefined and retaining some of the trace elements, mainly iron, that are left inside.
There are many other coloured varities, which all depend on where they come from, for example red Hawaiian which is mixed with red volcanic clay; grey Celtic sea salt which is hand harvested predominantly from the shores of Brittany in France; and black Himalayan, also known as Kala Namak, which is mined in Pakistan and contains trace elements of sulphur, used often in plant based cooking to mimic a slight eggy flavour.
Some people like cooking with salt and others tend to shy away from it. For me, moderation is the key, and the combination of salt, fat and acid is what is necessary to make a delicious tasting dish.
Have you ever tried an avocado without salt, and then with it? This is a game changer, and when you realise the stark difference between the two, and how much salt draws out the natural flavours in many foods, it truly is one of the most important ingredients when it comes to improving the taste of food.
You may or may not know that salt forms a large part of our history. It was very heavily traded in times gone by, and many cities and even roads were built due to this – Salzburg, for example, means the city of salt, and the salt road in Italy was built for this purpose, via Salaria.
Here is a super simple delicious recipe using salt as the flavour enhancer. It uses the freshest of seasonal ingredients, and is a real winner for a quick option that is sure to impress. Salt makes this salad and brings out the sweetness of the tomatoes and the peaches, a bit like when you pair watermelon with feta.
Grilling or frying peaches in a tiny drop of olive oil is a really different way to enjoy this fruit, one of my favourites which is in season at the moment. Give it a go and let me know what you think.
Recipe Grilled Peach and Tomato Salad Pangrattato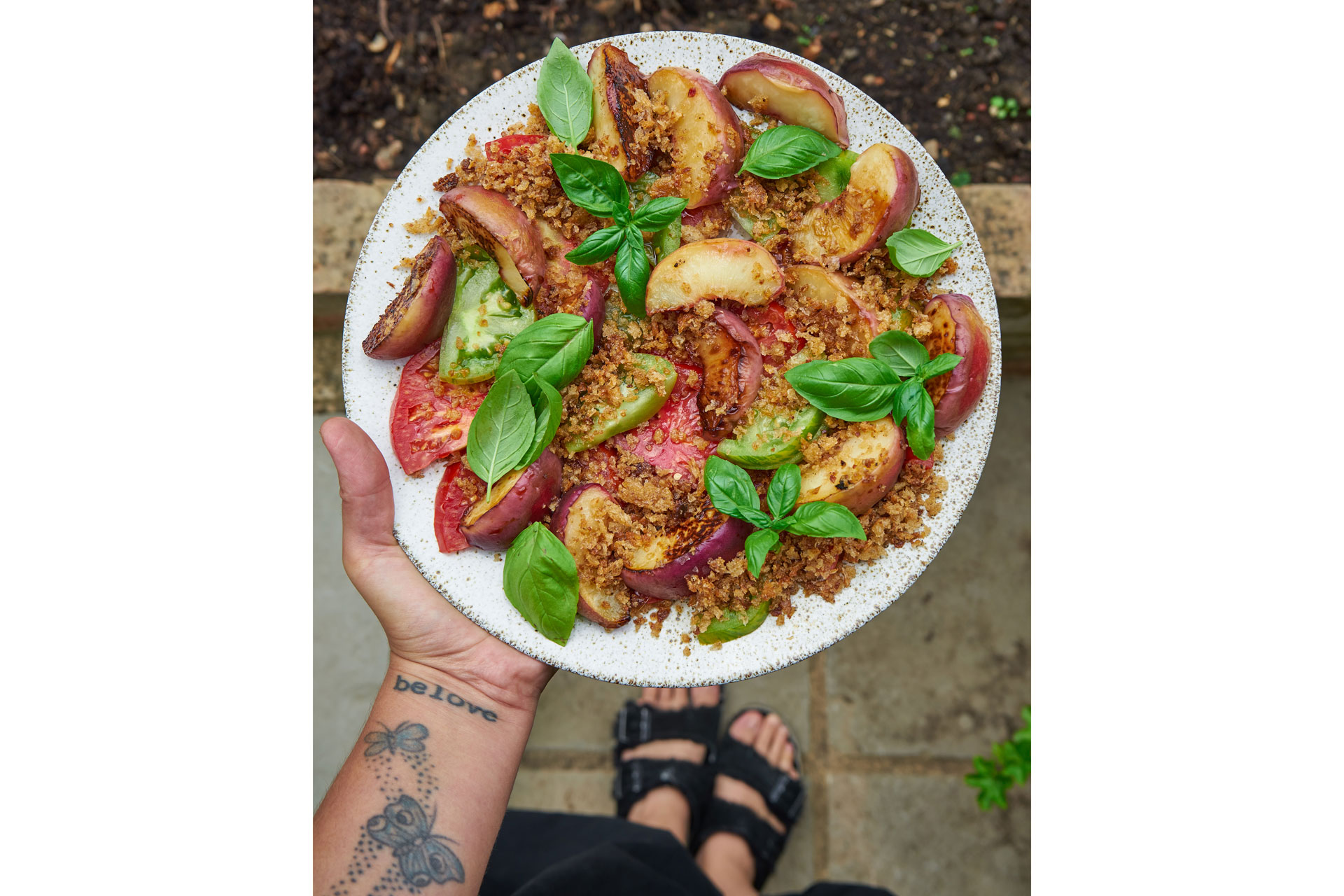 Ingredients
For the grilled peach and tomato salad:
2 peaches

2 tomatoes (multi-coloured)

Juice of ½ lemon

Drizzle of olive oil

Drizzle of balsamic vinegar

A few fresh basil leaves

Salt & pepper to taste
For the pangrattato popping:
1 slice of old/stale bread, whizzed in the blender to form breadcrumbs

1 tbsp olive oil or butter

Pinch of salt
Method
De-stone and cut the peaches into wedges.

Slice the tomatoes.

Heat a tiny bit of olive oil (approx 1 tsp) in a frying pan or griddle and cook the peaches until charred on each side, this should take 5 minutes max. Set aside.

For the topping, heat the olive oil or butter in a frying pan (you can use the same pan as the peaches to save washing up!) and add the breadcrumbs and salt and cook until crispy.

Assemble the salad by laying the tomatoes across the base of a flat platter, add a layer of peaches on top of the tomatoes, then drizzle the olive oil, balsamic vinegar and lemon juice, sprinkle with salt and pepper and finally top with the fried breadcrumbs and basil leaves.
Main image: Getty Images