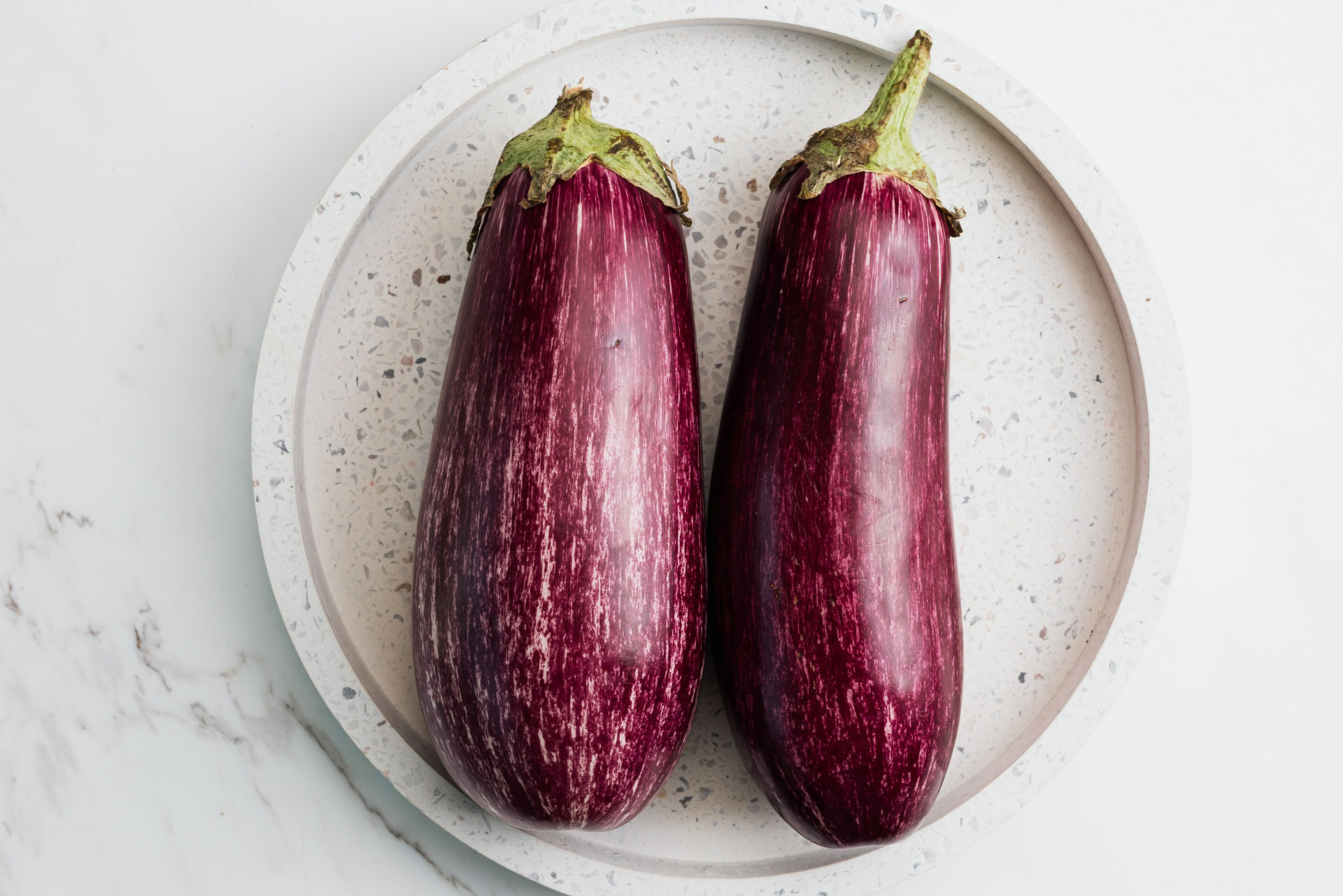 Ingredient of the Week: Aubergine
---
Plus, how to make Bettina's 'hedgehog' aubergine with plant mayo dressing & gomasio
Each week plant-based cook Bettina Campolucci Bordi, founder of Bettina's Kitchen, gives us the lowdown on a particular seasonal fruit, vegetable or ingredient, offering cooking tips and a recipe. This week it's aubergine. 
Regularly known for their use as an emoji in the group chat and botanically classified as a berry, aubergines have certainly risen in the ranks over the last few years. Along with tomatoes, white potatoes and peppers, aubergines belong to the nightshade family and can also be known as an eggplant, especially across the pond.
Different shades and sizes
Most commonly a mixture between a purple and dark brown, the deep hue of the aubergine's exterior across its large oblong body has become its trademark feature as it contrasts against its very own vibrant hat of green leaves and stem. However, they also come in various shapes and shades including, white, green and a lighter purple adorned with white stripes, as well as narrow and long, small and squat, and round grape sized. Each one striking to look at and adaptable in preparation and cooking techniques. Regardless of their colour or shape, each one is comprised of the meaty flesh that lay just beyond its coloured skin, and is a great replacement in vegetarian or vegan feasts.
Utilised in a wide variety of Thai, Turkish, Italian and Indian dishes, the aubergine's versatility is as impressive as its musical ability. The skin of an aubergine should not just be brightly coloured, but it should also have a beautiful sheen that squeaks when you pinch against its tight, taut coating. This is a great way to check for freshness when purchasing, as well as looking for a uniformed colour and a fruit that is as equally heavy in weight compared to its size. Unless stuffing, opt for the smaller ones. They have a sweeter taste, a thinner skin and more flesh. When you consider that an aubergine is approximately 50 per cent air – the more flesh you can get for your money, the better.
Preparation & cooking
Aubergines need very little in the way of preparation before cooking. They don't need peeling (unless you prefer to remove the skins), and only the top stem and leaves need removing. The age-old classic technique was to salt your aubergines before cooking but in today's world, where the fruits are sweeter, this is no longer necessary unless you are planning on pan-frying. Salting not only reduces the bitterness but can help reduce the amount of liquid they soak up allowing for a crisped slice that hasn't soaked up a ton of oil.
They're not recommended to consume raw, but that shouldn't be an issue as they lend themselves to a wide variety of cooking techniques. When roasted or cooked in a stew, the aubergines omit a distinct umami scent similar to that of a musky forest floor lined with mushrooms. When fried their interior becomes creamy and soft and works great with warm and sweet spices. Chilli, garlic, ginger and nutmeg all work perfectly, injecting a punch of flavour into the aubergine's flesh. Marinate, sprinkle or blend to bring the two harmonious pairings together. Don't over purchase though, as they don't defrost that well, unless already in a sauce or blended into a dip.
Recipe: Hedgehog Aubergine with Plant Mayo Dressing & Gomasio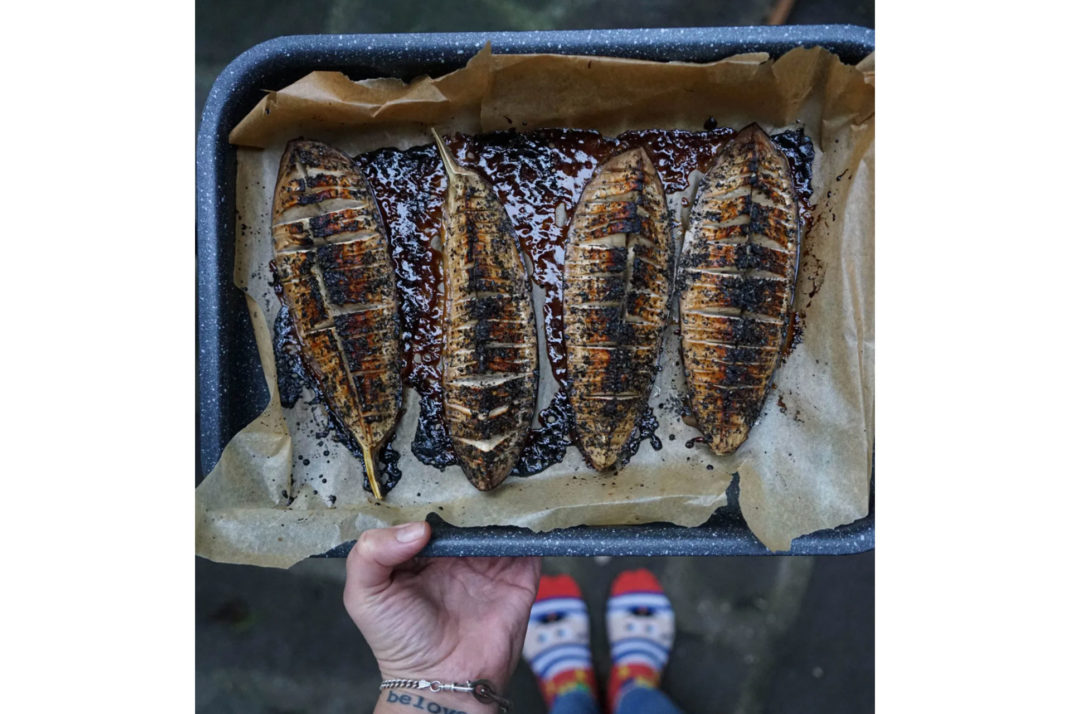 Ingredients
For the Hedgehog Aubergine:
1 large aubergine
For the Mayo Dressing:
1-2 tbsp plant mayonnaise
1 tsp tamari
1/2 tsp maple syrup
Gomasio:
50g black or white sesame seeds, toasted 1 tsp salt
Method
Preheat oven to 200oC.

To hedgehog the aubergine, cut it lengthwise into quarters, and hedgehog each quarter (gently slice lengthwise down the middle of the flesh, then slice across the way every 5mm, to just above the skin, without cutting through the skin).

Mix the mayo dressing ingredients together in a small bowl, and brush onto the aubergine, covering all the white parts and getting into all the little grooves created by hedgehogging.

Make the gomasio by blitzing the ingredients together in a small blender or food processor.

Sprinkle on top of the aubergine and cook in the oven for 30-40 mins until the aubergine is nice and soft.
Featured image: Karolina Grabowska/Pexels
More Ingredient of the Week: