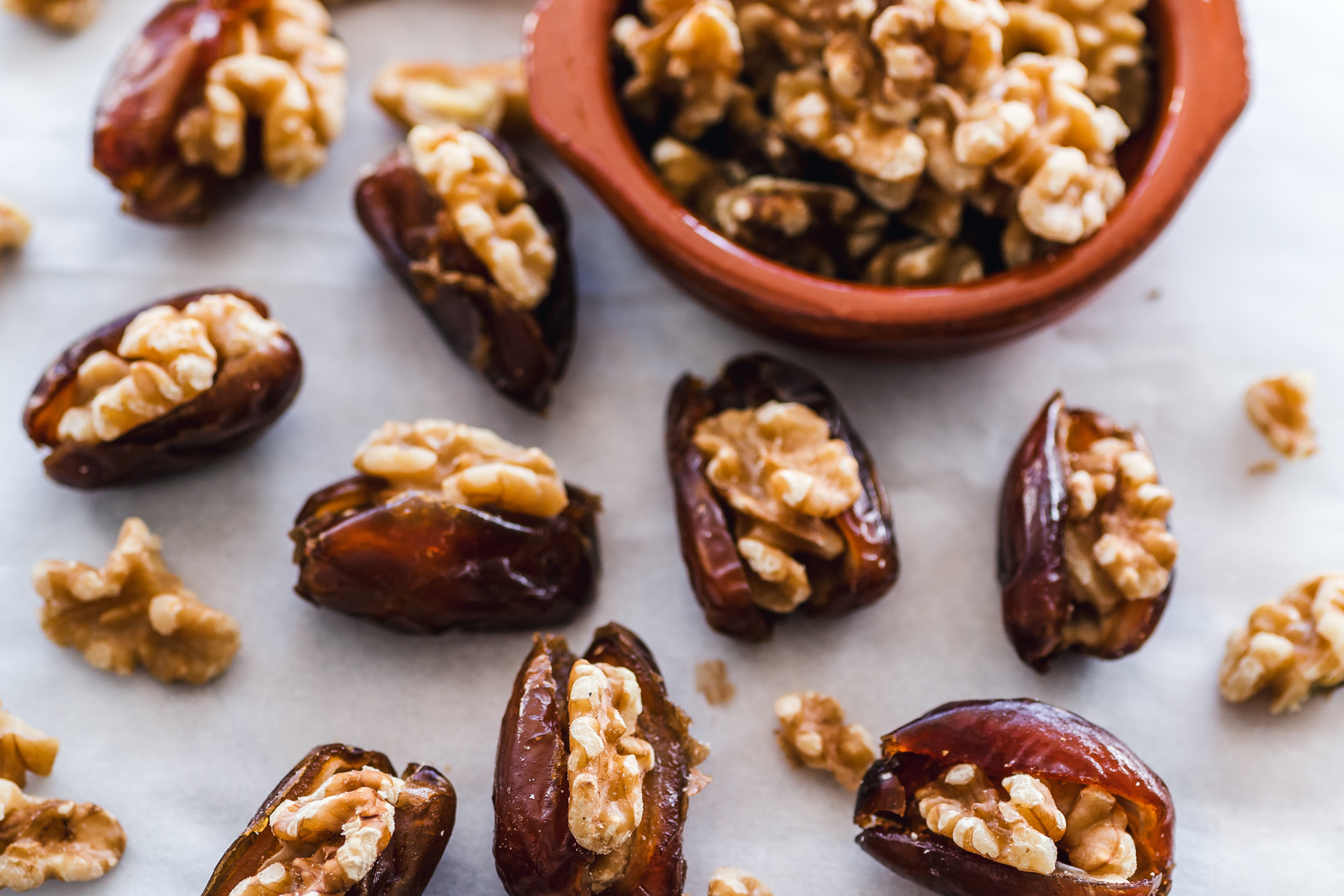 Ingredient of the Week: Dates
---
How to incorporate dates into your sweet and savoury dishes
Each week plant-based cook Bettina Campolucci Bordi, founder of Bettina's Kitchen, gives us the lowdown on a particular fruit, vegetable or ingredient, offering cooking tips and a recipe. This week it's dates.
Ingredient of the Week: Dates
As a plant-based chef, I often get asked what my favourite ingredient to work with is, and my answer is always the same: dates. Dates are an incredibly versatile ingredient that can be used in both sweet and savoury dishes, adding a rich sweetness and depth of flavour to any dish. Here I will explore the many uses of dates in cooking, from sweet treats to savoury mains.
Benefits
Firstly, let's talk about the nutritional benefits of dates. Dates are a good source of fibre, which helps to keep your digestive system healthy and can help to lower your cholesterol levels. They are also a great source of potassium, which helps to regulate blood pressure and support heart health. Dates are also rich in antioxidants, which can help to reduce inflammation in the body and protect against disease.
How To Use
One of my favourite ways to use dates is in sweet treats, such as desserts, smoothies and energy balls. Dates can be used as a natural sweetener in place of refined sugar, which makes them a much healthier option. They have a rich, caramel-like flavour that adds depth and complexity to desserts, without being too overpowering.
One of my favourite desserts to make with dates is a raw chocolate tart. This tart is made with a base of almonds, dates and cacao powder, which is then topped with a rich, creamy chocolate filling made with coconut cream and cacao butter. The dates in the base help to bind everything together and add a delicious sweetness, while the chocolate filling is rich and indulgent.
Another sweet treat that I love to make with dates is energy balls. Energy balls are a great snack to have on hand when you need a quick energy boost, and they are also a great post-workout snack. Dates are the perfect base for energy balls, as they are naturally sweet and sticky, which helps to bind everything together. I like to add nuts, seeds and other superfoods to my energy balls, such as chia seeds, hemp seeds and cacao nibs, to make them even more nutritious.
Moving onto savoury dishes, dates can be used in a variety of ways to add sweetness and depth of flavour to mains and sides. One of my favourite savoury dishes to make with dates is a Moroccan tagine. This dish is traditionally made with lamb or chicken, but I like to make a vegan version using chickpeas and lots of vegetables. Dates are a key ingredient in this dish, as they add sweetness and help to balance out the spicy flavours. I also like to add apricots and raisins to my tagine, which gives it a fruity sweetness that works really well with the dates.
Another savoury dish that I love to make with dates is a roasted vegetable salad. This salad is made with a variety of roasted vegetables, such as sweet potatoes, carrots and beetroot, which are then tossed in a dressing made with dates, tahini and lemon juice. The dates in the dressing add a lovely sweetness, which works really well with the earthy flavours of the roasted vegetables.
In addition to adding sweetness to savoury dishes, dates can also be used to add texture and depth of flavour. One of my favourite ways to use dates in this way is to make a date and walnut loaf. This loaf is made with a mixture of wholemeal and spelt flour, which gives it a lovely nutty flavour, and is studded with chopped dates and walnuts. The dates in the loaf add a lovely chewy texture, which works really well with the crunchy walnuts.
Below is a brilliant snack that you can batch make and keep in the fridge as a fantastic afternoon pick me up snack. These bite-sized treats are made with a combination of almonds, cacao powder, coconut oil, peanut butter, dates, and honey. They are then topped with dark chocolate and bee pollen, giving them a delicious and nutritious flavour.
Recipe: Chocolate and Honey Bites
Makes 10 pieces
Ingredients:
2 tsp Bee & You Propolis Royal Jelly Raw Honey

160g flakes almonds

3 tbsp cacao powder

40ml coconut oil

2 tbsp peanut butter

3 medjool dates, pitted
For the topping:
100g dark chocolate bar or buttons

1 tsp Bee & You Bee Pollen Whole Granules
Method:
Place all the ingredients into a blender and blitz until you get a sticky mixture, it doesn't need to be completely smooth.

Spoon out bite-sized portions of mixture (I like to use a small ice-cream scoop), form it into a ball, then place on a plate lined with greaseproof paper. Do this until you have around 10 bite-sized balls, then put them in the fridge to set for 10–15 minutes.

In the meantime, break the chocolate into a bain marie – place a heatproof bowl over a saucepan with some boiling water in the bottom, but without the bowl touching the water, then cook, stirring occasionally, until it has melted. Remove the bowl from the pan.

Get the balls out of the fridge and gently dip the top of them in the melted chocolate and place back onto the greaseproof paper. 

Sprinkle some bee pollen on top, while the chocolate is still melted and then place in the fridge to set.