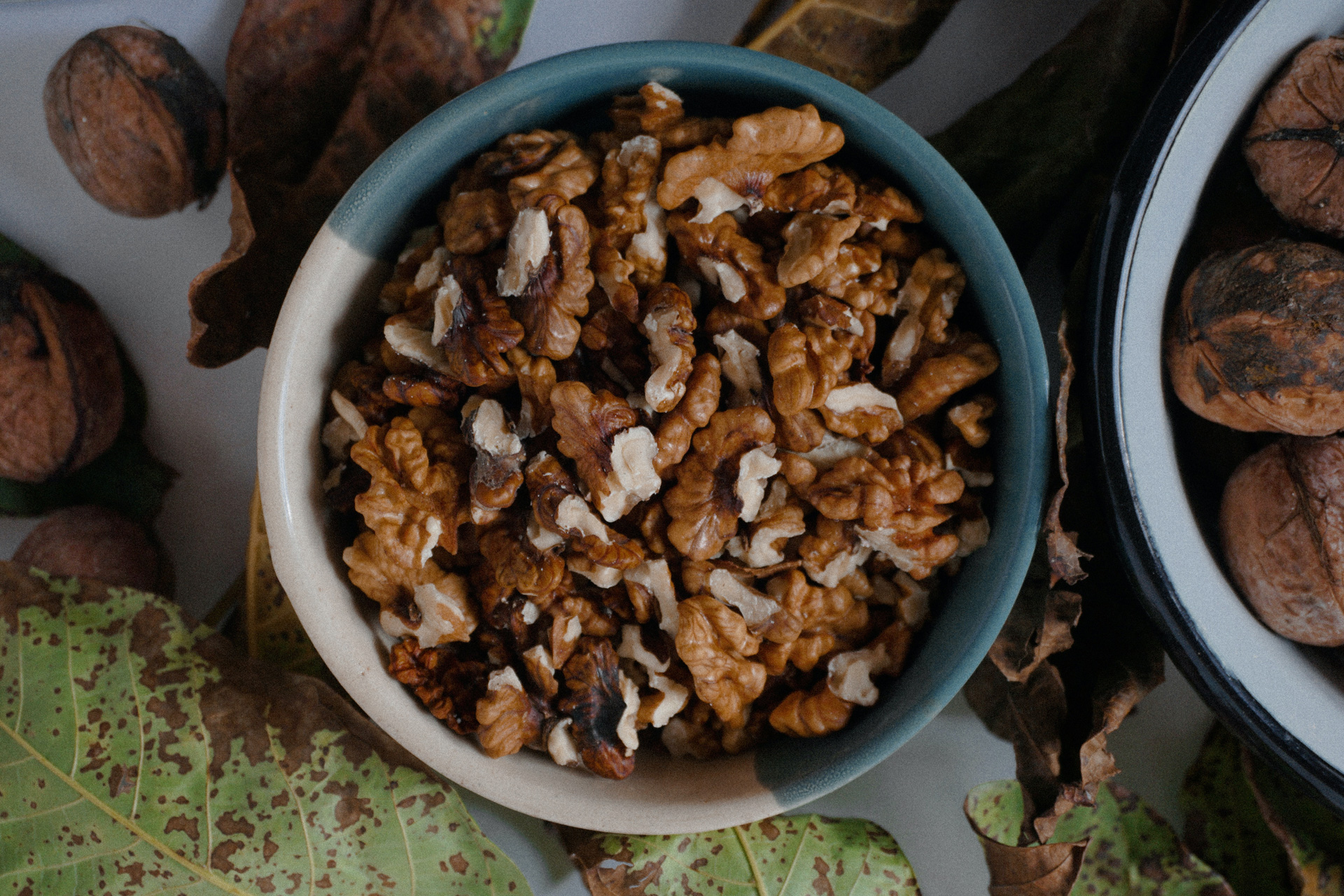 Ingredient of the Week: Walnuts
Bettina shares her favourite ways to use walnuts, including a pasta salad recipe
Each week plant-based cook Bettina Campolucci Bordi, founder of Bettina's Kitchen, gives us the lowdown on a particular seasonal fruit, vegetable or ingredient, offering cooking tips and a recipe. This week it's walnuts.
Ingredient of the Week: Walnuts
I absolutely love using walnuts in my cooking. Not only do they add a wonderful nutty flavour and crunch, but they also offer a plethora of health benefits. As a plant-based chef, I'm always looking for ingredients that are both nutritious and versatile, and these nuts definitely fit the bill.
How To Use Walnuts
Overall, I think walnuts are a fantastic ingredient to have on hand in the kitchen. They're delicious, nutritious, and easy to source, and they can be used in so many different ways. So why not pick up a bag on your next grocery trip and start experimenting in the kitchen?
One of my favourite ways to use walnuts is to make a vegan pesto. I love toasting the walnuts in a dry skillet before blending them with fresh basil, garlic, and olive oil. It's a simple and delicious sauce that can be used in so many ways, from pasta to pizza to grilled veggies. I also love using them as a topping for my salads. They add a great texture and flavour, and they're a great source of protein and fibre. And when it comes to baking, walnuts are a must have ingredient in my pantry. I love adding them to my banana bread recipe or using them as a crumble topping for pies and cobblers. 
Another way I love to use them is to make walnut butter. It's a great alternative to peanut or almond butter, and it's incredibly easy to make. Simply blend some toasted walnuts in a food processor until they're smooth and creamy. You can add a pinch of salt or a drizzle of honey for extra flavour, or even mix in some cinnamon or cocoa powder.
When it comes to savoury dishes, walnuts are a great addition to roasted vegetables or pasta dishes. I love tossing some with roasted brussels sprouts or adding them to a butternut squash pasta dish. They add a depth of flavour and texture that really takes the dish to the next level.
And let's not forget about breakfast. Walnuts are a great way to add some crunch and flavour to your morning routine. I love sprinkling them over my oatmeal or yoghurt, or even adding them to my smoothies for a protein boost.
Recipe: Rainbow Penne Picnic Salad
This rainbow penne picnic salad is a perfect choice for a refreshing and healthy lunch, dinner or a picnic. This dish is packed with protein and fiber from the green lentil penne and the walnuts, while also featuring a variety of colorful vegetables for added nutrients and flavour. The dish is beautifully topped with fresh basil leaves, cherry tomatoes, and a sprinkle of chopped walnuts for added texture and taste.
The star of this recipe is the homemade walnut pesto, which is not only delicious but also incredibly easy to make with just a few simple ingredients. Whether you're looking for a quick and easy meal at home or something to take on a picnic or potluck, this rainbow penne pasta salad is sure to impress with its vibrant colours and delicious taste.
Serves 4-6
Ingredients:
250g Explore Cuisine Green Lentil Penne

Handful of cherry tomatoes, halved

Handful of sugar snap peas, sliced

¼ red onion, sliced

½ red bell pepper, sliced

Handful of micro greens

¼ pomegranate, de-seeded
For the topping:
Handful of fresh basil leaves

4 cherry tomatoes, halved

30g walnuts, roughly chopped
For the walnut pesto:
30g walnuts

125ml olive oil

20g fresh basil

½ clove garlic

Salt & pepper to taste
Method
Cook the pasta as per the packet instructions. Once cooked, cool down by running under cold water to prevent it overcooking. Drain and add to a large mixing bowl.

Meanwhile, add the walnut pesto ingredients to a blender and blitz until smooth (or leave slightly chunky if you prefer). Pour the pesto directly onto the pasta and mix well to coat.

Now add the rest of the ingredients and gently mix until combined.

Pour into a nice salad platter or bowl and top with fresh basil leaves, cherry tomatoes and a sprinkle of chopped walnuts.