World-renowned chef Alain Ducasse talks to C&TH's Ellie Smith about staying relevant, changing attitudes and the future of fine dining…
He may be one of only two chefs in the world to have acquired 21 Michelin stars, but Alain Ducasse is not one to rest on his laurels. The Parisian superchef is constantly looking for ways to progress and evolve his restaurants – this month, for instance, he's relaunching Alain Ducasse at The Dorchester with a 'more joyful' design inspired by its Mayfair neighbourhood. What will always remain, though, is a commitment to upholding 'the fundamental DNA' of French cuisine – which Ducasse is undeniably a world expert in. Not only has he opened over 60 restaurants across seven countries, Ducasse has launched three cookery schools and published 100 cookbooks: his culinary prowess is felt across the globe – and he shows no sign of stopping.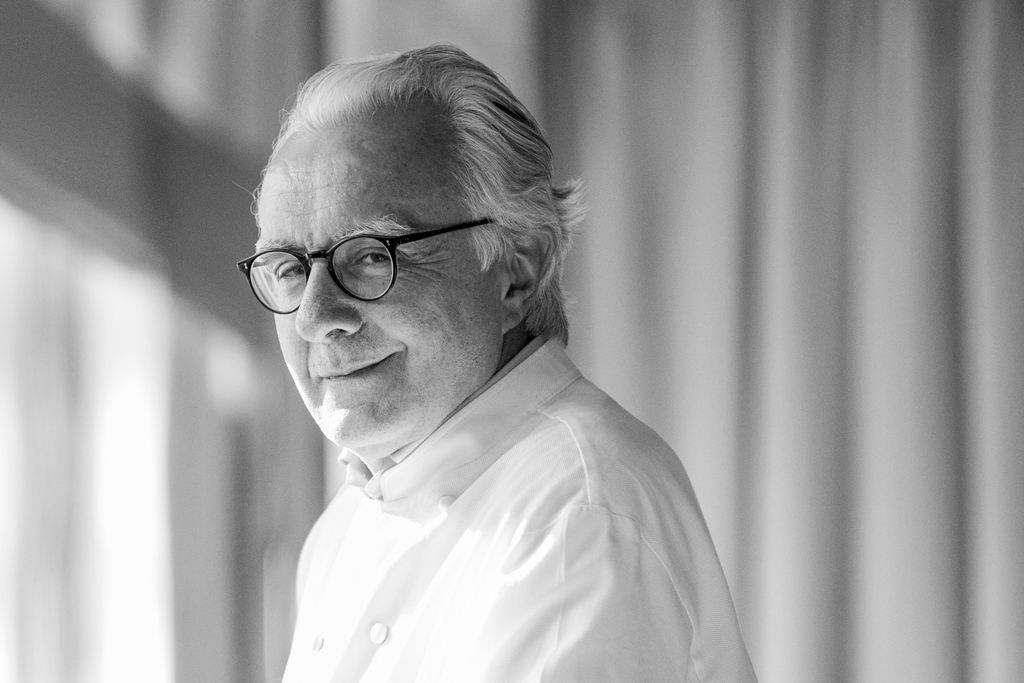 Tell us about the new concept at your restaurant at The Dorchester…
The restaurant has been open for 12 years, and every 10-12 years we think about refreshing things to keep it relevant and contemporary. It's an evolution more than a revolution – we're lucky enough to be a successful restaurant and we want to continue to progress. Mayfair has evolved a lot with the fashion houses, so the idea was to reflect on that and be more relevant for the city and for the neighbourhood. The designers worked on the theme of Hyde Park, which the restaurant overlooks. It's still understated, but more joyful.
How has the restaurant changed since it first opened?
We had a chef for around nine years called Jocelyn Herland, and in 2016 Jean-Philippe Blondet took over. His vision is based on the classic DNA of the French cuisine but it's more radical: it moves away from tradition without losing its roots. Jean-Philippe has a very special sensibility – he has his own way of seeing things and what he does here is edgy.
How important is it to keep up with changing attitudes towards food?
It's important to have food that is good to eat, but also good to think about and good for the planet. Across all our restaurants we try to have less fat, less salt and less sugar. We're also trying to cut down on animal protein and include more plant-based proteins in our menus – which in a way is moving away from the classic French cuisine, but still staying within its fundamental DNA.
How would you define the DNA of French cuisine?
There are many aspects. It's about rigour and discipline, it's about the way products are prepared and seasoned, it's about everything being cooked to perfection. The way the sauces and the juices are prepared is a big part too. French cuisine is all about harmony – the harmony between the garnish and the protein, the harmony of the wine pairing, the music, the décor, the tableware. It's about giving attention to the happiness of our guests. There are two parts to this: the tangible part that we can see and measure, and the intangible one, which is the emotional aspect. In the end, the memory guests leave with is the most important thing.
What are your predictions for the future of fine dining over the next decade?
I think we might go towards less animal protein in general and better quality meat. Four or five years ago I decided to remove meat from the menu of one of my Paris restaurants, and to focus on more humble produce like vegetables, cereals and fish from sustainable fishing. I can see that happening a lot more in the future, moving away from the animal aspect of the produce. Also looking at partnerships with suppliers: there's an increasing sense that everything needs to be sustainable and right and fair.
You travel a lot – which other food cultures or cuisines have particularly inspired you?
Everything inspires me in some way within my travels. I'm very interested in competition as well: what's done elsewhere and how different cultures do things. I like to look at all of that – I see it as a way to enrich what we do.
What's your favourite thing to cook?
When I'm in the countryside I like to go to my vegetable garden to see what nature has to offer and decide what to do with it on the spot. It's my favourite thing to do. Nature will decide what to cook.
MORE INTERVIEWS:
---