As their fourth restaurant launches in Soho, the Gladwin brothers tell C&TH their story of bringing countryside cooking to London…
Once upon a Sussex vineyard there lived three brothers: Richard, Oliver and Gregory. After a childhood spent playing in the fields and picking blackberries, they went their separate ways – one became a restauranteur, another a chef, and the third a farmer. Yet a few years later, it clicked: together, they had the perfect formula for a culinary business. It wasn't long before they'd opened their first London restaurant, followed by three more.
This is the modern fairy tale of the Gladwin brothers – a pretty perfect story, yet Richard reassures us it all came together organically: 'it wasn't a grand plan to genetically modify three children to start a family business!'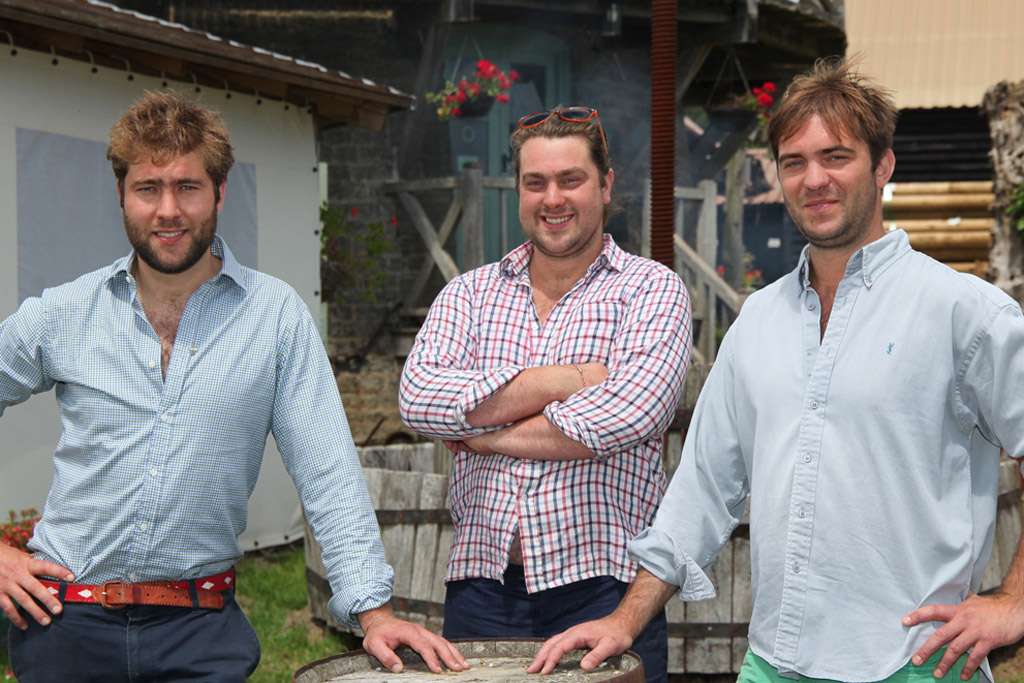 Saying that, the Gladwins were destined for a life in the farm-to-table culinary world. Born in Nutbourne, Sussex to two chefs, the brothers spent much of their childhood outdoors: as Oliver recalls, 'after school we'd be digging holes, building huts for the llamas and picking food from the hedgerows.' None of them particularly liked school, preferring practical activities to academics. And family meals were always a big part of Gladwin life – each day they'd all reunite in the evening for a late dinner, often chatting away until midnight.
As the boys grew older, their varying strengths began to come to light. During summers, Richard and Oliver worked on and off at their father's catering company, Party Ingredients – Richard as a waiter, Oliver as a chef – which proved an invaluable experience for both. Meanwhile at the farm, a young Gregory was beginning to build his life as a farmer. 'One day he came home with six sheep that he'd bought,' Oliver tells us. 'Mum and Dad didn't have a choice: the sheep just went in the vineyard. They grazed the grass underneath the vines, and slowly he built his flock. It was a natural progression for him – he was always so into animals and big tractors.'
After finishing up at Party Ingredients, Richard (the eldest) tried his hand at winemaking, but after a year or so decided the vineyard life wasn't for him. He moved to New York where he set up a catering company with some friends, before returning to London to open Bunga Bunga in Battersea. Oliver, on the other hand, worked as a chef in several London restaurants including The Oxo Tower and Launceston Place, but after a couple of years a yearning to return to countryside cooking brought him to River Cottage, where he worked alongside Hugh Fearnley-Whittingstall.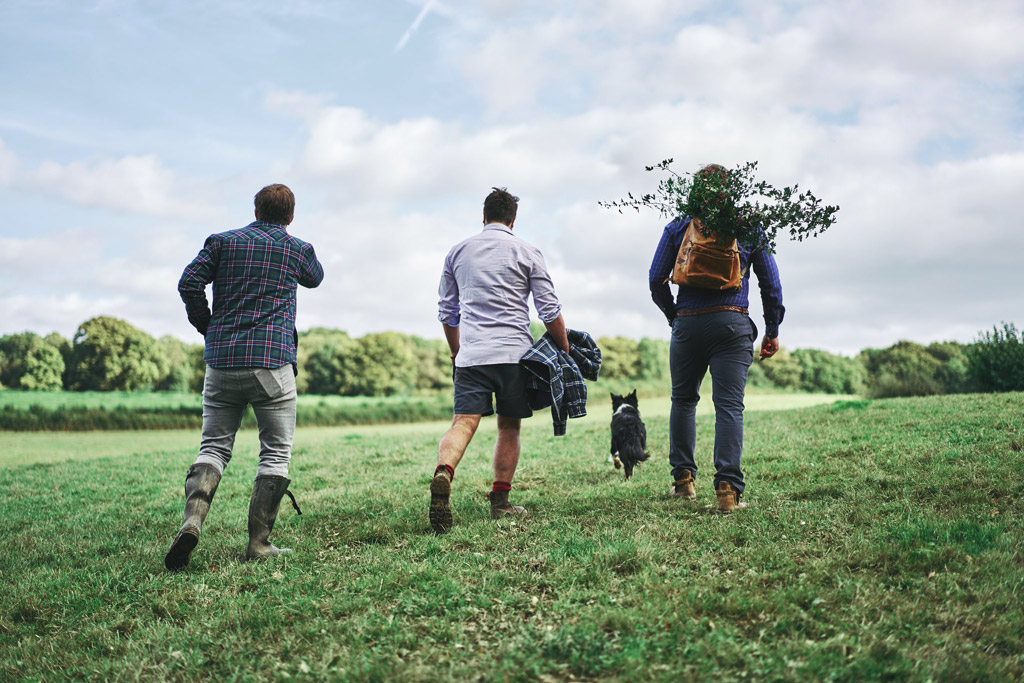 The light bulb moment came in Christmas 2011. 'We used to have this thing called "meetings" where we'd buy a barrel of beer and keep it in the greenhouse. Mum didn't know the beer was in there, so we'd run in and fill up our glasses, down a pint and run back inside. It was over one of these "meetings" that we decided between the three of us to open a restaurant. We announced it to our parents over Christmas dinner, and they thought it was a great idea.' In 2012 they opened The Shed in Notting Hill, followed by Rabbit on the King's Road in 2014, Nutbourne in Battersea in 2016, and their newest venture Sussex, just launched on Soho's Frith Street.
Some siblings may be apprehensive about going into business together – but not the Gladwins. 'As much as on occasion it's difficult to work with your brother, at least you're safe in the knowledge that you've got a fully rounded business that can grow as much as we want it to. We come from it very much as family head on,' Richard says. And while all aspects of the business are naturally intertwined, he adds, 'there's clear responsibility of who does what and where the buck stops.' It helps, too, that Richard and Oliver are at the same stage in life – both recently became dads. 'Being at a similar timeline has been excellent, and it's why we're ready to take on a much bigger, bolder project: there's a real drive to provide.'
So what can we expect from Sussex? It's based around the same fundamental ethos as the other Gladwin ventures: local and wild ('local food, wild ideas – or the other way round') yet with a slightly more formal dynamic, a natural result of the brothers' maturing tastes.
The brothers have a lot of these snappy expressions up their sleeve, including one of Oliver's key mantras: 'what goes together grows together'. Sustainability has always been a big part of the Gladwins' ethos, and in many ways they were pioneers of the seasonal, farm to fork dining movement. They remain industry leaders today – as Oliver says: 'I can speak to a grower today and get the beetroots up to the restaurant tomorrow, they'll be out of the ground in 20 minutes.' He's also noticed a growing interest surrounding where our food comes from: 'people are really interested in the story, the more you can tell them the better.'
There's also their in-house manifesto, used across all restaurants: 'no waste, think taste, and keep it real.' No wastage policies are used when cooking – nose-to-tail meats, dehydrating onion skins to make powders for macaroons – but also in terms of employees: 'don't waste anything: an employee, a potato, the back of a menu can be used as a waiter pad.'
At the moment the brothers' are focusing all their efforts on their Soho launch, but looking to the future there's talk of taking things back to the countryside, perhaps opening a restaurant and cookery school there. And while their sense of ambition is palpable, it's clear the brothers' like to have a laugh along the way too: as Richard puts it: 'at the end of the day, it's only hot dinners – we're not saving lives, so don't get stressed by it!'
Sussex officially opens on 5 November. Visit gladwinbrothers.com for more information
---