Merlin Labron-Johnson is the executive chef of Portland and the Clipstone restaurants. Here he tells us about his childhood, favourite foods and the importance of a really sharp knife. 
Where did you grow up, what is your most vivid memory and do you still go back there?
I grew up in South Devon, surrounded by the beautiful moors and only a short drive from the coast. My most vivid memories are the long summers I spent gallivanting with my chums. When I have children, there's no way I'm bringing them up in London.
What's in your fridge right now?
Morcilla de Burgos (black pudding) that a friend bought me back from Madrid, where she lives. Also 2 duck eggs and some parsley that's seen better days. That's about it.
Your last meal on earth, what would you choose? 
Actually, I'd probably settle for some Morcilla de Burgos, with a fried duck egg and some homemade chips. I'd put it all in a deep bowl together and pour some ketchup on top, then I'd break it all up and mix it together with a knife and fork.
Most important kitchen tool?
A sharp knife.
Who would you most like to cook for and why?
At Portland, we've had the pleasure of cooking for some of the world's greatest chefs: Alain Ducasse, Pierre Koffman, Magnus Nillson, Gordon Ramsey and Massimo Bottura to name but a few. But my previous employer and mentor Kobe Desramaults hasn't yet visited us. Kobe, if you're reading this: Hurry up!
Can you share a secret favourite foodie address in London?
I don't know if it's a secret, but I recently discovered a lovely little place in an old garage in Canonbury called Primeur which I just adored. Low intervention wines, simple yet delicious seasonal plates and large communal tables. Rumour has it they're about to open another place in Lower Holloway.
Favourite place for a long lunch?
On a Sunday, I like to head to Clapton and have brunch at Jim's Café on Chatsworth Road. I'll read the papers, drink plenty of good coffee and then go exploring the local indie shops.
Drink of choice?
A negroni, anywhere.
What's your signature dish to cook at home?
Salt cod, poor man's potatoes and aioli. It's cheap, delicious and warms the cockles of your heart.
Do you have a favourite seasonal ingredient to use now? 
Cabbages, especially the sweetheart/pointed variety. I like to pot roast them whole with lots of garlic, butter and herbs and then carve them ceremoniously and serve them with their roasting juices as if it was some sort of meat.
What's hot on the menu this week at Portland/ Clipstone?
I've just received a couple of Tamworth pigs from my friend's farm on Dartmoor. At Clipstone, I'm using the shoulders to make terrines and pates, the legs to make hams and the bellies and racks are being served with beans and preserved lemon. At Portland, we're using the head and feet to make croquettes and also roasting the necks for our private dining room. The excess fat has been rendered and then whipped up with salt and grains to serve with our homemade sourdough bread. Nothing is wasted. I'm only allowed 2 pigs a month as that's all they slaughter, so it's feast or famine!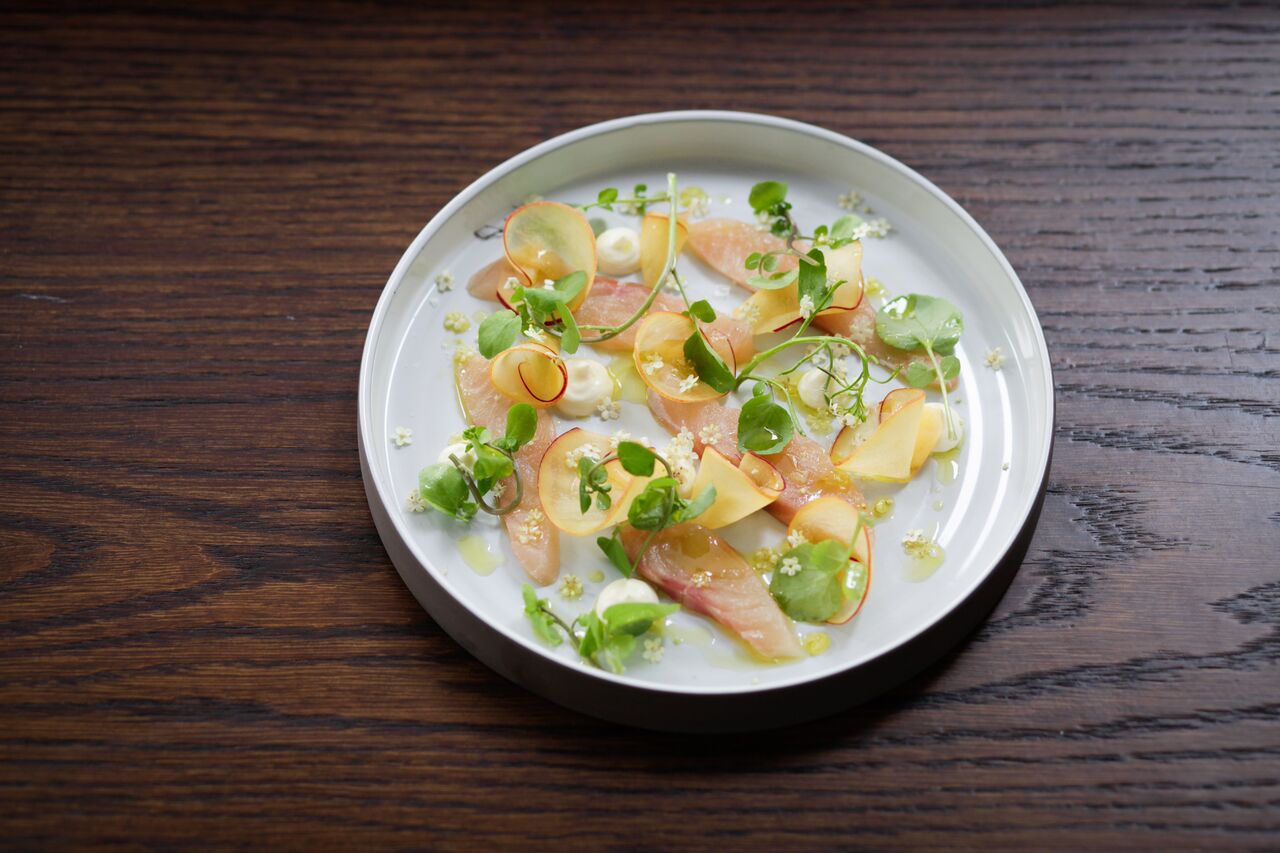 What influences your cooking?
I've lived in rural and agricultural parts of Europe for my entire life before moving to London. I learnt to listen to nature and to let that be the dictator of what I should cook and when I should cook it. I'm also hugely inspired by the small network of farmers and fisherman that I have the pleasure of collaborating with on a daily basis. Without them, we'd be absolutely nowhere.
As you use more unusual cuts and meats at your restaurants – is there anything you personally wouldn't eat or hate the taste of?
I can't stand tripe or andouillette. The flavour is far too strong for me.
How do you think more squeamish people should cook offal, and do you have any tips for more adventurous chefs?
I think people are becoming much more adventurous when it comes to offal which is a good thing. I hate to see it go to waste. Certain offal has a stronger smell than others and certain offal has a stronger flavour. I would suggest starting out with something like heart – duck, lamb, veal and beef heart are all delicious, meaty and very mild in flavour. Grill them and serve them medium rare. For the more adventurous I'd suggest trying veal or lamb brains. It's similar in flavour and texture to sweetbreads but more delicate and creamy. Dust them in flour and fry them in butter, finish with parsley and a squeeze of lemon juice and serve them on toast. Sublime.
MORE FOOD: Luke Edward Hall on His Berry Bros & Rudd Collaboration / Healthy Baking: Jordan Bourke Shares His Recipes /
---