The head chef of Great British & Irish Hotel Gidleigh Park, Michael Wignall shares his recipe for lamb with creamed kale and roasted pumpkin. Autumn at it's best.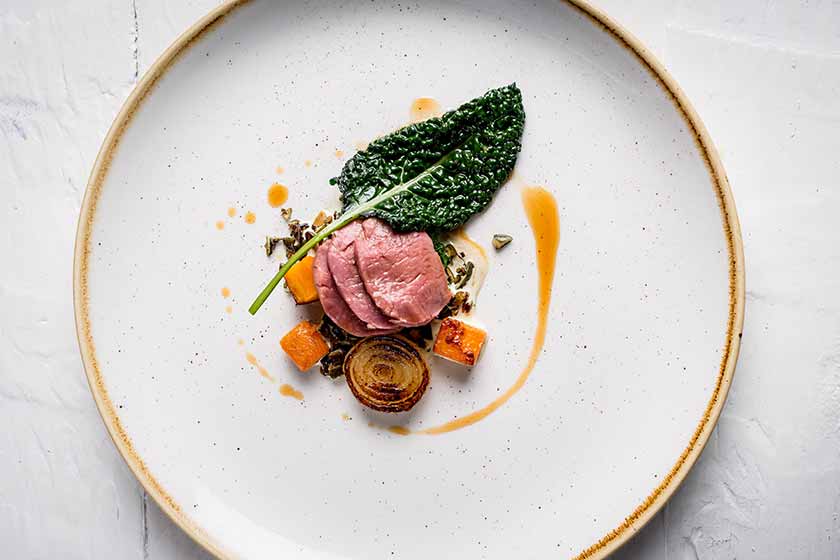 Ingredients
1 small crown prince pumpkin
A rack of lamb
500ml double cream
3 bay leaves
1 sprig thyme
1 garlic clove
1 head of kale
Method
The Lamb:
·         Choose the best end of the lamb – one rack will serve 4
·         Heat 20ml oil in a large pan
·         Add the lamb and turn continuously until all the sides are of golden colour
·         Add 30g unsalted butter to the pan and transfer all into a roasting dish
·         Cook in a preheated oven 180°C for around 2-3 minutes
·         Turn the lamb and cook for a further 1-2 minutes depending on the size
·         Allow to rest for 10 minutes
Creamed Kale:
·         Place the cream in a pan with the thyme, bay and garlic and bring to the boil
·         Reduce by half
·         Meanwhile, blanch the kale and refresh in cold water
·         Place the kale on a dry tea-towel and squeeze out any excess water
·         Now, finely slice the kale
·         Pass the cream mix through a fine sieve onto the kale and season to taste
Roasted Pumpkin:
·         Remove the skin from the pumpkin and cut into 2cm deep slabs
·         Colour both sides to the slab in a pan of foaming butter
·         Now place into an oven at 180°C and roast for 5 minutes
·         Once roasted cook into 2cm cubes
Serve this recipe for dinner with friends or a cosy Sunday lunch.
Gidleigh's food has always been as sensational as its accommodation, first under the renowned Michael Caines and now, since January 2016, two Michelin-starred Michael Wignall, previously of Pennyhill Park. Gidleigh's remote location, seamless service, divine bedrooms and Michael's cooking means that the hotel works equally as a spoiling rural retreat or a glamorous venue for a celebration.
READ MORE: Dominique Ansel's mini madeleine recipe
READ MORE: Great British Bake Off 2.0
---