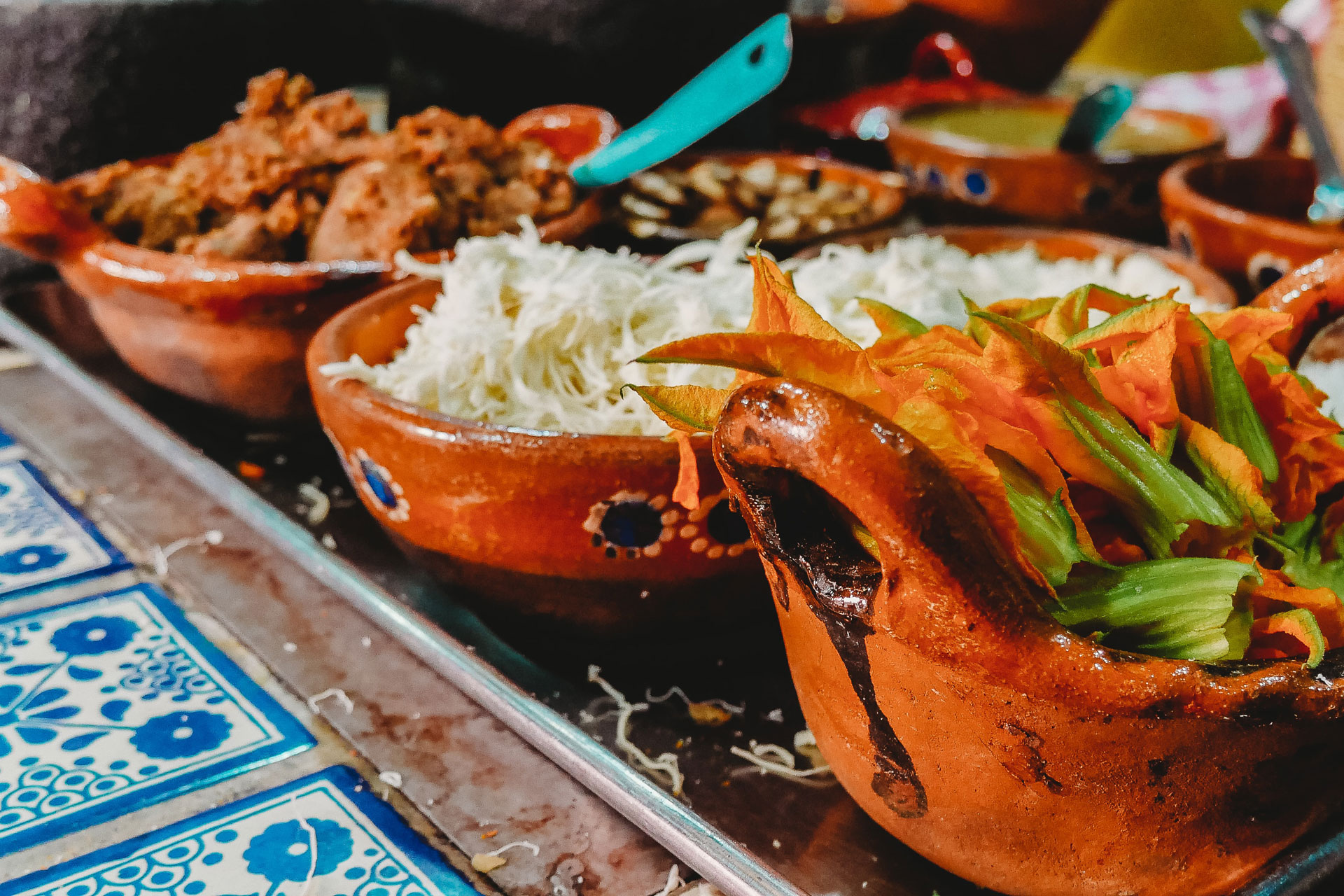 How to Throw the Ultimate NYE Dinner Party
How to be the hostess with the mostest this NYE
Throwing a New Year's Eve dinner party and after some tips? Laura Jackson and Alice Levine, authors of Round To Ours, bring us the ultimate Mexican themed dinner party guide complete with recipes to ensure you and your guests (if you have any) have an unforgettable experience. Covid might mean you have a smaller-than-usual gathering, but here's to making it special, just the same… 
More Inspiration for Christmas & New Year
How to Throw the Best Dinner Party: The Jackson&Levine Guide
The Holy Trinity 
Food
It doesn't have to be fancy but we have been to dinner parties where all we have been given was a side salad…
Booze
Have a stocked and interesting wine rack. Collect from your travels, buy that bottle of wine you loved when you went out for dinner (restaurants offer a discount on take-home bottles, or you can find most on the internet)
Music
Stuck for what to play? Search your favourite film soundtrack on Spotify or play FIP the French digital radio station.This must be the place by Talking Heads and You Hit me Like TNT by Linda Jones are always on our playlist.
CURATING A PLAYLIST
Start with something lively and upbeat to get people going – you want the music to be loud enough to enjoy but quiet enough for a conversation. When you want your guests to leave, (or go to bed, if it's just your household,) turn it down – a subtle (or not so subtle?) way to politely tell everyone the party is over.
LAYING THE TABLE
Setting the table is just as important as the food. We source coloured glass, plates, mats, vintage crockery and fabric from our local market, charity shop and our travels -it;s nice to use tableware that has a story. Even simple touches like a beautiful napkin or table runner are an effortless way to make a meal feel a little bit more special. Decorate your table with simple flowers or herbs, which will naturally fragrance the room.
TAKE SHORTCUTS
Do as much as you can in advance to save time. In winter, if you are cooking a stew or a chilli, start the night before to allow the flavours to enhance. Chopping for summer salads can sometimes take a long time, so do this in the morning and wrap any veg in damp jay cloths and store in the fridge to keep fresh.
PREP IN ADVANCE
Do as much as you can in advance to save you time. In winter if you are cooking a stew or a chilli it's much better to start this the night before for the flavours to enhance. Chopping for summer salads can sometimes take a long time, do this in the morning and wrap any veg in damp jay cloths and store in the fridge to keep fresh.
Fiesta Forever
If not taken too seriously themed suppers are't tacky and are lots of fun. Wait for a scorcher ad get all hands on deck for this Mexican feast for four… just leave the sombrero at home.
Micheladas Recipe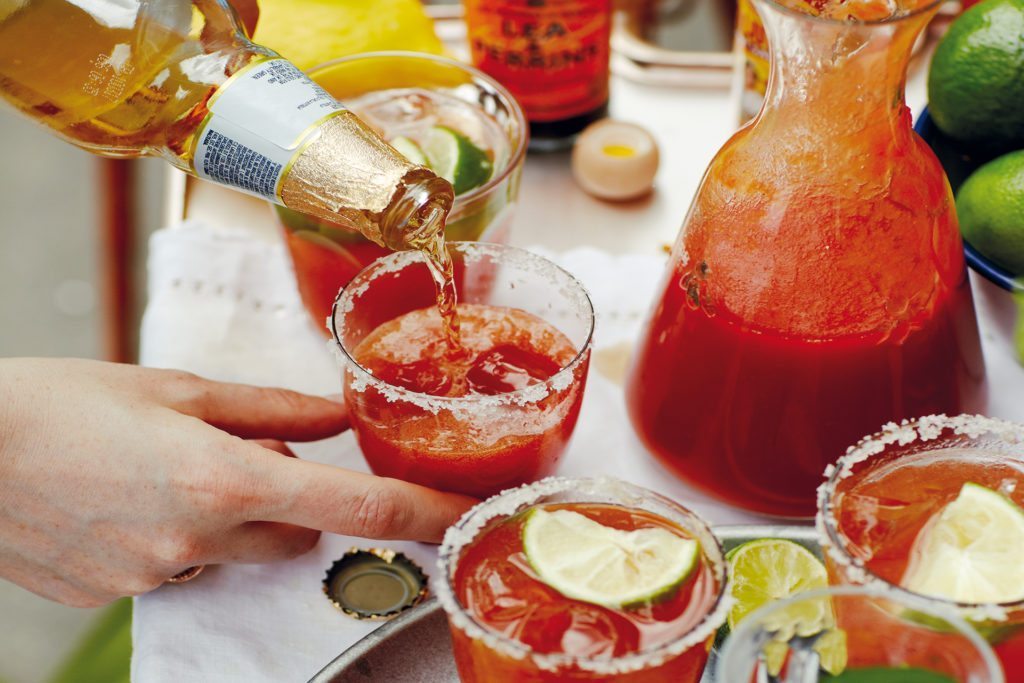 Ingredients
Juice of 3–4 limes, plus extra lime wedges
600ml tomato juice
Worcestershire sauce, to taste
Hot sauce (Cholula or Tabasco), to taste
Lots of ice cubes
4 bottles of Mexican beer (we like Pacífico, Sol or Corona)
4 shots of vodka (optional)
Sea salt and black pepper
Method
Pour a layer of salt on to a plate. Rub the rims of four tallish tumblers with a lime wedge, then dip each tumbler rim in the salt.
Add tomato juice to each glass to about a quarter full.
To each glass add a squeeze of lime juice, a splash of Worcestershire sauce, a splash of hot sauce and some freshly ground black pepper.
Top up with loads of ice and add a beer to each, with a shot of vodka if you like, and stir well. Play around with the quantities, depending how much of each flavour you like.
Tostadas with smoked salmon, avocado & chipotle mayo Recipe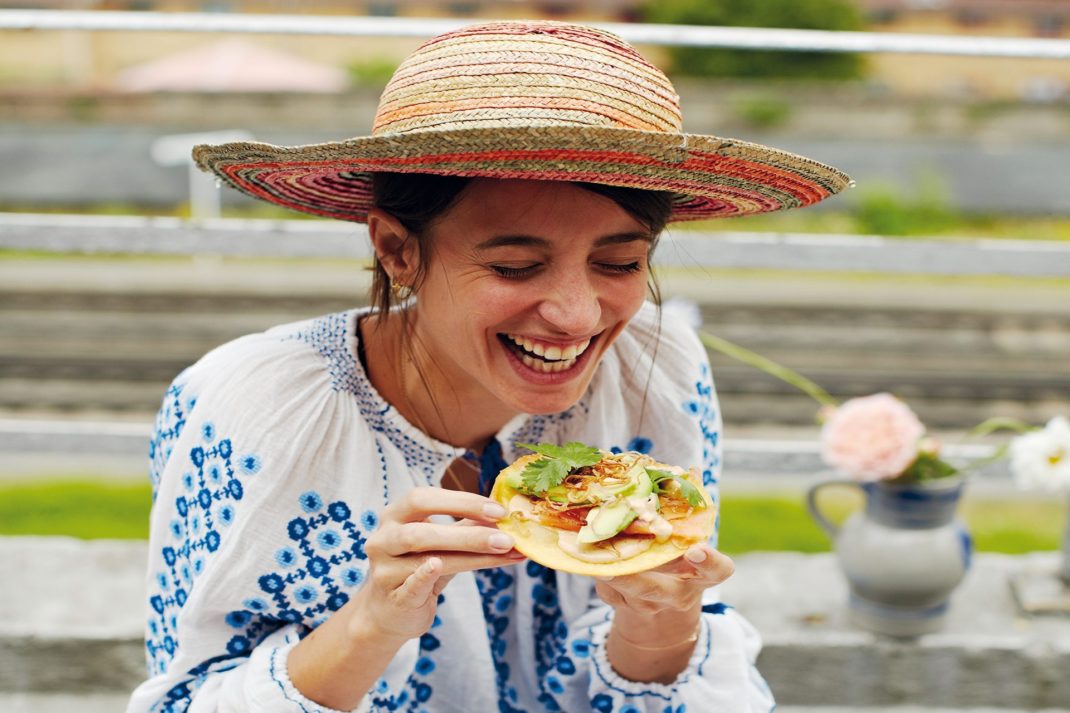 Ingredients
Vegetable oil, for deep-frying
8 small corn tortillas (around 15cm in diameter)
6 banana shallots, finely sliced into rings
4 tbsp mayonnaise
2 tsp chipotle paste, harissa or any hot sauce you like
240g smoked or cured salmon, cut into thin slices
4 avocados, halved, stoned, peeled and sliced lengthways
Bunch of coriander
2–3 limes, cut into wedges
Method
Pour enough oil into a medium, high-sided pan, to come about a third of the way up the sides of the pan, and heat it to 180˚C.
Working in batches, deep-fry the tortillas in the hot oil for two minutes, turning them every 30 seconds, until golden brown. Remove from the oil and leave to drain on kitchen paper to absorb the excess. When you've finished frying the tortillas, drop the oil temperature down to 160˚C and deep-fry the shallots for about two minutes, until golden brown. Transfer these to clean kitchen paper to drain.
Mix the mayonnaise with the chipotle in a bowl. To serve, top each tortilla with a slice of salmon, some slices of avocado and a dollop of spicy mayo. Scatter over crispy shallots and coriander. Finish with a squeeze of lime.
Black Bean Quesadillas Recipe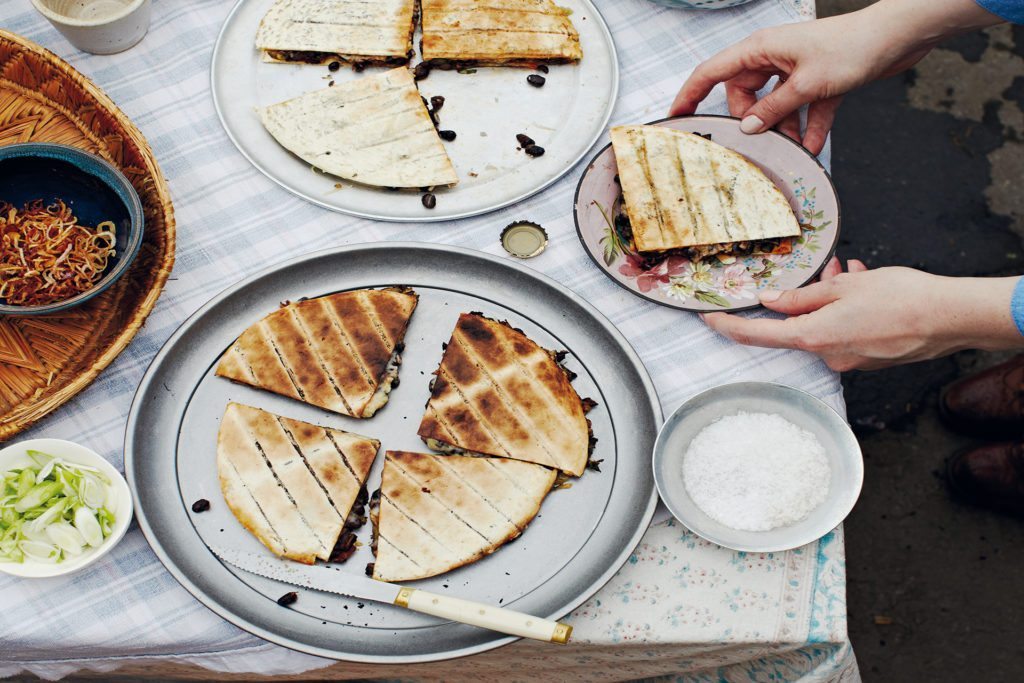 Ingredients
2–3 tbsp olive oil
1 large white onion, finely diced
2 bunches of spring onions, finely sliced into rings
2 x 380g cartons (or tins) black beans in water, drained
2 garlic cloves, finely chopped
1 tbsp smoked paprika
8 small, soft, wheat tortillas
100g cheese, such as Cheddar (or cotija, if you can find it), grated
Method
Heat two tablespoons of the oil in a pan on a low heat, add the diced onion and fry until beginning to soften, then add the spring onions. Keep an eye on them; it's good if they caramelise a little, just not too much. Remove from the pan and set aside.
Add the drained beans to the pan with a splash more oil, then add the garlic and fry until just turning golden. Add the smoked paprika and continue to fry until the beans are warmed through. Remove from the heat then briefly and roughly mash, but not to a paste; there should still be some whole beans.
Heat a ridged griddle pan until hot. Spread a layer of bean mixture on to a tortilla, top with some onion mixture, sprinkle with cheese and top with a second tortilla, like a sandwich. Repeat with the remaining tortillas and ingredients. Griddle the tortillas on each side until the cheese has melted and griddle lines have appeared. Cut into quarters to serve.
Alfresco Dining: London's Best Spots | Best Roof Terraces in London | Best Afternoon Teas in London | The Best Food & Drink Pop-Ups in London
Featured image: by Roberto Carlos Roman