A healthy and hearty quinoa and cauliflower pattie recipe for January from Felicity Carter.
Brilliant for the colder months and a favourite of Tatiana Korsakova of luxe gymwear Vaara, this recipe involves minimal preparation and the patties are substantial enough on their own, with a salad or as part of a veggie burger.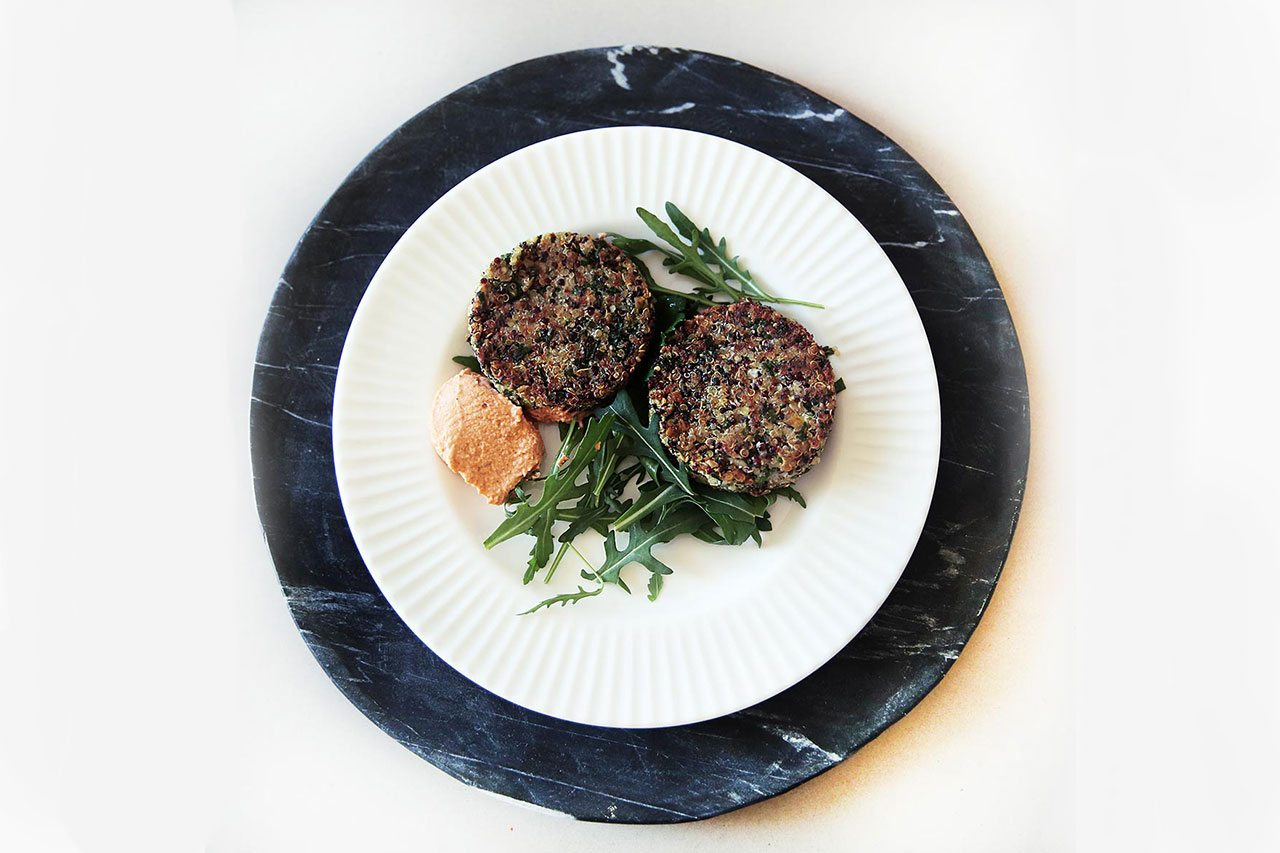 Ingredients
150g quinoa
1 bunch of cauliflower, divide into florets
30-40g (de-shelled) pistachios
1 egg beaten into the mixture
1 garlic clove, finely chopped
1 finely chopped spring onion
1 handful of kale or rocket salad, chopped finely
1 handful of parsley & coriander, chopped finely
2 tbsp porridge oats
2 tbsp gluten/wheat-free flour
1 tbsp (extra if you prefer to fry the burgers) rapeseed or olive oil
Salt and pepper to taste
Method
Put the quinoa in a saucepan with three times its volume of water and bring to the boil. The quinoa should be a bit overcooked for this, so cook for 12 minutes. Drain in a sieve, then rinse under cold water to cool. Leave to drain well.
Place the pistachios and cauliflower florets in a food processor and mix to a crumbly texture. Transfer to a large bowl and add the quinoa as well as the rest of the ingredients. Mix together.
Spread out the whole mixture onto a baking tray and chill for 1 hour so it firms up. Then form the mixture into eight small burgers.
Preheat the grill to medium. Line a baking tray with baking parchment.
Place the burgers on the lined baking tray and grill for about 12 minutes until golden brown and crisp on both sides, be sure to turn often.
These taste great served with home-made basil or sun-dry tomato pesto.
MORE RECIPES: Green smoothies / Hemsley & Hemsley maki rolls / Michael Wignall's lamb with creamed kale and pumpkin
---