Fancy making sushi at home? Here Jasmine and Melissa Hemsley share their recipe for cucumber maki crab rolls.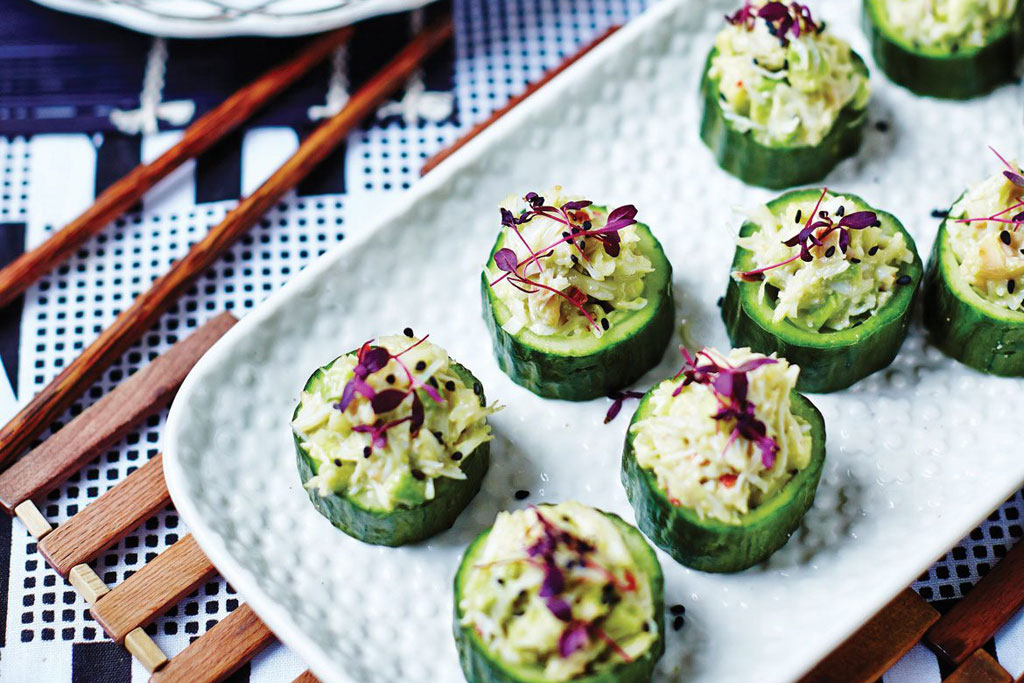 Rice-free sushi? We love sashimi (that's just the raw fish), but you need to be able to access high-quality and super-fresh fish – something that most of us can't really do. So, our cucumber maki crab rolls are a great faux option. They are perfect for entertaining and there's no rolling technique needed either – it's actually a pretty easy dish despite its creativity! This is a good way of using up leftover poached or smoked salmon. It's also a nice way of eating the expensive treat of some crab as a little goes a long way once you've mixed it with the other ingredients. An old-school melon baller will give you an easier job and a neater finish.
Ingredients
Makes 10-12 pieces
For the crab rolls:
100g crabmeat, mixed or just white
½ avocado, diced
2 spring onions, sliced
1 tbsp full-fat probiotic yoghurt
2 tsp lime juice
½ red chilli, finely chopped or a sprinkle of chilli flakes, to taste
1 large cucumber
Black or white sesame seeds, to garnish
Sea salt
To serve:
Tamari
Wasabi paste (or 1 tbsp tamari mixed into the paste with ½tbsp water)
A few slices of pickled ginger
Method
Drain any liquid from the crab and put it in a bowl with the avocado, spring onion, mayonnaise, lime juice and a pinch of salt. Mix very carefully to avoid crushing the ingredients and then stir in the chilli, to taste.
Wash the cucumber and remove one end. Cut the cucumber into even 2.5 cm thick slices.
Use a small knife to carefully cut out the flesh from the centre of the cucumber, leaving just a few millimetres of flesh all the way around. We found the neatest way was to use a melon baller to scoop the seeds out, leaving the bottom of the cucumber intact.
Distribute the crabmeat mixture between each cucumber roll.
Finish with a sprinkle of sesame seeds and serve with the tamari, wasabi or pickled ginger.
Taken from The Art of Eating Well by Jasmine and Melissa Hemsley (£25, Ebury Press). hemsleyandhemsley.com 
MORE RECIPES:
Interesting Ways To Cook Asparagus / Hemsley + Hemsley Tahini Date Fudge
---