Organic farm Abel & Cole brings us their delicious organic seasonal veg recipe which is great for an autumn evening, and we have some top tips for how to buy organic on a budget…
Want to freshen up your dinner repertoire, but not willing to compromise on taste? Then you'll rejoice at Abel & Cole's Curried Coconut & Roasted Cauliflower Quinoa. Full of body-boosting ingredients and aromatic spices, this is a delicious recipe for when you're craving something warm and filling this autumn.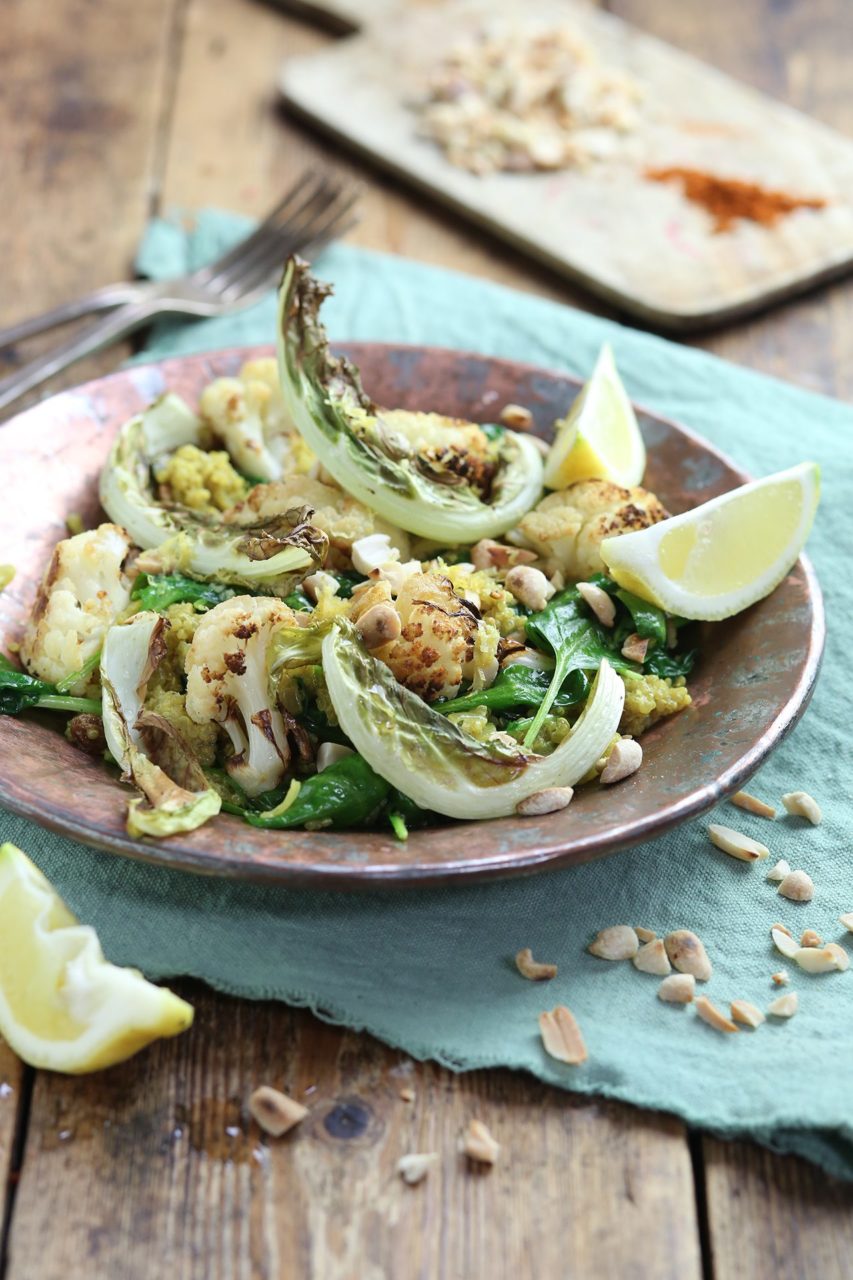 Abel & Cole's Curried Coconut & Roasted Cauliflower Quinoa 
Serves 2 
Takes: 50 mins
Ingredients
1 organic cauliflower
2 tbsp organic olive or coconut oil
A pinch of organic cayenne pepper
Organic sea salt
150g organic quinoa
1 organic onion
A thumb of organic ginger
A thumb of organic turmeric
1 organic garlic clove
6 organic cardamom pods
1 tsp organic mild curry powder
200ml organic coconut milk
200ml organic boiling water
25g organic raisins
50g organic baby leaf spinach
1 organic lemon
35g organic peanuts
Organic freshly ground pepper
Method
Heat your oven to 200°C/Fan 180°C/Gas 6. Chop the cauliflower into bite-sized chunks, saving the leaves. Toss the cauliflower florets with 1 tbsp oil, a pinch of cayenne pepper (it's spicy) and a light sprinkle of salt. Place on a baking tray and slide into the oven for 15 mins.
After 15 mins, add the reserved cauliflower leaves to the tray and turn everything to mix. Slide back into the oven for 10-15 mins, till the cauli is tender and golden at the edges, and the leaves crispy.
While the cauliflower is roasting, pop the quinoa in a sieve and rinse well under cold water (this stops it tasting soapy). Set aside. Peel and finely chop the onion. Peel and grate the garlic, ginger and turmeric. Using the back of a knife, crush the cardamom pods to open them a little.
Place a large pan on the heat for a couple of mins, then drizzle in 1 tbsp olive oil. Add the onion and cook for 5 mins. Then add the garlic, ginger, turmeric, 1 tsp curry powder and the cardamom pods. Cook for 1 min, stirring constantly.
Pour in the coconut milk and 200ml boiling water. Add the quinoa and raisins. Bring to a bubble, then pop on a lid. Simmer on a low heat for 15 mins, till the quinoa is cooked and the liquid has been absorbed. Stir every now and then. Remove from the heat and leave to rest for a couple of mins.
While the quinoa is simmering, set a frying pan on the heat, still set to low. Toast the peanuts for 3-4 mins, shaking the pan now and then. Tip them onto a clean tea towel to cool. When cool, rub the skins from the peanuts and roughly chop them.
Stir the spinach through the quinoa. Zest in the lemon and add the juice from 1 half. Taste and adjust the seasoning. Spoon the quinoa into warm bowls and top with the roast cauliflower florets and leaves. Serve with a scattering of toasted peanuts, lemon wedges for squeezing and more cayenne, to taste.
Top tips for buying organic on a budget
Shop in season– Buying organic fruit and vegetables when they're in season gives you the best value for money. Organic fruit and vegetables have fewer pesticides and chemicals, and also contain more key antioxidants. Eat Seasonably does the hard work for you by listing all the fruits and veg that are best to eat right now.
Try the basics– If you're new to organic, milk is a great place to start because it gives you lots of benefits. Widely available and more value for money, organic milk has around 50% more beneficial omega 3 fatty acids, and secures a good return for British farmers.
Stock up on organic essentials– Organic store cupboard essentials can be great value. Items like organic baked beans, pasta and canned tomatoes can often be found for the same price as the same non-organic items.
Try a different cut of meat.  Eating less, but better meat is good for our health and the planet. Trying lower cost organic cuts like shoulder or belly can make a big difference to your wallet – and they have more beneficial nutrients too. Pop into your local butcher for advice on cuts, or make a weekly roast which can provide a couple of meals.
Soil Association partner farm Abel & Cole has created this delicious organic recipe. Organic is easily accessible and easy to cook at home. 
READ MORE: Countess Carnarvon's Top Tips for the Ultimate Shooting Weekend / Recipe: Riojan Pork, Chorizo & Potato Pot
---